If you're searching for that perfect bakery loaf, look no further than this Artisan Gluten-Free Bread. The recipe produces a beautiful gluten-free boule that can be baked with a crusty or soft exterior. Cut into it and you will reveal tender, slightly chewy bread with a wonderfully tight crumb. It has the delightful weightiness of a rustic round loaf. You won't believe it's not only gluten-free, but also vegan, nut-free, gum-free, and nightshade-free (no corn or potato).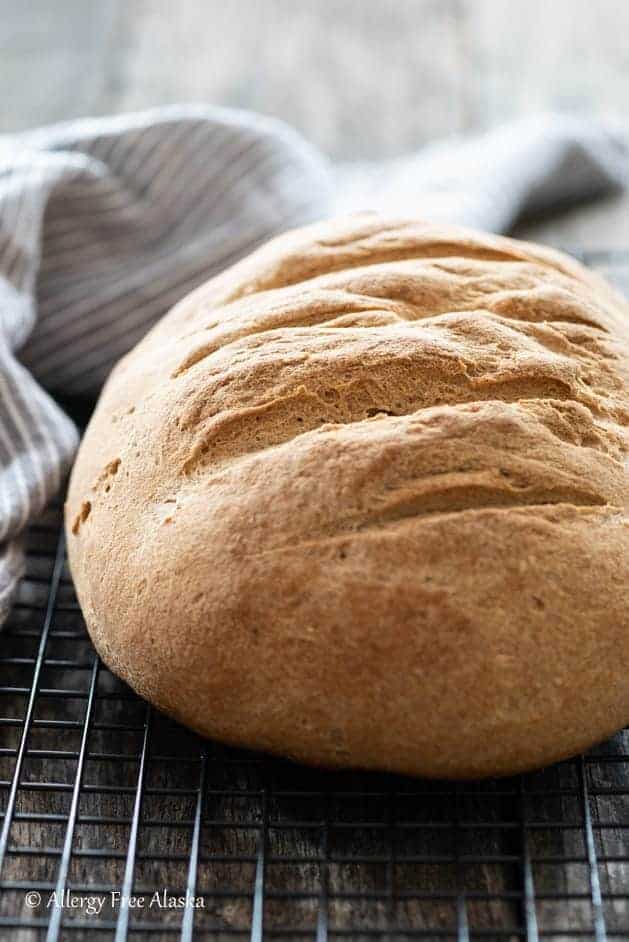 This allergy-friendly bread begs to be sliced and slathered with your favorite spread, like hummus, homemade jam, or soft dairy-free cheese. But it's also great all-around bread for sandwiches, crostini, French toast, bread pudding, stuffing, or croutons.
The Secret to Free-Form Artisan Gluten-Free Bread
Gluten-free bread is typically made with a thick batter, not firm dough, to ensure there is enough moisture in the finished loaf. The proteins in gluten-free flours and starches don't tend to be as elastic as gluten, which makes for a looser mixture. If you add more gluten-free flour in an attempt to thicken it, then the end result will be very dry.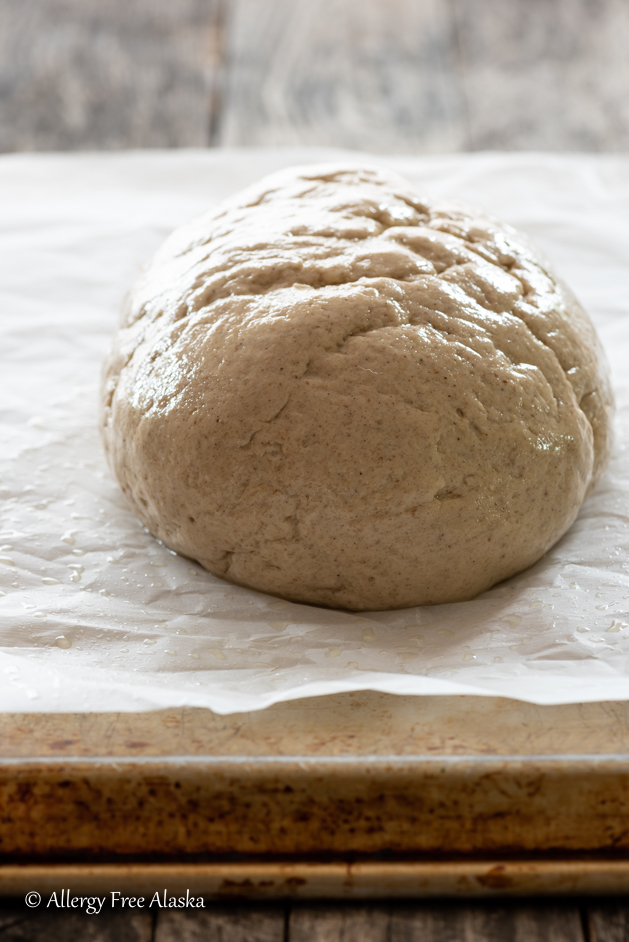 So how do you create workable gluten-free bread dough? In this recipe, I use powdered psyllium husk. Psyllium husk powder helps to retain moisture during baking and it provides more elasticity to the dough so that it can maintain its shape. The dough is a little stickier than gluten-containing bread dough, but it can still be easily formed into a gluten-free boule that will hold its structure in the oven. As it bakes, the dough gently rises and doesn't spread.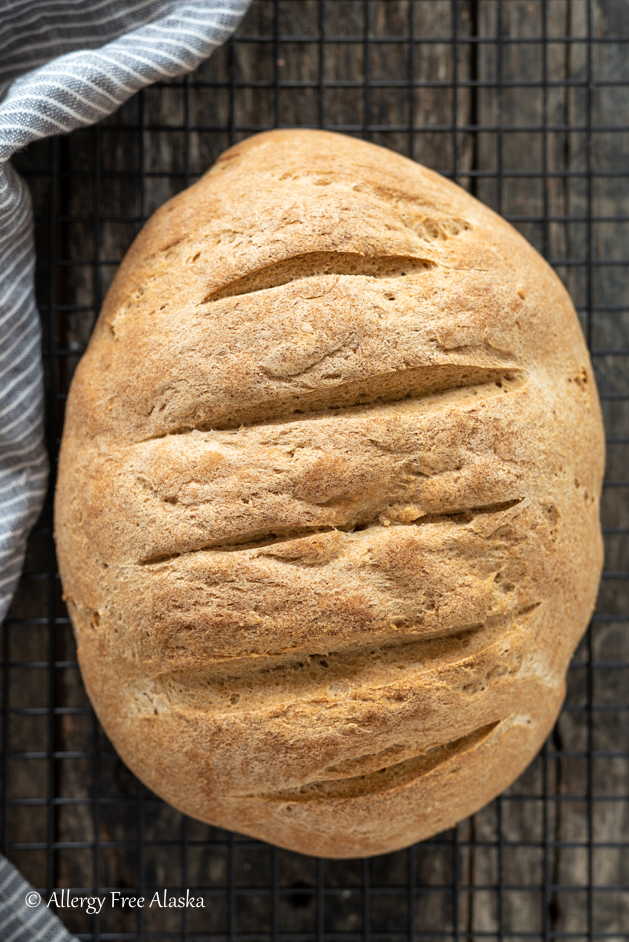 Artisan Gluten-Free Bread Ingredient Tips and Substitutions
Gluten-free bread baking is truly a science. I recommend sticking to the recipe precisely for foolproof results. But I realize that you might not be familiar with some of the ingredients, or that you might need to make a substitution. Here are some helpful notes along with guidance for possible substitutions.
Millet Flour, Brown Rice Flour, Sorghum Flour & Tapioca Starch
I've created this flour and starch blend for optimal results in this artisan gluten-free bread, so I don't recommend substituting a store-bought flour blend. If you must substitute one of the flours with another gluten-free flour, stick with lighter grain flours.
Avoid almond flour, seed flour, and coconut flour in this recipe, because they will set the moisture balance off. Heavier gluten-free flours, like teff or buckwheat, can also be tricky. If you want to incorporate these types of flour, I recommend trying the Artisan Multigrain Boule recipe in my ebook, Gluten-Free Baking from Scratch.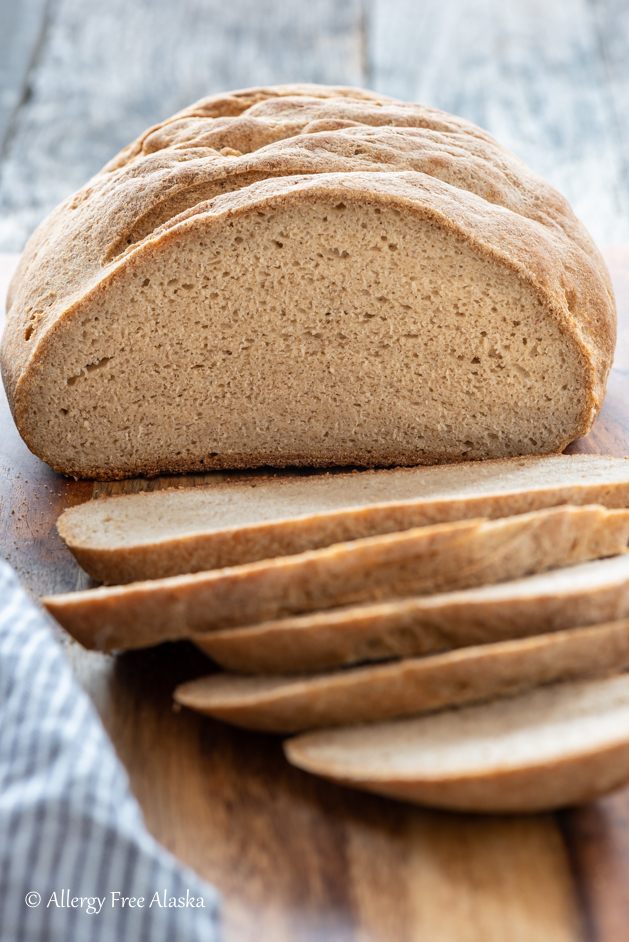 Psyllium Husk Powder
Psyllium husks are often sold as a fiber supplement, but you want to use the powder variety specifically for baking. Whole psyllium husks will not absorb as much liquid or provide as much structure as the powdered version. If you can't find psyllium husk powder, you can buy the whole psyllium husks (usually sold in the dietary supplement aisle) and grind them into a powder. Pour the husks into a clean blender or coffee grinder and blend until powdered, about 30 seconds. Measure the amount you need after it's powdered.
But keep in mind that not all psyllium husk products are created equal. Some cast a purplish hue on the finished baked good, and some don't absorb moisture as well. If the color of your bread looks off, or the dough spreads too much when baking, it could be the brand of psyllium husks that you used. I use Now Foods Psyllium Husk Powder for the best binding power and the most seamless results.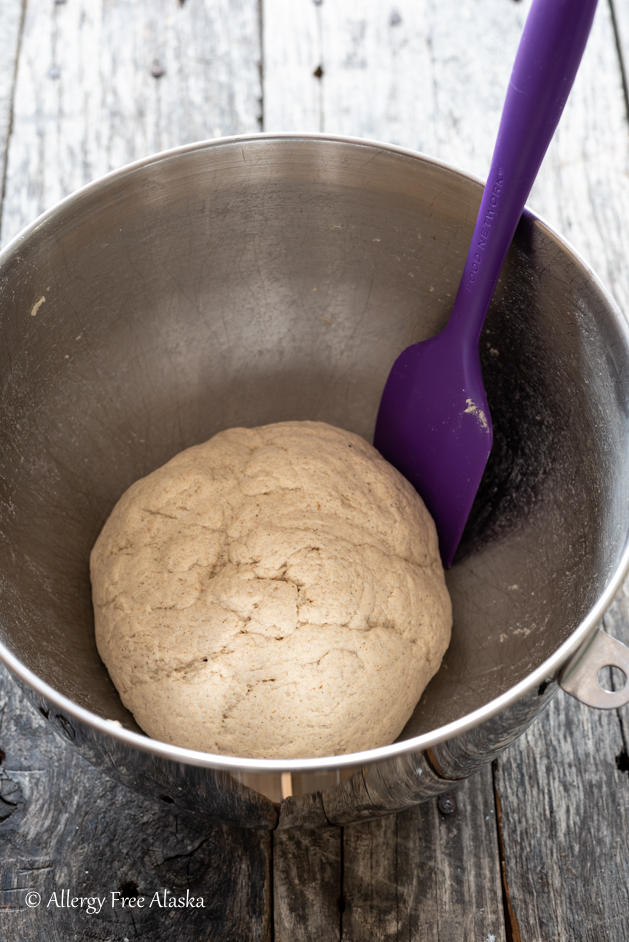 Ground Chia Seed
If you can't locate pre-ground chia seed, or chia seed meal, you can grind whole chia seeds yourself. Simply place them in a clean blender or coffee grinder and blend until powdered, about 30 seconds.
You can substitute ground flaxseed if needed, but chia seeds offer a little more moisture and binding, without the nutty flavor.
Organic Cane Sugar
I recommend organic cane sugar because it's suitable for strictly vegan diets, but you can substitute non-organic sugar. If you opt to substitute another type of granulated sugar, like coconut sugar, it will lightly affect the flavor and browning of this gluten-free boule.
Instant Yeast
This is not the same as active dry yeast, which requires proofing in warm water. Instant yeast can be mixed directly into the dry ingredients, and it consistently produces a better rise. I use the red label package of SAF instant yeast.
If you can't find instant yeast, you can substitute active dry yeast, but you will need to proof it first. Pour the warm water and maple syrup in the recipe into a bowl. Sprinkle in the yeast, and let it sit for 5 minutes, until bubbly or foamy. Stir in the oil and continue with the recipe as written.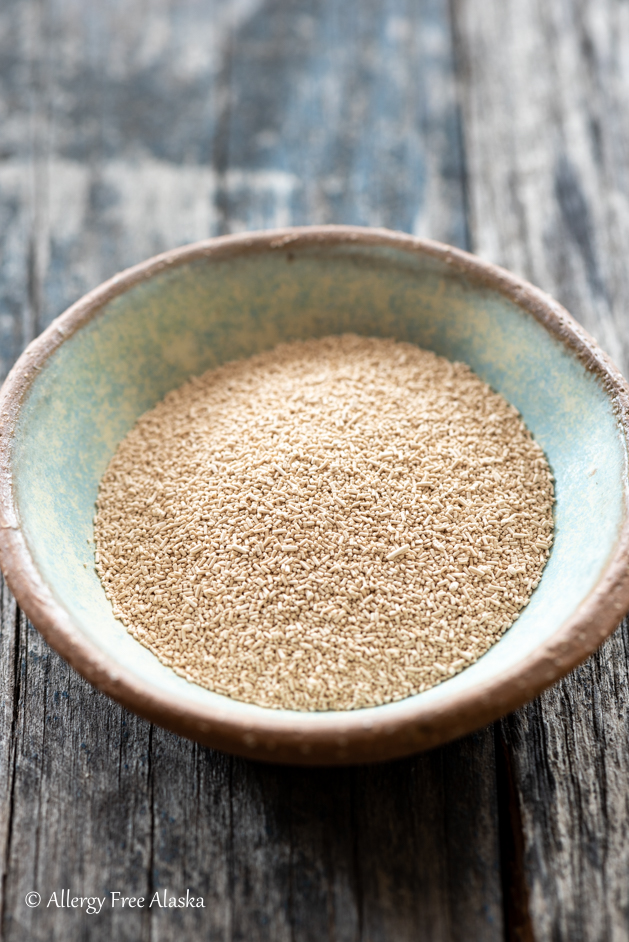 Olive Oil
I like the rich, savory flavor that olive oil provides to this artisan gluten-free bread, but you can substitute another type of oil if preferred. Vegan "butter" will also work, but I do not recommend using a fat substitute, like applesauce. The bread does need just a little fat for a tender crumb.
Maple Syrup
You can substitute another liquid sweetener, like agave nectar, coconut nectar, or honey (for non-vegan). I just prefer the warm, earthy flavor that maple imparts.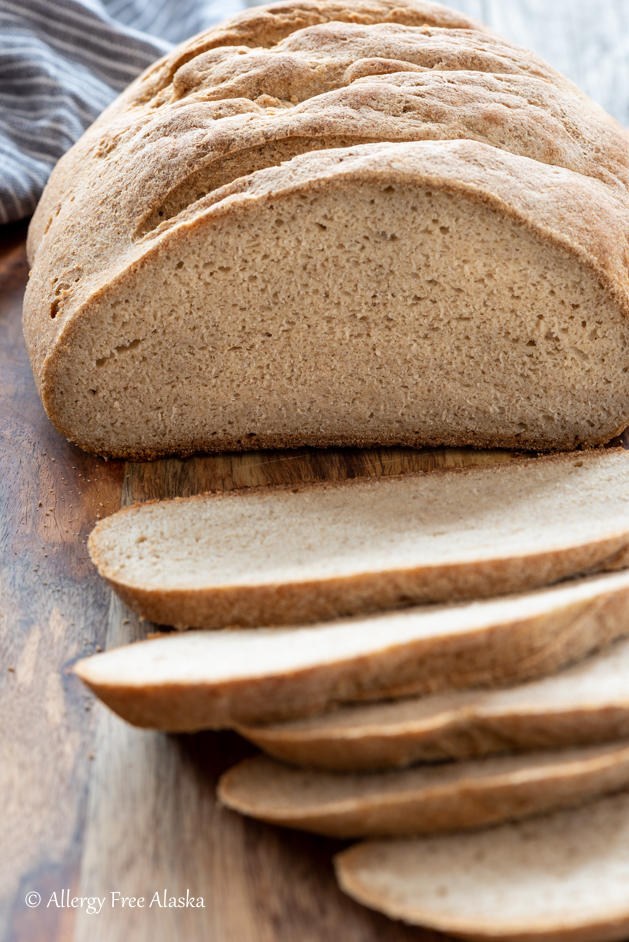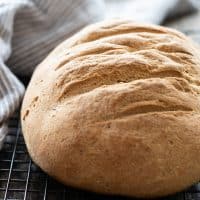 Artisan Gluten Free Bread
Total Time:
1 hour
55 minutes
This Artisan Gluten-Free Bread recipe produces a beautiful bakery-style loaf anyone can make at home! Vegan, nut-free, gum-free & nightshade-free
Ingredients
1 cup tapioca starch
1 cup millet flour
1 cup brown rice flour
1 cup sorghum flour
1/4 cup powdered psyllium husk
1 tablespoon ground chia seed
3 tablespoons organic cane sugar
1 1/2 teaspoons sea salt
2 teaspoons instant yeast (I recommend red label SAF Instant Yeast)
2 tablespoons olive oil + more for oiling the bowl
1 tablespoon maple syrup (or honey for non-vegan)
2 1/4 cups warm water (between 100-105 degrees F)
Instructions
Using an electric mixer with the paddle
attachment, combine the tapioca starch, millet flour, brown rice flour, sorghum flour, powdered psyllium husk, ground chia seed, organic cane sugar, and sea
salt.
Mix in the instant yeast.
Add the olive oil, maple syrup, and warm water. Mix on low for about 15 seconds. Stop the mixer and scrape down the sides of the bowl. Continue mixing on medium-high for about 3 minutes.
Use a spatula to group the dough together in a ball at the bottom of the mixing bowl. Pour about 2 teaspoons of additional olive oil on top of the dough. This will help you continue to form the round loaf, without the dough sticking to the spatula (or your hands).
Carefully remove the dough from the mixing bowl and onto a parchment lined baking sheet. Use your hands to form the dough into a round/oblong loaf (see pictures above for shaping example).
Cover with a clean kitchen towel and rise for 1 hour.
Score the top of the loaf with a sharp kitchen knife or a razor blade. 
Bake using desired method below: Baking Methods:

This loaf can be baked 3 different ways. The crust of the boule will be slightly crustier using the Pizza Stone/Cast Iron Pizza Pan or Dutch Oven methods.

Baking Sheet Method-

Preheat oven to 400 degrees (F). When the loaf is finished rising, bake for 40-50 minutes, or until the internal temperature of the loaf reaches over 202 degrees (F). 

I will often make 2 gluten free bread loaves at once using a baking sheet that is 15x21" in size (if you do not currently own a baking sheet this size, make sure you measure the inside of your oven prior to buying one).
The 2 loaves fit nicely on this size of baking sheet and still have room to expand without touching. If making 2 loaves, measure and mix each loaf independently. Your mixer will most likely not be able to handle making a double batch at one time.

Pizza Stone/Cast IronPizza Pan Method-

Place a pizza stone or cast iron pizza pan into a cold oven and preheat at 400 degrees for at least 30-40 minutes prior to baking the bread. When you are ready to bake, gently ease the loaf onto the preheated stone/pan using the parchment paper. When I use this method, I prefer to let my bread rise on an upside down baking sheet. This way I can slide the loaf right off
onto the preheated stone/pan without any sides getting in the way. Just remember, the goal here is not to disturb the risen loaf as much. Bake 40-50
minutes, or until the internal temperature of the loaf reaches over 202 degrees (F). 

Dutch Oven Method-

Place a 6-8 quart Dutch oven (with lid) in a cold oven and preheat at 450 degrees (F) for at least 30-40 minutes prior to baking the bread. When you are ready to bake, very carefully remove the Dutch oven from
the oven and take off the lid (Caution, it will be HOT! I use a thick pair of oven mitts.). Gently pick up the sides of the parchment paper and lift the loaf, easing it gently into the bottom of the Dutch oven. The goal here is not to disturb the risen loaf much. Cover with the lid, and place in the oven to bake for 25 minutes. Remove the lid and continue to bake for an additional 10-15
minutes, or until the internal temperature of the loaf reaches 202 degrees (F). Some enameled Dutch ovens are heat-safe to only 400 degrees (F). Double check to see what yours is rated to prior to using it.










Recommended Products
As an Amazon Associate and member of other affiliate programs, I earn from qualifying purchases.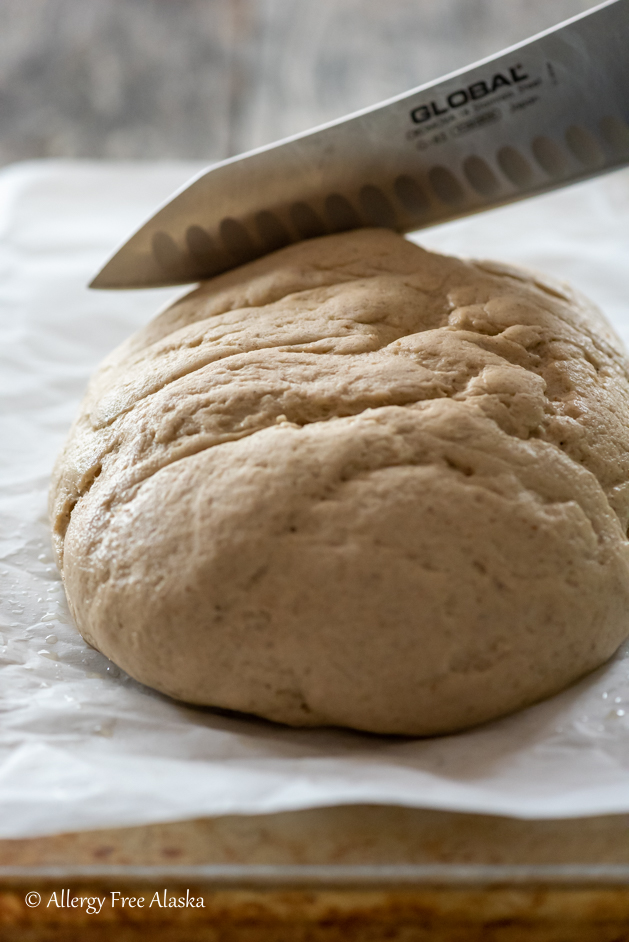 We are a participant in the Amazon Services LLC Associates Program, an affiliate advertising program designed to provide a means for us to earn fees by linking to Amazon.com and affiliated sites.