Real fruit gummies are a healthier alternative to traditional gummy candy. These tasty fruit snacks contain real fruit juice and other natural ingredients. As a result, they have less sugar than their conventional counterparts, which should make every parent jump for joy!
While many gummy candies on the market contain artificial flavors, colors, and high-fructose corn syrup, these real fruit gummies rely on the fruit's natural sweetness and flavor. So they are free from artificial preservatives, sweeteners, and other additives commonly found in processed foods, yet easy to make!
Why You'll Love Real Fruit Gummies
Made with natural ingredients
A great source of vitamins and nutrients
Less sugar than traditional gummy candies and contains NO corn syrup.
Customizable with a variety of fruit juices and purees
Free from artificial preservatives and additives
A guilt-free snack option
Delicious and satisfying for those with a sweet tooth
Healthy Gummies Ingredients & Substitutions
Frozen Mango- Mango is the perfect fruit for this recipe because it is already naturally sweet. If you want to experiment with other fruits, be creative!
Real Fruit Juice- I chose a combination of citrus and pineapple juices for these fruit juice gummies that would pair well with the mango.
Honey- This real fruit gummies recipe needs a small amount of honey to balance the flavors. You can substitute another sweetener if needed.
Unflavored Beef Gelatin Powder- This recipe will only be successful with gelatin powder. It sets the recipe and causes the gummies to firm up.
Are you a fan of mango? Try my black bean mango salsa and mango dragon fruit lemonade!
Are Fruit Snacks Vegan? 
Normally no, since they contain beef gelatin powder.
Can I Make This Fruit Gummies Candy Vegan?
To make vegan fruit snacks, you would need to replace the beef gelatin powder with agar agar and the honey with maple syrup (or another vegan sweetener).
For agar agar, I'm still determining the replacement amount; it is not a 1:1 swap. If anyone has experience in this, please comment below!
If you're looking for more real food snacks, try coconut caramel cookies, gluten-free graham crackers, or almond flour banana muffins.
This recipe was originally published in May 2015. Blog post and recipe card updated to include better instructions and notes in April 2023.
Did you make this recipe? If you did, please give it a star rating and leave a review or comment below! And remember to take a pic and share it on social! Tag @allergyfreeak or #allergyfreealaska on Instagram!
Real Fruit Gummies Recipe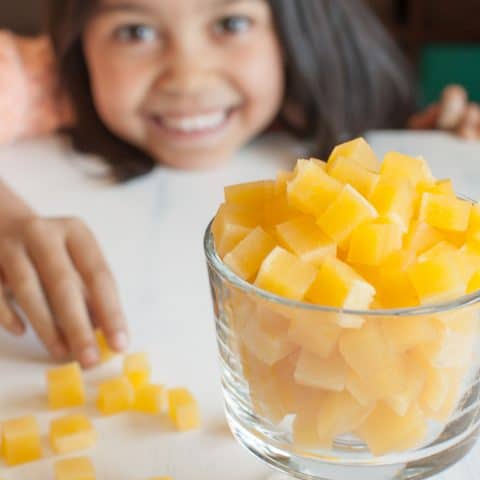 Real Fruit Gummies
Total Time:
2 hours
20 minutes
Made with less sugar than the store-bought alternatives, these tasty real fruit gummies contain real fruit and no high fructose corn syrup!
Ingredients
8 ounces frozen mango chunks
1 cup unsweetened pineapple juice
1 cup pure orange juice
2 tablespoons honey
2 tablespoons fresh squeezed lemon juice
1 tablespoon fresh squeezed lime juice
½ cup unflavored beef gelatin powder
Instructions
In a blender, combine the frozen mango chunks, unsweetened pineapple juice, pure orange juice, honey, freshly squeezed lemon juice, and freshly squeezed lime juice. Blend until smooth.
Pour the blender contents into a 3-quart saucepan and whisk in the unflavored beef gelatin powder. Set aside for 10 minutes to soften the gelatin. The mixture should appear thick and be the consistency of applesauce.
Place the saucepan on the stovetop and heat over medium, whisking constantly until the gelatin is dissolved and the mixture is hot and no longer gritty. Do not heat to boiling.
Pour the saucepan contents into a 9x13" glass baking dish. Place directly into the refrigerator (uncovered) to set for 2-3 hours.
Use a paring knife to cut the fruit snacks into bite-sized cubes. Store in an airtight container in the refrigerator. Consume within 10 days.
Notes
Feel free to experiment with different fruits and fruit juices.
Honey can be swapped out for whatever sweetener you prefer.
Can I use silicone gummy bear molds?
Absolutely! Or whatever shape of mold you would like to use.
Recommended Products
We are a participant in the Amazon Services LLC Associates Program, an affiliate advertising program designed to provide a means for us to earn fees by linking to Amazon.com and affiliated sites.