These almond flour banana muffins are soft and tender, honey kissed, and the perfect option for a quick breakfast or snack on the go. Top these gluten-free banana muffins with chopped nuts and chocolate chips, or enjoy them plain – either option is delicious!
Years ago my brother's family went on the GAPS diet (it's an all grain-free diet of sorts). It was during that time I created recipes for almond flour muffins, almond flour tortillas, and these almond flour banana muffins (among other recipes!).
Not only did this recipe work for my brother's family at the time, but my husband loves banana treats (which is why I have so many recipes that include the popular ingredient). My gluten-free banana cake and vegan gluten-free banana bread are some of his favorites.
Almond Flour Banana Muffins
I personally like topping our gluten-free banana muffins with chopped pecans and dairy-free mini chocolate chips, but this topping is optional. As the muffins bake, the chopped pecans toast and become golden, so you are treated to a crunchy, melty-chocolate topping.
Tips for Baking with Almond Flour
When measuring almond flour, you want to gently pack the flour in the measuring cup (kind of like you would when measuring brown sugar), and then level off the measuring cup with the back of a butter knife.
Don't overmix or overwork your flour. Remember, almond flour is ground almonds. If you overmix it, the natural oils start to come out, like when making almond butter. The trick is to mix it just enough to get the muffin batter smooth, but not any more than that.
When finished baking, muffins made from almond flour will appear significantly more golden brown on top than a muffin made with gluten-free grain flour. The natural oils from the almonds cause this additional browning; it's completely normal. The almond flour muffins should not burn if your oven is calibrated correctly, just turn a deep golden brown.
Blanched Almond Flour vs. Unblanched Almond Flour
Blanched Almond Flour– Blanched almonds have had their skins removed, so blanched almond flour contains no almond skins.
Unblanched Almond Flour– Unblanched Almond flour is made from almonds still containing their skin, so this flour is a bit darker in color and not quite as smooth as blanched almond flour.
I prefer to bake with finely ground blanched almond flour, as it provides a lighter, tender crumb. That said, you can certainly use unblanched almond flour in this recipe if that's what you prefer. The skin of almonds contains a high amount of fiber, so from a health standpoint, you really can't go wrong using the unblanched.
Almond Meal vs. Almond Flour
Depending on the brand of almond flour you buy, it could be more of a meal (grittier) than a finely ground flour. While almond meal tastes great, I prefer the texture of the finely ground flour (they equal in flavor). Either will work in this recipe. It just depends on what you prefer.
I have used and recommend the following brands of blanched finely ground almond flour:
Kirkland
Blue Diamond
Anthony's
Honeyville (though I find them more expensive, so definitely price check before you buy)
Are Almond Flour & Coconut Flour Interchangeable?
One of the questions I get most often on my blog is, "Can I use coconut flour as a substitute for blanched almond flour?". The answer is no – coconut flour is not a suitable substitute for blanched (or unblanched) almond flour, or vice versa; they are not interchangeable. Almond flour is incredibly moist, while coconut flour is extremely dry; they are two very different beasts, so don't substitute one for the other.
Tips For Making Gluten-Free Banana Muffins
Choose ripe bananas. The bananas with brown spots on them are going to be the sweetest, softest and lend the best flavor.
The coconut oil should be just melted, not warm.
I prefer the Nutiva brand of coconut flour. Other brands (like Bob's Red Mill) I don't care for.
How To Make Almond Flour Banana Muffins
Stir the dry and liquid ingredients together.
How To Store Almond Flour Banana Muffins
Unlike most baked goods made from gluten-free grain flours, baked goods made with almond flour will stay moist for days. In fact, they stay so moist that I normally store my almond flour muffins in a gallon-sized storage bag left partially open on the counter. This way, air can circulate in the bag, and will prevent too much moisture/humidity from building up in the storage bag.
Just keep in mind, I live in Alaska, so normally our humidity levels aren't high, nor is it generally super hot here. If you live in a hot, humid climate, it is possible you'll need to store your Paleo muffins in the refrigerator.
I hope your family enjoys these gf banana muffins as much as we do!
xoxo,
Mēgan
Almond Flour Banana Muffins Recipe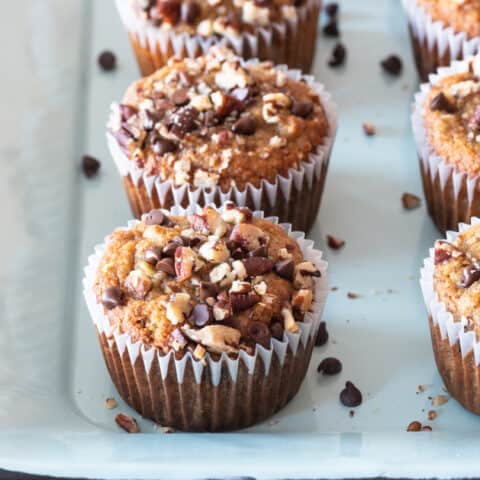 Almond Flour Banana Muffins
These almond flour banana muffins are soft and tender, honey kissed, and the perfect option for a quick breakfast or snack on the go. Top these gluten-free banana muffins with chopped nuts and chocolate chips, or enjoy them plain – either option is delicious!
Ingredients
2 cups blanched almond flour, gently packed
¼ cup coconut flour
1 teaspoon ground cinnamon
¾ teaspoon baking soda
½ teaspoon sea salt
1 ½ cups mashed ripe bananas (about 3 large)
3 large eggs
⅓ cup honey
¼ cup coconut oil, just melted (or olive oil)
1 teaspoon vanilla extract
⅓ cup dairy-free chocolate chips, plus more for sprinkling
¼-1/3 cup chopped pecans (or walnuts) for sprinkling
Instructions
Preheat oven to 350 degrees (F).
In a large mixing bowl, combine the blanched almond flour, coconut flour, cinnamon, baking soda, and sea salt.
In a separate mixing bowl, whisk together the mashed bananas, eggs, honey, coconut oil, and vanilla extract.
pour the wet ingredients into the dry ingredients and mix until the batter is smooth (a few lumps are okay). Do not overmix.
Stir in the dairy-free chocolate mini chips.
Divide the batter into 16 paper lined muffins tins, filling each ⅔ full, and sprinkle the tops of the muffins with more chocolate chips and the chopped pecans.
Bake 18-22 minutes, or until the tops of the muffins are gladen and a toothpick, when inserted into the center of a muffin, comes out mostly clean (a few loose crumbs are okay).
Let cool in the muffin tins for about 10 minutes before removing to a wire rack to cool completely.
Recommended Products
We are a participant in the Amazon Services LLC Associates Program, an affiliate advertising program designed to provide a means for us to earn fees by linking to Amazon.com and affiliated sites.
*Did you make these gluten-free muffins recipe? Please give it a star rating and leave an honest review below!
Don't forget to snap a pic and tag me on Instagram @allergyfreeak and #allergyfreealaska with your gf muffin pics!