This Mom's Amazing Gluten Free & Vegan Apple Pie is so delicious. It's hard to say which is the star of the show: the apple filling perfectly smothered in a sweet layer of cinnamon and nutmeg, or the buttery-like gluten free flaky pie crust. It's a match made in heaven!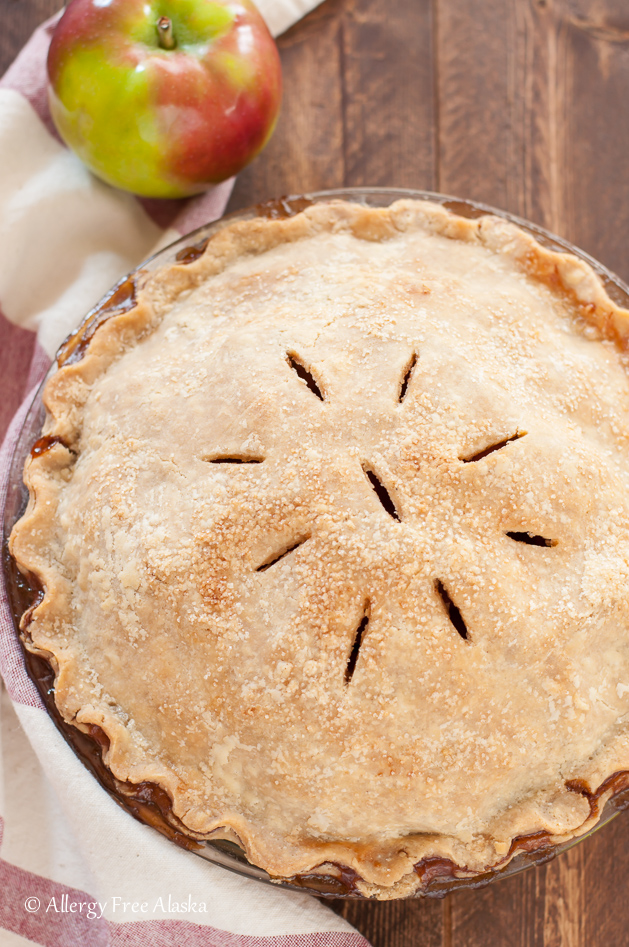 From reader Shataia W.:
"I cannot THANK YOU enough for the best apple pie I have ever made –including in my pre-gluten-free days. The crust was flaky and delicious and the filling was perfect in flavor and not too juicy –and I didn't even have to alter it to use coconut palm sugar. I did have to make a few substitutions (extra sorghum for the rice flour since we have completely altered our diet to be arsenic free and Earth Balance sticks instead of palm shortening). I also refrigerated the dough before baking so it was especially flaky. My non-gluten-free father-in-law LOVED it and had 2 slices! This pie was the highlight of my Thanksgiving dinner. Thanks again for sharing!"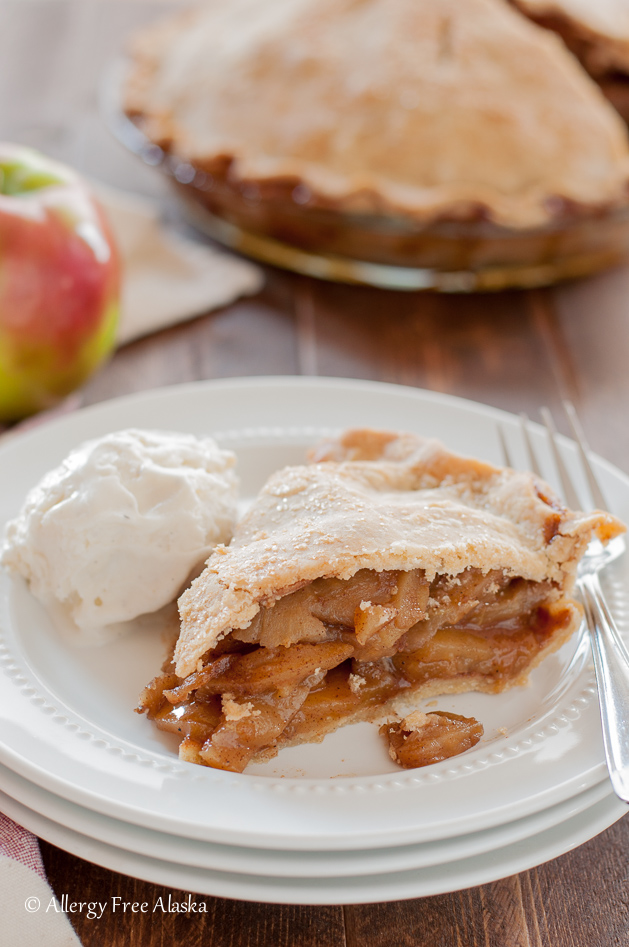 Pie… it's one of the best three letter words ever (especially when it's homemade, slightly warm, and served with your favorite dairy free vanilla ice cream and a cup of coffee!). My mom's homemade apple pie is the best, which is why her recipe inspired me to create my own gluten free version. 
This Mom's Amazing Gluten Free & Vegan Apple Pie would be a wonderful addition to your holiday dessert line up, but please don't limit this deliciousness to just a holiday recipe. Pie should be served year round- for birthdays, holidays, celebrations, or simply just because. If you're not up to baking a pie, try this No Bake Apple Pie from Nicole of Allergylicious.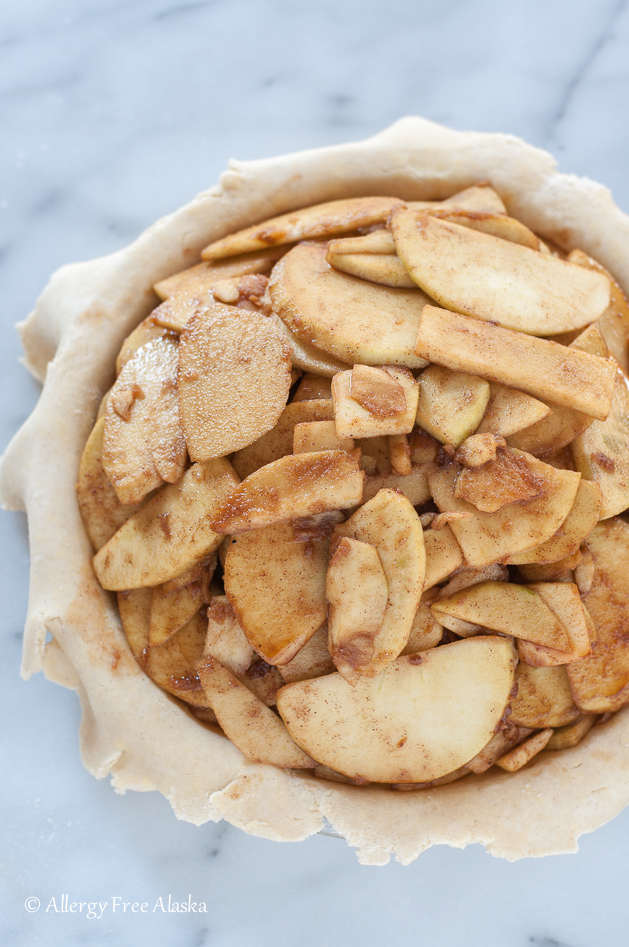 Here is what I do after I fill my apple pie with its filling:
After pouring in the apple filling, put on the top layer of pie crust dough, then trim off the excess dough from the edges. Go around the pie and pinch the top layer of crust and the bottom layer of crust together. Crimp the pie crust edges using your fingers. Then use a sharp knife to create a series of slits, at least 4 to 8, in the top of the pie crust so steam can escape.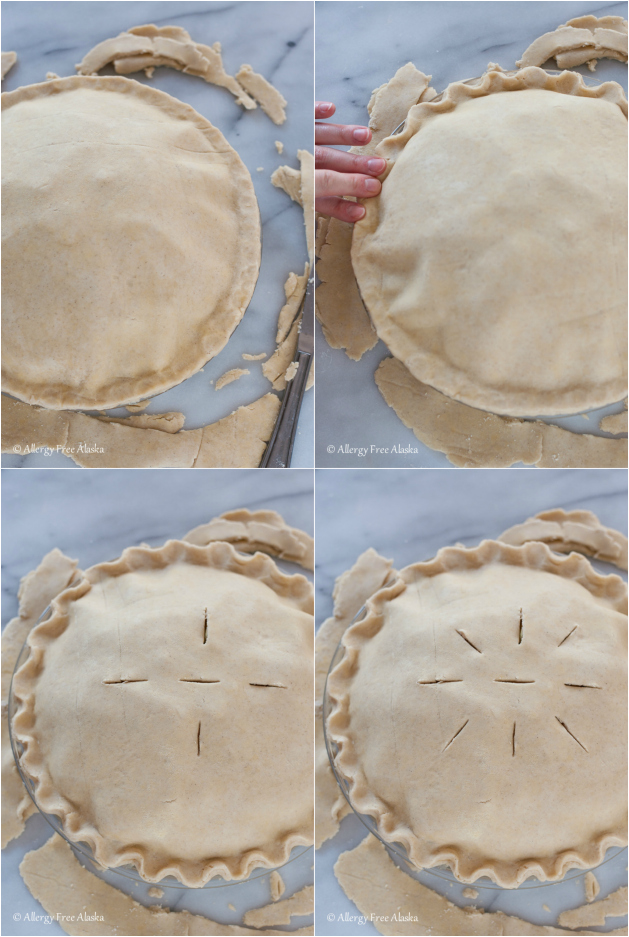 Brush the top of your pie with a little bit of dairy free milk, then sprinkle with sugar. Bake. Cool. Enjoy… with dairy free vanilla ice cream! 
Peace, Love & Pie… xo
Megan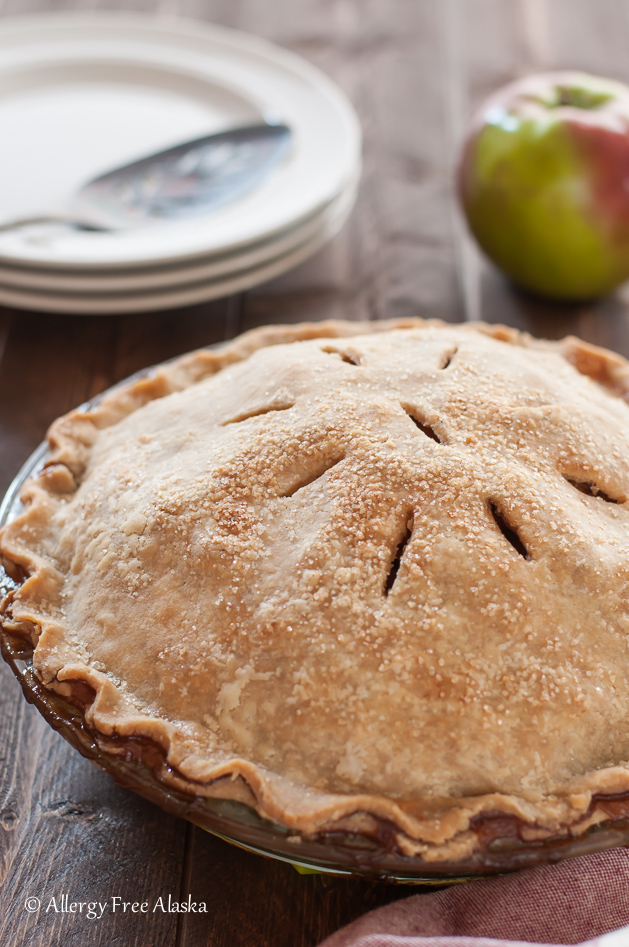 Mom's Amazing Gluten Free & Vegan Apple Pie
Ingredients
6 large Granny Smith apples, peeled, cored, and sliced 1/4 inch thick
Juice of 1/2 a lemon
3/4 cup coconut sugar
2 tablespoons sorghum flour
2 tablespoons arrowroot starch
1 teaspoon ground cinnamon
1/2 teaspoon ground nutmeg
1 teaspoon almond milk (or your favorite dairy free milk)
1 teaspoon organic cane sugar, optional
Instructions
Follow the directions for the Best Gluten-Free Flaky Pie Crust Recipe (make sure to double the recipe), and roll out one of the crusts and fit it into a 9-inch pie plate. Do not trim down the excess dough from the edges of the pie crust.
In a large mixing bowl, combine the apples and lemon juice.
In a small mixing bowl, whisk together the palm sugar, sorghum flour, arrowroot starch, cinnamon, and ground nutmeg. Sprinkle the mixture over the apples and toss to coat.
Place the apple mixture in the pie shell, including any of the juices that may have accumulated.
Roll out the second pie crust and gently place it on top.
Trim the overhanging pie crust dough edge about 1 inch from the rim of the pie plate. Fold and roll the top pie crust under the lower pie crust and flute as desired.
Use a sharp knife to carefully cut a series of slits, at least 4-8, in the top of the pie crust so the steam can escape.
Brush the crust with almond milk (you may not need to use the entire teaspoon), and sprinkle it with the cane sugar.
Place the pie on a baking sheet (to catch drips), and baking in a preheated 425 degree (F) oven for 15 minutes. Reduce the heat to 350 degrees (F) and continue baking for another 45-50 minutes. The pie will be done when the crust is golden brown and the apples are soft (carefully insert a knife in one of the steam slits to test the softness).
Cool for at least 2 hours before serving.
Recipe Notes from Megan
I use organic cane sugar on the outside of the crust because it caramelizes beautifully. If you don't want to use organic cane sugar, I recommend omitting it altogether. I do not recommend substituting palm sugar because it could burn instead of caramelize.
This post may contain affiliate links which I may receive a small commission from (without any additional costs to you). The money earned from these commissions helps me maintain this website. Thank you for your support in this way!