It's okay if the turkey is a little dry, or the stuffing is a little too moist. Everyone will still rave about the meal, as long as the pumpkin pie is delicious! Fortunately, this gluten-free pumpkin pie recipe is a hit at every holiday gathering.
The first Thanksgiving that I was gluten-free, dairy-free, and refined sugar-free was something to be grateful for. I was going through a time of transition, and had to learn how to make my favorite holiday recipes differently. It was intimidating, and the meal wasn't perfect. But when my sister-in-law served a crustless dairy-free pumpkin pie she had baked for me, it made the day so very special.
Gluten Free Pumpkin Pie
Since that year, I have tweaked her substitutions and settled on this gluten-free pumpkin pie recipe as a new tradition. It combines my Gluten-Free Pie Crust with a pumpkin filling so rich and addictive, that no one will guess it's dairy-free and refined sugar-free.
American as Maple Pumpkin Pie
You've probably heard the saying, "American as Apple Pie." But how American is apple pie? Apples aren't native to North America, and the first recorded apple pie recipes appeared during medieval times in England. Since then, various types of apple pies and tarts have been made throughout Europe. America didn't jump on the apple pie train until much further down the line.
I'm not knocking apple pie. My Gluten-Free Apple Pie is still a timeless favorite. But pumpkin pie really is the American classic.
Pumpkin has roots in North America, dating back thousands of years. It was cultivated by Native Americans, and eventually introduced to Europe by the pilgrims. The English attempted to work with the "newly" discovered gourd, but it didn't gain popularity. It really wasn't until the late 18th century that sweet pumpkin pie emerged in an American cookbook. And to this day, it's still a profoundly "American" dessert.
Maple syrup also hails from North America, and the U.S. and Canada are still the world's top producers. So it stands to reason that a maple pumpkin pie would be even more "American," don't you think? Regardless, maple and pumpkin are scrumptious together! And after one bite, I think you'll agree this gluten-free pumpkin pie deserves a spot on your Thanksgiving table.
Dairy-Free Pumpkin Pie Substitutions
This recipe has relatively few ingredients, so there isn't a lot of wiggle room for making swaps. But I do have some tips to ensure the best dairy-free gluten-free pumpkin pie for your needs.
Gluten-Free Pie Crust
You could use a store-bought gluten-free pie crust mix or pre-made dough, but please don't! This recipe really does make the best gluten-free pie crust, and it's much easier than you might think.
Pumpkin Puree
I use canned pumpkin for ease and consistent results. You can use fresh cooked and pureed sugar pie pumpkin (don't use jack-o-lantern pumpkins!), but it could affect the moisture level of the pie. One 15-ounce can holds roughly 1⅞ cups of pumpkin puree.
If you stick with canned, make sure you pick up pure pumpkin puree, not pumpkin pie filling. The two might look similar on store shelves, but pumpkin pie filling will not work in this recipe.
Speaking of gluten-free pumpkin recipes, we also enjoy these gluten-free pumpkin bars, gluten-free pumpkin scones, and gluten-free pumpkin bread.
Is Libby's Pumpkin Gluten-Free?
The brand Libby's Pure Pumpkin Puree is gluten-free, and is actually the brand I prefer to use. They even have an organic option that's wonderful!
Almond Milk
If you can't do nuts, don't hesitate to swap in your favorite dairy-free milk. Most types will work just fine. You can even use lite canned coconut milk for a richer finish.
Eggs
I'm so sorry, but the eggs are a must in this gluten-free pumpkin dessert. Egg substitutes just won't hold up in this dairy-free gluten-free pumpkin pie, literally. However, you can alternatively make my egg-free Paleo Pecan Pie Bars for dessert, or this Vegan Pumpkin Pie Recipe from Go Dairy Free.
Cinnamon, Nutmeg, and Cloves
I prefer to use individual spices because they tend to be more flavorful. But you can substitute 1¾ teaspoons pumpkin pie spice for all of the spices in a pinch.
Dairy-Free Whipped Topping Options
What would gluten-free pumpkin pie be without whipped topping? Fortunately, there are now quite a few dairy-free choices on the market, and it's quite easy to make your own!
Store-Bought Dairy-Free Whipped Topping
Reddi Whip makes almond-based and coconut-based dairy-free whipped creams that are quite popular. They are sold refrigerated in spray cans. I was able to find the almond one locally, and we deemed it worthy of special occasions. In my opinion, it's quite sweet for whipped cream, but my girls loved it. If you can find it, my readers on Facebook said the coconut-based Reddi Whip is even better.
For a tub-style option, look for So Delicious Dairy Free CocoWhip. It's coconut-based, and very similar to Cool Whip in consistency. This brand is sold frozen, so you have to allow some time for it to defrost in the refrigerator.
Homemade Dairy-Free Whipped Topping
You can easily make your own whipped topping from chilled coconut cream. Coconut cream is the thick cream that separates from the liquid in certain brands of canned full-fat coconut milk, like Thai Kitchen, when refrigerated.
Solid chilled coconut cream can be whipped with a few drops of liquid vanilla stevia for a sugar-free option, or a little maple syrup or honey for an unrefined dairy-free whipped topping. If it softens too much, just refrigerate it for an hour or more before serving.
How to Make Gluten-Free Dairy-Free Pumpkin Pie:
Make the gluten-free pie crust and fit it into the pie plate.
Now make your dairy-free pumpkin pie filling.
Pour the filling into the prepared pie crust.
Bake. Let cool. Enjoy!
See how easy it is?!
More Gluten-Free Pie Recipes
Guilt-Free Vegan Pecan Pie Cookies
*If this recipe doesn't accommodate your dietary needs, please check out my gal pal, Shirley's, Gluten-Free Pumpkin Pie Recipe Roundup with Over 30 Recipes! There is certainly a recipe to accommodate nearly all types of dietary needs: egg free, Paleo, nut free, etc...
I hope you enjoy this gf pumpkin pie as much as my family does!
xoxo
Mēgan
Pin this gluten-free pumpkin pie to your gluten-free pies Pinterest board!
Gluten-Free Pumpkin Pie Recipe: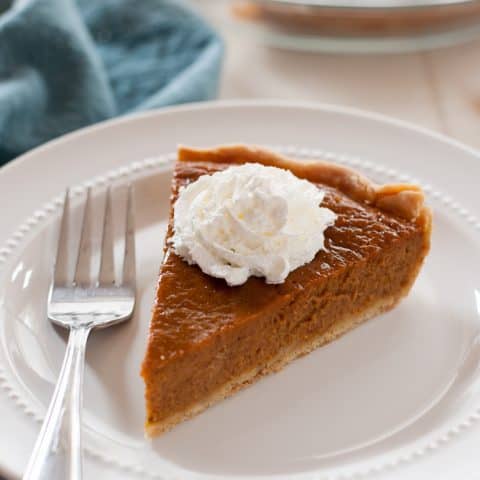 Gluten Free Pumpkin Pie
Total Time:
1 hour
30 minutes
This mouth watering Gluten Free Pumpkin Pie is a hit at every holiday gathering. No one will guess it's gluten-free, let alone dairy-free and refined sugar-free!
Ingredients
1 unbaked Gluten-Free Pie Crust
15 ounces unsweetened pumpkin puree
½ cup almond milk (or another dairy-free milk)
½ cup pure maple syrup
2 large eggs
1 teaspoon ground cinnamon
½ teaspoon ground nutmeg
½ teaspoon sea salt
¼ teaspoon ground cloves
Instructions
Whisk the unsweetened pumpkin puree, almond milk, pure maple syrup, eggs, ground cinnamon, ground nutmeg, sea salt, and ground cloves in a medium size mixing bowl until well blended.
Pour filling into the prepared unbaked pie shell and bake in a preheated 400 degree (F) oven for 15 minutes. Reduce the oven temperature to 350 degrees (F) and bake for an additional 40 to 50 minutes. The pie is completely cooked through when a toothpick inserted in the center of the pie comes out clean.
Allow to cool completely before serving.
Recommended Products
We are a participant in the Amazon Services LLC Associates Program, an affiliate advertising program designed to provide a means for us to earn fees by linking to Amazon.com and affiliated sites.
Did you make this dairy-free pumpkin pie recipe? Tag me on Instagram @allergyfreeak and use the hashtag #allergyfreealaska with your gluten-free dairy-free pumpkin pie recipe pics!