This recipe for super easy Gluten-Free Pumpkin Bars is ideal for those of you who love pumpkin pie, but don't necessarily enjoy making it. This delicious dessert serves nearly twice as many people as a single pie does, and there's no gluten-free pie crust to roll out, the crust in this recipe is one you simply press into the pan (it tastes like a cookie!). You will love how easy and tasty these bars are!
I'm a sucker for a good cookbook or magazine full of colorful recipes. Even though I'm gluten-free, I find I gravitate towards the full-of-gluten recipes.
Why? Because I'll have to change them (even if the recipe fits all of our dietary restrictions!).
That sounds kind of funny, but I can't, for the life of me, follow a recipe. I always have to change something, whether it be tripling the garlic (there can never be enough garlic!), changing the spices, or decreasing the sugar, etc.
I guess you could say I'm a little quirky in the kitchen.
One of my favorite magazines is the Fall Baking issue of Taste of Home magazine. This is the second year I've bought it, and I just love it. It's full of inspiring recipes from home cooks throughout the nation.
This recipe, Gluten-Free Pumpkin Pie Bars, is adapted from a recipe in this magazine called "Pumpkin Pie Squares" by Denise Goedeken of Platte, NE. I saw Denise's recipe and instantly thought, "I've gotta rework this to be gluten and dairy free."
And while I've changed several ingredients (enough in the eyes of some to technically call it my own), I have to give Denise the credit! What a great recipe!
There are several other fall recipes I've marked in that magazine that I'd love to makeover… I just need the time to do it! I feel stretched so thin lately… and I know I'm not the only mom that feels that way, but there really isn't ever enough time in the day, is there?
But can we talk about these healthy pumpkin bars?!
They are, hands down, super delish! Think gluten-free pumpkin pie, with a super easy gluten-free crust and candied pecans on top.
For reals.
And they are totally refined sugar free!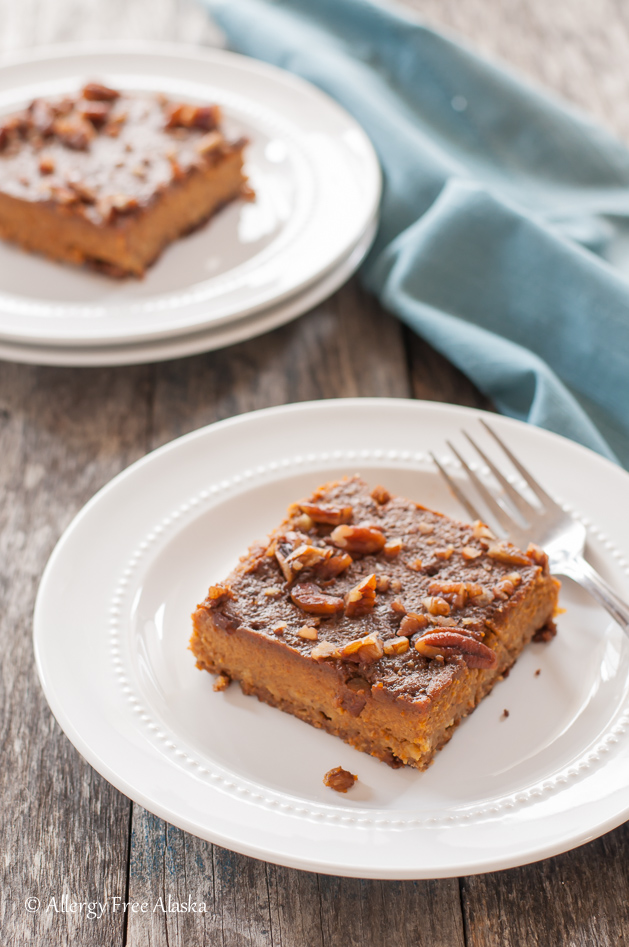 This recipe is like a dream come true for all of you who love pumpkin pie, but shy away from making it because you don't want to roll out a crust. The crust in this recipe is one you simple mix and press into the pan (it tastes like a cookie!). It really doesn't get any easier than that when you're making a homemade dessert!
My friend, Erin, of Texanerin Baking also has a delicious looking Pumpkin Pie Bar recipe you should definitely check out!
(But if for some reason you DO want to make a classic, traditional pumpkin pie with a flaky gluten free crust, I've got you covered. Here are links to my Gluten-Free Pie Crust, and my Gluten Free Pumpkin Pie.)
This recipe has every bit of flavor my Gluten Free Pumpkin Pie does (there are many of you who love that recipe!). The filling is smooth and creamy, while the pecans add a nice sweet crunch. My family really, really loves these bars!
So there you have it. 😉 Now you should make these. ASAP!
All my love,
Megan
Looking for more pumpkin recipes? Try this pumpkin pudding.
Want more gluten free pumpkin recipes?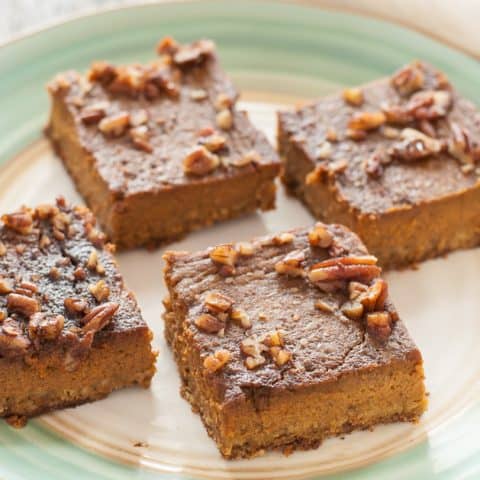 Gluten Free Pumpkin Bars
Total Time:
1 hour
30 minutes
Pumpkin pie meets a cookie crust. These super simple Gluten-Free Pumpkin Bars are a cinch to make and taste absolutely divine!
Ingredients
For the crust:
⅓ cup sweet rice flour
⅓ cup sorghum flour
⅓ cup tapioca starch
½ cup gluten-free quick-cooking oats
½ cup coconut sugar
1 teaspoon xanthan gum
½ cup palm shortening
For the filling:
29 ounces 100% pure pumpkin puree (I like the Libby's brand)
1 ¼ cups almond milk (or another dairy-free milk)
4 large eggs
½ cup pure maple syrup
½ cup coconut sugar
2 teaspoons ground cinnamon
1 teaspoon ground nutmeg
1 teaspoon sea salt
½ teaspoon ground cloves
For the topping:
½ cup coconut sugar
½ cup chopped pecans
2 tablespoons palm shortening
Instructions
Preheat oven to 350 degrees (F) and liberally grease a 9x13 inch baking pan. Now line the baking pan with parchment paper that extends 2 inches beyond the sides.
In a small mixing bowl, make the crust by whisking together the sweet rice flour, sorghum flour, tapioca starch, gluten-free quick cooking oats, coconut sugar and xanthan gum. Now cut in the palm shortening until the mixture resembles coarse crumbs.
Press into the prepared baking pan in an even layer and bake for 20 minutes. Allow the crust to cool and set for at least 20 minutes before adding the filling.
In a large mixing bowl, make the filling by combining the 100% pure pumpkin puree, almond milk, eggs, maple syrup, coconut sugar, ground cinnamon, ground nutmeg, sea salt, and ground cloves. Beat until smooth, and then pour over the crust. Bake for 45 minutes.
In a small bowl, mix together the coconut sugar and chopped pecans, then cut in the palm shortening until the mixture resembles sand. Pour the topping evenly over the bars, and then bake an additional 15-20 minutes. Or until a knife, when inserted into the center of the bars, comes out clean. Cool completely before serving. Serve at room temperature or chilled (I prefer them chilled).
Recommended Products
We are a participant in the Amazon Services LLC Associates Program, an affiliate advertising program designed to provide a means for us to earn fees by linking to Amazon.com and affiliated sites.
This post may contain affiliate links which I may receive a small commission from (without any additional costs to you). The money earned from these commissions helps me maintain this website. Thank you for your support in this way!