This Gluten Free Pie Crust recipe is tried and true, and loved by all of my readers. It's the perfect vessel for any pie filling you can imagine. And while it doesn't contain any dairy, you won't believe how "buttery-like" it is!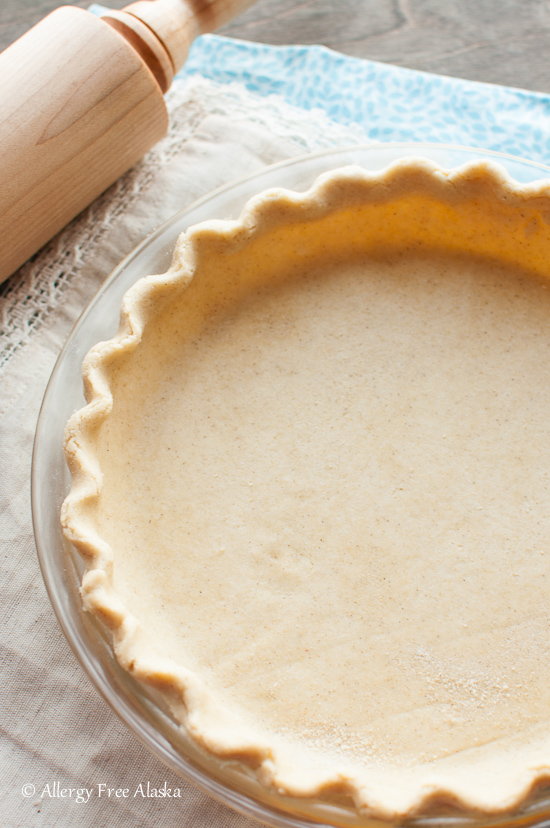 When my parents were married, my dad gave my mom a jewelry box with "A pie a week keeps the husband sweet" inscribed on the inside of it. Needless to say, after 40+ years of marriage, mom became an expert pie maker.
Mom's banana cream pie is my absolute favorite (or was my favorite; I plan on making over that recipe one of these days), but if you asked my dad what his favorite pie is, he'd probably vote pecan.
I think making pie crust is a bit of an art. Mixing the dough just enough not to overwork it, handling and feeling the dough to know the correct texture and consistency, rolling the dough, and being able to roll it out evenly.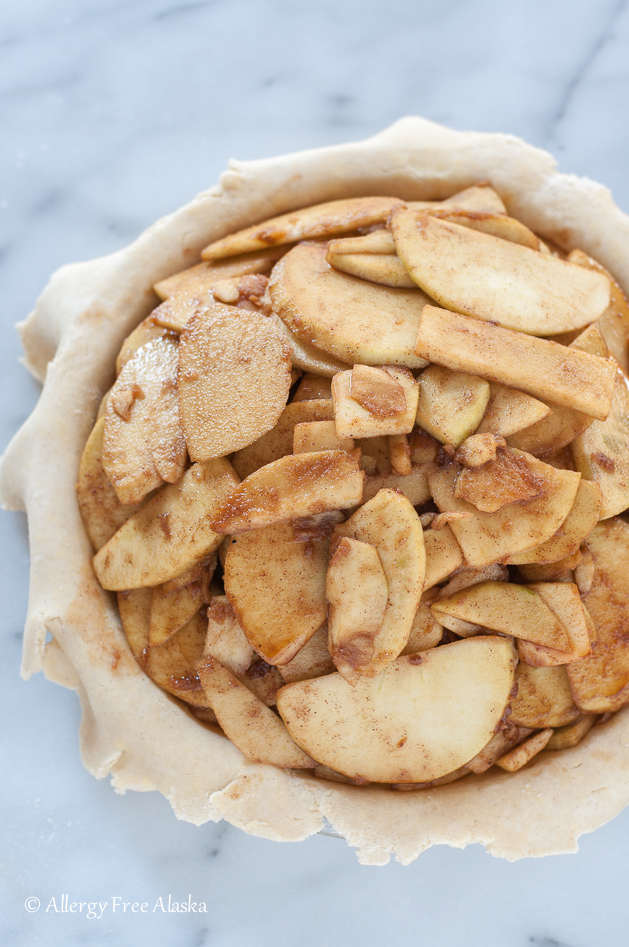 It's taken me years of watching and helping my mom to somewhat feel like I have a handle on it, and even still I have off days.
The great thing about pie crust though, it doesn't matter if you're a seasoned pie crust maker or not. Pie crust doesn't necessarily have to look good – it just has to taste good.
I can assure you this pie crust lives up to its name. It really is the Best Gluten-Free Flaky Pie Crust Recipe I've ever had. 😉 
So if your crust doesn't end up looking as "perfect" as you think it should, don't fret. Just remember that you'll never find any two homemade pie crusts that look the same. Differences add character and uniqueness to your pies!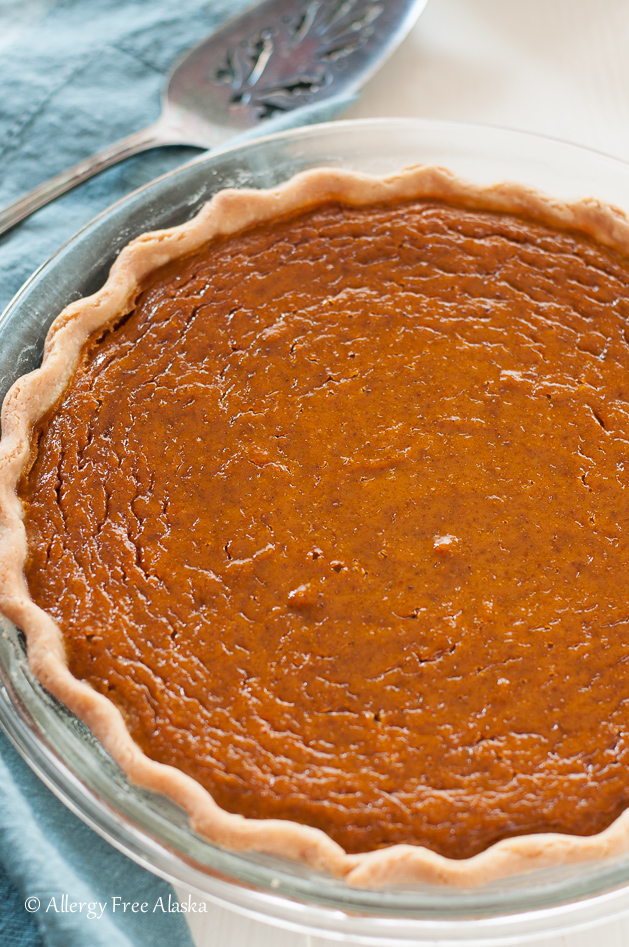 I've been working on this recipe for years. Previously I've made several gluten free pie crusts that have worked, and worked well, but they still weren't good enough to meet my standards.
I wanted a flaky gluten free pie crust recipe that could hold its own if ever compared to mom's. Finally, after years of experimenting… by George, I did it!
But before we get to the recipe, I wanted to share a few pictures with you.
How to make gluten free pie crust:
This (below) is my lightly floured disk of dough, sitting on a piece of lightly floured parchment paper. You can either roll the dough out as is (using more flour as you go along so the dough doesn't stick to your rolling pin), or you can place another piece of parchment paper on top of the disk of dough and roll it out between the sheets of parchment.
It just depends on what's easier for you and what you prefer.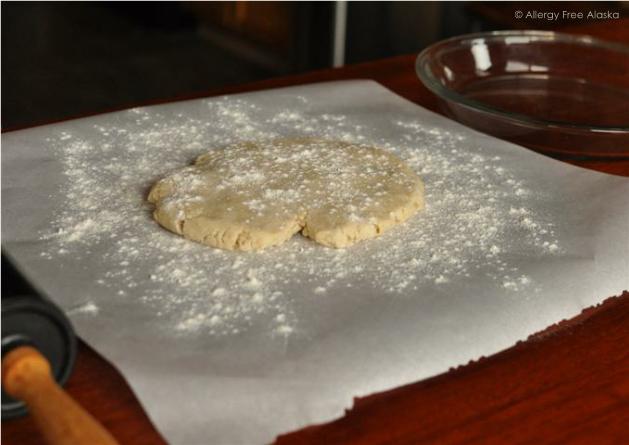 Once the dough is rolled out, you can either invert the pie crust over the top of the pie plate (say a little prayer) and gently peel off the back of the parchment paper, or you can use your rolling pin to help move the crust.
These next few pictures will show you how I start to move the pie crust with the rolling pin:
Also, if you don't have a Pie Crust Maker Bag (or haven't heard of them), I highly recommend getting one! They are a cheap circular zippered bag you can roll your pie crust between (so it takes the place of parchment paper).
I use a Pie Crust Maker Bag in the video below to roll out my pie crust. Just keep your dough floured (so it doesn't stick to the bag), and it will roll out and transfer like a dream. 🙂
And the best thing? The bag will only cost you $5-7!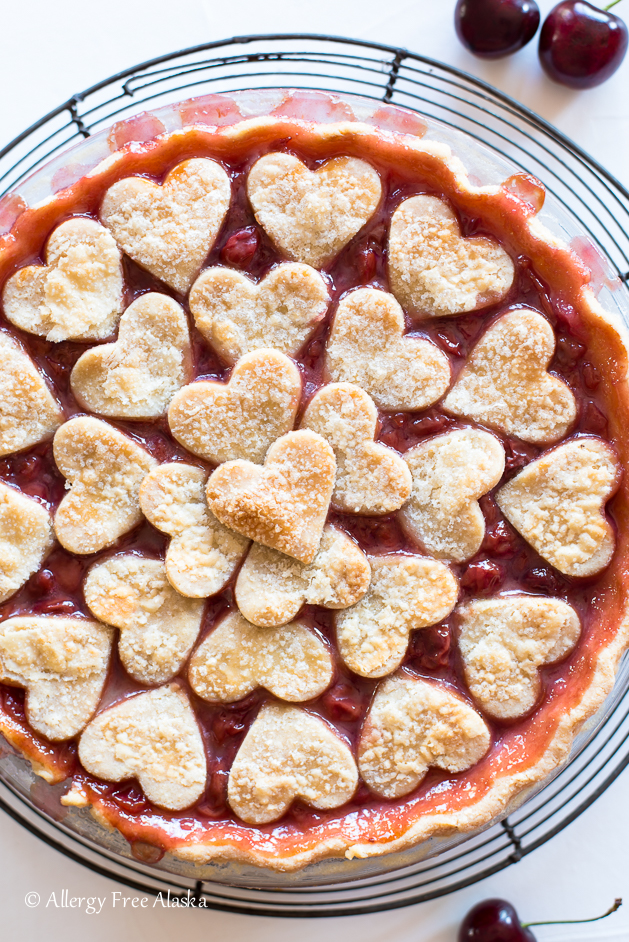 Making substitutions for this Gluten Free Pie Crust recipe:
As stated earlier, I've worked very hard over the last few years to develop a truly perfect best gluten free pie crust recipe. That said, the ingredients I've used in this recipe were chosen for specific reasons. If you substitute another flour or ingredient than that as listed, I can't guarantee the end result of your pie crust.
Testing recipes is incredibly time consuming, and unfortunately I can't fine tune a recipe to fit everyone's individual dietary needs. If the ingredients in this specific recipe won't work for you, please let it be your guide, or a launching point for you to do your own experimentation. 😉
I'm more than willing to aid in suggestions or give you my opinion. Just please know I can't guarantee the end results!
Looking for more gluten-free pie recipes? Try one of these:
You should also check out this Ultimate Guide to Gluten Free Pie from my friend, Sandi, of Fearless Dining.
Here is a how-to video on how to roll out and transfer your pie crusts. My Facebook readers found this really helpful, so I hope you will too! You can buy the pie crust bag HERE.

All my love,
Megan (with a long E)
Best Gluten-Free Flaky Pie Crust Recipe
Serves:
one single pie crust pastry
Instructions
In a large mixing bowl, whisk together the sorghum flour, millet flour, arrowroot starch, brown rice flour, xanthan gum, and sea salt.
Cut in the palm shortening until the mixture resembles coarse crumbs.
Add the apple cider vinegar and water, and stir gently until the mixture comes together to form a dough.
To roll the dough, lay a piece of parchment paper on a work surface and lightly sprinkle with flour. Place the disk of dough in the middle of the parchment paper, sprinkle the disk with flour, and roll the dough into an 11-12 inch round starting from the middle and working out towards the edges. Keep sprinkling the dough with flour as needed to prevent the dough from sticking to the rolling pin.
Using your rolling pin (as pictured above) to aid in moving the dough, carefully ease the crust into a 9 inch pie plate. Or use the bottom layer of parchment paper to invert the entire pie crust over the top of the pie plate (say a little prayer) and gently peel off the parchment paper. Press the dough evenly into the bottom and sides of the pie pan (if there are any tears in the crust, simply wet your fingers and try to smooth them out as best as you can).
Trim down the edges of the pie crust leaving about 1/2 an inch of excess dough. Fold the excess dough underneath and crimp the edges.
Fill and bake as desired.
To Pre-Bake the Crust without Filling:
Preheat oven to 375 and prick the bottom of the crust all over with a fork. Line the crust bottom with coffee filters or parchment paper and fill with a single layer of dried beans. Bake for 15-20 minutes, or until the pie crust begins to change color around the edges. Remove the coffee filter or parchment paper and the beans. Bake for an additional 5-15 minutes, or until the crust is golden brown and dried out. Cool completely before filling.
Recipe Notes from Megan
This 14" Pie Crust Bag
is ideal for rolling out perfectly round pie crusts. I have one that a friend gifted me and absolutely love it!
Temperature, altitude and humidity will affect pie crust dough. If you find the crust difficult to roll out and you think it's too dry, simply throw it in a
food processor
, add 1 tablespoon of cold water, and pulse 3-5 times. Check the dough. If you think it will hold together and roll out properly – great! If not, continue to add more cold water, tablespoon by tablespoon until the dough comes back together.