This glorious gluten-free pecan pie is adapted from my mom's beloved Thanksgiving dessert recipe. When my mom married my dad, she didn't know how to cook. Her mom never taught her. Over the years, she definitely learned her way around the kitchen. And my dad's love for sweets turned her into an expert pie maker.
I have so many wonderful childhood memories of making pies with mom. It was important to her that I learn how to cook at a much younger age than she did. So she always let me help in the kitchen, no matter how much I slowed her down.
Mom's Pecan Pie Made Gluten-Free and Refined Sugar-Free
Like my mom, I welcome my girls into the kitchen to help with the process, and we all love savoring the results together. According to my whole family (including my mom and dad) this heavenly pie is a pecan lover's dream.
My mom might have passed her acquired love of baking onto me, but I had to learn the "free-from" part on my own. This particular recipe is dairy-free, gluten-free, soy-free, refined sugar-free, and even corn-free.
That's right, a gluten-free pecan pie without corn syrup!
Why You Don't Need to Use Corn Syrup in Pecan Pie
Corn is an issue for many people, including me, but I was determined to enjoy a slice of pecan pie with my mom again. After some research, I learned that corn syrup really isn't an essential ingredient.
Pecan Pie was Originally Made without Corn Syrup!
Sugar pies originated in Medieval Europe, and variations gradually made their way to the U.S. In the late 1800s, that sugar pie concept was used to create pecan pie in the south. The first recorded appearance of pecan pie was a recipe submitted by a woman in Texas to a St. Louis cookbook in 1898. At that time, corn syrup didn't exist. Early recipes simply used sugar, while some later versions used a darker sugar syrup or molasses.
But pecan pie achieved fame in the 1930s when Karo, the makers of corn syrup, promoted it. They adapted pecan pie, and many variations, to use their corn syrup. By the 1950s, those recipes had become holiday essentials.
This Gluten-Free Pecan Pie Recipe is Deliciously Corn Syrup Free
Corn syrup is an invert sugar, which means that it helps prevent crystallization in sweets like candies and gelato. It can also provide shine and body in sauces. But it really isn't essential for a perfect gluten-free pecan pie.
I use maple syrup in place of corn syrup, and haven't had any issues with crystallization. It also adds delicious depth of flavor and richness that corn syrup just can't match. Maple pecan is a classic flavor for a reason!
If you don't believe me, then perhaps Peggy R., one of my readers, will convince you. She hails from the Pecan Pie State (yes, Texas really does have a state dessert!):
"This is not only the best "healthified" gluten-free pecan pie recipe I've ever found, but it's one of the best, period. And trust me – I grew up in Texas, so I've eaten a LOT of pecan pie!"
Gluten-Free Pecan Pie Ingredient Tips and Substitutions
Pecan pie filling is more forgiving than some people might think, but there are definitely some dos and don'ts to keep in mind.
Coconut Sugar and Maple Syrup
Maple syrup is the star of the show in this paleo pecan pie filling, but the coconut sugar does add some nice molasses undertones. If you need to substitute it, you can use another granulated sugar. However, other sugars tend to be sweeter and not as rich.
I don't recommend substituting the maple syrup because it adds amazing flavor. But if you must, you can substitute another liquid sweetener. Just keep the flavor of the sweetener in mind. Molasses, for example, might be too strong, while agave nectar will have a very light taste. I don't recommend using brown rice syrup, because it has a mild bitterness that some people might notice.
Vegan Butter
I use Earth Balance – they have a soy-free, corn-free version available. You can substitute coconut oil, but it will have a slight influence on the flavor, and the dairy-free pecan pie filling won't set up as well at room temperature. You might need to refrigerate the pie to help it fully set.
Eggs
I don't recommend trying to make this recipe egg-free. The filling is completely flour- and starch-free, which means the eggs provide all of the structure. If you need an egg-free, vegan pecan pie treat, try my Gluten-Free Pecan Pie Cookies or my Paleo Pecan Pie Bars. Both recipes are grain-free, gluten-free, refined sugar-free, and vegan.
Pecans
You might have noticed that I specified "raw" pecan halves. Please do NOT toast the raw pecans prior to assembling this gluten-free pecan pie. The top layer of pecans will burn while baking if they are toasted beforehand.
The light, crisp bite, rich flavor, and mild sweetness of pecans make them a natural for pie. But don't hesitate to swap in some other nuts, or a combination of compatible nuts, if you're feeling adventurous. Just keep the taste of the nut in mind. Walnuts, cashews, and even peanuts (if tolerated), are sometimes used in pies like this.
More Gluten-Free Pie Inspired Recipes to Serve
Whether you dollop it with dairy-free whipped cream, add a scoop of vegan vanilla ice cream, or serve it simply with coffee, pie is a holiday staple. That's why I love to serve more than one type at Thanksgiving! Bake this corn-free, gluten-free pecan pie along with one (or more!) of these pie-inspired dessert recipes.
Guilt-Free Vegan Pecan Pie Cookies from Allergy Free Alaska
Gluten-Free Maple Butter Tarts from Faithfully Gluten Free
Dairy-Free Gluten-Free Maple Pumpkin Pie from Allergy Free Alaska
Gluten-Free Fudge Pecan Pie from What The Fork Food Blog
Mom's Gluten Free Vegan Apple Pie from Allergy Free Alaska
Paleo Vegan Pecan Pie Bars from Allergy Free Alaska
From reader Peggy R.:
This is not only the best gf/"healthified" pecan pie recipe I've ever found, but it's one of the best, period. And trust me - I grew up in Texas, so I've eaten a LOT of pecan pie!
I hope you enjoy this gf pecan pie as much as me and my family do!
xo,
Mēgan
Pin this gluten-free pecan pie to your gluten-free pies Pinterest board!
Gluten-Free Pecan Pie Recipe: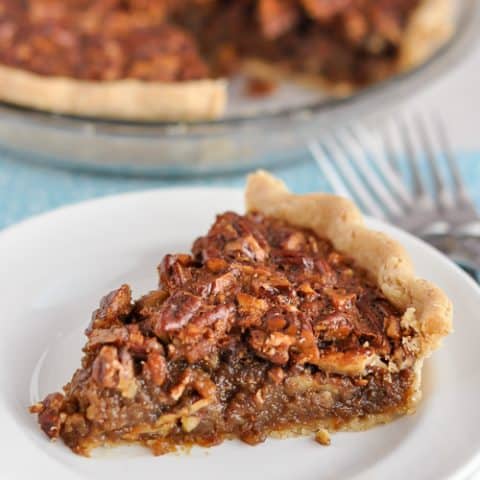 Gluten-Free Pecan Pie
Total Time:
1 hour
15 minutes
Swapping out the corn syrup for pure maple syrup in this Gluten-Free Pecan Pie (Corn Syrup-Free, Refined Sugar-Free) adds to the depth and richness of the pie's flavor. Maple syrup is so amazing on its own, but when used in pecan pie, it's downright fabulous.
Ingredients
1 cup coconut sugar(or palm sugar)
¾ cup pure maple syrup
3 tablespoons vegan butter, melted and cooled
3 large eggs, at room temperature
¼-1/2 teaspoon sea salt
1 teaspoon vanilla extract
1 ¾ cups raw pecan halves
Instructions
Preheat oven to 400 degrees (F).
In a medium-sized mixing bowl, whisk together the organic coconut sugar, pure maple syrup, vegan butter, eggs, sea salt, and vanilla extract. Stir in the raw pecan halves.
Pour the filling into the prepared unbaked pie shell and place the pie on a large baking sheet (just in case the pie spills over). Place the baking sheet in the oven and bake for 20 minutes at 400 degrees (F). Reduce the oven temperature to 350 degrees (F) and bake for an additional 30 minutes. The pie is completely cooked through when the top is deep golden and filling doesn't jiggle. The filling may puff up during baking. If this happens, don't be alarmed. It will settle as it cools. Place on a wire rack to cool. Cool completely before serving.
Notes
I don't recommend trying to make this recipe egg-free. Try these Gluten-Free Pecan Pie Cookies, or Paleo Pecan Pie Bars instead. They are grain-free, gluten-free, refined sugar-free, and vegan.
If you can't have vegan butter of any kind, coconut oil or ghee can be used as a substitute.
Some like to toast their pecans prior to assembling their pecan pie. PLEASE do NOT do that with this recipe, as the baking time is long enough to toast the pecans. If you toast the pecans beforehand, they will burn while baking.
Recommended Products
We are a participant in the Amazon Services LLC Associates Program, an affiliate advertising program designed to provide a means for us to earn fees by linking to Amazon.com and affiliated sites.
I hope you enjoy this gf pecan pie! Please come back and give it an honest rating if you make it!
This post may contain affiliate links which I may receive a small commission from (without any additional costs to you). The money earned from these commissions helps me maintain this website. Thank you for your support in this way!