Crispy, honey-sweetened, and just like the originals (that we all loved) , these gluten-free graham crackers are sure to please a crowd!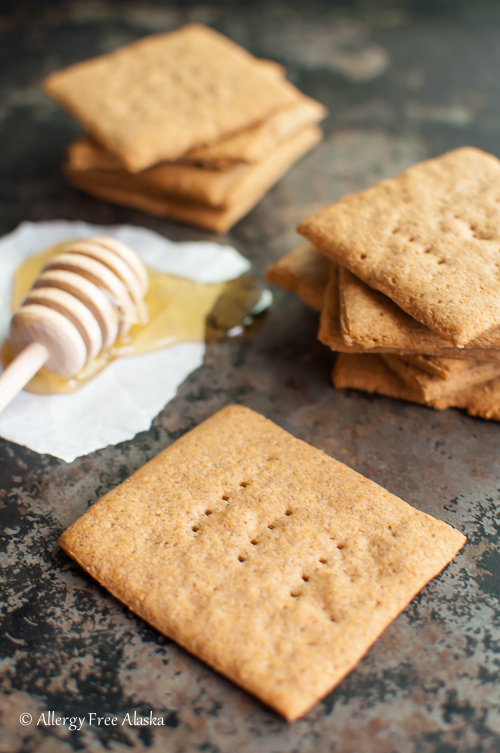 Summer… oh how I love summer!
While we haven't been camping just yet, we've done a few home improvement projects. Last weekend, what we anticipated would be a cheap Saturday single-day project turned into a slightly spendy, multi-weekend one.
I'm afraid if I mention the words "coffee table" or "paint" to my husband one more time he just might have a nervous break down. 😉
I will openly admit – I am horrible at home decorating, including picking paint colors or matching anything together. One piece of advice though, when choosing the right white to paint a coffee table, make sure the white chose isn't a brighter, purer white than the white paint on your living room walls. Otherwise, the newly painted pure white coffee table will be so bright it will make the rest of the house look incredibly dingy.
Ha ha. Hard lesson learned.
On the bright side, over the last 2 weekends AJ and I learned how to make our own chalk paint, how to properly chalk paint furniture, how to distress it, and how to wax it. 😉 That certainly counts for something!
And will come in handy when I can safely bring up the word "paint" to my husband again. 😉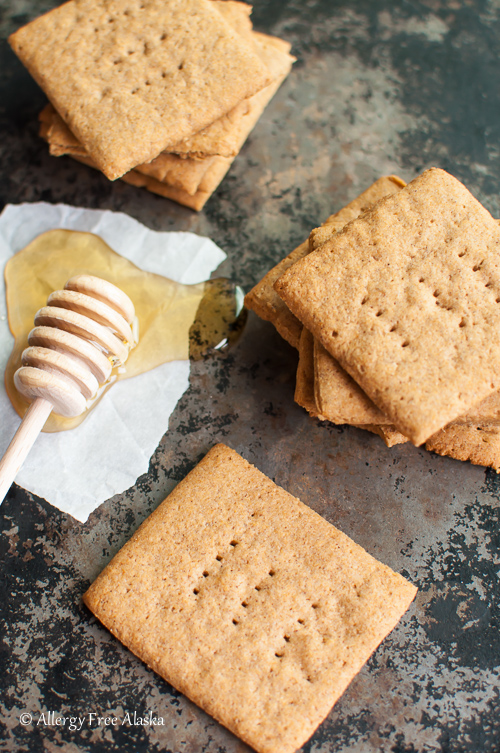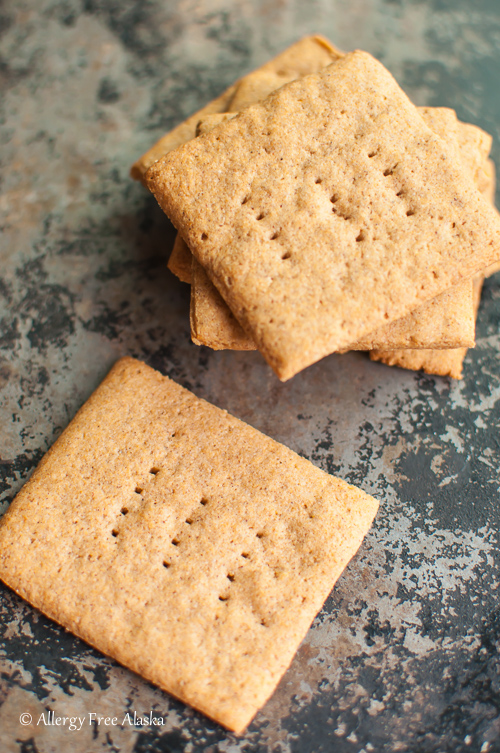 Since we weren't going camping this past weekend, I promised the girls we would make s'mores, and I would make homemade graham crackers. Fortunately, I delivered on that promise.
These Gluten Free Honey Graham Crackers taste just like what I remember graham crackers tasting like. Slightly toasted, sweet, and light and crunchy. They are the perfect vessels for s'mores and all that homemade Fluffy Corn-Free Marshmallow and oozing chocolate goodness!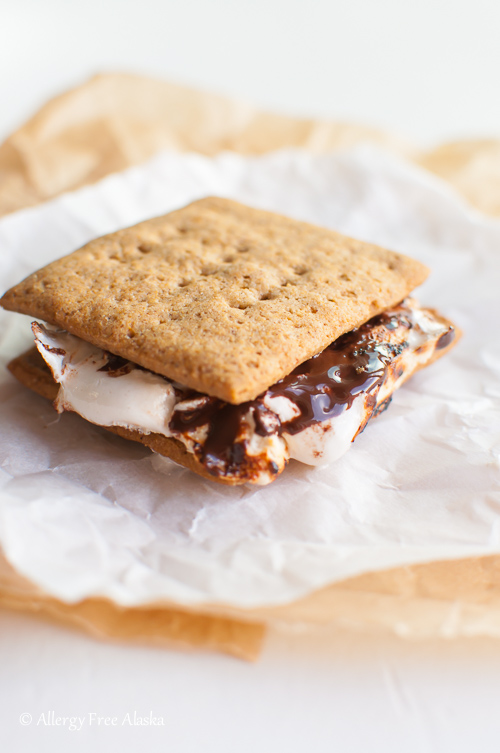 For this recipe, I tried something new. Instead of rolling out the dough out between 2 layers of parchment paper, I separated the dough out into 2 separate disks and then rolled the disks of dough out in gallon-sized sealable bags.
Doing this ensures the dough is rolled out in a near-perfect rectangle, making it easier to cut into even sized crackers.
A quick 30 minute chill in the refrigerator ensures the bags of soft dough harden up enough to maintain shape for cutting and transferring to a baking sheet.
This method was slick, and nearly foolproof!
In addition to eating these delicious graham crackers whole, I'm sure the crumbs would also make an amazing pie crust. My mouth waters a bit at all of the possibilities! What will you make first with your homemade Gluten-Free Graham Crackers – s'mores, pie, etc?
Peace, love, and paint (ha ha),
Megan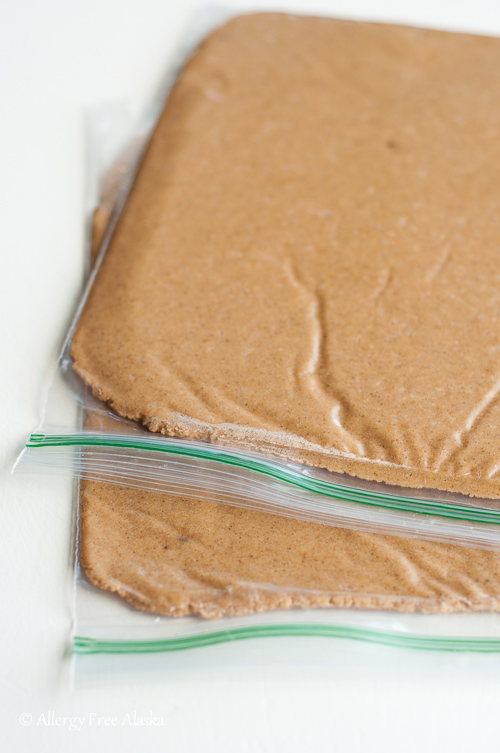 These crackers are ready to bake!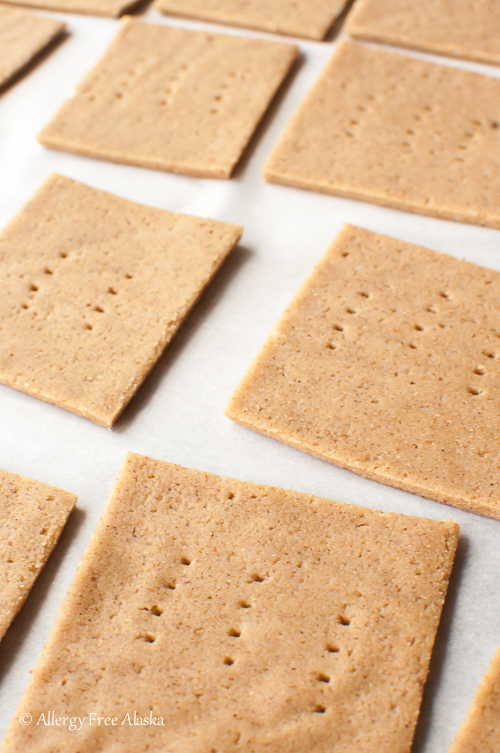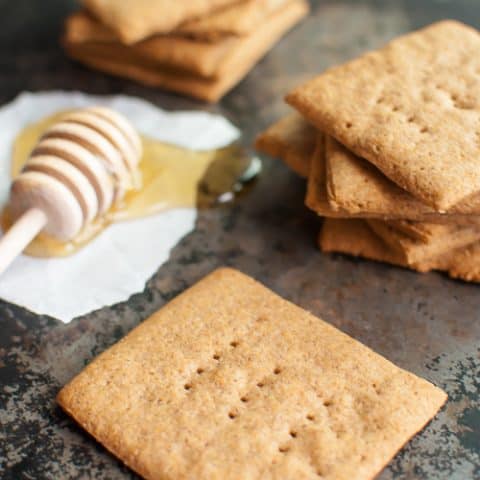 Gluten Free Graham Crackers
Crispy, honey-sweetened, and just like the originals, these gluten-free graham crackers are sure to please a crowd!
Ingredients
1 cup sorghum flour
1 cup tapioca starch
1/4 cup millet flour
1/2 cup organic brown sugar
2 tablespoons psyllium husk powder
1 3/4 teaspoons ground cinnamon
1 teaspoon baking powder
1/2 teaspoon baking soda
1/2 teaspoon sea salt
7 tablespoons coconut oil
3 tablespoons honey (or maple syrup for vegan)
1 teaspoon vanilla extract
6-8 tablespoons cold water
Instructions
In a large mixing bowl, whisk together the sorghum flour, tapioca starch, millet flour, organic brown sugar, psyllium husk powder, ground cinnamon, baking powder, baking soda, and sea salt.
Cut in the coconut oil until the mixture resembles coarse crumbs.
Add the honey, vanilla extract, and 4 tablespoons of the cold water. Stir, and continue to add the cold water, tablespoon by tablespoon until the mixture forms workable dough.
Divide the dough in half and form each half into a disk. Place each disk into the center of a gallon-sized sealable bag (so you have 2 bags filled with dough). Remove the excess air from the bag and seal it. Roll the dough out so that it is evenly flat and reaches all four corners of the bag (if necessary, open the bag and readjust the plastic). Roll the second bag of dough. Lay both bags of dough out flat in the refrigerator, and refrigerate for at least 30 minutes.
Preheat oven to 325 degrees (F), and line 2 large baking sheets (or pizza stones) with parchment paper.
Remove the first bag of dough from the refrigerator, unseal it, and cut the bag to remove the top layer of plastic. Use a pizza cutter to cut the dough into squares or rectangles. Carefully use a spatula to transfer the crackers to one of the prepared baking sheets. Prick each cracker 2-3 times with a fork if desired. Repeat this step with the second bag of dough.
Bake for 22-26 minutes, or until the crackers are golden brown, and slightly deeper golden around the edges. Transfer to cooling racks and cool completely before enjoying. Crackers will be soft when hot, but will crispen as they cool. Enjoy plain, or make s'mores with these Fluffy Corn-Free Marshmallows with Coconut Sugar, or my Real Food Strawberry Marshmallows (also corn- free).
Notes
If it's an extra warm summer day, and you're having an issue transferring the cut crackers to the baking sheet because the dough is too soft, invert the crackers (while they are clinging to the final layer of plastic) over the baking sheet and then pull back the layer of plastic. You can bake the dough whole, as is, with the cracker edges touching. Gently break apart the crackers after they are finished baking.
Recommended Products
We are a participant in the Amazon Services LLC Associates Program, an affiliate advertising program designed to provide a means for us to earn fees by linking to Amazon.com and affiliated sites.