Homemade Gluten Free Graham Crackers are crispy, naturally sweetened, and even better than the originals! They're a nutritious snack that's a total crowd pleaser!
Is there anything more nostalgic than the crisp snap of breaking fresh graham crackers in half? These gluten free graham crackers are packed with fiber, good fats, and natural sweeteners. A combination of sorghum flour, millet flour, psyllium husk, tapioca starch, and organic brown sugar come together to give these homemade crackers the classic graham texture that we all know and love.
These gluten-free crackers are flavored with honey and vanilla, but then coconut oil and a few staple baking ingredients bring everything together to create a crunchy, lightly sweetened that you can feel good about sharing with your family.
Dress these healthy graham crackers up with some dark chocolate and homemade fluffy corn-free marshmallows or strawberry marshmallows to make mouthwatering s'mores treats.
What gives graham crackers their flavor?
Typically, store-bought graham crackers and other homemade graham cracker recipes contain molasses, a super thick and syrupy by-product from sugarcane processing, which is the ingredient that gives graham crackers their earthy, somewhat smoky flavor.
Oftentimes, graham cracker recipes also call for graham flour, a course whole wheat flour that gives graham crackers their recognizable bran-like texture and crispy crunch.
In this gluten free graham cracker recipe, the sorghum flour (a non-wheat flour made from the sorghum plant) does double duty, adding both texture and flavor. Sorghum juice (sometimes called sorghum molasses) is a substance that is similar to molasses in flavor and consistency, so it's the perfect ingredient for these homemade graham crackers.
Other Ways to Use Gluten Free Graham Crackers
In addition to eating homemade graham crackers by the square as a healthy treat, there are lots of different ways to use graham crackers in baking.
Try crushing your graham crackers into crumbs and using them to make a pie crust. My maple pumpkin pie recipe would be delicious with a gluten-free graham cracker crust in place of the traditional gluten-free pie crust.
You could also swap gluten-free graham cracker crumbs for the chocolate cookies in my dairy-free salted caramel ice cream pie.
A sprinkle of graham cracker crumbs would also make a delicious topping for a salted caramel frappuccino or a bowl of vegan ice cream.
How do you make gluten-free graham crackers from scratch?
In a large bowl, whisk together the dry ingredients. Cut in the coconut oil until the mixture becomes crumbly, just like you would with butter. You can use a fork, pastry blender or food processor to do so.
Add the rest of the wet ingredients to the crumb mixture. Add in more water by the tablespoon until the mixture pulls together and forms a dough.
Split the dough in half and form each portion into a disk. Place the dough halves into large zip lock baggies, then squeeze out the air. Use a rolling pin to roll out the dough into flat sheets inside the bags on your countertop. Place the bagged dough sheets in your fridge for 30 minutes.
Preheat your oven and prepare a couple of baking sheets. Remove the bags of graham cracker dough from your fridge, unseal the tops, and cut them open. Cut each sheet of dough into squares or rectangles, then transfer them to your baking sheets.
Use a fork to prick and score the graham cracker dough squares, then bake as directed. The edges of these gluten free graham crackers should be golden brown. Use a spatula to move them to a cooling rack to cool before serving.
Why is my graham cracker dough still soft after baking?
If you find that your graham crackers are still soft in the middle after baking, don't worry. This gluten free graham cracker dough behaves like cookie dough. It'll continue cooking and crisp as it cools.
You can help your graham crackers to crisp nicely by quickly removing them from your baking sheet and placing them on a wire cooling rack to allow air to circulate around them as they harden.
How to Store Homemade Gluten-Free Graham Crackers
Have you ever grabbed a box of graham crackers from your pantry only to open them and find that they're completely stale and soft? So disappointing!
Just like the boxed crackers, these homemade graham crackers are best stored in an airtight container at room temperature. Be sure to keep the container sealed at all times to ensure that they stay as crisp as possible. If excess moisture gets into the container, you'll end up with stale crackers before you know it.
Your homemade gluten free graham crackers should stay fresh for up to 5 days, so plan to use them quickly!
Other Gluten Free Snacks You Might Like:
Gluten Free Chocolate Crinkle Cookies from Allergy Free Alaska
Gluten Free Apple Nachos from My Gluten-Free Kitchen
Vegan Gluten Free Banana Bread from Allergy Free Alaska
Gluten Free Cheese Crackers from Gluten Free Palate
Gluten Free Graham Crackers Recipe: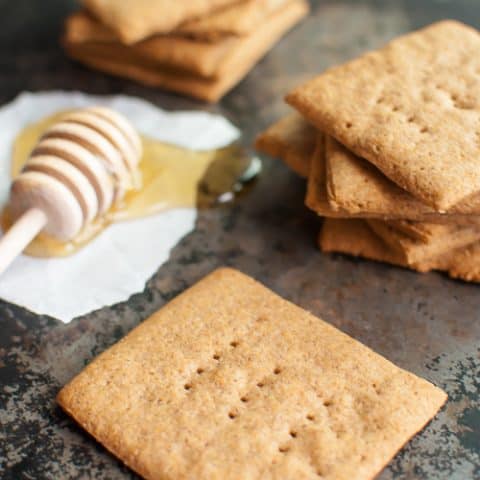 Gluten Free Graham Crackers
Total Time:
1 hour
6 minutes
Homemade Gluten-Free Graham Crackers are crispy, naturally sweetened, and even better than the originals! They're a total crowd pleaser!
Ingredients
1 cup sorghum flour
1 cup tapioca starch
¼ cup millet flour
½ cup organic brown sugar
2 tablespoons psyllium husk powder
1 ¾ teaspoons ground cinnamon
1 teaspoon baking powder
½ teaspoon baking soda
½ teaspoon sea salt
7 tablespoons coconut oil
3 tablespoons honey (or maple syrup for vegan)
1 teaspoon vanilla extract
6-8 tablespoons cold water
Instructions
In a large mixing bowl, whisk together the sorghum flour, tapioca starch, millet flour, organic brown sugar, psyllium husk powder, ground cinnamon, baking powder, baking soda, and sea salt.
Cut in the coconut oil until the mixture resembles coarse crumbs.
Add the honey, vanilla extract, and 4 tablespoons of the cold water. Stir, and continue to add the cold water, tablespoon by tablespoon until the mixture forms workable dough.
Divide the dough in half and form each half into a disk. Place each disk into the center of a gallon-sized sealable bag (so you have 2 bags filled with dough). Remove the excess air from the bag and seal it. Roll the dough out so that it is evenly flat and reaches all four corners of the bag (if necessary, open the bag and readjust the plastic). Roll the second bag of dough. Lay both bags of dough out flat in the refrigerator, and refrigerate for at least 30 minutes.
Preheat oven to 325 degrees (F), and line 2 large baking sheets (or pizza stones) with parchment paper.
Remove the first bag of dough from the refrigerator, unseal it, and cut the bag to remove the top layer of plastic. Use a pizza cutter to cut the dough into squares or rectangles. Carefully use a spatula to transfer the crackers to one of the prepared baking sheets. Prick each cracker 2-3 times with a fork if desired. Repeat this step with the second bag of dough.
Bake for 22-26 minutes, or until the crackers are golden brown, and slightly deeper golden around the edges. Transfer to cooling racks and cool completely before enjoying. Crackers will be soft when hot, but will crispen as they cool. Enjoy plain, or make s'mores with these Fluffy Corn-Free Marshmallows with Coconut Sugar, or my Real Food Strawberry Marshmallows (also corn- free).
Notes
If it's an extra warm summer day, and you're having an issue transferring the cut crackers to the baking sheet because the dough is too soft, invert the crackers (while they are clinging to the final layer of plastic) over the baking sheet and then pull back the layer of plastic. You can bake the dough whole, as is, with the cracker edges touching. Gently break apart the crackers after they are finished baking.
Recommended Products
We are a participant in the Amazon Services LLC Associates Program, an affiliate advertising program designed to provide a means for us to earn fees by linking to Amazon.com and affiliated sites.
Nutrition Information:
Yield:

17
Serving Size:

1
Amount Per Serving:
Calories:

145
Total Fat:

6g
Saturated Fat:

5g
Trans Fat:

0g
Unsaturated Fat:

1g
Cholesterol:

0mg
Sodium:

130mg
Carbohydrates:

23g
Fiber:

2g
Sugar:

9g
Protein:

1g