Caramel… sweet sweet caramel…. It's something many of us haven't been able to indulge in –  in a very long time. And I'm not talking about healthier caramel made from almond butter or dates (not that there's anything wrong with those), but I'm talking about real sinfully rich caramel.
So sinful that it melts in your mouth and can turn any good dessert into an incredible one.
This will forever change the history of your vanilla ice cream.
And your sliced apples.
And your brownies.
Not to mention your coffee (you can thank me later). 😉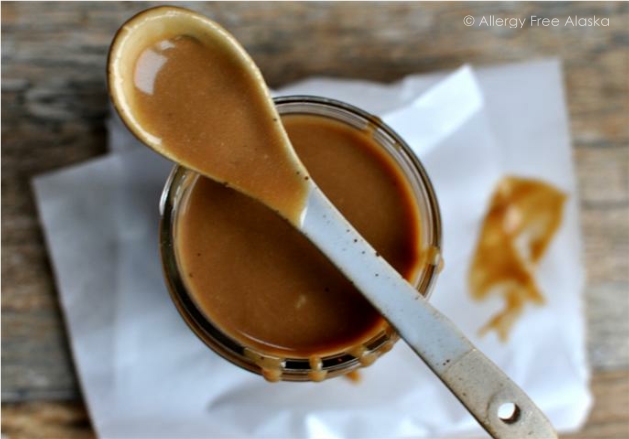 To those of you with small children in your home, please use caution when making this. I use the back burner on my stove and tell my girls to stay out of the kitchen (just to be safe)!
All my love,
Megan
PS – There is no shame in sneaking spoonfuls out of the fridge when no one is looking. In fact, I highly encourage it!
"Liquid Gold" a.k.a. Dairy Free Caramel Sauce (Paleo, vegan & refined sugar free)
Ingredients
14 ounces canned coconut milk
1 cup palm sugar (I use either Big Tree Farms or Madhava)
1/4 cup pure maple syrup
2 tablespoons coconut oil
1/4 teaspoon vanilla extract
Small pinch of sea salt
Instructions
In a small heavy bottomed saucepan over medium heat, whisk together the coconut milk, palm sugar, and maple syrup. Bring to a boil and then reduce heat to medium-low and simmer, stirring occasionally, for 15 minutes and then remove from heat.
Whisk in the coconut oil, vanilla, and sea salt.
Allow the Caramel Sauce to cool for 20 minutes. A thin film will naturally form over the top of the sauce; this is perfectly normal. Simply give the sauce a good whisk before pouring it into a glass airtight container (I use a canning jar). The sauce will continue to thicken (although not much) while it cools.
Store in the refrigerator. Can be served warm or cold. Use within 5-7 days.
Recipe Notes from Megan
This caramel sauce is just that – a sauce. It is fairly runny and won't get really thick like a dairy-filled caramel will. I've tried simmering it for longer periods of time (40 minutes) just to test it. It does get slightly thicker, but I actually prefer the ease of a 15 minute simmer time. If you would like to simmer it longer for a thicker consistency, I suggest reducing the amount of palm sugar used to 3/4 cup.

I highly, highly recommend using palm sugar in this recipe. Palm sugar has a wonderful caramel-like flavor, so it really adds to the richness of the sauce. I tried making this recipe once using sucant and didn't care for it. Trust me, use palm sugar!

When you first bring the coconut milk, palm sugar and maple syrup to a boil, don't leave it unattended on the stove. It can (and will) boil over if you aren't careful. Keep an eye on it.

This "Liquid Gold" a.k.a. Dairy Free Caramel Sauce (Paleo, vegan & refined sugar free) post contains affiliate links. Allergy Free Alaska, LLC receives a small commission from the sales made through these links. However, we only promote affiliate products we use or support wholeheartedly. The commissions received through your purchases help maintain this site. Thank you for your support!