This luscious Dairy-Free Salted Caramel Ice Cream Pie is the stuff dreams are made of. Sweet salted caramel, chocolate, and creamy ice cream… all rolled up into one luxurious and irresistible gluten-free treat!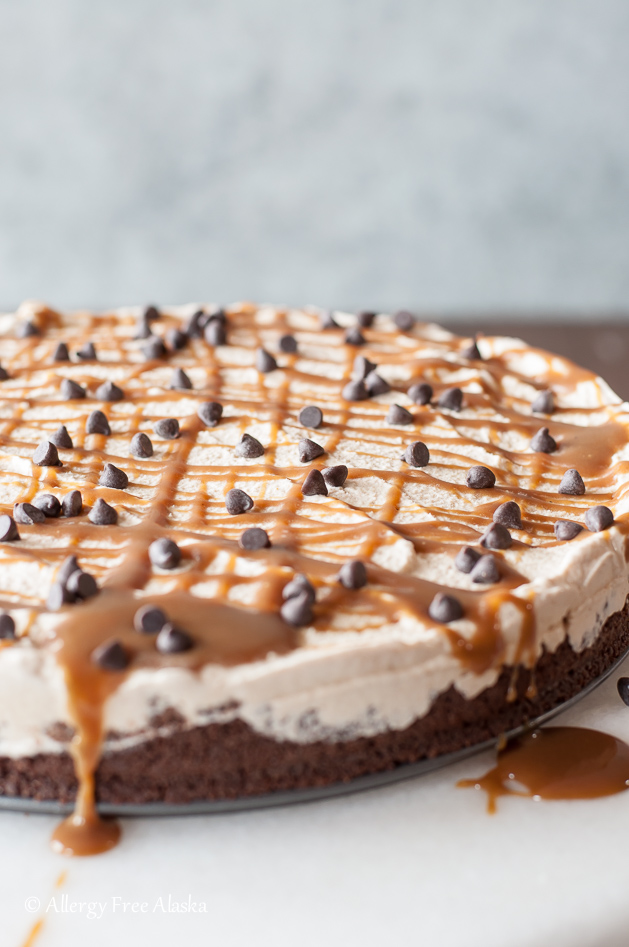 Those of you who follow my Facebook Page may have read that I recently had food sensitivity testing done (it was the FIT test  from KBMO Diagnostics).
Here are the results of what I have to eliminate for the next 6 months:
cow's milk, wheat/gluten, cauliflower, eggs, cranberry, pear, oats, rye, apple, cantaloupe, pumpkin, spinach, basil, pork
I'm a little sad about the eggs, oats, apples, pumpkin, and pork (the cow's milk and gluten were totally NOT a surprise…lol). Oh, and the basil too (because the basil at the store right now is beautiful!!).
BUT, giving up eggs for a full 6 months (even duck eggs) will allow me to serve all of you who are egg-free/vegan a little better. You can count on the next several new recipes being entirely egg-free.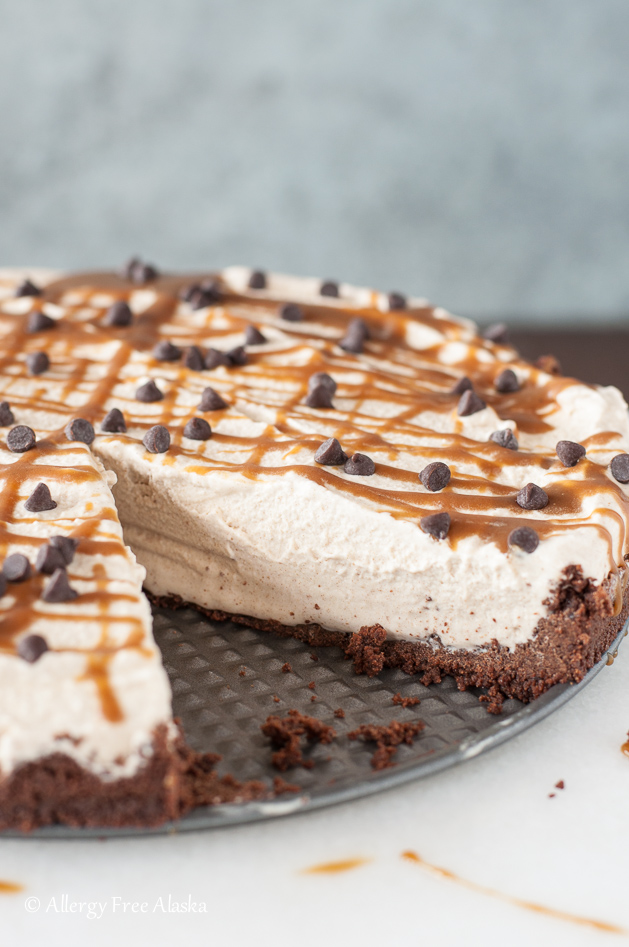 But about this pie… you guys, you soooooooo need to make this Dairy-Free Salted Caramel Ice Cream Pie! It is SO good! And I'm not just saying that because it's my recipe (promise). 😉 We demolished this pie with the help of my SIL and nieces! It got rave reviews all around.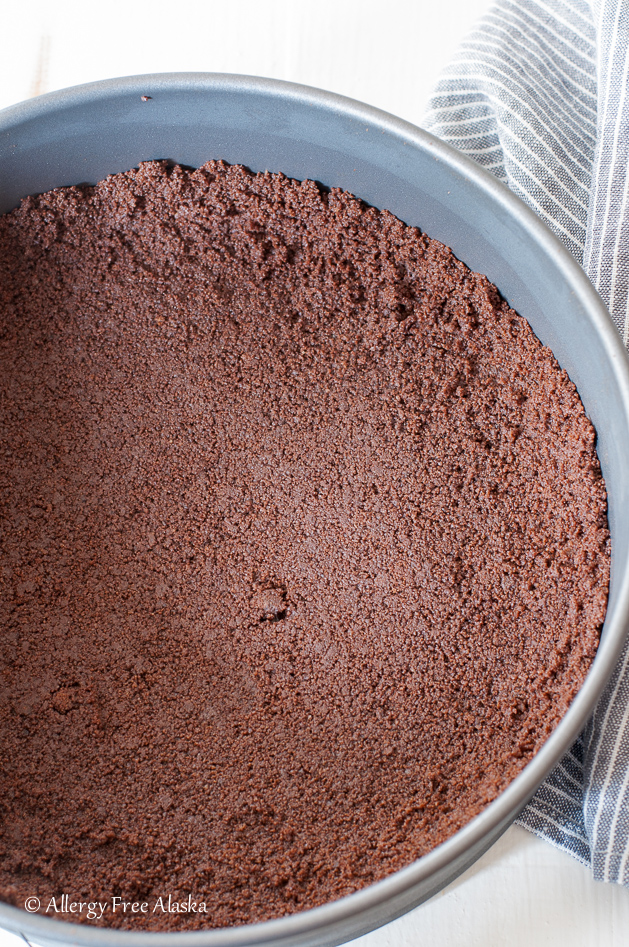 Can we talk about this salted caramel sauce for a hot minute? It is rich and decadent with just the right balance of salty and sweet. WARNING: May cause an addiction. If this happens, proceed to put said salted caramel sauce on everything.
You can thank me later. 😉
Oh, and you should also make this Dairy-Free Caramel Macchiato.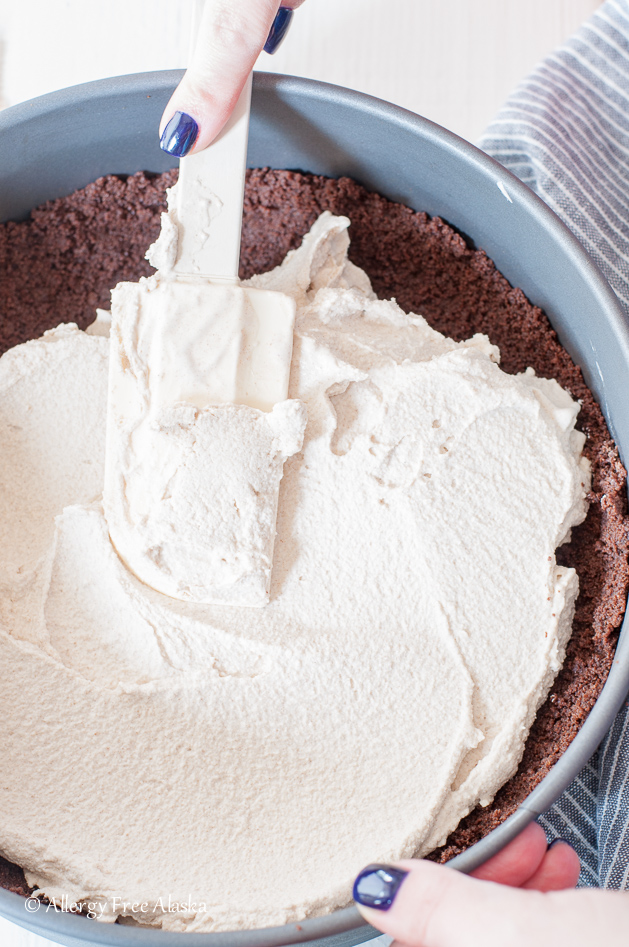 The crust is super easy, I used Enjoy Life Crunchy Double Chocolate Cookies and ground them into crumbs, then combined them with vegan butter (or you can use coconut oil instead). Press the crumbs into a 9″ spring form pan and freeze. Instant delicious pie crust!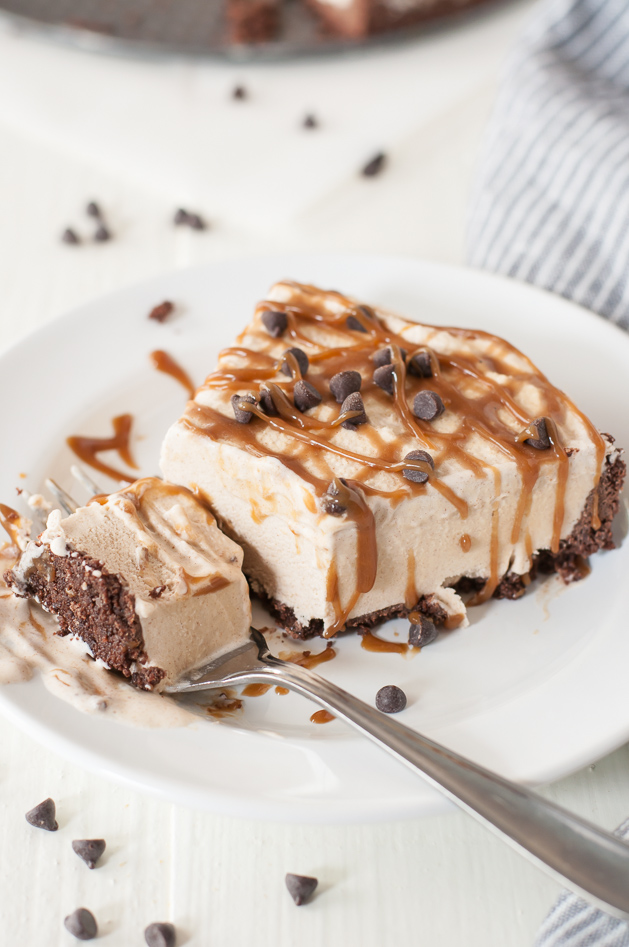 ***GIVEAWAY*** Hot August Nights Gluten Free Ice Cream Social 2017
Some of my favorite bloggers and I are so excited to offer a group giveaway of a $300 Amazon gift card! Just enter using this Rafflecopter entry below! Giveaway runs 8/14/17 through 8/24/17 at 9:00pm PDT. Open to USA residents only, 18 and older. Winner will be notified by email within 48 hours of contest close and will have 48 hours to respond before a new winner is picked. Giveaway is sponsored by the participating bloggers. Good luck!
Here are all the links to all of the Hot August Nights Gluten Free Ice Cream Social 2017:
Creamy Earl Grey Infused Ice Cream by Fearless Dining
Gluten Free Vegan Brownie Ice Cream Sandwiches by Sarah Bakes Gluten Free
Gluten Free Mud Pie by What the Fork Food Blog
Chocolate Caramel Sundae Sauce by The Heritage Cook
Roasted Pineapple Cherry Shake by Vegetarian Mamma
Chocolate Sandwich Cookie Ice Cream Sandwiches by Celiac and the Beast
Vegan Unicorn Pudding Pops by Flippin' Delicious
Peanut Butter Ice Cream Topping and Chips by This Vivacious Life
Pumpkin Pie No Churn Ice Cream by There is Life After Wheat
Gluten Free Waffle Cones by GF Jules
Gluten-free Caramel Sauce by My Gluten-free Kitchen
Dairy-Free Salted Caramel Ice Cream Pie
Author:
Megan Ancheta, Allergy Free Alaska LLC
Ingredients
For the salted caramel sauce:
For the salted caramel ice cream:
For the crust:
For the top of the pie:
Instructions
To make the salted caramel sauce:
In a medium-sized heavy bottomed saucepan over medium heat, whisk together the canned coconut milk, coconut sugar, pure maple syrup, and Himalayan sea salt. Bring to a boil and then reduce heat to medium-low and simmer, stirring occasionally, for 15 minutes and then remove from heat (if you use a small-sized saucepan, the mixture could overflow as it simmers, so please use caution and make sure you use a medium-sized saucepan).
Whisk in the vegan butter.
Allow the Caramel Sauce to cool for 20 minutes. A thin film will naturally form over the top of the sauce; this is perfectly normal. Simply give the sauce a good whisk before pouring it into a glass airtight container (I use a canning jar). Refrigerate until cold.
To make the salted caramel ice cream:
Place the chopped dates in a small mixing bowl and cover with 1 1/2 cups of hot water. Set aside to soften for at least 10 minutes.
Drain the dates and discard the water.
Place the dates in a high-speed blender with the canned coconut milk. Puree on high until smooth.
Add the salted caramel sauce and blend until smooth.
Pour into an airtight container and refrigerate for 6 to 8 hours or until very cold.
To make the crust:
Place the Enjoy Life Crunchy Double Chocolate Cookies in a food processor and process until the cookies are finely ground crumbs (the mixture should resemble coarse sand).
Add in the vegan butter, and pulse until fully incorporated throughout the crumbs.
Press the mixture evenly into a 9-inch spring form pan (you will only be able to go about half way up the sides of the pan).
Freeze for at least 30 minutes.
Putting it all together:
Give the chilled salted caramel ice cream "custard" a quick stir (it may separate in the refrigerator, this is completely normal) and then pour it into an ice cream maker and churn according to manufacturer's instructions.
Pour the churned ice cream straight into the prepared pie shell and use a spatula to spread it out evenly.
Cover the pie pan with aluminum foil or plastic wrap and freeze (for at least an hour or two).
When you are ready to serve the pie, use a butter knife and go around the sides of the pie to help release the crust from the pan easier. Remove the outer ring from the spring form pan and top the pie with more salted caramel sauce and Enjoy Life Mini Chocolate Chips.
Recipe Notes from Megan
The 1 1/2 packages of crushed Enjoy Life Cookies comes to about 2 cups of cookie crumbs total (just in case you are trying to substitute with something else).
We are a participant in the Amazon Services LLC Associates Program, an affiliate advertising program designed to provide a means for us to earn fees by linking to Amazon.com and affiliated sites.