When Go Dairy Free asked me join their summer recipe contest and develop a recipe using one of So Delicious Dairy Free's nut-based or coconut-based ice creams, I knew instantly I wanted to use the cashew-based Salted Caramel Cluster ice cream. It's my absolute favorite! It's smooth, creamy, and filled with sweet ripples of salted caramel and pieces of chocolate and cashews. Seriously, if you haven't tried it, you must. You'll be addicted at first bite!
And if you don't believe me, check out this Descriptive Essay my daughter wrote last year (5th grade). We homeschool, so I gave my daughter the assignment and walked away for her to work in peace. I wasn't aware what the subject of her essay was until she handed it to me to proof read. 😉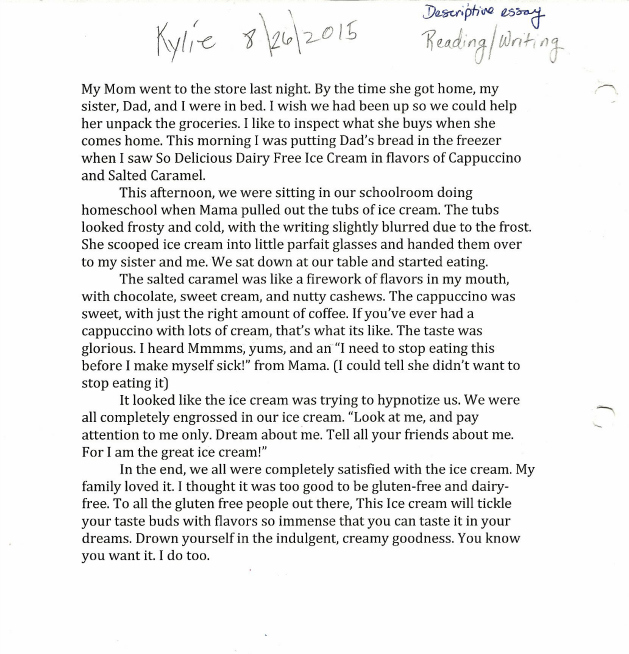 I realize my opinion is biased, but I thought what my daughter wrote was so cute. I actually posted a copy of her essay on So Delicious Dairy Free's Facebook page, and their response was priceless. They sent my daughter a package of goodies, including t-shirts, an ice cream scoop, a fun bracelet, and a super sweet note. I was so impressed and touched they would take the time to make my 10 year old girl feel special. Not many companies would do that (thank you So Delicious!).
This summer has been crazy busy for my family. The weather in Alaska has been gorgeous (in the upper 70's to low 80's), so it's been impossible to stay inside. We've been outside enjoying every minute of sunshine!
Because we've been so busy, I knew the recipe I wanted to create using the Salted Caramel Cluster ice cream needed to be one that could be made quickly. Those of you who have been following me for a while know my love for coffee runs deep, so a frappuccino just seemed like a no-brainer.
This Vegan Salted Caramel Frappuccino recipe takes only 5 minutes to make; it's ridiculously easy (in such a good way!). It's smooth, creamy, and rich. The bitterness of the coffee balances out the sweetness of the caramel so well, the taste is luxurious. Top it with my Liquid Gold a.k.a. Dairy-Free Caramel Sauce, and So Delicious Dairy Free CocoWhip for an extra decadent treat.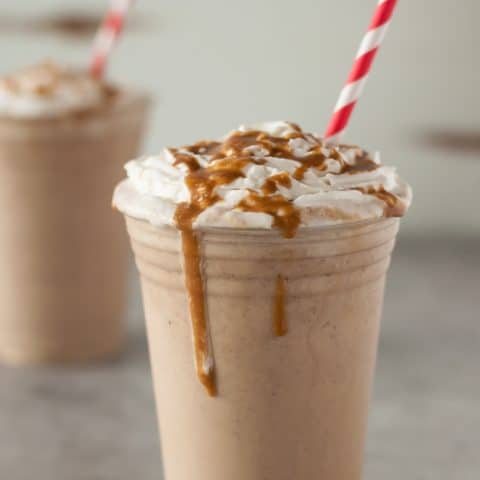 Vegan Salted Caramel Frappuccino
This Vegan Salted Caramel Frappuccino recipe takes only 5 minutes to make; it's ridiculously easy (in such a good way!). It's smooth, creamy, and rich.
Ingredients
For the Frappuccino:
1 cup ice
½ cup strong coffee, cooled
¼-1/2 cup canned coconut milk (full fat is best; not lite)
For the Topping (optional):
Instructions
To make the frappuccino, combine the So Delicious Salted Caramel Cluster Ice Cream, ice, strong coffee, and ¼ cup of canned coconut milk in the container of a high speed blender. Blend on high until smooth. If the blender needs more liquid to get the ingredients moving, add more canned coconut milk, tablespoon by tablespoon, until the mixture moves fluidly.
Pour into a tall glass and top with So Delicious CocoWhip and Liquid Gold a.k.a. Vegan Caramel Sauce.
Consume immediately.
Notes
Feel free to use either caffeinated or decaf coffee in this recipe.

This post may contain affiliate links which I may receive a small commission from (without any additional costs to you). The money earned from these commissions helps me maintain this website. Thank you for your support in this way!