These sugar free fudgesicles are so ridiculously delicious and creamy! You won't believe they contain no added sugar… and are healthy! These babies are packed with fiber and protein, thanks to the dates and hemp seeds.
Did you know that 3 tablespoons of hemp seeds contain about 10 grams of protein?
And even better… your kids will never suspect there isn't an ounce of sugar in these healthy fudgesicles. None.
I caught a chest cold and have a sore throat, so I made these sugar free fudge pops this weekend to soothe my throat. Or at least that's the excuse I'm going with… 😉
They hit the spot. They are rich and decadent, yet smooth and delicious. Like my favorite pudding pops when I was a kid, just much healthier. I used to pretend to be sick just because I knew my mom would buy me those pudding pops and let me eat more than normal (sorry mom).
As for the popsicle molds, I have these, but you certainly can use whatever you have on hand. Depending on the size of your popsicle molds, you'll get anywhere between 8-12 sugar-free fudgesicles.
With summer right around the corner, I can't wait for warmer temperatures to make their way to Alaska. We've had a few days that reached 60 degrees (F), but nothing past that. Granted, us Alaskans like our ice cream, even when it's -30 F below zero, but I'd much rather enjoy my frozen treats when I have to worry about them actually melting. You know what I mean?!
These Sugar Free Fudgesicles have more of a "milk" chocolate flavor to them vs. a "dark" chocolate flavor. Very similar to what I remember a Wendy's Frosty tasting like – fudgy and delicious!
All my love,
Megan
Sugar-Free Fudgesicles Recipe: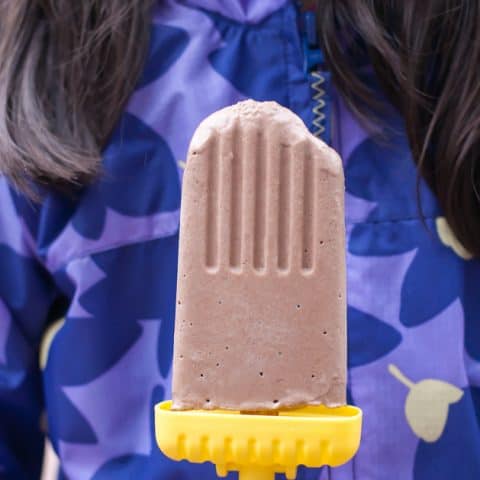 Sugar Free Fudgesicles
Yield:
about 8-12, depending on the size of your molds
Total Time:
8 hours
20 minutes
These sugar free fudgesicles are so ridiculously delicious and creamy. You won't believe they contain no added sugar… and are healthy!
Ingredients
¾ cup chopped dates
3 tablespoons hemp seeds
2 ¼ cups canned coconut milk
½ cup almond milk (or your favorite dairy-free milk)
¼ cup cocoa powder
15 drops Nunatural's vanilla stevia
Instructions
In a small mixing bowl, submerge the dates in hot water and let them sit for 10 minutes to soften. Drain the water and discard it.
Place the dates, hemp seeds, and the canned coconut milk in a high speed blender and blend on high until the mixture is smooth and creamy, about 1-2 minutes.
Add the almond milk, cocoa powder, and Nunatural's vanilla stevia. Mix until well blended.
Pour into popsicle molds and freeze until solid.
Recommended Products
We are a participant in the Amazon Services LLC Associates Program, an affiliate advertising program designed to provide a means for us to earn fees by linking to Amazon.com and affiliated sites.

This post may contain affiliate links which I may receive a small commission from (without any additional costs to you). The money earned from these commissions helps me maintain this website. Thank you for your support in this way!