My husband and I share an inside joke that all I do at home (since I'm a stay at home mom) is paint my nails and eat bon bons. Again, it's a joke, but I really do like to paint my nails (I have a love affair with nail polish), in addition to all of my "lady of the house" duties. Like cooking, cleaning, laundry, being a mother, homeschooling, maintaining a website, developing recipes, etc.
My husband knows I work my butt off (and would never suggest otherwise), but I find it really amusing that sometimes when he calls from work I'm painting my nails. So I giggle and tell him all I'm doing with my day is painting my nails and eating bon bons. He's always disappointed when he gets home, because I never save any bon bons for him (because there never have been any bon bons… until now, anyways).
With Valentine's Day fast approaching, I wanted to create a special treat I could make for my family, but was low sugar so I could enjoy it too. Chocolate Covered Raspberry Ice Cream Bon Bons seemed like a no-brainer, especially considering all of you on Facebook specifically told me you prefer raspberry with your chocolate instead of strawberry.
As for you purists out there who don't care for berries with your chocolate, I have a Chocolate Covered Vanilla Ice Cream Bon Bon recipe for you!
All my love,
Megan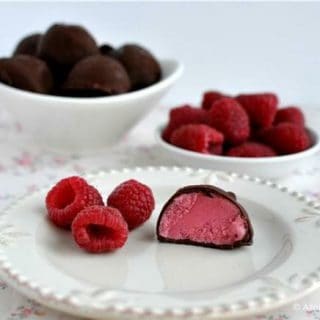 Chocolate Covered Raspberry Ice Cream Bon Bons
Ingredients
For the raspberry ice cream filling:
12 ounces frozen raspberries
¼ cup water
½ cup chopped dates, packed
1 ¾ cup canned coconut milk + extra, *see directions (make sure you use full fat)
¼ teaspoon vanilla extract
3-5 drops NuNatural's Liquid Stevia or 1-3 teaspoons maple syrup
For the outer chocolate shell:
1 cup Enjoy Life Chocolate Mini Chips
3 tablespoons coconut oil
Instructions
To make the raspberry ice cream filling:
In a small heavy bottomed sauce pan, heat the frozen raspberries and water over medium heat. Once the berries melt, continuously whisk them until they are completely broken up (right about when the mixture just starts to boil). Removed from heat.
Place a 6-8 inch fine mesh strainer (like this one) inside a medium sized mixing bowl and pour the raspberry mixture into the strainer (be careful, it's hot!). Use the back of a large spoon to push the liquid and raspberry pulp through the strainer (see important note below) leaving nothing but the seeds behind.
Discard the seeds and strain the raspberry juice a second time to ensure all of the seeds have been strained out.
Place the raspberry juice in a 1 cup liquid measuring cup. Chances are you won't have a full cup of juice, so fill up the remaining way with canned coconut milk (*this is where you would use extra coconut milk), and then place the mixture in a high powered blender.
Soak the chopped dates in 1 cup of hot water for 5 minutes. Discard the liquid and place the dates in the blender with the raspberry juice mixture. Blend on high for a minute, and then add the additional 1 ¾ cups of coconut milk, vanilla extract, and stevia or maple syrup. Blend until smooth.
Place the raspberry ice cream mixture in an ice cream maker, and process according to your machine's directions. Freeze in an airtight container for at least 2 hours.
Use the smallest kitchen scoop you have (like the smallest scoop pictured here) to scoop the raspberry ice cream into little balls and place them on a chilled and parchment lined baking sheet. Freeze for 30 minutes.
To make the outer chocolate shell:
Melt the chocolate chips and the coconut oil over a double broiler or in a microwave (If you use a microwave be very careful not to burn the chocolate).
Dip the raspberry ice cream balls, one by one, into the chocolate (I like to use a fork for this, because the excess chocolate will drip right through the slots), completely coating them. Place back onto the chilled baking sheet and freeze for another 30 minutes.
Store in the freezer in an airtight container and consume within 2 weeks.
Notes
The first time I pushed the raspberry liquid through the strainer I splattered my entire shirt with raspberry juice (and I was being careful!). I recommend wearing an old shirt and an apron, just to be safe!
This raspberry ice cream isn't meant to be eaten on its own - it really needs the chocolate to balance it out and "make it come alive." The chocolate makes it special!
If you run out of chocolate for the outer shell, simply melt together an additional ⅓ cup of chocolate chips and 1 tablespoon of coconut oil.
How can I make this recipe without an ice cream maker?
You can try one of the methods listed HERE, or you can skip the bon bon idea altogether and pour the raspberry filling into popsicle molds, freeze them, and then dip the frozen popsicles into the chocolate to form chocolate covered popsicles. The popsicle method won't be nearly as creamy, but it still might satisfy the craving (with less work involved).
This post may contain affiliate links which I may receive a small commission from (without any additional costs to you). The money earned from these commissions helps me maintain this website. Thank you for your support in this way!