I normally don't take creamer in my coffee. Well, at least not anymore. I used to. Up until I changed my diet and couldn't find the right sort of dairy free creamer substitute. I tried everything from dairy free coffee creamers to canned coconut milk to any and every dairy free milk under the sun. Nothing satisfied me, so I decided to start drinking my coffee black. It took some adjusting, but eventually just black coffee became my norm.
There's something about fall and chilly weather though. It makes me crave an occasional Dairy Free Caramel Macchiato or a big Pumpkin Spice Latte from Starbucks (I think all of our dairy-consuming friends on Facebook seem to be drinking pumpkin spice lattes right now). I know, I know… wishful thinking. Starbucks can't quite accommodate our dietary needs. It's okay though, because my new recipe for Dairy Free Pumpkin Spice Coffee Creamer (Vegan/No Sugar Added) is much healthier, more delicious, and easier on the wallet.
When I set out to make this coffee creamer I wanted to use as little sugar or sweetener as possible. Dates are a wonderful natural sweetener, but they aren't something I'd normally consider using in a coffee creamer. In this recipe they work really well though, especially because I heat them up, which makes them very soft and they are easily broken down in the blender.
I asked a few friends of mine to sample this coffee creamer and neither one of them missed the sugar, nor could they detect the stevia. The spices, pumpkin, and dates hide the stevia really well. Course, if you're not interested in using stevia, feel free to substitute pure maple syrup. It will turn out just as yummy.
Back to my friends though – they both confessed to eating this Dairy Free Pumpkin Spice Coffee Creamer straight from the jar. It's that good. It tastes like dessert and is a very versatile recipe. One that you could easily turn into pudding, smoothies, ice cream, etc. I'm looking forward to hearing of all the wonderful things you do with it!
This coffee creamer has become my new addiction. I still drink my morning cup of coffee black, but by the afternoon I enjoy another pick me up with a bit of this Dairy Free Pumpkin Spice Coffee Creamer. The pumpkin and spices are the perfect blend of fall (and it smells amazing, too!). I'm convinced it will quickly become your new favorite addiction. Enjoy it – cheers!
All my love,
Megan (with a long E)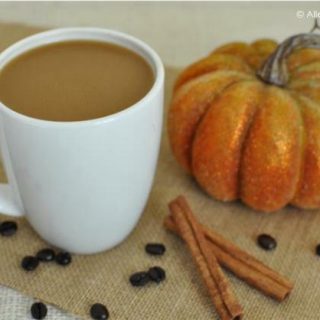 Dairy Free Pumpkin Spice Coffee Creamer (Vegan/No Sugar Added)
Ingredients
1 cup unsweetened almond milk
½ cup chopped dates
1 teaspoon ground cinnamon
½ teaspoon ground nutmeg
½ teaspoon ground cloves
14 ounces canned coconut milk
¼ cup unsweetened pumpkin puree
1 teaspoon vanilla extract
20 drops NuNatural's Liquid Stevia or 1-2 tablespoons maple syrup (or more, depending on how sweet you like your coffee creamer)
Instructions
In a small saucepan, combine the almond milk and chopped dates. Bring to a boil over medium and remove heat. Let sit for 10 minutes.
Very carefully (it's very hot!) pour the saucepan contents into a high speed blender and add the cinnamon, nutmeg, and cloves. Blend on high for 1-2 minutes until the mixture is very smooth.
Add the coconut milk, pumpkin puree, vanilla extract, and stevia and blend for another minute until smooth and well mixed. Refrigerate and use within 5-7 days.
Notes
You can use this coffee creamer immediately after making it, but if you can stand it, give it a full overnight in the refrigerator to let the flavors merry. Trust me, it will taste even better!
I use about a ¼ cup of this creamer per cup of coffee, but you can certainly use as little or as much of it as you'd like.
This post may contain affiliate links which I may receive a small commission from (without any additional costs to you). The money earned from these commissions helps me maintain this website. Thank you for your support in this way!