Low carb cookies without the guilt! These Sugar Free Macaroons are totally sugar free, sweetened entirely with stevia. So have two… or four! 😉
This summer I set a personal goal to exercise and get healthier since, as of lately, exercise has essentially been nonexistent in my life.
Not only would I love to trim down a bit, but I wish to eliminate some of the pressure on my knees, ankles, and feet. My arthritis is very active in all of those places.
A week ago we bought a stationary recumbent bike, and I've been getting on it, faithfully, every day. So far it's been great, the first few days were difficult on my knees, but now the kinks seem to have worked themselves out. 😉
I'm optimistic that over the long run this new change will be a very good thing. I'm trying to gently push myself, while also trying not to completely overdo it. It's hard to know where that line is sometimes.
In addition to working out on my bike, I'm trying to get back to eating grain-free and sugar-free. My body feels best when I eat that way – it can just be hard for me to maintain over the long-term. When I am sugar-free, I try to use stevia only, but I will use dates to sweeten items occasionally for special times.
Yesterday I was craving cookies something fierce, and I almost made my Sugar Free Chocolate Macaroons, but I desperately wanted a regular macaroon, not a chocolate one. These gluten-free coconut macaroons turned out amazing. I like them so much more than my chocolate variation, I mean… not to dissuade you from making those, but if you asked me my favorite – I'd have to tell you this recipe is it.
My gluten-free coconut macaroons taste much like the sugar-filled version, with sweet coconut and hints of vanilla. The addition of unsweetened apple sauce keeps the macaroons moist, while the NuNatural's Liquid Vanilla Stevia ensures the cookies don't have a bitter aftertaste.
Serve them with tea or coffee, and share one (or more!) with a friend. 😉
What are your health goals for this summer?
Megan
xoxo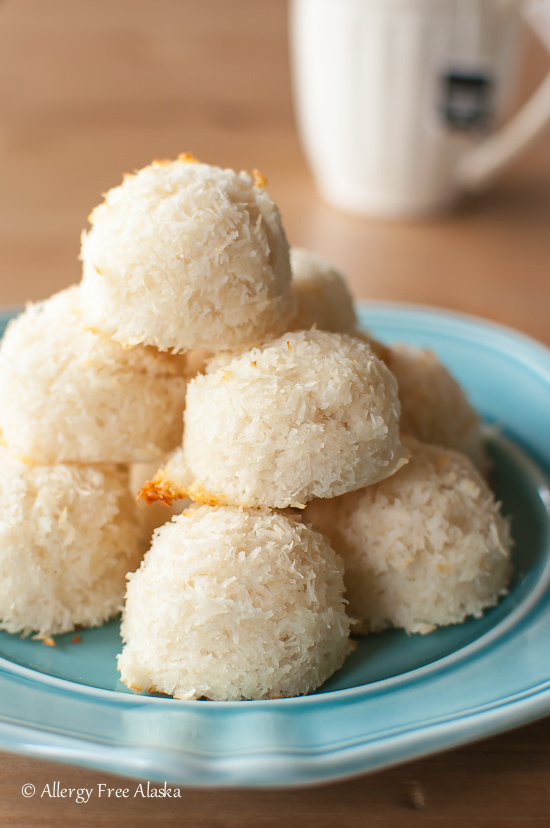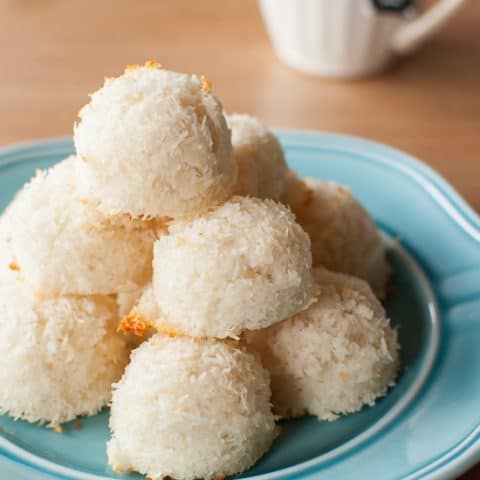 Sugar Free Macaroons
Low-carb cookies without the guilt! These Sugar Free Macaroons are totally sugar free, sweetened entirely with stevia. So have two… or four!
Ingredients
8 egg whites from large eggs
¼ teaspoon cream of tartar
⅛ teaspoon sea salt
2 tablespoons unsweetened applesauce
1 ½ teaspoons vanilla extract
½ teaspoon NuNaturals Liquid Vanilla Stevia
4 cups unsweetened shredded coconut
Instructions
Preheat oven to 325 degrees (F) and line 2 large baking sheets with parchment paper.
Using an electric mixer, beat eggs whites, cream of tartar, and sea salt until stiff peaks form.
Gently fold in the unsweetened applesauce, vanilla extract, NuNaturals Liquid Vanilla Stevia, and the unsweetened shredded coconut.
Pack the macaroon dough into a 1 ½ tablespoon retractable scooper and then drop the dough balls onto the prepared baking sheets. Gently reshape the dough to have a rounded top if necessary.
Bake for 12-16 minutes, until the cookies hold together when touched, and the bottoms are golden brown. The tops of the cookies won't appear golden. Place on a cooling rack and cool completely before enjoying. Store in an airtight container.
Recommended Products
We are a participant in the Amazon Services LLC Associates Program, an affiliate advertising program designed to provide a means for us to earn fees by linking to Amazon.com and affiliated sites.
This post may contain affiliate links which I may receive a small commission from (without any additional costs to you). The money earned from these commissions helps me maintain this website. Thank you for your support in this way!