The girls and I decided to pitch homeschool out the window today after a busy morning of running errands. Well, we're watching the old classic movie, Annie, instead. Maybe we can consider it a lesson in social studies and history??! I'll let you decide. It's been so long since I've seen this movie – it sure is fun to watch it again with my girls!
Speaking of homeschool, the girls and I have a few book recommendations for you:
My recommendation: In The Ladies Room by Carolyn Brown
Abbi's (age 6) recommendation: A Is For Musk Ox by Erin Cabatingan – This book is SO silly! I can't tell you how many times we've read it, and while it's recommended for children ages 5-8, I think children ages 0-99 is more appropriate! 😉
Kylie's (age 9) recommendation: The Witch of Blackbird Pond by Elizabeth George Speare
What have you been reading lately? Anything you'd recommend?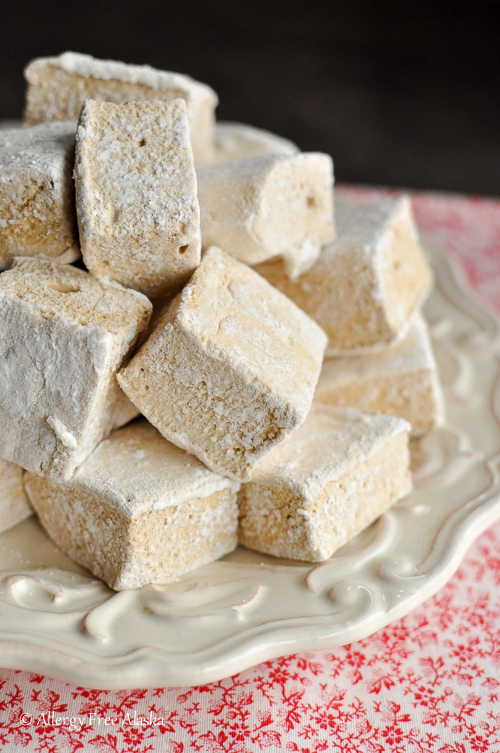 Since posting my recipe for Gluten-Free Chocolate Cupcakes with Toasted Marshmallow Frosting, it occurred to me that my children have never had hot cocoa topped with marshmallows.
True story.
And since the weather continues to get colder (it was snowing earlier this morning) I decided it was time. These Fluffy Corn-Free Marshmallows with Coconut Sugar are such a treat. They taste like store bought marshmallows with a hint of maple. They are absolutely delicious and airy, with the perfect chewy texture.
And in cocoa? These marshmallows will turn any cup of hot cocoa into a dreamy, creamy, sweet cup of chocolate decadence.
Try them with my Dairy Free Peppermint Hot Cocoa.  😉
All my love,
Megan (with a long E)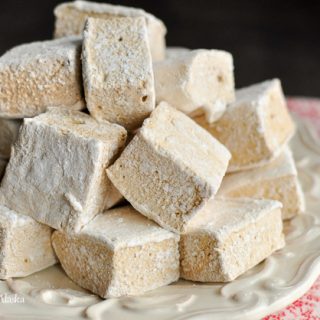 Fluffy Corn-Free Marshmallows with Coconut Sugar
Ingredients
3 tablespoons unflavored beef gelatin powder
1 cup cold water, divided
1 cup coconut sugar (or organic cane sugar)
1 cup organic cane sugar
½ cup pure maple syrup
¼ teaspoon sea salt
1 teaspoon vanilla extract
⅓-1/2 cup arrowroot starch
Instructions
In the bowl of an electric mixer, add ½ cup cold water and sprinkle in the unflavored beef gelatin powder. Set aside so the gelatin can soften for at least 10 minutes. Have the mixer's whisk attachment out and ready to go.
Line a 9" x 13" baking pan with parchment paper and lightly grease. Generously dust all sides and the bottom of the pan with ¼ cup arrowroot starch.
In a saucepan over medium heat, combine the remaining ½ cup cold water, organic coconut sugar, organic cane sugar, pure maple syrup, and sea salt. Bring to a boil and then reduce heat to medium-low, or as needed so the syrup remains at a constant simmer. Use a candy thermometer and bring the mixture up to a temperature of 245 degrees (F). This should take 6-8 minutes.
Remove from heat, and carefully pour the syrup mixture down the sides of the mixer bowl while mixing on low (it's hot, so please be careful!).
Gradually increase speed to high and whisk for 12-15 minutes, or until the marshmallow mixture is glossy, light and fluffy, and nearly triple in volume.
Immediately place the marshmallow mixture in the baking pan and use a greased spatula to spread it out evenly.
Dust the top of the marshmallows with 1-2 tablespoons of arrowroot starch and let the mixture set for 4-8 hours, or overnight.
Turn the marshmallows out onto a large cutting board, and use a pizza cutter to cut the marshmallows into 1-2 inch pieces. Roll the sticky edges of the marshmallows in additional arrowroot starch, and store in an airtight container. Consume within 3 weeks.
Recommended Products
We are a participant in the Amazon Services LLC Associates Program, an affiliate advertising program designed to provide a means for us to earn fees by linking to Amazon.com and affiliated sites.
This post may contain affiliate links which I may receive a small commission from (without any additional costs to you). The money earned from these commissions helps me maintain this website. Thank you for your support in this way!