Although definitely cheaper than store bought, making your own homemade beef jerky can still be costly. It all depends on the type and cut of meat used.
London broil is one of my favorite meats to make jerky with, but it costs roughly $10-12 a pound (here in Alaska, anyways), so using it on a normal basis isn't financially feasible.
What is financially feasible, however, is lean ground beef. I pay about $10 for 3 pounds of ground beef, and if you factor in another $2-3 for the beef broth, sea salt, and seasonings, I can fill a gallon-size bag about 3/4 of the way full with jerky using this recipe for about $13. That's a lot of ground beef jerky for cheap, cheap, cheap!!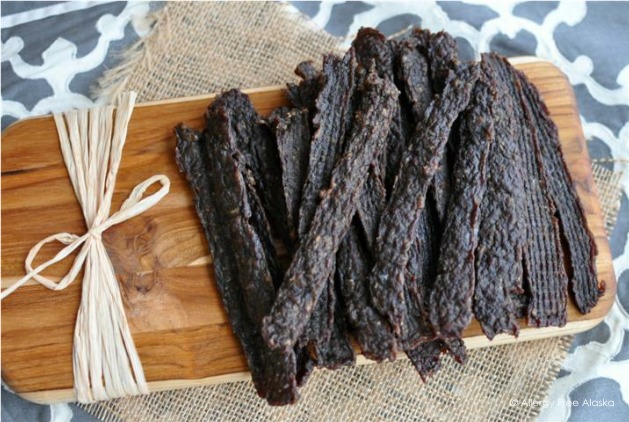 When I set out to create these ground beef jerky strips, I didn't want to use gluten free soy sauce (otherwise known as gluten free tamari) to flavor the meat, nor did I want to use coconut aminos as an alternative (I don't care for them and they can be expensive).
So I decided to try a liquid mixture of beef broth, molasses, and liquid smoke. I couldn't believe how perfect it all worked out; this ground beef jerky is bursting with flavor!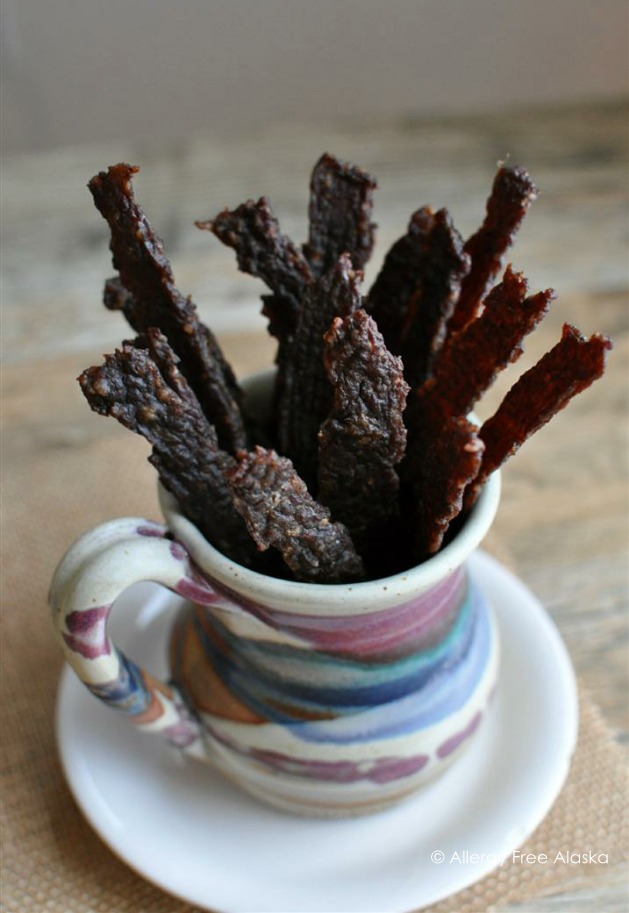 We use this jerky gun to form our ground beef into jerky strips.
These are the wider strips pictured below, but after we made a few batches of jerky, we found we prefer the thinner strips (the thinner strips of jerky are in all of the other pictures shown in this post).
One tip we've found helpful while working with our jerky gun: Keep your meat cold! Cold meat will pass through the jerky gun much easier than meat at room temperature.
And just in case you were wondering, I did throw away the cure and flavor packets that came with my jerky gun. They contain preservatives, MSG, and lots of unhealthy ingredients!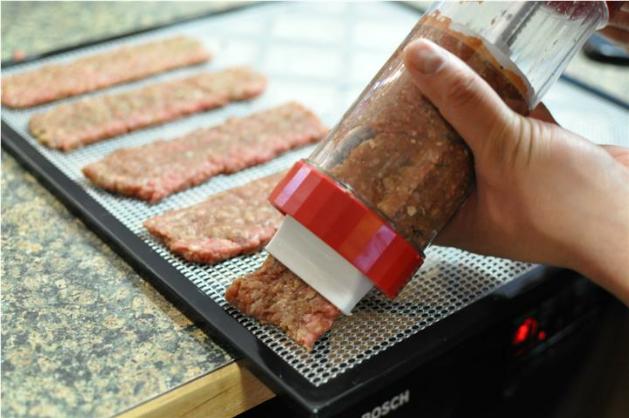 All my love, and Happy New Year!
Megan (with a long E)
Ground Beef Jerky Recipe: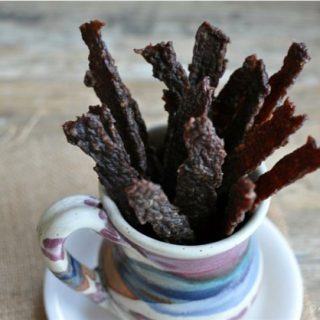 Ground Beef Jerky
Total Time:
11 hours
30 minutes
This ground beef jerky recipe is so easy and affordable, yet flavorful! It never lasts long because everyone loves it and gobbles it up!
Ingredients
3 pounds ground beef (use 90% lean meat/10% fat or leaner)
5 teaspoons garlic powder
4 teaspoons onion powder
3-4 teaspoons sea salt (we prefer 4 teaspoons)
2 teaspoons ground black pepper
1 1/4 cup beef broth
2 teaspoons molasses
Instructions
Place the ground beef, garlic powder, onion powder, sea salt, and ground black pepper in a large mixing bowl.
Stir together the beef broth, Wright's Hickory Liquid Smoke, and molasses, and then pour it into the mixing bowl with the ground beef. Stir until well combined.
Cover and marinate for at least 3 hours in the refrigerator.
Form the meat into strips, about 1/8-1/4" thick, using a jerky gun or by using your hands or a rolling pin to flatten the meat into strips or whatever shape you desire.
Dehydrate in a dehydrator at 145 degrees (F) for 6-12 hours.
Place the jerky strips on paper towels to cool and to absorb any excess fat.
Consume within 24-48 hours at room temperature, or store in the refrigerator in an air tight container for up to 7 days. For long-term storage, freeze in an air tight container and consume within 3-4 months.
Notes
Q: Can I make this recipe using my oven?
A: I don't see why you couldn't on the lowest temp, but I have not tried it, so I can't say for sure if it will work or not. If you do try it, please come back and let us know if you were successful!
The flavor of this recipe is most comparable to an "original" recipe type of jerky, although not as sweet.
You could easily substitute bison or ground turkey breast for the lean ground beef.
This post may contain affiliate links which I may receive a small commission from (without any additional costs to you). The money earned from these commissions helps me maintain this website. Thank you for your support in this way!