This easy Instant Pot Chuck Roast recipe produces tender and juicy pieces of beef with a rich and flavorful broth. This melt-in-your-mouth roast requires no browning, which cuts down on the prep time significantly. It is a very simple and naturally gluten-free beef recipe, yet the few ingredients needed impart incredible flavor.
I've made this recipe several times on days when I just don't have the energy to babysit a recipe in the kitchen. My family, who raves about this beef pot roast every time I make it, finally said, "You need to share this recipe on the blog!" I don't know why it never occurred to me to do so, but I'm glad they finally convinced me.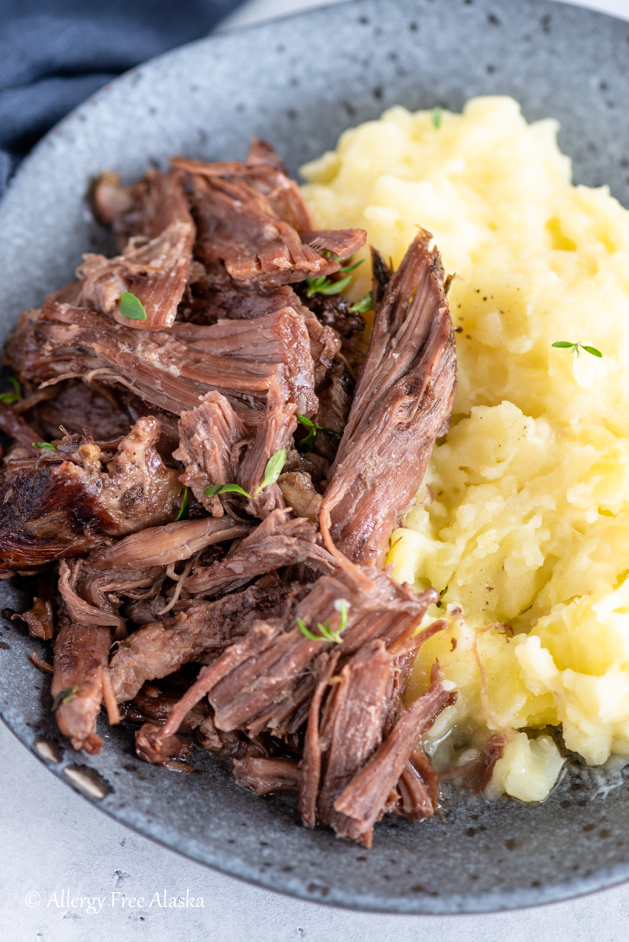 Best cut of beef for pot roast
Chuck roast is cut from the shoulder just above the short rib. It's a tougher piece of meat, but has significant connective tissue marbling. When you cook the chuck roast low and slow, the tissues soften and become tender. Because chuck roasts are tougher, they are often cheaper pieces of meat. Not to mention, chuck roasts are easily found in most grocery stores nation-wide.
You might be able to use a beef brisket or beef bottom roast using this recipe, I just haven't personally tried it myself. Either may need a few more minutes of cooking to achieve the same super-tender consistency.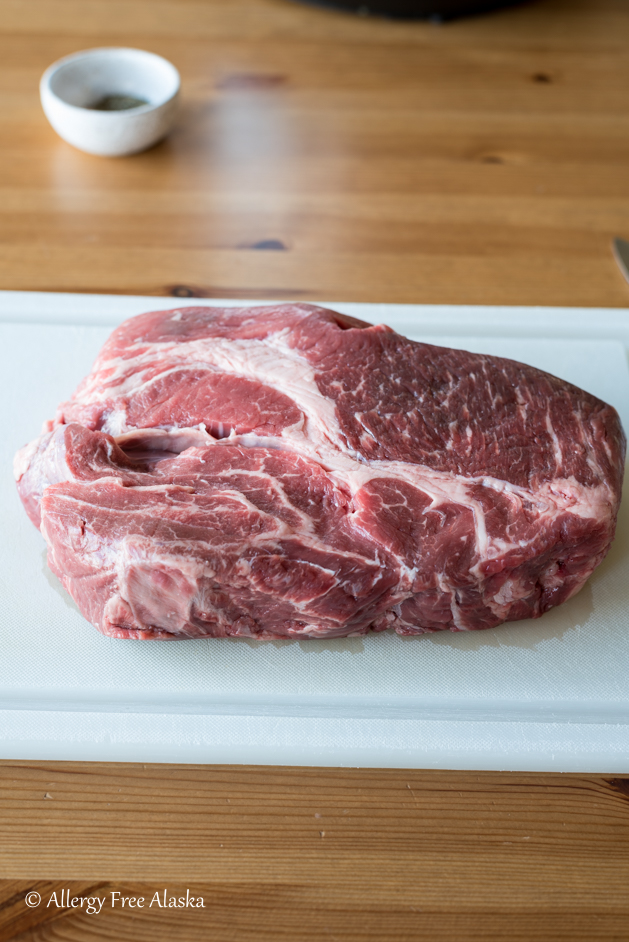 No browning required
Many beef roast recipes call for you to brown your roast in a hot pan with a bit of oil prior to cooking it. I have been making beef roasts for years (in the oven, Instant Pot, etc.) and I personally haven't experienced any boost in flavor from browning. To me, it's a waste of time (but that's just my personal opinion!).
If you would like to brown your gluten-free pot roast ahead of time, by all means, please do so. You can do it directly in the Instant Pot, using the Saute button/function.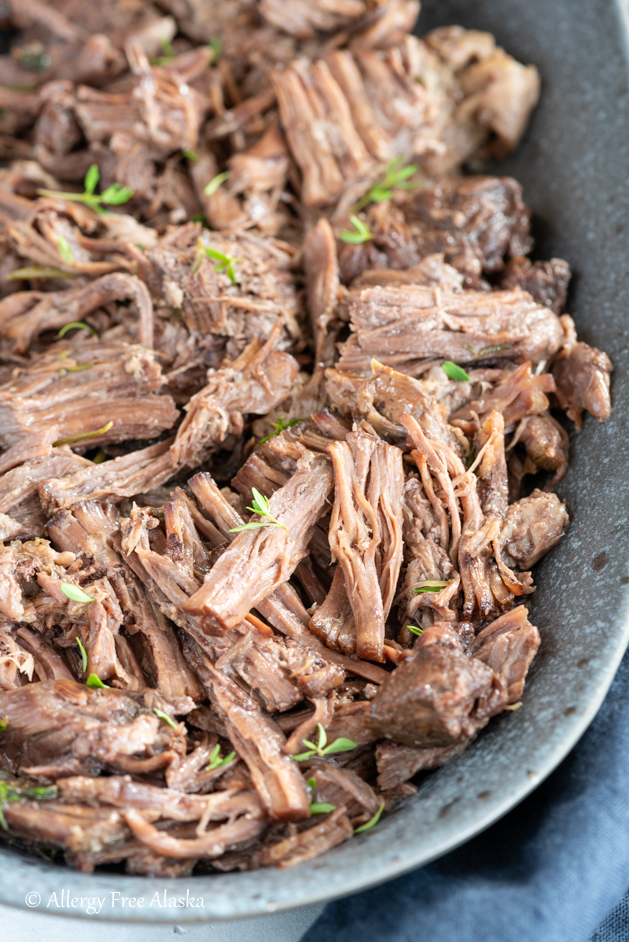 Instant Pot vs. Crock Pot
I think chuck roasts are especially easy to cook in the Instant Pot. Unlike a crock pot that often allows too much moisture to escape through the lid, the Instant Pot locks in the juices of whatever meat you're cooking. I'm not saying don't use a crock pot or slow cooker, but I definitely prefer the Instant Pot to a Crock Pot.
Use natural release to lock in those juices!
When cooking meat in the Instant Pot, one important tip is to use natural release vs. the quick release method. Natural release is when you allow the Instant Pot to come down from pressure naturally. Now, it does take additional time to do this (28-30 minutes for this recipe), but natural release essentially lets the cooked meat rest, which ensures the chuck roast stays juicy. Quick release is when you switch the pressure valve to vent, which prematurely releases the pressure from the Instant Pot.
If you are in a hurry, try to give the Instant Pot at least 15 minutes of natural release before letting out the rest of the pressure manually.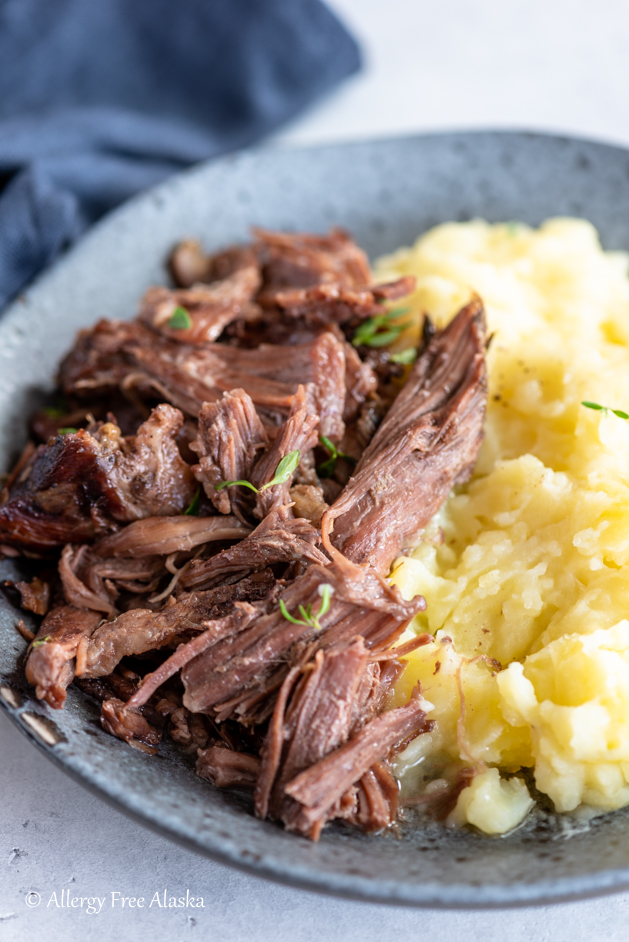 Make it a complete meal
I normally serve this Instant Pot Pot Roast with caramelized onions and mushrooms, and Dairy-Free Instant Pot Mashed Potatoes. If you were looking to lighten up your meal, try my Garlic Mashed Cauliflower in lieu of the potatoes.
The cooking juices from this pressure cooker pot roast are GOLD
Spoon some of the delicious leftover cooking juices on the cooked beef after you place it in a serving dish. This keeps the beef moist and also adds flavor. In addition, you can serve the remaining juices in a gravy boat. My kiddos and husband like to pour the juice over the top of their mashed potatoes, veggies, etc. – whatever else I'm serving with the beef. Trust me, it's drool-worthy!
Use this chuck roast recipe to make lip-smacking Instant Pot French Dip
I love me some gluten-free French dip sandwiches! This recipe is perfect for them because the broth leftover from cooking is wonderfully rich. I use my Gluten-Free Hamburger Buns or my Artisan Gluten-Free Bread for our sandwich bread. Simply add some cheese (if you tolerate it), and some mushrooms and/or onions. Mmmm-mmm-mmm… my mouth is watering just thinking about it!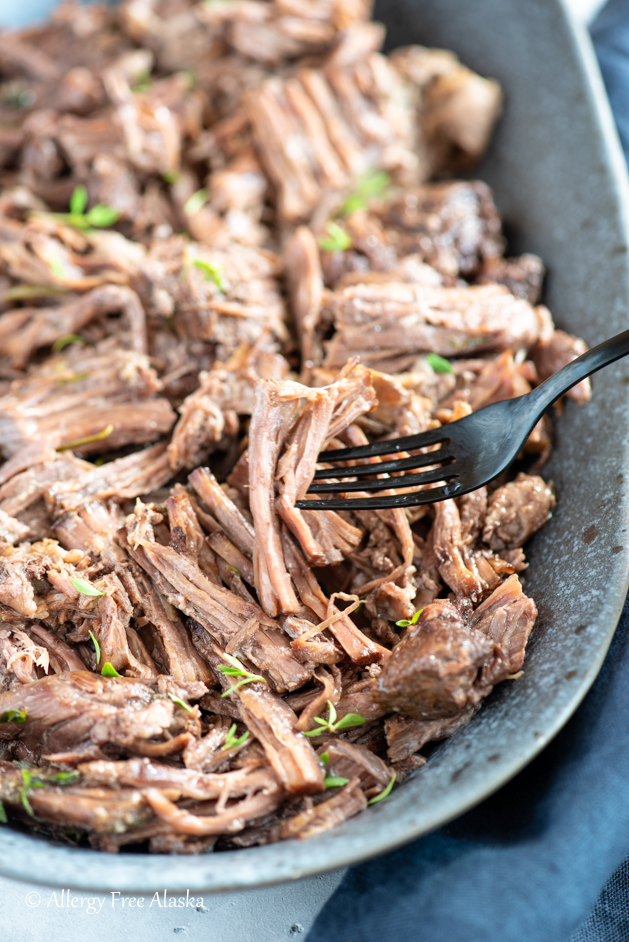 Substitutions for this Instant Pot Chuck Roast recipe
Chuck roast- You might be able to use a beef brisket or a round bottom roast, but I haven't personally tried them in this recipe. If you try either, instead of a chuck roast, you may need to add a few more minutes of cooking to achieve the same tenderness.
Water- Many readers asked if they can use beef broth as a substitute for the water. You absolutely can, you just might need to pull back on the salt used, depending on how salty your broth is.
Red wine– If you abstain from alcohol, you can most definitely use a non-alcoholic red wine, or substitute with beef broth.
Fresh herbs– I've been enjoying all the fresh herbs this summer, and how easily accessible they are. However, come the harsh winter in Alaska, fresh rosemary and thyme will become harder to find. You can definitely substitute with dried herbs (1/2 teaspoon of each will do).
Gluten-Free Worcestershire Sauce– Worcestershire sauce imparts a deep-bodied umami flavor in this gluten-free pot roast recipe. There really are no substitutes; however, if I had to recommend one, I'd probably pick beef broth.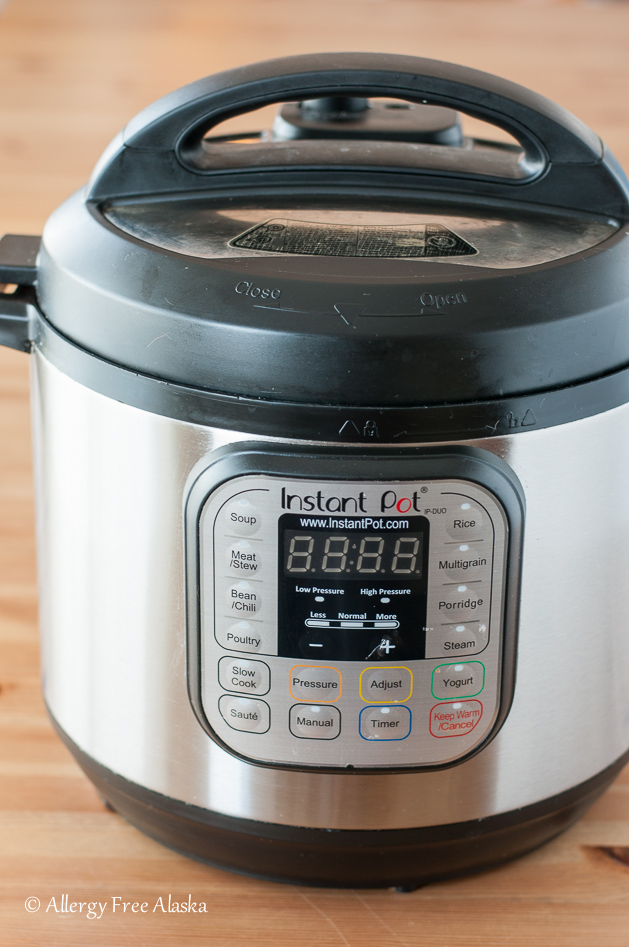 Other gluten-free beef recipes we love:
Bottom Round Roast from Allergy Free Alaska
Slow Cooker BBQ Pulled Beef Sandwiches from Faithfully Gluten-Free
Beef Stew in the Slow Cooker from My Gluten-Free Kitchen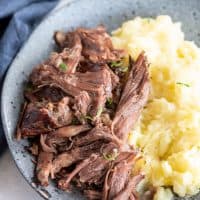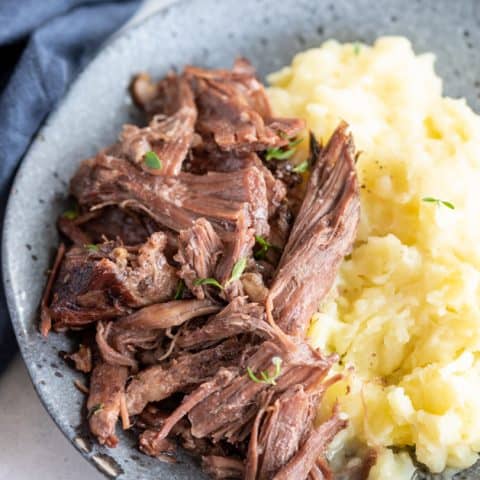 Instant Pot Chuck Roast
Cook Time:
1 hour
55 minutes
Additional Time:
25 minutes
Total Time:
2 hours
30 minutes
This easy and delicious Instant Pot Chuck Roast recipe produces tender and juicy pieces of beef with a rich and flavorful broth.
Ingredients
3-3.5 lbs. beef chuck roast
1 cup water
1/3 cup full-bodied red wine (such as cabernet or a merlot)
1 1/2 tablespoons gluten-free Worcestershire sauce
1-1 1/4 teaspoons sea salt (less for smaller roasts between 2-3 lbs.)
1/2 teaspoon garlic powder
1/2 teaspoon ground black pepper
4-5 sprigs fresh thyme (or 1/2 teaspoon dried)
1 sprig fresh rosemary (or 1/2 teaspoon dried)
Instructions
Pour the water, red wine, and Worcestershire sauce into the stainless steel bowl of the Instant Pot.
Add the beef chuck roast and then sprinkle with sea salt, garlic powder, and ground black pepper.
Place the fresh thyme and rosemary sprigs on top of the roast, and then click the lid into place on the Instant Pot. Set the vent to seal.
Cook for 115 minutes at high pressure.
When the Instant Pot is done cooking, it will come down from pressure naturally, about 28-30 minutes (I do not recommend using quick release with this recipe. Natural release ensures tender and juicy meat. If you are in a hurry, try to give it at least 15 minutes of natural release before letting out the rest of the pressure manually.).
Notes
For roasts that are between 2-3 lbs., 110 mins at high pressure is the amount of cooking time I would recommend.
Recommended Products
As an Amazon Associate and member of other affiliate programs, I earn from qualifying purchases.
We are a participant in the Amazon Services LLC Associates Program, an affiliate advertising program designed to provide a means for us to earn fees by linking to Amazon.com and affiliated site
s.