Several weeks ago I was checking out at the grocery store when the man behind me was inspecting the goods in my cart and says, "Wow, you eat really healthy; you've got a lot of produce there."
The man went on to tell me he owned a farm, which to my surprise was located within 5 miles of my house.
We've lived in this house for 4 years, and I never even knew there was a farm close to us that sold fresh produce.
I was a little mind-blown. Since that meeting at the grocery store, my family frequents the farm every week to buy fresh Alaska produce. It's been so wonderful, and the quality (and price) of the produce is amazing!
One of my favorite veggies to buy from our local farmer is cauliflower; I love it, especially when it's paired with copious amounts of garlic. Like in this recipe:
Click here for the recipe: Garlic Lover's Roasted Cauliflower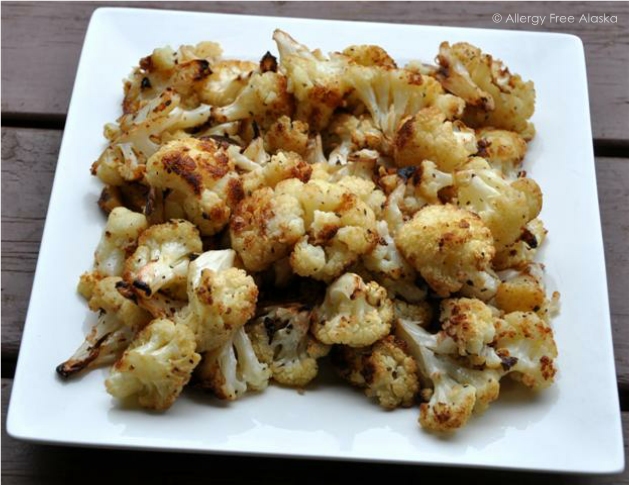 It is because of this ongoing love affair that I also created Mashed Cauliflower with Roasted Garlic & Chives.
I eat this creamy side dish for breakfast, lunch and dinner (and all times in between). I'm that obsessed, and I always double the recipe.
Mashed cauliflower on its own is creamy, but when you combine it with ingredients like ghee and roasted garlic, you end up with a richness and a buttery texture that melts in your mouth.
Plain and simple, try this recipe and you'll be just as addicted as I am.
Mashed Cauliflower with Roasted Garlic & Chives
Ingredients
1 head of garlic
1 tablespoon olive oil
1 large head of cauliflower
2 tablespoons of ghee or olive oil
1 1/2 teaspoons dried chives (or 2 teaspoons fresh chopped)
1/2-3/4 teaspoon sea salt
Fresh black ground pepper to taste
Instructions
To roast the garlic:
Preheat oven to 400 degrees (F).
Use a sharp kitchen knife to cut 1/4-1/2 of an inch from the top of the garlic cloves.
Place the head of garlic, cut side up, onto a piece of aluminum foil and sprinkle with olive oil. Wrap the garlic in the aluminum foil and place it on a small baking sheet. Roast for 30-40 minutes, or until the garlic is soft. Cool until the garlic is warm to the touch and easily handled.
To make the mashed cauliflower:
Cut the head of cauliflower into small, bite sized pieces and steam until it is very soft and tender. Place the steamed cauliflower, ghee, chives, sea salt and black pepper into a mixing bowl.
Use your hands to squeeze the roasted garlic out of its peel into the mixing bowl and discard the peel.
Mash until the mixture is somewhat smooth and resembles mashed potatoes.
Do you purchase fresh grown produce where you live? What veggies are your farm favorites?
Enjoy!
All my love,
Megan
This recipe is linked to Paleo AIP Recipe Roundup, Allergy Free Wednesdays and Wellness Weekend.