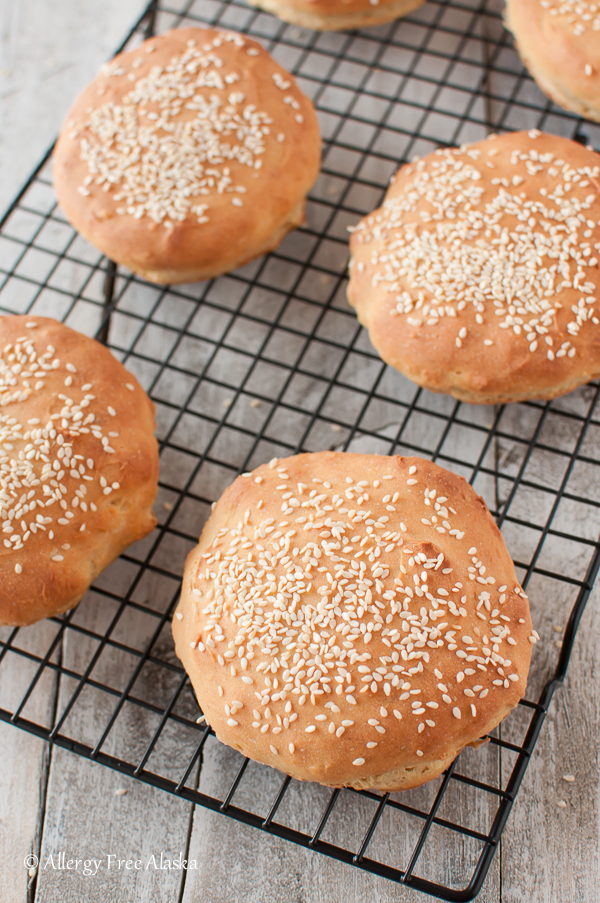 It really bothers me when we have hamburgers and my girls have to go without a bun. I go without a bun too, but that doesn't bother me. Okay, maybe it bothers me a little teeny bit, but it hurts my heart knowing my girls are missing out on something.
So I had to experiment and come up with a recipe that worked with our dietary needs.
I've made these Gluten Free Hamburger Buns three different times this week, trying to get the recipe just right. I finally nailed it! They are fluffy, soft, and have excellent flavor. You won't believe they are gluten-free!
Our good friends, who are not gluten-free, actually prefer these buns over their gluten-filled ones.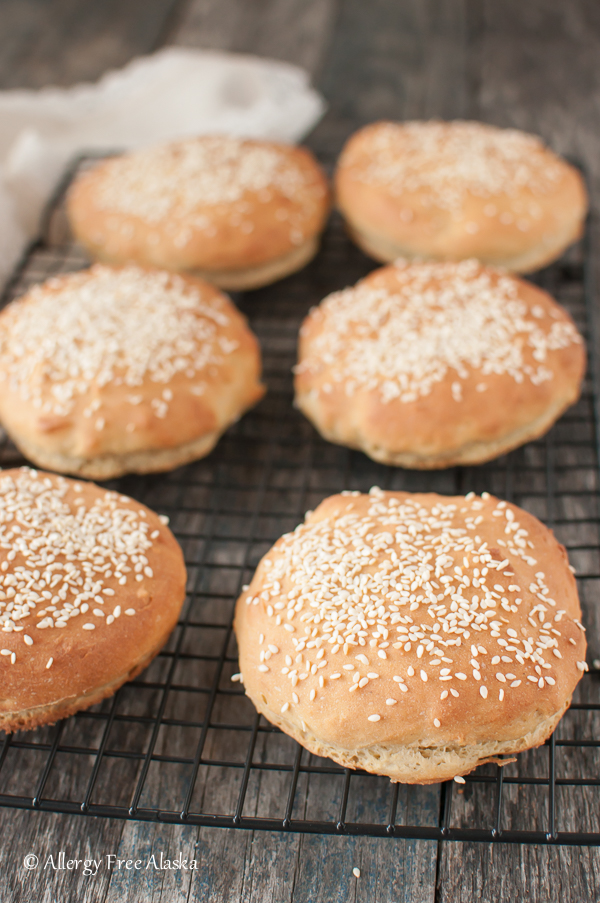 These hamburger buns also make awesome sandwich rolls. Pile them high with your favorite ingredients – pulled pork, ham and cheese, veggie burger, salmon burger, etc. You won't be disappointed. The hardest decision you'll have to make is what to fill them with!
There was a lot of love that went into this recipe. I hope a little of my love finds its way into your kitchen.
xoxo,
Megan
ps – I hope you like my buns!
Here is what the dough looks like on the baking sheet – these are rising, prior to baking.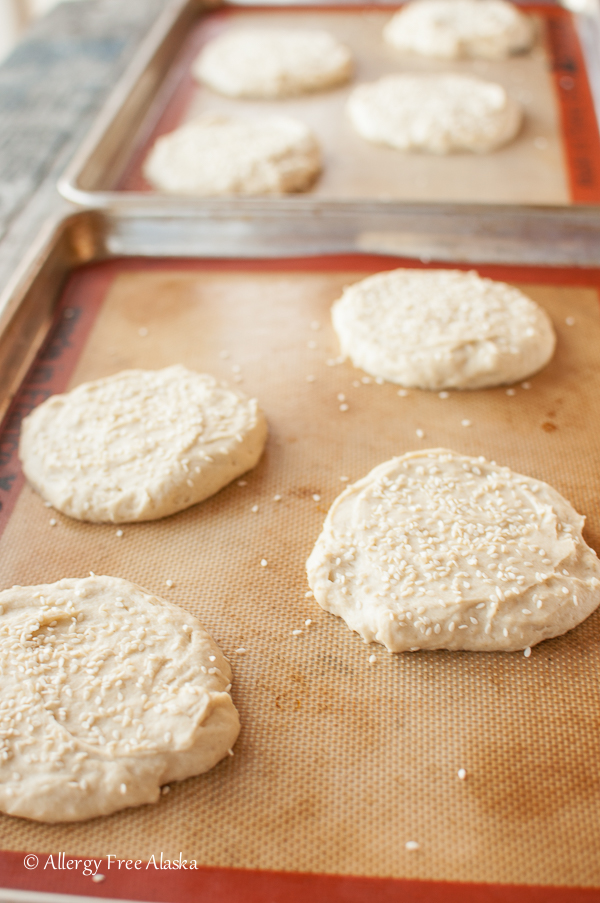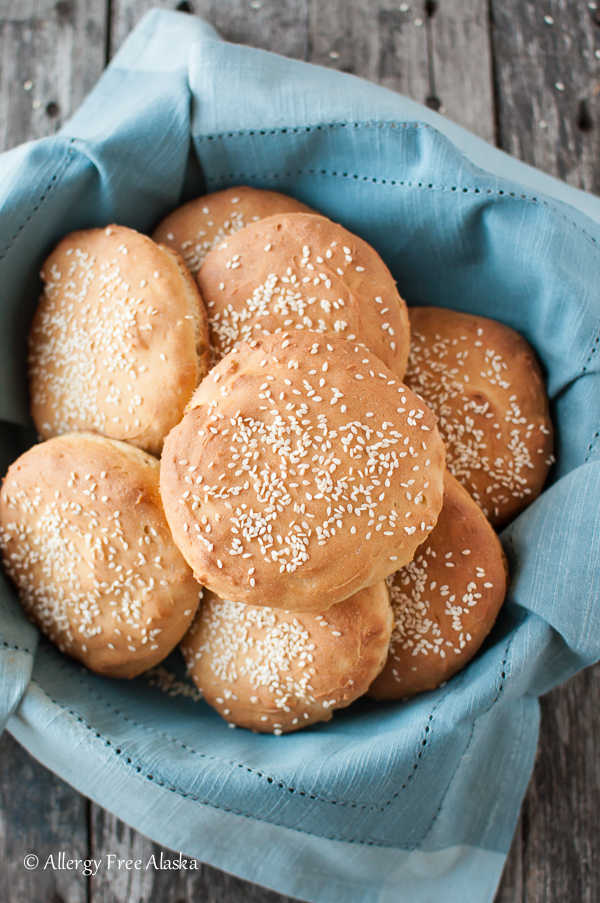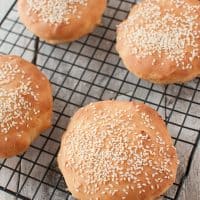 Gluten Free Hamburger Buns
Yield: 8 buns

Prep Time: 20 minutes

Cook Time: 20 minutes

Additional Time: 1 hour

Total Time: 1 hour 40 minutes

Soft, fluffy, and large enough for a full sized hamburger - your family will absolutely love these Gluten Free Hamburger Buns!
Ingredients
Yeast Mixture:
1 cup warm water (between 110 - 115 degrees F)
3 TBSP honey
2 1/2 tsp dry active yeast (NOT instant yeast!)
Dry Ingredients:
Wet Ingredients:
3 eggs, at room temperature
1/3 cup water
1/4 cup olive oil
1 tsp apple cider vinegar
Sesame seeds for sprinkling
Instructions
Line two large sheet pans with parchment paper or silicone liners.
To proof the yeast, combine the honey and warm water in a small mixing bowl and stir until the honey is mostly dissolved. Sprinkle in the yeast and give it a quick stir. Allow to the yeast to proof for 7 minutes (set a timer!) - NO more, NO less time. Make sure you have the other wet and dry ingredients mixed and ready to go when the 7 minutes are up!
Using a heavy duty mixer, combine the dry ingredients.
In a separate mixing bowl, whisk together the eggs, oil, water, and vinegar.
When the yeast is done proofing, add the wet ingredients to the dry. Stir until it's a little paste-like, then add the yeast mixture. Using your mixers low speed setting, mix for about 30 seconds. Scrape down the sides of the bowl then mix on medium for about 2 minutes or until the dough is smooth. (You may need to stop your mixer and scrape the sides of your bowl a few more times.)
Drop 1/2 cup of dough on the baking sheet, and use an offset spatula to spread the dough out into a 4.5-inch round. Repeat with the remaining dough, placing 4 rounds of dough on each baking sheet. Sprinkle each hamburger bun with sesame seeds.
Allow to the buns to rise for about an hour.
Bake in a preheated 375 degrees (F) oven for about 18 - 20 minutes, until the tops are a light golden brown.
Allow to cool on wire racks.
Notes
These make large hamburger buns. If you would like smaller ones, use 1/3 cup of dough to form a 3.5-4 inch round per bun. Decrease the baking time to 15-18 minutes.



This recipe is linked to Savoring Saturdays.
This post may contain affiliate links which I may receive a small commission from (without any additional costs to you). The money earned from these commissions helps me maintain this website. Thank you for your support in this way!