There's something super special about a homemade gluten-free hamburger bun that's soft and fluffy. One that you can pile high with a gluten-free burger, pulled pork, or shredded beef and a myriad of other toppings. A gluten-free bun so fresh you can really sink your teeth down into it.
I created this gluten-free hamburger buns recipe years ago, when there weren't any premade available to purchase in the stores (OR if there were any here in Alaska, they sure didn't taste great or have good texture).
It made my heart so sad to see my girls have to continuously go without a hamburger bun – while everyone else around them was enjoying one.
Perfecting the best gluten-free hamburger buns
This recipe was created after lots of trial and error, just like my gluten-free cinnamon rolls, gluten-free pie crust, and gluten-free bread were. When a recipe finally works out, it's so very rewarding.
Our wheat-eating friends, who we get together with regularly, actually prefer the taste and texture of these gluten-free hamburger buns to the gluten-filled ones.
Gluten-Free Bread Baking Tips
If you've never made wheat-free bread before, it's important to remember your gluten-free dough is going to be much wetter than a gluten-filled dough. Don't second guess the recipe and add additional flour, otherwise you'll end up with a denser bun.
Make sure all ingredients are at room temperature (including the flour, eggs, yeast, etc). I let my "cold" ingredients sit out on the counter for 20 – 30 minutes before I start baking.
Use the mixers paddle attachment (flat beater) when mixing gluten-free bread dough, not the whisk attachment or break hook. Gluten-free bread requires no kneading (for the most part – there are a handful of recipes out there that do), so no bread hook is required.
The gluten-free buns will rise a little bit more during the baking process and will appear golden brown when done.
To double check that a yeast loaf or yeast rolls are finished baking, use an instant read thermometer to check the internal temperature. A perfectly baked yeast loaf will reach an internal temperature of 202 degrees (F).
Always bake on the middle rack in your oven!
Gluten-Free Hamburger Bun Ingredients
Active Dry Yeast– Active dry yeast can be very unstable, so make sure it's fresh (not expired) and becomes foamy when proofed. If the yeast isn't foamy once the proofing time is up, either the yeast is bad or the water isn't the right temperature. Throw it out and start again.
Honey– I use honey in this recipe to sweeten the buns vs. cane sugar. Honey aids in keeping the dough moist and pliable.
Brown Rice Flour, Millet Flour, Sorghum Flour– This recipe has been tested using these specific individual flours. I don't recommend substituting them with a gluten-free all-purpose blend.
Arrowroot Starch, Tapioca Starch– I prefer the blend of these two starches in this recipe, but if you're in a bind, you can use all tapioca starch.
Xanthan Gum– I use Bob's Red Mill brand of xanthan gum as I've found it to be the most reliable.
Eggs– Eggs not only help bind the recipes ingredients together, but add to the loftiness, or leavening of the dough. If you need a vegan bread recipe, I suggest my Artisan Gluten-Free Bread.
Olive Oil– I like the rich, savory flavor that olive oil provides to gluten-free hamburger buns, but you can substitute another type of oil if preferred.
Apple Cider Vinegar– A touch of vinegar helps to tenderize the dough. I use apple cider vinegar for the taste, but you can substitute white vinegar if needed.
Gluten-Free Dough Consistency
While this gluten-free dough is wetter than the average wheat dough, it is thick enough to retain its shape when free-formed on the baking sheet. The consistency isn't as runny as a cake batter, but it's not as thick as a cookie dough – it's somewhere in between the two.
How to free-form the gluten-free buns:
Place ½ a cup of dough on the parchment or silicone lined baking sheet.
Using an off-set spatula spread the dough out evenly into a 3.5" round. The dough doesn't have to be a perfect circle – just do the best you can to get it in a circular shape.
If you don't want to free form the gluten-free hamburger dough, and would like absolute uniformity, you can use English muffin rings. Grease the insides of the rings well, and then dust with gluten-free flour. Place them on the prepared baking sheet, fill with dough, and then smooth out the top.
How to make Gluten-Free Hot Dog Buns using this recipe
I have used this gluten-free hamburger bun recipe several times to make hot dog buns. I free form the shape of the hot dog buns on the baking sheet (just like I do for forming the hamburger buns). Proof and bake per the gluten-free hamburger bun recipe below.
Gluten-Free Slider Buns
This recipe can be used to make gluten-free slider buns, just make the buns smaller than hamburger buns. Or you can use my Gluten-Free Rolls recipe. The rolls are the perfect size for slider buns.
Juicy Gluten-Free Hamburgers
It is convenient to have premade and prepackaged gluten-free hamburger patties on hand in the freezer for quick meals (I buy the Kirkland brand from Costco), but, when I want to make homemade patties, this is the recipe I use:
Gluten-Free Hamburger Ingredients:
2-3 lbs. ground beef (I like 85% lean/15% fat)
1 tablespoon dried parsley
1 tablespoon dehydrated onion flakes
1-1.5 teaspoons sea salt
1 teaspoon onion powder
2 cloves garlic, minced (or 1 teaspoon garlic powder)
1-1.5 tablespoons gluten-free Worcestershire sauce
1 large egg, optional
Directions:
Line a large baking sheet with aluminum foil.
In a large mixing bowl, add all of the ingredients and mix them together with your hands until just blended (don't over mix).
Measure out ½ cup of the mixture, and form it into a patty using your hands. Place on the baking sheet, and repeat until all of the patties are formed.
Grill or pan fry as desired.
Gluten-Free Hamburger Patty Recipe Notes:
You can use parchment paper to separate the layers of patties.
I often make these patties ahead of time and freeze them. When we cook them, we place them straight on the grill frozen.
For bacon burgers, I like to use this recipe for baking bacon. Simply add the cooked bacon to your burgers. Mmmm!
To cook your gluten-free hamburgers in an air fryer, try this air fryer hamburgers recipe.
I hope you enjoy these gf hamburger buns as much as my family does!
xoxo,
Mēgan
Gluten-Free Hamburger Buns Recipe: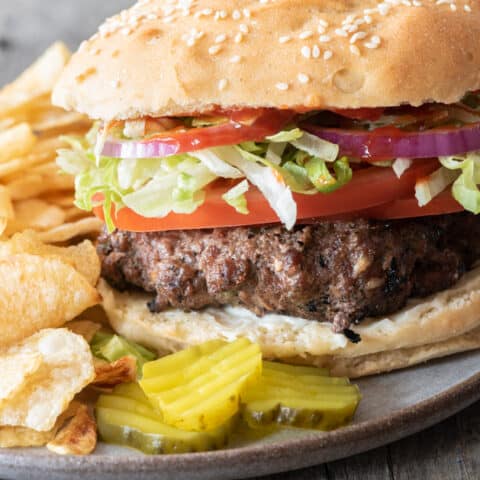 Gluten Free Hamburger Buns
Total Time:
1 hour
40 minutes
Soft and fluffy Gluten Free Hamburger Buns you can pile high with toppings and really sink your teeth down into. You won't believe these are gluten-free!
Ingredients
Yeast Mixture:
1 cup warm water (between 110 - 115 degrees F)
3 tablespoons honey
2 ½ tsp dry active yeast (NOT instant yeast!)
Dry Ingredients:
1 cup brown rice flour
1 cup tapioca starch
½ cup arrowroot starch
½ cup millet flour
½ cup sorghum flour
1 tablespoon xanthan gum
½ tsp sea salt
Wet Ingredients:
3 large eggs, at room temperature
⅓ cup water
¼ cup olive oil
1 teaspoon apple cider vinegar
Sesame seeds for sprinkling
Instructions
Line two large sheet pans with parchment paper or silicone liners.
To proof the yeast, combine the honey and warm water in a small mixing bowl and stir until the honey is mostly dissolved. Sprinkle in the yeast and give it a quick stir. Allow to the yeast to proof for 7 minutes (set a timer!) - NO more, NO less time. Make sure you have the other wet and dry ingredients mixed and ready to go when the 7 minutes are up!
Using a heavy duty mixer, combine the dry ingredients.
In a separate mixing bowl, whisk together the eggs, oil, water, and vinegar.
When the yeast is done proofing, add the wet ingredients to the dry. Stir until it's a little paste-like, then add the yeast mixture. Using your mixers low speed setting, mix for about 30 seconds. Scrape down the sides of the bowl then mix on medium for about 2 minutes or until the dough is smooth. (You may need to stop your mixer and scrape the sides of your bowl a few more times.)
Drop ½ cup of dough on the baking sheet, and use an offset spatula to spread the dough out into a 4.5-inch round. Repeat with the remaining dough, placing 4 rounds of dough on each baking sheet. Sprinkle each hamburger bun with sesame seeds.
Allow to the buns to rise for about an hour.
Bake in a preheated 375 degrees (F) oven for about 18 - 20 minutes, until the tops are a light golden brown.
Allow to cool on wire racks.
Notes
These make large hamburger buns. If you would like smaller ones, use ⅓ cup of dough to form a 3.5-4 inch round per bun. Decrease the baking time to 15-18 minutes.
Recommended Products
We are a participant in the Amazon Services LLC Associates Program, an affiliate advertising program designed to provide a means for us to earn fees by linking to Amazon.com and affiliated sites.