Pulled pork is a classic American dish – famously headlining BBQ cook-offs around the country, state fairs, and almost any family get-together! This Instant Pot pulled pork recipe delivers pork that is melt-in-your-mouth tender and full of flavor without needing the addition of a bbq sauce.
Budget-friendly, this instant pot pork butt feeds a crowd and uses everyday seasonings you probably already have. This recipe delivers a mouthwatering, flavorful result! Unlike slow cookers and smokers, pressure cooker pulled pork can be on your table in around 3 hours, making it ideal for weekday dinners and meal planning.
Choosing the Right Cut Of Meat For Instant Pot Pulled Pork
A pork shoulder roast comes from the upper shoulder area of the pig. It is high in fat and connective tissue, which ensures it's tender and juicy when cooked. You can buy pork shoulder roast boneless or bone-in; either is fine.
Other Names For Pork Shoulder Roast:
Picnic Roast
Boston Butt
Blade Roast
Pork Butt
Can I Use A Pork Loin Roast For Pulled Pork
Unlike pork shoulder roast, pork loin roast is lower in fat and soft connective tissues. The mostly white meat has a dryer flavor/texture. I do not recommend using a pork loin roast for pulled pork.
The Perfect Seasoning Blend For Instant Pot Pork Butt
Made from simple spices you probably already have in your pantry, like coconut sugar (or brown sugar), sea salt, garlic powder, smoked paprika, cumin, chili powder, pepper, oregano, and cayenne, this dry rub seasoning produces flavorful and juicy shredded pork. It's so tasty you have the option of not using BBQ sauce.
Important Note On Cooking Time
I call for more cooking time for my Instant Pot pork than other recipes. I've found 115 minutes (1 hour and 55 minutes) produces super tender gluten-free pulled pork that shreds easily. A shorter cooking time will create tougher meat that's harder to shred – I don't know about you, but I prefer my pulled pork melt-in-your-mouth tender!
Step By Step: How To Make Instant Pot Pulled Pork
Place the pork butt on a large cutting board and blot it with paper towels.
Use a sharp knife to cut the roast into pieces the size of your fist. If your pork roast is bone-in, remove the meat from the bone, and discard the bone.
Place the roast pieces in the Instant Pot bowl and add the pulled pork dry rub. Toss to coat the pieces of meat in the rub.
Add in the water.
Cook at high pressure for 115 minutes (1 hour and 55 minutes).
Let the Instant Pot come down from pressure manually. When pressure is released, remove the pork from the Instant Pot to a large bowl and shred it using 2 forks.
Season with additional sea salt to taste.
Delicious Ways To Use Pressure Cooker Pulled Pork
Pulled pork goes way beyond just BBQ; it is a tasty main dish one can enjoy in various ways.
Classic Pulled Pork Sandwiches– My gluten-free hamburger buns and gluten-free rolls are the BEST for making gluten-free pulled pork sandwiches!
Rice Bowls– Top cooked rice (white or brown rice) with pulled pork and fresh ingredients, like shredded cabbage or lettuce, pickled red onion, and Sriracha.
Tacos– My favorite taco is an almond flour tortilla or quinoa tortilla topped with shredded pork, thinly sliced cabbage, avocado, jalapeno, and fresh lime juice. 
Burritos– You can make any burrito you can dream up, including breakfast burritos! Pair with eggs, potatoes, and your favorite hot sauce for a hearty meal.
Nachos– Top corn, cassava, or plantain chips with gluten-free pulled pork, and then top with your favorite fixings.
Salads– Top a salad with pulled pork, fresh tomatoes, and guacamole!
Baked Potatoes– Potatoes are wonderful with shredded pork, shredded cheese (dairy or non-dairy), and sliced green onions.
Breakfast– Eat it with eggs and homemade kimchi for a quick high-protein breakfast.
What To Serve With Pulled Pork
While coleslaw and potato salad are classic side dishes to pulled pork, these are some of my other favorite pairings:
Salads:
Gluten-free pasta salad, gluten-free macaroni salad, beet and carrot salad, or sesame zucchini noodle salad
Other Mexican-Inspired Sides:
Instant Pot refried beans, black bean mango salsa, or halibut ceviche
How To Freeze Leftovers
The pulled pork freezes and thaws very well for quick meals. I vacuum-seal leftovers in a Foodsaver machine, or you can use an airtight glass container or plastic freezer bags.
Cost + Time-Saving Tips
Check Costco for 2 pork butt roasts packaged together and sold for an even lower price per pound! I cut the roasts into chunks, toss them in the dry rub, then freeze each roast individually, saving me time and money. When ready to use the roasts, thaw the pre-seasoned roast chunks and pop them in the Instant Pot to cook.
Can I Use My Slow Cooker
You can use this recipe in your crock pot, slow cooker, or another pressure cooker brand; however, the Instant Pot keeps meat even more tender and juicy than a crock pot/slow cooker. The Instant Pot locks in the juices during the pressure-cooking, unlike the crock pot/slow cooker, where some of the juices escape and evaporate while cooking.
This recipe was originally published in January 2017. Blog post and recipe card updated to include better instructions and notes in May 2023.
Instant Pot Pulled Pork Recipe: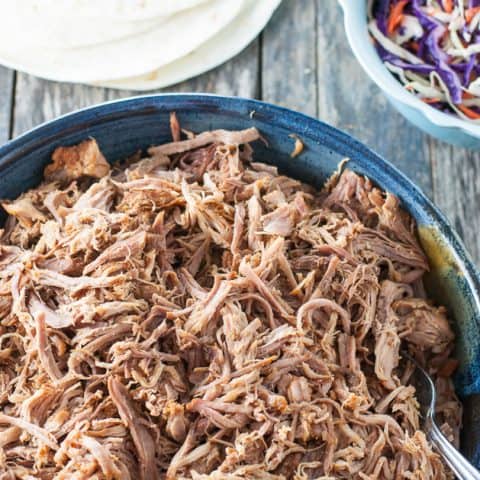 Instant Pot Pulled Pork
Total Time:
3 hours
20 minutes
I make this Instant Pot Pulled Pork recipe for nearly every big get together we host at our home. It feeds a lot of people on the cheap and tastes amazing! Use it for carnitas, burritos, rice bowls, nachos, salads, pulled pork sandwiches, or for whatever your heart desires.
Ingredients
6 lbs. boneless pork shoulder roast (or 9 lbs. bone-in)
1 ¼ cups water
3 tablespoons coconut sugar (or brown sugar)
2 ½ teaspoons sea salt
2 teaspoons garlic powder
2 teaspoons smoked paprika
1 teaspoon ground cumin
1 teaspoon chili powder
½ teaspoon ground black pepper
½ teaspoon dried oregano
⅛ teaspoon cayenne pepper
Instructions
Whisk together the coconut sugar, sea salt, garlic powder, smoked paprika, cumin, chili powder, black pepper, dried oregano, and cayenne in a small mixing bowl to make the dry rub. Set aside.
Place the pork shoulder roast on a large cutting board and blot it with paper towels. Using a sharp knife (my favorite knife for cutting meat is this Global chef's knife), trim the excess fat from the meat (you don't have to get it all, just the larger pieces). Remove the meat from the bone, and discard the bone for bone-inFor bone-in, remove the meat from the bone, and discard the bone.
Cut the meat up into even pieces, about the size of your fist, and then place it into the Instant Pot bowl (If you have a few pieces smaller than the others, it's okay.)
Add the water to the bowl, and then set the bowl inside the Instant Pot. Check the ring on the Instant Pot lid to ensure it's in the proper place, then click it into place on the Instant Pot. Set the vent to sealing.
Cook at high pressure for 115 minutes (1 hour and 55 minutes). When the Instant Pot is done cooking, it will come down from pressure naturally, about 40 minutes (I do not recommend using quick release with this recipe. Natural release ensures tender, juicy meat.).
When the pressure is released, open the lid of the Instant Pot and use a large slotted spoon to transfer the meat to a large bowl. Use 2 forks to shred the meat (it will be very tender and shred easily). Season with additional salt to taste.
Notes
If you have the time to let the pork marinate in the dry rub, I highly recommend letting it sit for 2-3 hours in the refrigerator before pressure-cooking the meat. If you don't have the time, though (I often don't), skip this step.
You can either discard the cooking juices or use them to spoon onto the cooked pulled pork. I normally spoon some of the juice back onto the meat but discard the remaining.
TO MAKE THIS RECIPE IN A SLOW COOKER:
Place the pork pieces in the bowl of a slow cooker. Poor in the dry rub, and then toss the meat to coat in the rub thoroughly. Cook on high for 3-5 hours, or cook on low for 4-7 hours.

Recommended Products
We are a participant in the Amazon Services LLC Associates Program, an affiliate advertising program designed to provide a means for us to earn fees by linking to Amazon.com and affiliated sites.
Nutrition Information:
Yield:

15
Serving Size:

1
Amount Per Serving:
Calories:

543
Total Fat:

39g
Saturated Fat:

14g
Trans Fat:

0g
Unsaturated Fat:

21g
Cholesterol:

163mg
Sodium:

483mg
Carbohydrates:

3g
Fiber:

0g
Sugar:

2g
Protein:

42g
Don't forget to snap a pic of your pressure cooker pulled pork and tag me on Instagram @allergyfreeak and #allergyfreealaska