I make this Instant Pot Pulled Pork for nearly every big get together we host at our home. It feeds a lot of people on the cheap. You can use this pulled pork in a myriad of ways – for Instant Pot carnitas, burritos, rice bowls, nachos, salads, gluten-free pulled pork sandwiches, or for whatever else you can imagine.
What cut of pork is best for pulled pork
Pork picnic roast, the cut of pork that comes from the pig's upper shoulder area, also known as pork shoulder roast or Boston butt, is high in fat and soft connective tissues. This fat and connective tissues is so very tender and juicy when it is cooked low and slow, or pressure cooked. The pork shoulder is said to be the best, most flavorful portion of the pig (aside from bacon… hahaha).
Can I make pulled pork from pork loin
Unlike pork shoulder roast, pork loin roast is lower in fat and soft connective tissues. While you can use it for pulled pork, I personally don't care for it. It's mostly white meat, so it has a dryer flavor/texture.
Instant Pot pork roast is affordable
I love hosting parties at our home, but cooking for large amount of people can sometimes be financially challenging. Pork shoulder roast is affordable. I can normally purchase a 9 pound pork shoulder roast for $11-15, and it will serve 12-15 people.
Pulled pork dry rub
Because of the dry rub seasoning, barbeque sauce is not needed (unless you really want it). This pressure cooker pork is very flavorful and incredibly juicy on its own.
In fact, I like this pulled pork rub so much; I use it on other meats, like chicken, ribs, etc. So feel free to experiment!
How to make Instant Pot pulled pork
Place the pork butt on a large cutting board and blot it with paper towels.
Use a sharp knife to cut the roast into pieces the size of your fist. If your pork roast is bone-in, remove the meat from the bone, and discard the bone.
Place the roast pieces in the Instant Pot bowl and add the pulled pork dry rub. Toss to coat the pieces of meat in the rub.
Add in the water.
Cook at high pressure for 115 minutes (1 hour and 55 minutes).
Let the Instant Pot come down from pressure manually. When pressure is released, remove the pork from the Instant Pot bowl and shred.
Season with additional sea salt to taste.
Pressure Cooker pulled pork cooking time
I call for a much longer cooking time in my Instant Pot pork than some of the other recipes out there. Why? 115 minutes (1 hour and 55 minutes) produces super tender gluten-free pulled pork that shreds easily. A shorter cooking time will create tougher meat – I don't know about you, but I prefer my pulled pork melt-in-your-mouth tender!
How do you shred pulled pork
Since this easy pulled pork recipe is so tender, you can easily use 2 forks to shred the meat. Simply place both forks into the center of the meat, and pull in opposite directions. This technique will give you long, thin shreds.
Instant Pot Pressure Cooker
I purchased my first Instant Pot in November 2015, and it's been true love ever since. I only use my slow cooker now when we have large gatherings, and I need to keep something warm for serving. Really, I'd like to just get rid of it, but it does come in handy for parties!
I have the Instant Pot 7 in 1 model, in both the 6 quart and the 8 quart sizes. My preference the 7 in 1 model over the 6 in 1 because of the "yogurt" function. I make Instant Pot Coconut Yogurt regularly, so that yogurt option is perfect for my family!
The 6 in 1 model Instant Pot does not have the yogurt making option.
Instant Pot vs. crock pot/slow cooker
This recipe will work just fine in an Instant Pot, another brand of pressure cooker, or a slow cooker/crock pot.
I personally find that the Instant Pot keeps meat even more tender and juicy than a crock pot/slow cooker. The Instant Pot locks in the juices during the pressure-cooking, unlike the crock pot/slow cooker, where some of the juices escape and evaporate while cooking.
If you've been on the fence about buying an Instant Pot, just do it. I promise you won't be sorry!
BBQ Pulled Pork Recipe
You can absolutely use this recipe for BBQ pulled pork sandwiches. Simply mix the pulled pork meat with your favorite BBQ sauce. My family really likes the Stubbs Hickory Bourbon BBQ Sauce (it's certified gluten-free) and the O Organics Original BBQ Sauce (found at Carrs/Safeway).
These Gluten Free Hamburger Buns make the BEST sandwich rolls for gluten-free pulled pork sandwiches! They are soft and fluffy, and will quickly become a family favorite!
How to use your pressure cooker pulled pork
Pulled pork sandwiches
Rice bowls
Tacos
Burritos
Add it to salads
Serve it over baked potatoes
Eat it with eggs and homemade kimchi for a quick high-protein breakfast
What to serve with pulled pork Instant Pot
While coleslaw and potato salad are the obvious choices to serve with pulled pork, I'll often serve other things too.
Salads
Gluten-Free Pasta Salad
Raw Beet Salad
Sesame Zucchini Noodles
Side Dishes
Instant Pot Refried Beans
Dairy-Free Macaroni and Cheese
Mashed Cauliflower
Freeze your leftovers
When I don't make this Instant Pot bbq pork for a party, I'll often freeze half of it; it freezes and thaws very well for simple and quick meals.
To package leftover pork for freezing, I either Foodsaver it, put it in an airtight glass container, or use a plastic resealable freezer bag.
Time saving tips
Costco will sometimes have 2 pork butt roasts packaged together and sold for cheap. I'll have my husband cut them up for me and I'll mix them with the dry rub. Then I'll foodsaver each roast – cut up, in its own Foodsaver bag. This way it's going straight into the freezer already cut and seasoned, so when I thaw it, all I have to do is pop it in the Instant Pot to cook.
I hope your family enjoys this pulled pork pressure cooker recipe as much as we do!
xoxo,
Mēgan
Instant Pot Pulled Pork Recipe: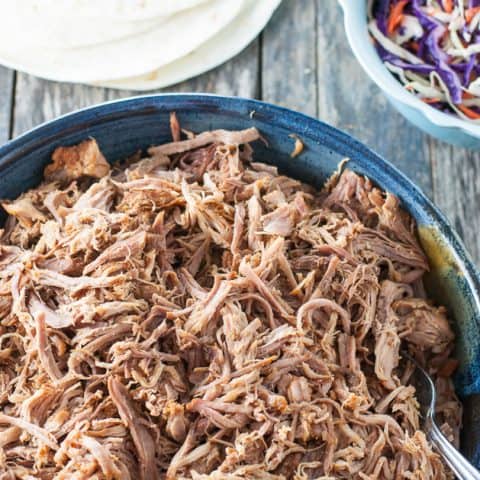 Instant Pot Pulled Pork
Yield: 12-15 servings

Prep Time: 20 minutes

Cook Time: 2 hours

Additional Time: 1 hour

Total Time: 3 hours 20 minutes

I make this Instant Pot Pulled Pork recipe for nearly every big get together we host at our home. It feeds a lot of people on the cheap and tastes amazing! Use it for carnitas, burritos, rice bowls, nachos, salads, pulled pork sandwiches, or for whatever your heart desires.
Ingredients
6 lbs. boneless pork butt (or 9 lbs. bone-in)
1 ¼ cups water
3 tablespoons coconut sugar
2 ½ teaspoons or fine ground Celtic sea salt
2 teaspoons garlic powder
2 teaspoons smoked paprika
1 teaspoon ground cumin
1 teaspoon chili powder
½ teaspoon ground black pepper
½ teaspoon dried oregano
⅛ teaspoon cayenne pepper
Instructions
To make the dry rub, whisk together the coconut sugar, kosher salt, garlic powder, smoked paprika, cumin, chili powder, black pepper, dried oregano, and cayenne in a small mixing bowl. Set aside.
Place the pork butt on a large cutting board and blot with paper towels. Using a sharp knife (my favorite knife for cutting meat is this Global chef's knife), trim the excess fat from the meat (you don't have to get it all, just the larger pieces of it). For bone-in, remove the meat from the bone, and discard the bone (unless you can freeze and use it for something else, like bone broth).
Cut the meat up into even pieces, about the size of your fist, and then place it into the Instant Pot bowl (If you have a few pieces that are smaller than the others, it's okay. This will most likely happen if your pork butt was a bone-in one.).
Add the water to the bowl, and then set the bowl inside the Instant Pot. Check the ring on the Instant Pot lid to make sure it's in the proper place, then click the lid into place on the Instant Pot. Set the vent to seal.
Cook at high pressure for 115 minutes (or 1 hour and 55 minutes). When the Instant Pot is done cooking, it will come down from pressure naturally, about 40 minutes (I do not recommend using quick release with this recipe. Natural release ensures tender, juicy meat.).
When the pressure is released, open the lid of the Instant Pot and use a large slotted spoon to transfer the meat to a large bowl. Use 2 forks to shred the meat (it will be very tender and shred easily). Season with additional salt to taste.
Notes
TO MAKE THIS RECIPE IN A SLOW COOKER:

Place the pork pieces in the bowl of a slow cooker. Poor in the dry rub and then toss the meat to thoroughly coat in the rub. Cook on high for 3-5 hours, or cook on low for 4-7 hours.

If you have the time to let the pork marinate in the dry rub, I highly recommend letting it sit 2-3 hours in the refrigerator before pressure cooking the meat. If you don't have the time though (I often don't), go ahead and skip this step.

You can either discard the cooking juices, or use it to spoon onto the cooked pulled pork. I normally spoon some of the juice back onto the meat, but discard the remaining.



Recommended Products
We are a participant in the Amazon Services LLC Associates Program, an affiliate advertising program designed to provide a means for us to earn fees by linking to Amazon.com and affiliated sites.

*Did you make this Instant Pot Pulled Pork? Please give it a star rating and leave an honest review below!
Don't forget to snap a pic of your pressure cooker pulled pork and tag me on Instagram @allergyfreeak and #allergyfreealaska