I make this crowd pleasing Instant Pot Pulled Pork for nearly every big get together we host at our home. It feeds a lot of people on the cheap. Use your shredded pork for carnitas, burritos, rice bowls, nachos, salads, gluten free pulled pork sandwiches, or for whatever your heart desires. Because of the dry rub seasoning, BBQ sauce is not needed (unless you really want it). This meat is very flavorful and incredibly juicy.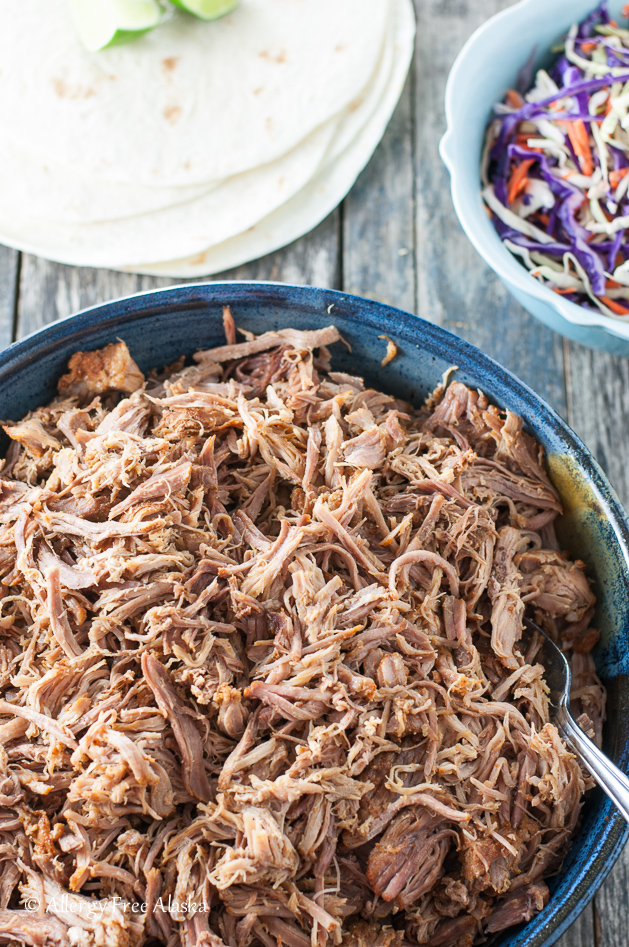 I love hosting parties at our home, but cooking for large amount of people can sometimes be financially challenging. Pork butt though, the cut of pork that comes from the pig's upper shoulder area, is very affordable. I can normally purchase a 9 pound pork butt for $11-15, and it will serve 12-15 people.
What I like about this Instant Pot Pork Roast:
This Instant Pot Pulled Pork is super tender and juicy. The dry rub creates incredibly flavorful meat; you do not need to add BBQ sauce to it (unless you want to). We use this meat in a variety of ways… from pulled pork sandwiches, to sliders, to rice bowls… tacos, carnitas, nachos, salads… etc. You can never go wrong with this recipe.
The dry rub I use in this recipe is also wonderful on other things, like chicken, ribs, etc. So feel free to get crazy!
If you're making pulled pork sandwiches, try these Gluten Free Hamburger Buns. They are soft and fluffy, and will quickly become a family favorite!
Sometimes I'll make this Instant Pot Pork Roast just for my family, and not for a party. It's wonderful because it makes so much we can eat off of it all week long, and freeze whatever we need to for later. The whole family loves it!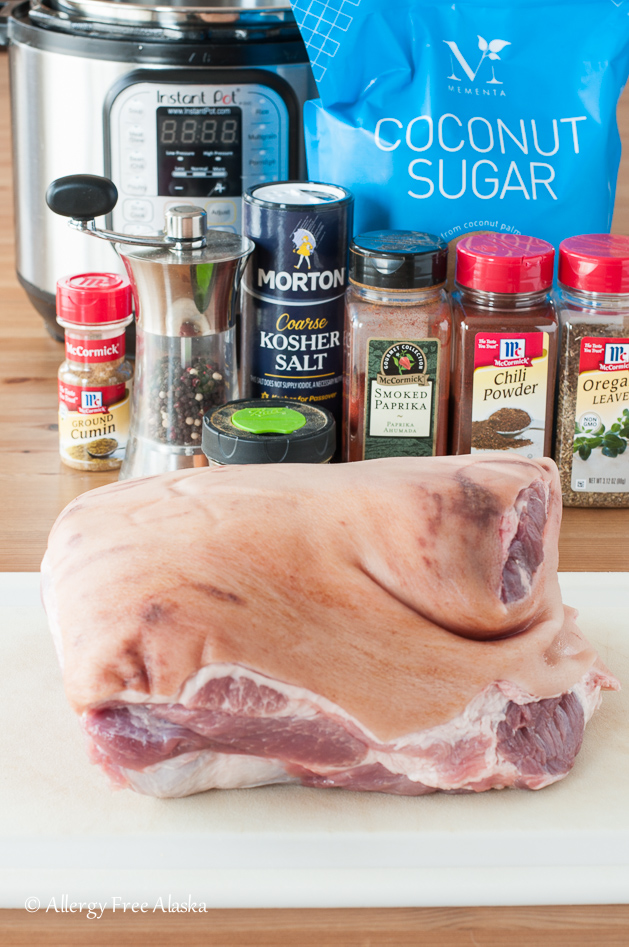 This recipe will work just fine in either an Instant Pot, another brand of pressure cooker, or a slow cooker (I have this one), although I prefer to use my 6-quart 7-in-1 Instant Pot.
I purchased my Instant Pot in November 2015, and it's been true love ever since. I only use my slow cooker now when we have large gatherings, and I need to keep something warm for serving. Really, I'd like to just get rid of it, but it does come in handy for parties!
I find that the Instant Pot keeps meat more tender and juicy vs. a slow cooker. The Instant Pot locks in the juices during the pressure cooking, unlike the slow cooker, where some of the juices escape and evaporate while cooking. If you've been on the fence about getting an Instant Pot, just do it. I promise you won't be sorry!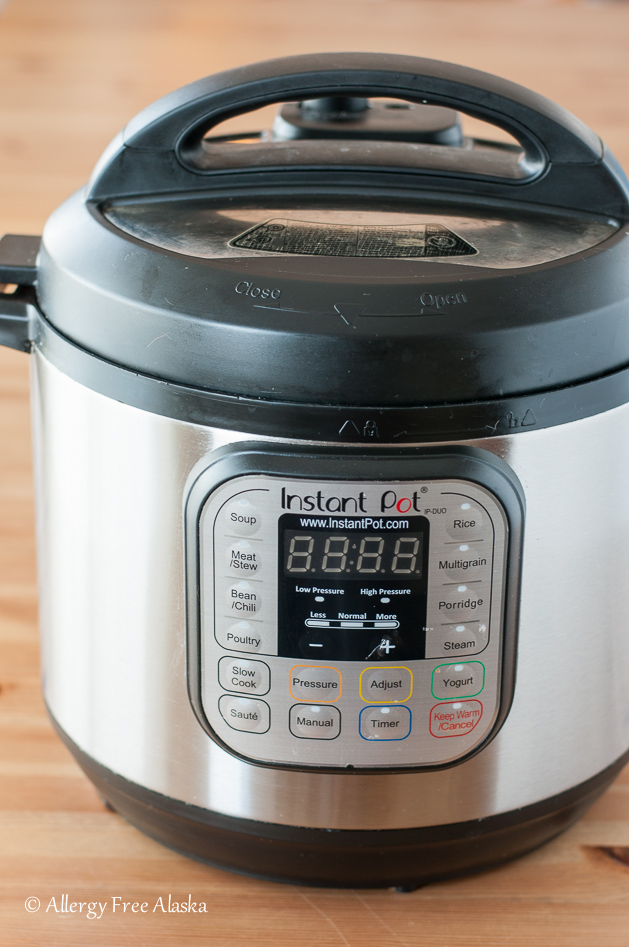 If you use barbeque sauce, my family really likes the Stubbs Hickory Bourbon BBQ Sauce and the O Organics Original BBQ Sauce (found at Carrs/Safeway).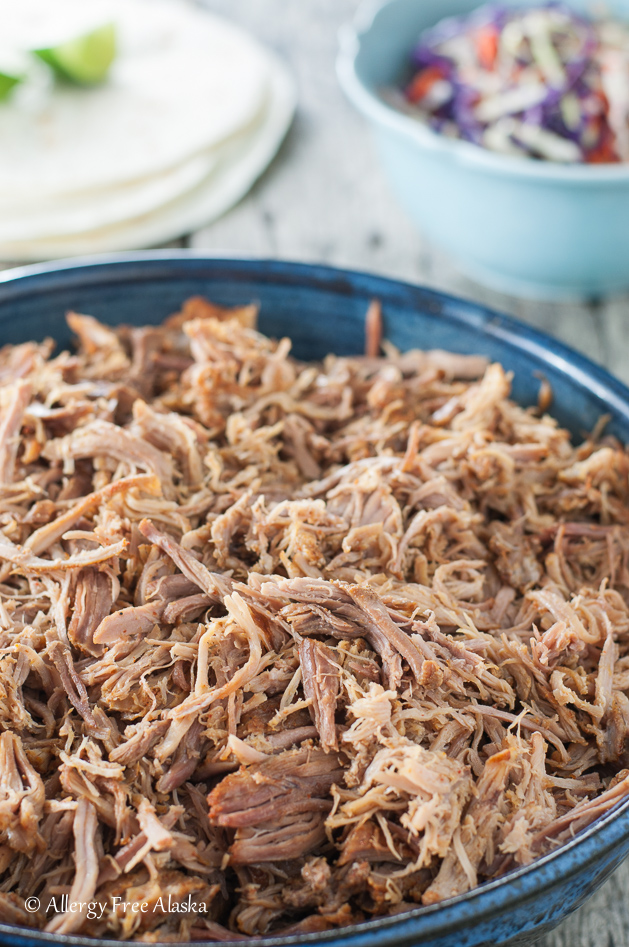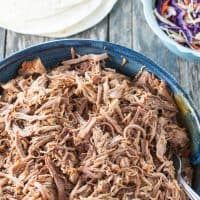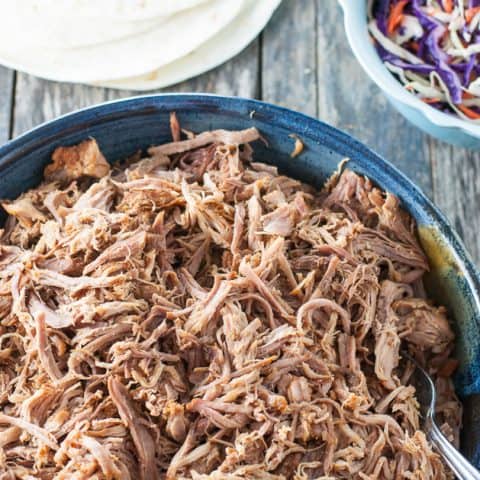 Instant Pot Pulled Pork
Yield: 12-15 servings

Prep Time: 20 minutes

Cook Time: 2 hours

Additional Time: 1 hour

Total Time: 3 hours 20 minutes

I make this Instant Pot Pulled Pork recipe for nearly every big get together we host at our home. It feeds a lot of people on the cheap and tastes amazing! Use it for carnitas, burritos, rice bowls, nachos, salads, pulled pork sandwiches, or for whatever your heart desires.
Ingredients
6 lbs. boneless pork butt (or 9 lbs. bone-in)
1 1/4 cups water
1/2 teaspoon ground black pepper
Instructions
To make the dry rub, whisk together the coconut sugar, kosher salt, garlic powder, smoked paprika, cumin, chili powder, black pepper, dried oregano, and cayenne in a small mixing bowl. Set aside.
Place the pork butt on a large cutting board and blot with paper towels. Using a sharp knife (my favorite knife for cutting meat is this Global chef's knife), trim the excess fat from the meat (you don't have to get it all, just the larger pieces of it). For bone-in, remove the meat from the bone, and discard the bone (unless you can freeze and use it for something else, like bone broth).
Cut the meat up into even pieces, about the size of your fist, and then place it into the Instant Pot bowl (If you have a few pieces that are smaller than the others, it's okay. This will most likely happen if your pork butt was a bone-in one.).
Pour the dry rub into the bowl and toss to coat the pieces of meat in the rub (I like to use a pair of tongs for this).
Add the water to the bowl, and then set the bowl inside the Instant Pot. Check the ring on the Instant Pot lid to make sure it's in the proper place, then click the lid into place on the Instant Pot. Set the vent to seal.
Select "Manual," which will show 30 minutes of cooking time, and increase the time to 110 minutes. When the Instant Pot is done cooking, it will come down from pressure naturally, about 40 minutes (I do not recommend using quick release with this recipe. Natural release ensures tender and juicy meat.).
When the pressure is released, open the lid of the Instant Pot and use a large slotted spoon to transfer the meat to a large bowl. Use 2 forks to shred the meat (it will be very tender and shred easily). Season with additional salt to taste.
Notes
TO MAKE THIS RECIPE IN A SLOW COOKER:

Place the pork pieces in the bowl of a slow cooker. Poor in the dry rub and then toss the meat to thoroughly coat in the rub. Cook on high for 3-5 hours, or cook on low for 4-7 hours.

If you have the time to let the pork marinate in the dry rub, I highly recommend letting it sit 2-3 hours in the refrigerator before pressure cooking the meat. If you don't have the time though (I often don't), go ahead and skip this step.

You can either discard the cooking juices, or use it to spoon onto the cooked pulled pork. I normally spoon some of the juice back onto the meat, but discard the remaining.



Recommended Products
As an Amazon Associate and member of other affiliate programs, I earn from qualifying purchases.

This post may contain affiliate links which I may receive a small commission from (without any additional costs to you). The money earned from these commissions helps me maintain this website. Thank you for your support in this way!