These Instant Pot Refried Beans are a staple in our house. They are creamy and satisfying, yet incredibly affordable and freeze well. Enjoy these flavorful pinto beans over rice, in tortillas, or however you desire. You won't believe how easy this recipe is!
When I first got my Instant Pot, I was so excited that it would cook dried beans so quickly. After cooking several batches of beans, I realized I needed to replicate a homemade refried beans recipe that would equal or surpass restaurant quality beans. The first time I made this recipe, my family was ecstatic. My kids inhaled gluten-free tortilla after tortilla filled with refried beans and topped with fresh ingredients.
How to freeze these pressure cooker refried beans:
Make beans per recipe instructions and cool completely. Portion into gallon or quart sized resealable freezer bags. Gently remove as much air from the bags as you possible can. Store in the freezer flat (this way they don't take up as much space). To thaw quickly, place frozen bag of beans in a large baking dish or bowl with hot water.
I've also frozen the beans in quart sized canning jars or other glass storage containers. If using glass is your preference, just make sure you ONLY fill the container 3/4 of the way full. Otherwise, as the beans freeze and expand, they will potentially shatter your glass container.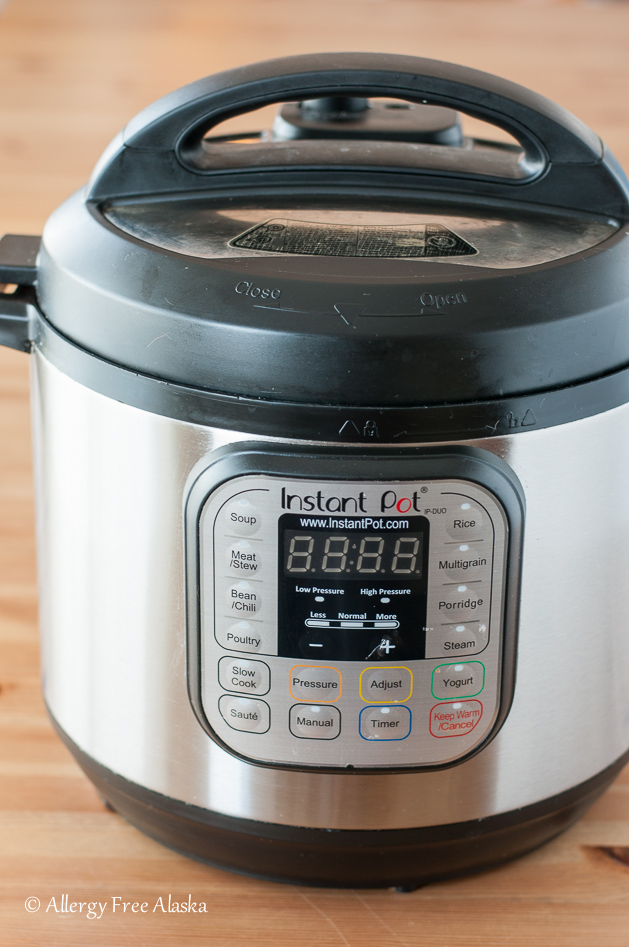 From Reader Carole:
"I made these today: the BEST beans I've ever made. I've been searching for a recipe that tasted like the restaurant. My search is over. Thankyouthankyouthankyouthankyou!!"
I make these instant refried beans a few times a month. They are a cheap and hearty dish (perfect for growing kids) that can be used in a myriad of ways. Try pairing them with my Paleo Instant Pot Pulled Pork or with my Grain Free Vegan Tortillas.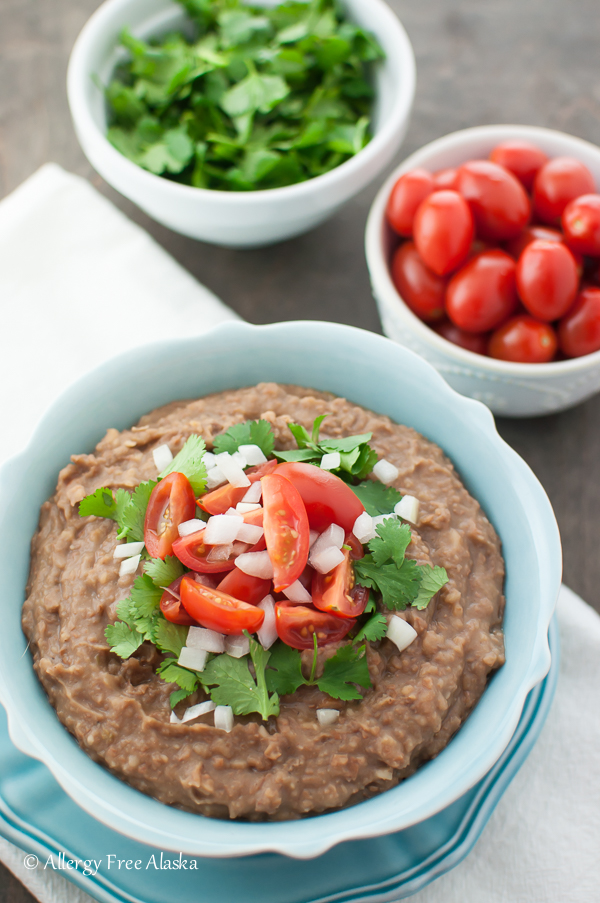 Cutting down on the gas these Instant Pot Refried Beans may produce:
Let's be real, beans can be a smelly situation! So how do you eliminate that, or drastically reduce that issue? We've all been taught to soak our beans overnight for 8-12 hours. BUT, what I didn't know, and recently discovered, is that you need to drain, rinse and resoak the beans every 3ish hours. Apparently, doing this, and discarding the soaking water consistently clears the beans of excess sugar starch. Those sugar molecules can't be broken down or digested by your body, which ultimately leads to… gas.
I do not call for you to soak your Instant Pot beans in this recipe; however, you absolutely can. I would just reduce the liquid by 1-2 cups. FYI, you want the liquid to be about 1/2 inch above the beans, at minimum.
A reader commented and said she substituted pinto beans for Mayocoba beans in this recipe (I had never heard of them prior to this). Apparently they are creamier beans than pinto beans, and she has reported that this worked well.
FAQ about this Instant Pot Refried Beans recipe:
Q: How many cups is 2 lbs. of pinto beans?
A: Roughly 4-5 cups. I normally use 5 cups because we purchase pinto beans in the 25 lbs. bags from Costco. 😉
Q: Does freezing change the taste/texture at all?
I haven't found that freezing changes the texture at all. I just warm them up in the microwave or stovetop with a little water (they get really thick, so the water thins them out a little). They're perfect!
Q: Why are my beans so runny?
A: When these beans are done cooking, they will be very runny, but as they cool, they will thicken up.
Q: Can I substitute black beans for the pinto beans?
A: I haven't tried this, but I'm sure it would work just fine. You just might need to reduce your liquid to accommodate for the smaller beans.
Q: Why do you call for fat in this recipe? Can I omit it?
A: I add fat for 2 reasons – 1.) Flavor. Fat always adds flavor, especially when it's leftover bacon fat. 😉 2.) Fat adds a creaminess or smoothness to bean recipes that I personally enjoy. If you are eating low-fat, or would rather omit the fat from the recipe, you definitely can do that.
Q: When I opened my Instant Pot, my pinto beans had a dark layer on the top of them. Is this normal?
A: Yes, totally normal!
Q: If I half the recipe, do I need to decrease the cooking time?
A: No, keep the cooking time the same.
Q: How many servings does this recipe produce?
A: This recipe makes a WHOLE LOTTA beans. Each cup of dried beans produces 3 cups in volume of cooked beans. There's roughly 4-5 cups in 2 lbs. of dried beans, so you're looking at 12-15 cups cooked. Assuming a serving of beans is 1/2 cup, there would be 24-30 servings in this recipe.
Q: I don't have an immersion blender, and I'm afraid my Vitamix/Blendtec will blend them too much. What do you suggest?
A: You might try blending half of the beans in your blender, and then keeping the other half of the beans whole, or further mashing by hand. That way you get some creaminess, but don't take away that chunky texture completely.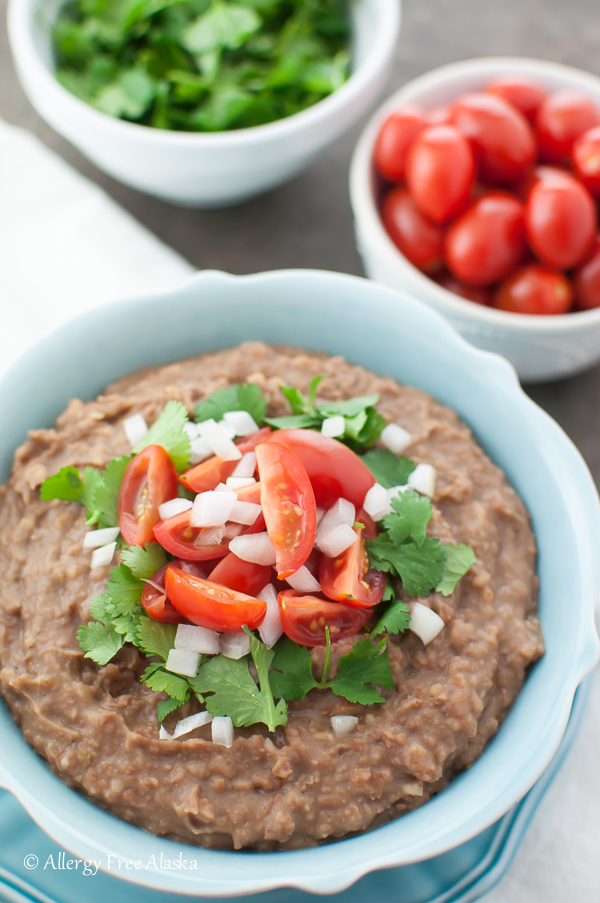 Gluten free recipes with refried beans:
Crispy Baked Sweet Potato Nachos from Fearless Dining
Easy Ground Beef and Bean Dip by Hot Pan Kitchen
Mexican Style Baked Potatoes from Faithfully Gluten free
Plant Based Nachos from My Plant Based Family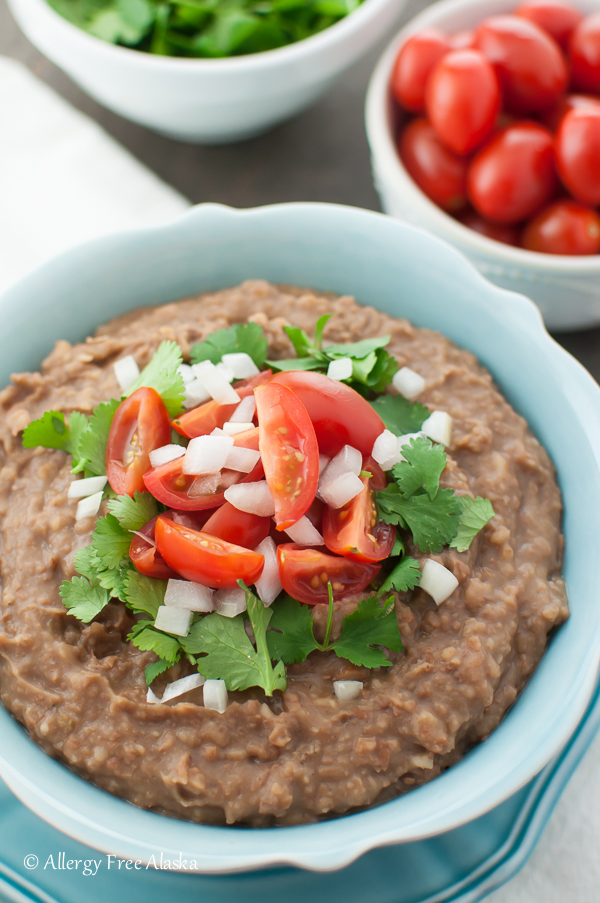 Other gluten free Instant Pot recipes to check out:
Easy Instant Pot Coconut Milk Yogurt
Instant Pot White Bean Chicken Chili
Dairy Free Instant Pot Mashed Potatoes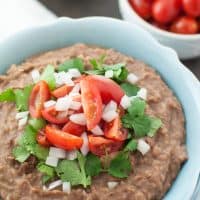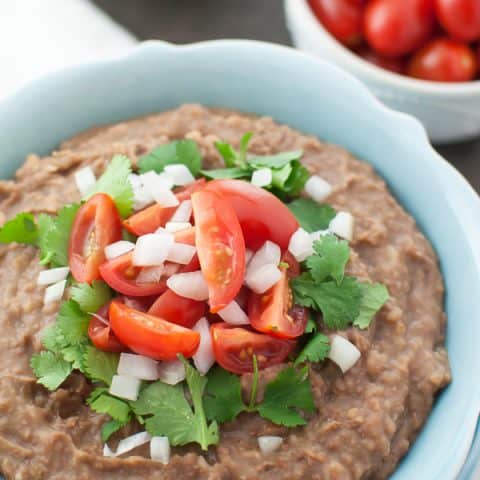 Instant Pot Refried Beans
Additional Time:
40 minutes
Total Time:
1 hour
40 minutes
These Instant Pot Refried Beans are a staple in our house. They are creamy and satisfying, yet incredibly affordable and freeze well.
Ingredients
2 pounds dried pinto beans, sorted (roughly 4-5 cups, I use 5 cups)
1 1/2 cups chopped onion
4-5 garlic cloves, roughly chopped
1 jalapeno, seeded and chopped
2 teaspoons dried oregano
1 1/2 teaspoons ground cumin
1/2 teaspoon ground black pepper
3 tablespoons vegetable shortening (or bacon grease or lard for non-vegan)
4 cups vegetable broth (or chicken broth for non-vegan)
4 cups water
1-2 teaspoons sea salt
Instructions
In a large mixing bowl, add the sorted dried pinto beans and fill the bowl with enough water to cover the beans by several inches. Set aside to soak for 15 minutes while you prepare the remaining ingredients.
To the Instant Pot bowl, add the chopped onion, garlic cloves, jalapeno, dried oregano, ground cumin, ground black pepper, vegetable shortening, vegetable broth, and water.
Use a colander to strain the beans and discard the soaking liquid. Rinse with fresh water.
Now add the beans to the Instant Pot bowl, and stir all of the ingredients together. It's okay if the shortening is in a solid lump, as soon as the Instant Pot comes up to pressure/temperature, the fat will melt.
Place the lid on the Instant Pot and ensure the steam release valve is set to sealing. Set the Instant Pot to cook on high pressure for 45 minutes. Now walk away. When the Instant Pot is done cooking, it will come down from pressure naturally, which takes about 40 minutes.
When the pressure is finally released, open the lid of the Instant Pot and add the sea salt to taste. Use an immersion blender to blend the beans to the desired consistency. The beans will appear soupy, but don't worry – they will thicken as they cool.
Notes
I do not call for you to soak your Instant Pot beans in this recipe; however, you absolutely can. I would just reduce the liquid by 1-2 cups.
Recommended Products
As an Amazon Associate and member of other affiliate programs, I earn from qualifying purchases.
We are a participant in the Amazon Services LLC Associates Program, an affiliate advertising program designed to provide a means for us to earn fees by linking to Amazon.com and affiliated site
s.