This Instant Pot White Bean Chicken Chili recipe is so easy and filling. It's the perfect quick meal the entire family will love, made with ingredients commonly already found in one's pantry!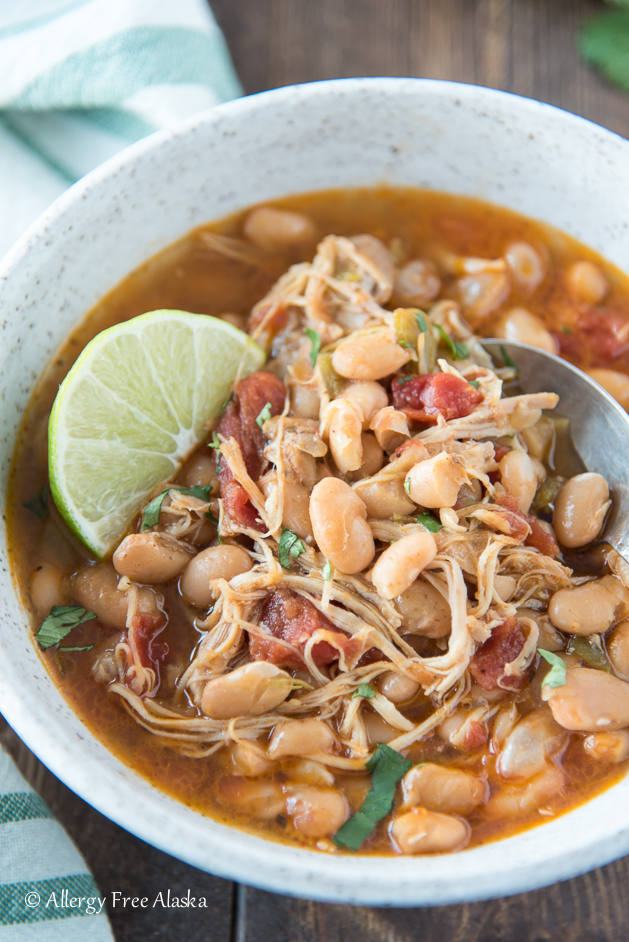 From reader Roger, "I just gave your recipe a try and my critique only requires one word……Outstanding! My daughter and I loved it. This will definitely be added to our list of go to recipes for the instant pot. Thank you"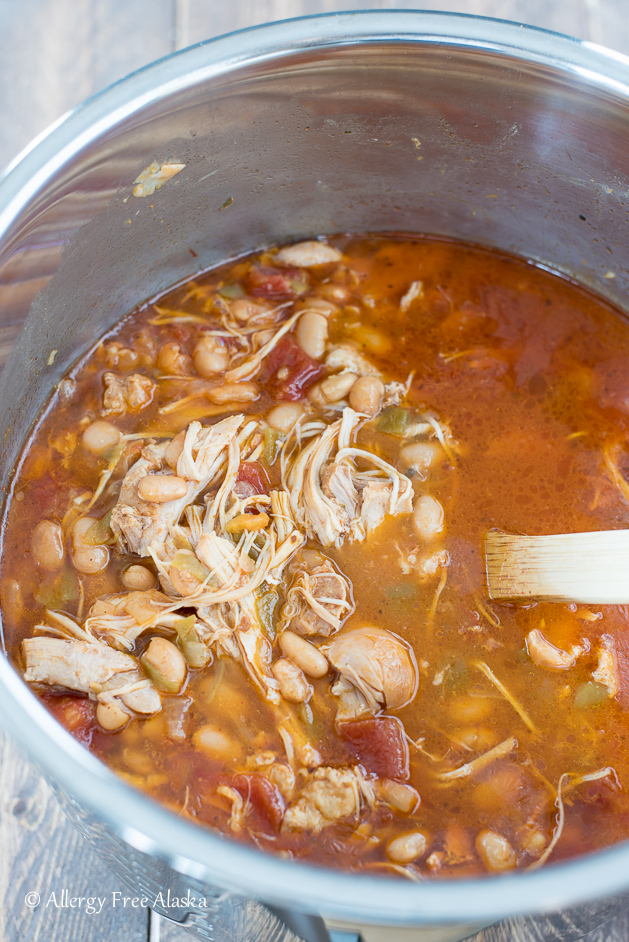 I think all of you will find this Instant Pot White Bean Chicken Chili completely life changing!
This recipe is actually the result of not having anything planned for dinner one night a few weeks ago. I literally threw ingredients in my Instant Pot on a whim hoping it would turn out okay. To my pleasant surprise, we all thought it was absolutely delicious!
I'm so thankful I wrote the recipe down. This recipe is very easy to throw together, with ingredients that are often found in the pantry and freezer.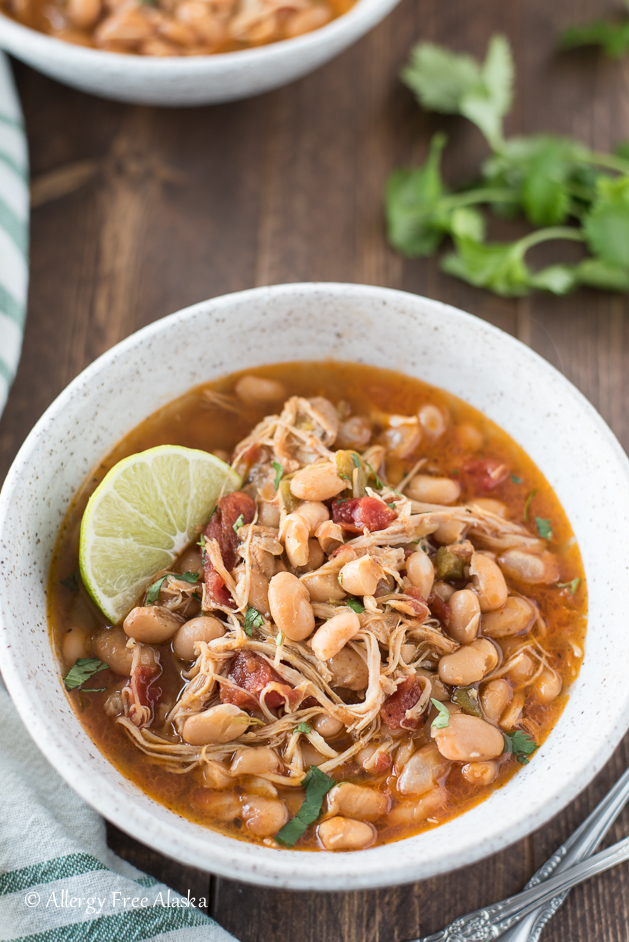 From my pantry, I use dried navy beans, canned tomatoes and canned green chilis. From the freezer, I use frozen boneless, skinless chicken thighs.
The Instant Pot cooks the frozen chicken thighs to perfection, so they are tender and easy to break apart with a wooden spoon. It's super convenient not needing to use thawed chicken, and not having to worry about cutting it up! Minimal time, minimal ingredients, and minimal dishes!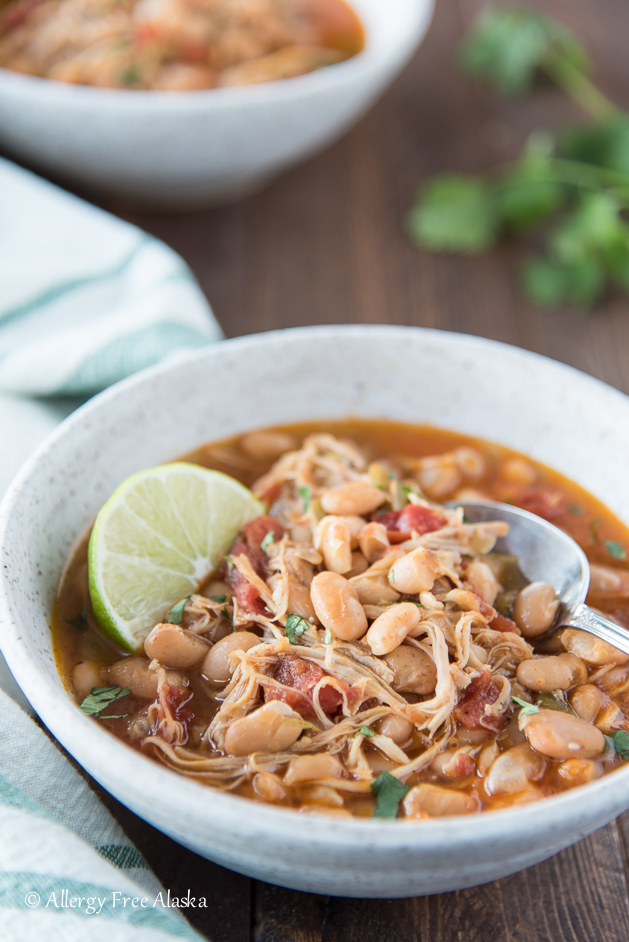 What to eat with this Instant Pot White Bean Chicken Chili:
My family eats this White Bean Chicken Chili with rice or Beanitos (like corn chips, but made with beans and rice), cilantro, and chopped avocado. I think it would be wonderful rolled up in my Grain-Free Vegan Tortillas (or store bought), too.
For freezing, I wait until the chili is completely cool, and then I portion it into gallon sealable bags. This way they freeze flat on the shelf in my freezer and are easily stackable. Alternately, you also could use these glass snap lock containers (I own these and love them), just make sure you you only fill them 3/4 of the way full, otherwise when the chili freezes and expands, it will break the containers.
All my love,
Megan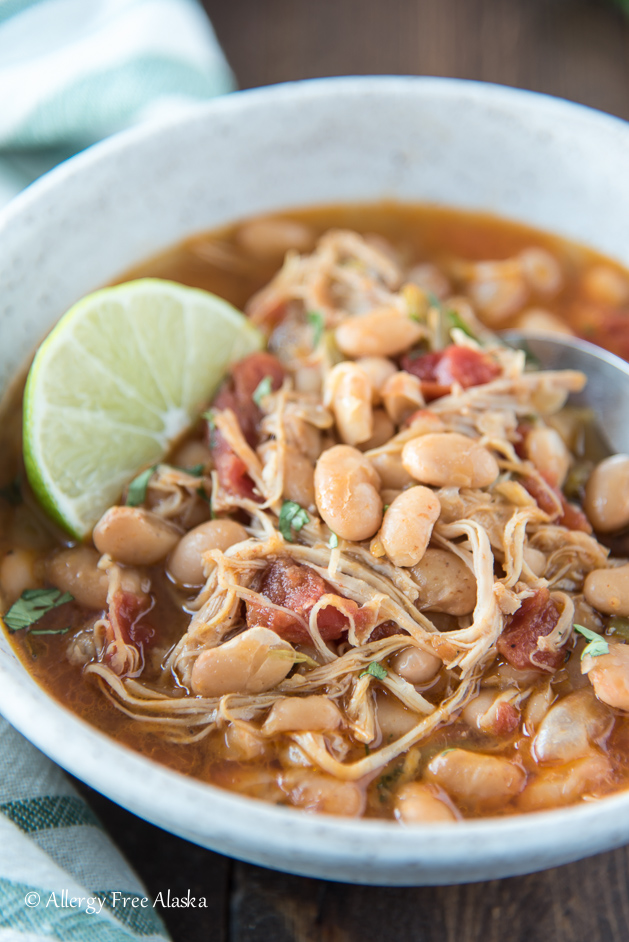 Other Instant Pot recipes you might be interested in:
Instant Pot White Bean Chicken Chili
Author:
Megan Ancheta, Allergy Free Alaska LLC
Ingredients
1 pound dried great northern beans (or navy beans), sorted
2 cups chopped onion
4 garlic cloves, minced
2 tablespoons cassava flour, optional (see recipe notes)
2 teaspoons chili powder
1 teaspoon ground cumin
1/2 teaspoon ground coriander
1/2 teaspoon dried oregano
1/2 teaspoon ground black pepper
14 ounces canned diced tomatoes
7 ounces canned diced green chilies
4 cups chicken broth
6 frozen boneless skinless chicken thighs
3 tablespoons bacon fat, lard or vegetable shortening
sea salt to taste
Instructions
In a large mixing bowl, add the sorted dried navy beans and fill the bowl with enough water to cover the beans by several inches. Set aside to soak while you prepare the remaining ingredients.
To the Instant Pot bowl, add the chopped onion, garlic cloves, cassava flour, chili powder, ground cumin, ground coriander, dried oregano, ground black pepper, canned diced tomatoes, canned diced green chilis, and chicken broth.
Use a colander to strain the beans and discard the soaking liquid. Rinse with fresh water.
Add the beans to the Instant Pot bowl, and stir all of the ingredients together.
Add the chicken thighs to the bowl, and push them down into the liquid. It's okay if they aren't completely covered in liquid.
Now add the lard to the bowl. It's okay if the lard is in a solid lump, as soon as the Instant Pot comes up to pressure/temperature, the lard will melt.
Place the lid on the Instant Pot and ensure the steam release valve is set to sealing. Press the "Bean/Chili" key, which will show 30 minutes of cooking time, and then increase the time to 45 minutes. Now walk away. When the Instant Pot is done cooking, let it cool down/warm for 15 minutes, and then flip the steam release valve to venting, to let the Instant Pot come down from pressure.
When the pressure is released, open the lid of the Instant Pot and use a wooden spoon to stir the chili and break up the chicken into small pieces. Taste, and season with sea salt if needed. The chili will appear soupy, but will thicken as it cools. I like to pull my Instant Pot bowl out and place it on top of my oven to cool for 30 minutes and allow it to thicken. Serve warm with cilantro, avocado, and rice or Beanitos/corn chips.
Recipe Notes from Megan
I did not include cassava flour in the photos you see here. If you don't use a thickener, the chili is loose. If you prefer a thicker chili, simply add cassava flour, or if you don't have it readily available, try
corn starch
,
sweet rice flour
, or
arrowroot starch
.
If you use more than 6 frozen boneless skinless chicken thighs, you'll have to increase the cooking time.
We are a participant in the Amazon Services LLC Associates Program, an affiliate advertising program designed to provide a means for us to earn fees by linking to Amazon.com and affiliated site
s.