There is something special about tortillas. I wouldn't call them a comfort food, but there's nothing better than being able to eat a soft taco stuffed to the brim with all the fixin's. You know what I mean?!
These Grain-Free & Vegan Tortillas are totally legit. They look like the real thing (a gluten-filled white flour tortilla), bend like the real thing, and nearly taste like the real thing, too. I think you will be very pleasantly surprised how "normal" these are. 
I use a tortilla press to make my tortillas. I press the dough out between 2 sheets of parchment paper and then I use a rolling pin to roll the dough out thinner (to about the thickness of a nickel). That's my secret to making my tortillas look so round and uniform. 😉 
All my love,
xoxo, 
Megan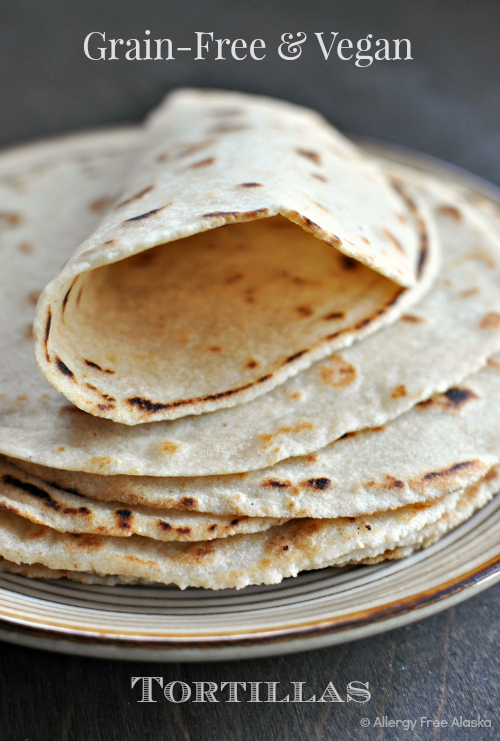 This giveaway is now closed.

So because you guys are so awesome, I'm giving away 2 IMUSA Cast Iron 8-inch Tortilla Presses. That means there will be TWO lucky winners! You can enter using the form below:

Grain-Free & Vegan Tortillas
Serves:
eight 6-7 inch tortillas
Instructions
In a large mixing bowl, whisk together the blanched almond flour, tapioca starch, arrowroot starch, psyllium husk powder, coconut flour, baking powder, and sea salt.
Stir in the olive oil and then slowly pour 1/2 cup of warm water into the flour mixture and stir until combined.
Let the dough rest for 5 minutes to allow the psyllium husk powder and coconut flour time to expand and absorb the liquid.
If the dough is still dry and crumbly, continue to add additional warm water, a tablespoon at a time, until the dough easily comes together to form a workable dough.
Form the dough into 8 even balls and place them back in the mixing bowl; cover with a damp paper towel to prevent the dough from drying out.
Preheat a lightly oiled 10-12 inch cast iron skillet over medium-high heat.
Roll a dough ball between 2 pieces of parchment paper into a round tortilla, as thin as you can get it (about the thickness of a nickel), about 6-7 inches in diameter.
Peel off the top layer of parchment paper and place the tortilla, dough side down, into the hot skillet. Within a few seconds, you should be able to gently peel off the remaining piece of parchment paper. Cook until bubbly and golden. Flip and continue to cook until bubbly and golden on the other side (Be careful not to overcook. If the tortillas start to burn, beyond normal charring like you see in the picture, reduce heat to medium.).
Place the cooked tortillas on a plate between layers of paper towels (or a clean kitchen towel). Some of the tortillas might come out of the skillet somewhat crispy, but as they sit on top of each other, between the layers of paper towels, the warm moist heat makes them pliable and soft.
Continue rolling and cooking the remaining dough.
Recipe Notes from Megan
There is a difference between whole psyllium husk and psyllium husk powder. Please make sure you use
psyllium husk powder
in this recipe.
The key to these tortillas remaining pliable is moist warm heat. After refrigerating, simply warm in the microwave for 10-20 seconds to "revive" its pliability.
Q: How do these freeze? A: I don't know. I haven't tried it yet, so if you do, please come back and leave a comment so we'll all know the results!
Substitutions: For those of you who are nut free, you might be able to substitute sunflower seed flour for the blanched almond flour, but I haven't tried it yet, so I can't guarantee it will work. There are no substitutions for the coconut flour, or the psyllium husk powder.
 This recipe is linked to, Marvelous Mondays, Fat Tuesday, Allergy Free Wednesday, Gluten Free Wednesdays, Waste Not Want Not Wednesdays, Frugal Day Sustainable Ways, Thank Your Body Thursday, Tasty Traditions, Full Plate Thursday, Simple Lives Thursday, Pennywise Platter, Fight Back Friday and Gluten Free Fridays. 
This post may contain affiliate links which I may receive a small commission from (without any additional costs to you). The money earned from these commissions helps me maintain this website. Thank you for your support in this way!