This Homemade Ranch Dressing recipe is so delicious and easy to make (even your kids can make it!). You'll never want to go back to store-bought again!
It is very rare that I purchase an already made salad dressing or dip. I generally make all of ours from scratch, or mostly scratch (I use store-bought mayo & yogurt in this recipe).
Homemade is just… healthier. It's easy to feel better about what you're eating, too, if you know exactly what's in it. And if I'm being honest, homemade always tastes better. I'm sure you'd agree with me on that!
We all love this Homemade Ranch Dressing recipe. Thankfully Abbi, my very picky eater, is interested in eating more of her dinner (and veggies!) if she can dip whatever it is we're eating in a bit of ranch. Works for me! I know many of you parents out there can relate!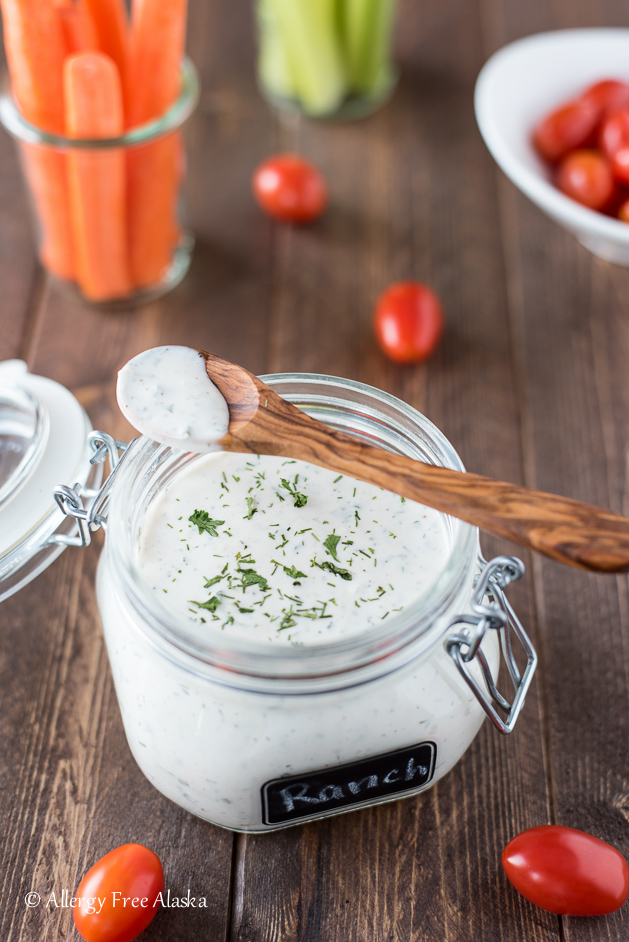 This dressing is excellent for salads, or as a dip.
Depending on the consistency of the yogurt you use, this dressing might be thick. If it's too thick for your liking, simply thin it out with a bit of cold water.
If you need to make this recipe cow's milk dairy-free, you definitely can. Simply use whatever type of plain unsweetened yogurt is your favorite, or whatever you tolerate best (almond, soy, cashew, etc.). We use goat's milk yogurt, which works perfectly.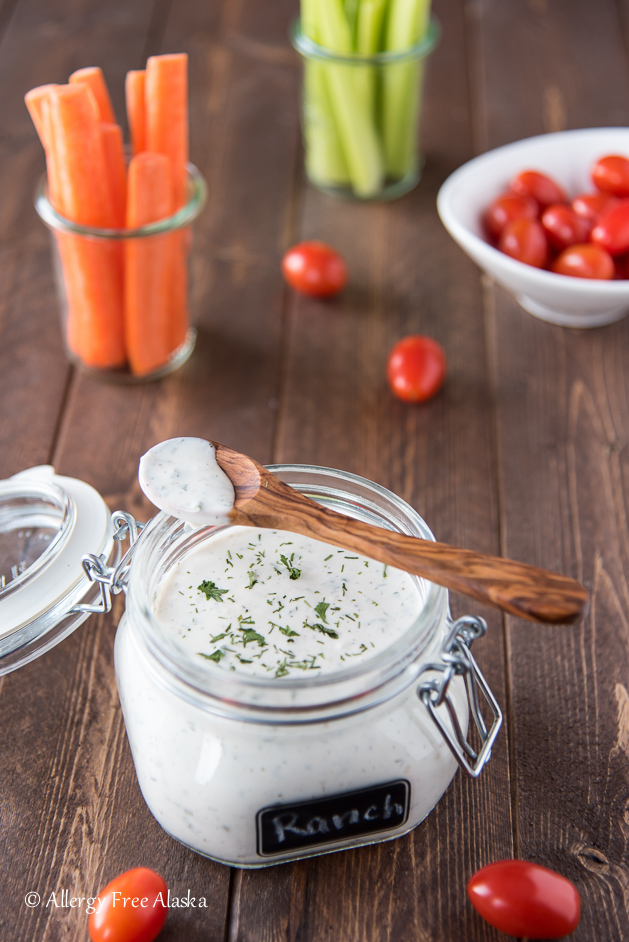 Other gluten-free dips & dressings to try:
Cheesy Pizza Dip with Crackers from My Gluten Free Kitchen
Dairy Free Spinach Artichoke Dip from Sarah Bakes Gluten Free
Easy Italian Vinaigrette from The Pretty Bee
Ranch Dressing Recipe:
½ cup organic mayo (or Just Mayo for egg-free)
½ cup plain unsweetened yogurt (dairy or non-dairy, I use goat's milk yogurt)
1 tablespoon dehydrated onion
1 teaspoon dijon mustard
2 teaspoon dried parsley
2 teaspoon dried chives
½ tsp dried dill
½ teaspoon garlic powder
¼ teaspoon sea salt
¼ teaspoon black pepper
Stir all ingredients together until well blended.  Store in an airtight container and use within 5 to 7 days.
Enjoy!
Megan