I make these gluten free rolls for every holiday gathering and they are always a hit. They are soft and fluffy, and are the perfect vessel for those post-holiday leftovers. Bring on the ham and turkey sandwiches!
The hardest part about making this gluten-free rolls recipe is choosing the flavor: plain, garlic & rosemary, or onion (I include directions for all 3 flavors below).
I love all three flavors, so it's hard to tell you what my favorite is!
Gluten-Free Rolls
Who can resist the delectable smell of freshly baked gluten-free bread rolls wafting through the house? I definitely can't! In fact, when our girls are grown, I hope the scent that gives them a sense of nostalgia is freshly baked gluten-free bread.
When I first went gluten-free, it was so hard to find gluten-free bread rolls that actually tasted good. I wanted fluffy rolls… the kind of rolls that are a piece of soft heaven when you take a bite. The kind of gluten-free yeast rolls that weren't dry and crumbly but were so tender they practically melted in your mouth.
After recipe testing for months, I finally created a recipe that was so tasty and delicious it nearly made me cry!
When Thanksgiving came around I was elated to have delicious gluten-free dinner rolls that sopped up turkey gravy and those leftover bits of turkey and sweet potato and gluten-free stuffing from my Thanksgiving Day plate.
Speaking of Thanksgiving, I can't wait to try this easy no fail brined turkey. Doesn't it look amazing?
Tips for Making Gluten-Free Dinner Rolls:
If you've never made wheat-free bread before, it's important to remember your gluten-free dough is going to be much wetter than a gluten-filled dough. Don't second guess the recipe and add additional flour, otherwise you'll end up with a denser roll.
Make sure all ingredients are at room temperature (including the flour, eggs, yeast, nuts, seeds, etc). I let my "cold" ingredients sit out on the counter for 20 – 30 minutes before I start baking.
Use the mixers paddle attachment (flat beater) when mixing gluten-free bread dough, not the whisk attachment or break hook. Gluten-free bread requires no kneading (for the most part – there are a handful of recipes out there that do), so no bread hook is required.
The bread loaf, rolls, or muffins will rise a little bit more during the baking process and will appear nice and golden brown when done.
To double check that a yeast loaf or yeast rolls are finished baking, use an instant read thermometer to check the internal temperature. A perfectly baked yeast loaf will reach an internal temperature of 202 degrees (F).
Always bake on the middle rack in your oven!
Active Dry Yeast
Active dry yeast can be very unstable, so make sure it's fresh (not expired) and becomes foamy when proofed. If the yeast isn't foamy once the proofing time is up, either the yeast is bad or the water isn't the right temperature. Throw it out and start again.
Do I need an electric stand mixer to make gluten-free dinner rolls?
Yes. You need an electric stand mixer like a Kitchen Aid or something similar. Gluten-free bread dough has to be whipped/mixed well to get air into the dough and to create a perfectly smooth texture. This cannot be achieved by stirring by hand or by using an electric hand mixer.
How to Make Gluten-Free Rolls
Combine the dry ingredients, this includes all of the gluten-free flours, starches, xanthan gum, sea salt, and spices (if using them for the flavored rolls).
Whisk together the wet ingredients.
Proof the yeast.
Mix it all together. See the picture directly below to see the consistency you want your dough. Note that the dough is a little wetter than what you would expect, more like a cookie dough batter, but thick enough to cling to the sides of the bowl and hold its shape when scooped onto a baking tray.
Wet your fingers and flatten each ball of dough so that it's approximately ¾-1" thick.
Rise.
Bake.
It really is that easy!
Gluten-Free Slider Buns
Rolls are (obviously) excellent slathered with dairy-free butter, but this gluten-free recipe also doubles as the perfect slider bun.
A slider is any kind of small sandwich – from tiny burgers, to any kind of shredded meat sandwich.
For gluten-free sliders, I like to make Instant Pot Pulled Pork, and shred the meat. Then I fill the gluten-free rolls with pulled pork, a little bit of barbeque sauce (we use Stubbs), and crunchy coleslaw (I use this recipe by Robert Irvine, but sweeten my coleslaw dressing with honey to taste vs. white sugar). They are exceptional, and everyone loves them!
I also like to make my Instant Pot Chuck Roast and shred the meat. Then I fill the gluten-free rolls with shredded beef, caramelized onions, and sautéed mushrooms. It is soooo good. The cooking juices from the Instant Pot Chuck Roast can served with the sliders as a dipping sauce. Like French dip, just in slider form!
If you're looking for a larger-sized sandwich roll, try my gluten-free hamburger buns.
How to Store Gluten-Free Rolls
I keep my gluten-free rolls stored in a bread bag sitting out on the counter; however, if you live in a warm climate, you may need to store your rolls in a cool dark cupboard or the refrigerator.
Most of my gluten-free bread recipes stay fresh at (Alaska) room temperature for at least 2-3 days. If I know I won't use my rolls up within 2-3 days, then I slice the remaining portion, wrap it in plastic wrap, place it in a freezer bag, and store it in the freezer. When I need gluten-free buns, I leave them out on the counter to thaw at room temperature and use them within 24 hours.
Gluten-Free Frozen Rolls
Let's face it; frozen gluten-free dinner rolls are awfully convenient! While these rolls are best the day you make them, they do freeze well, which comes in handy when you are planning a big meal for a holiday. Place baked and cooled rolls in an airtight container and freeze. Thaw at room temperature.
I hope you enjoy these gf rolls as much as my family does! I don't know about you, but I've never looked forward to leftovers as much as I do now, because these gluten-free dinner rolls mean amazing post-Thanksgiving turkey and ham sandwiches!
xoxo,
Mēgan
Gluten-Free Rolls recipe: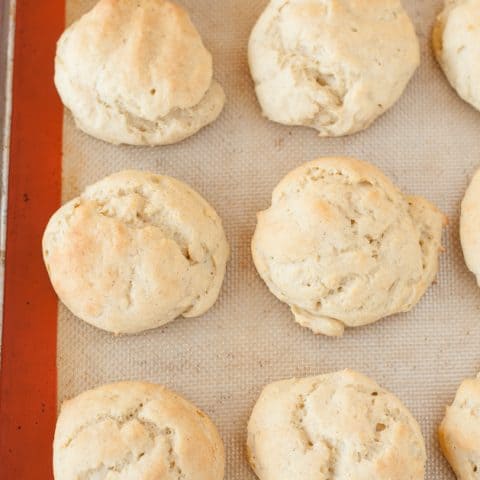 Gluten Free Rolls
Total Time:
1 hour
37 minutes
These Gluten Free Rolls are soft and fluffy, and are the perfect vessel for those post-holiday leftovers (bring on the ham and turkey sandwiches!).
Ingredients
Yeast Ingredients:
¾ - 1 cup hot water, divided (between 105 - 115 degrees F)
1 tablespoon honey
1 ¾ teaspoons dry active yeast
Dry Ingredients:
1 cup sorghum flour
¾ cup brown rice flour or millet flour
½ cup tapioca starch
1 ¾ teaspoons xanthan gum
1 - 1 ¼ teaspoon sea salt
Wet Ingredients:
2 eggs
2 tablespoons olive oil
½ teaspoon apple cider vinegar
For Garlic & Rosemary Rolls add:
1 teaspoon dried crushed rosemary
2 garlic cloves, minced
For Onion Rolls add:
2 tablespoons dehydrated onion flakes
1 teaspoon onion powder
Instructions
To proof the yeast, combine the honey and warm water in a small mixing bowl and stir until the honey is mostly dissolved. Sprinkle in the yeast and give it a quick stir. Allow the yeast to proof from 7-10 minutes; it should be foamy. Make sure you have the other wet ingredients mixed and ready to go when the yeast is done proofing.
Using an electric mixer with a paddle attachment, combine the sorghum flour, brown rice flour, tapioca starch, xanthan gum, and sea salt. If making one of the flavored rolls, also include either the rosemary and garlic, or the onion powder and dehydrated onion, at this time.
In a separate mixing bowl, whisk together the eggs, olive oil, and apple cider vinegar.
When the yeast is done proofing, add the wet ingredients to the dry. Stir on low and slowly add the yeast mixture. Continue to mix on low for 30 seconds. Scrape down the sides of the bowl, then mix on medium for 2-3 minutes or until the dough is smooth. If needed, continue to add warm water, tablespoon by tablespoon, to achieve the consistency of a thin cookie dough batter (see picture in post above for a visual representation of this). The dough will be wetter than a gluten-fill dough, but must be thick enough to cling to the sides of the bowl and hold its round shape when scooped onto a baking tray.
Using an ice cream scoop, drop the dough onto a parchment or silicone lined baking sheet (they should be a little bigger than the size of a golf ball).
Wet your fingers and flatten each ball of dough so that
it's approximately ¾-1" thick (keep wetting your fingers as you go along so that the dough does not stick to them).
Allow the rolls to rise for 1 hour.
Preheat the oven to 375° (F). When the oven is fully preheated, baked the rolls for approximately 17-19 minutes. When finished baking, they will be golden brown and the internal temperature will be 202° (F).
Remove the rolls from the pan to a wire rack. Allow them to cool for at least 15-20 minutes before serving.


We are a participant in the Amazon Services LLC Associates Program, an affiliate advertising program designed to provide a means for us to earn fees by linking to Amazon.com and affiliated site
s.