Whenever I think of Thanksgiving meal, my mind immediately goes straight to dessert (like to Dairy Free Eggnog, Guilt-Free Pecan Pie Cookies or Maple Pumpkin Pie).
But coming in at a close second is always stuffing. I love stuffing, especially slathered in gravy and mingled with small bits of turkey or whatever else is floating around my plate.
And while more exotic or non-traditional stuffing sounds and looks lovely (most of them anyways), I'm a traditionalist snob when it comes to my stuffing. Which is precisely why I prefer this yummy Traditional Stuffing with Parsley, Sage & Thyme.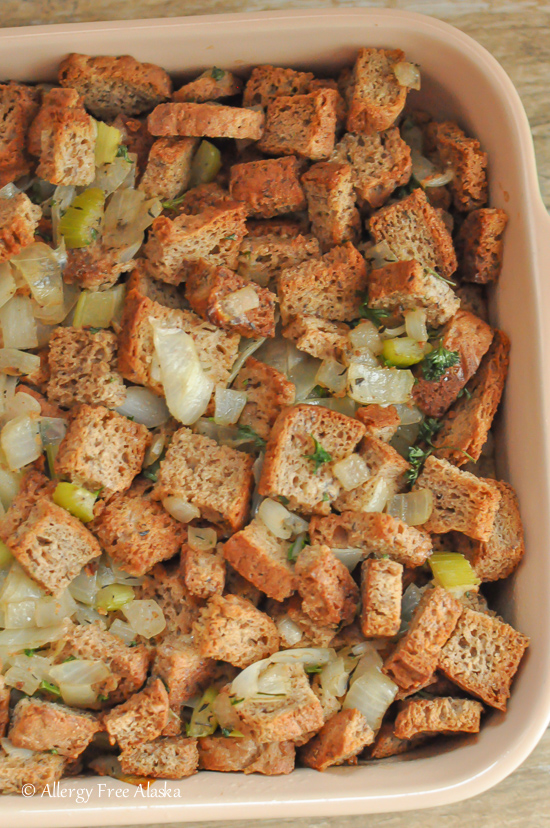 When I made this a few days ago, the thyme and sage sauteed with the ghee, onions, and celery filled our house with a wonderful aroma. It left my girls salivating and begging for a spoonful of the stuffing as soon as I pulled it out of the oven (of course I caved and both girls loved it). 😉
And I especially like that the top of this dish remains nice and crunchy, while the bottom stays moist and soft.
I use my Gluten & Rice Free Multigrain Bread in this recipe, although as stated below, you certainly could use my Oatmeal Millet Bread or the Gluten Free "White Bread" loaf.
My bread loaves are significantly larger than store bought ones (like Udi's or Rudi's). So if you want to substitute a gluten-free store bought loaf, you might need to use 2 loaves to equal my one.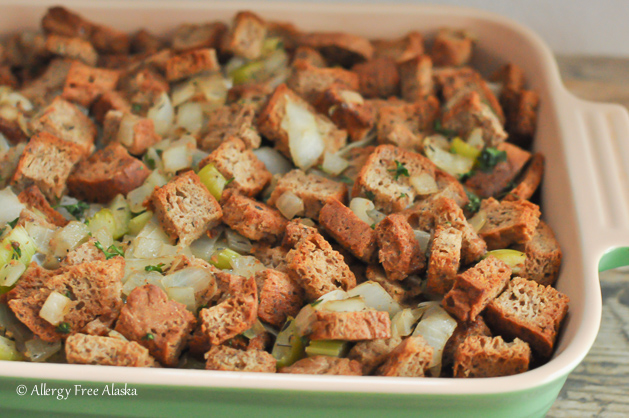 May your Thanksgiving be filled with love and laughter – and exceptionally great food!
Blessings,
Megan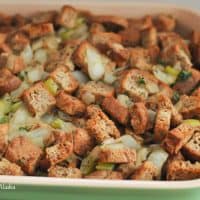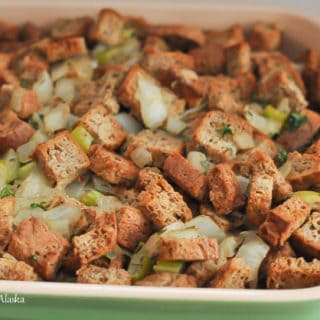 Traditional Stuffing with Parsley, Sage & Thyme
Ingredients
1/4 cup, vegan butter, or olive oil
3 cups chopped onions (about 1 large)
1 cup chopped celery (about 2 stalks)
1 teaspoon dried ground sage
1 teaspoon dried thyme
1/4 cup fresh chopped parsley
1/2 teaspoon sea salt
1/2 teaspoon black pepper
2 eggs
2 cups chicken or broth
Instructions
Divide the bread cubes between two large parchment lined baking sheets and leave them out on the counter (uncovered) overnight.
Adjust the oven racks to the upper and lower middle positions and preheat oven to 400 degrees (F).
Bake the bread cubes for 10 minutes and then stir, and bake for an additional 5 minutes or until golden brown.
Preheat oven to 350 degrees (F).
In a large sauté pan, warm the ghee or olive oil over medium heat. Add the onions and celery and sauté for 6 minutes. Add the ground sage and thyme and sauté for another 2-3 minutes, or until the vegetables are soft.
In a large mixing bowl, combine the bread cubes, sautéed vegetables, parsley, sea salt, and black pepper.
In a small mixing bowl, whisk together the eggs and chicken broth, and then pour it into the bread cube mixture and gently mix.
Place in a lightly greased 9"x13" baking dish and cover with foil. Bake at 350 degrees (F) for 30 minutes, and then remove the foil and bake for another 10 minutes, or until the top is nice and crunchy. Serve immediately.
This post may contain affiliate links which I may receive a small commission from (without any additional costs to you). The money earned from these commissions helps me maintain this website. Thank you for your support in this way!