The only thing better than the scent of freshly baked cinnamon rolls is the sugary fragrance that blankets the air when you drizzle them with icing. It's a warm embrace that no one should have to live without. That's why I spent years perfecting these gluten-free cinnamon rolls.
They say Rome wasn't built in a day, and believe me, neither was this recipe. But it was worth every dry, gooey, and gummy failure. I reminded myself that any waste from testing would be offset by the success all of you could enjoy with your very first batch.
Yes, now you can enjoy a little … make that a big piece of gluten-free cinnamon roll heaven with sweet glaze dripping into every nook and cranny. This is a delightfully soft and tender pull-apart baked good you'll be proud to serve to friends and family, that is, if you're willing to share.
I bake these gluten-free cinnamon rolls every holiday, and they're always devoured in minutes. But I must admit that I'm often tempted to sneak off with a few rolls and a big cup of coffee for myself!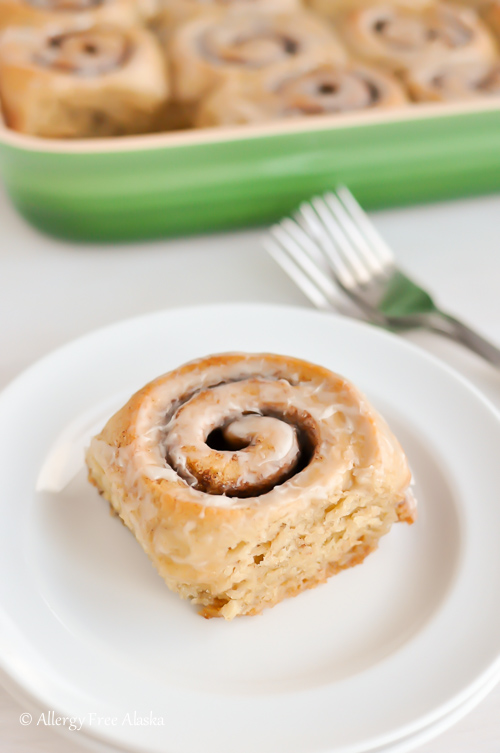 Gluten-Free Cinnamon Rolls with Options!
These cinnamon rolls are so amazing that no one will notice they are gluten-free, let alone optionally dairy-free, corn-free, nut-free, and soy-free. I also have a few more ways to make this recipe suitable for almost every desire.
Vegan Gluten-Free Cinnamon Rolls
This recipe has been successfully tested egg-free! I have replaced the eggs with "chia eggs," and it results in wonderful vegan gluten-free cinnamon rolls.
To make two chia eggs, whisk 2 tablespoons of ground chia seed with 6 tablespoons of boiling water. Let the mixture sit for at least 10 minutes before adding it to the cinnamon roll dough.
Overnight Gluten-Free Cinnamon Rolls
You can easily enjoy freshly-baked cinnamon rolls in the morning without any a.m. fuss.
The night before, make the rolls as directed and place them in the pan to rise. Let them rise for just 30 minutes, cover the pan with plastic wrap, and refrigerate the rolls overnight.
In the morning, pull the pan out of the refrigerator and let the rolls warm to room temperature. This can take 1 to 2 hours.
Remove the wrap and bake the cinnamon rolls in your preheated oven as directed in the baking instructions.
Freezer Gluten-Free Cinnamon Rolls
Once baked, these gluten-free cinnamon rolls freeze beautifully.
Let the rolls cool completely, separate them, and individually wrap each roll in plastic wrap.
Place the wrapped rolls in an airtight container (for an extra layer of insulation) and freeze. They should keep in the freezer for up to 6 weeks.
When cravings strike, let a roll thaw at room temperature, and then heat it for 20 to 30 seconds in the microwave to soften.
Looking for a low-carb, keto cinnamon roll? Try these Fathead Keto Cinnamon Rolls.
Gluten-Free Cinnamon Buns Ingredient Tips
I think the true reward of recipe development is in the journey. This recipe has taught me quite a bit about how different gluten-free flours, starches, binders, and leaveners interact. I've discovered what works, what doesn't, what completely dries out a recipe, and what aids in retaining moisture and tenderness. The following ingredient notes are based on my experiments.
Yeast
It's important to make sure your yeast is active in the first step of this recipe. If the yeast doesn't foam when you proof it, it might be inactive. Discard it and start again with fresh yeast. Inactive yeast is the primary culprit when dough doesn't properly rise.
Tapioca Starch and Millet, Sorghum & Brown Rice Flours
As mentioned, I spent a lot of time testing various flours and starches. This is the exact flour blend that I think works best.
I don't recommend substituting a store-bought blend, because the flour and starch balance will be different and it might contain some additives and binders, like xanthan gum. This is a gum-free recipe for a reason!
If you do opt to swap a starch or gluten-free flour, I can't guarantee the results. But feel free to comment if you do have success with a substitution.
Psyllium Husk
This is the magic ingredient for workable gluten-free yeast dough. Psyllium husk powder makes the dough very easy to knead and roll out. In fact, it's almost like working with gluten-filled dough!
I do not recommend trying to substitute this ingredient, but I do recommend using a reliable brand. Some brands of psyllium husk powder can negatively affect the taste. I use Now Foods brand, which always seems to produce delicious gluten-free cinnamon rolls.
Sweeteners
I use organic cane sugar because it's less refined, but still has a seamless sweet taste. You can substitute another granulated sugar if desired. It should perform as well, but might affect the taste a little.
Honey and maple syrup are my favorite liquid sweeteners, but in a pinch, you can substitute agave nectar or gluten-free brown rice syrup.
Vegan Butter or Ghee
You can use a dairy-free buttery spread or sticks for the vegan butter. Ghee isn't dairy-free, but most of the proteins and lactose have been removed. It's essentially dairy butter oil. Check with your physician before adding ghee to your diet if you are dairy free for medical reasons.
Eggs
I prefer to use eggs in this recipe, but see my Vegan Option in this post (above) for an egg-free substitution.
Apple Cider Vinegar
A touch of vinegar helps to tenderize the dough. I use apple cider vinegar for the taste, but you can substitute white vinegar if needed.
How to form gluten-free cinnamon rolls:
Mist a large, clean work surface with water or oil, and then carefully lay down a 20-22″ long piece of plastic wrap (the oil or water will keep the plastic wrap sealed to the work surface). Sprinkle the plastic wrap with 1 tablespoon of sugar, and then place the gluten-free cinnamon roll dough in the center of the plastic wrap.
Roll the dough into a 16″ x 10″ rectangle.
Sprinkle the filling out evenly across the dough, leaving an inch of raw dough along the top edge. This raw edge is where the rolls will seal shut.
Starting at the edge closest to you, gently lift the plastic wrap and use it to carefully roll the dough away from you into a cylinder.
Blunt the ends of the cylinder so the filling doesn't fall out.
Cut the dough using a piece of dental floss or a piece of thread. Slide the dental floss under the dough into the middle of the cylinder. To make your cut, pull the ends of the floss up and cross over the top of the dough.
More Perfected Gluten-Free Recipes
Some of my best gluten-free recipes were the ones that took me the longest to develop. Here are few more time-tested goodies that I'm proud to share.
Corn-Free, Gluten-Free Pecan Pie
For more foolproof treats, get my artisan e-book, Gluten-Free Baking from Scratch
I hope you and your family enjoy these GF cinnamon rolls!
Mēgan
Gluten-Free Cinnamon Roll Recipe: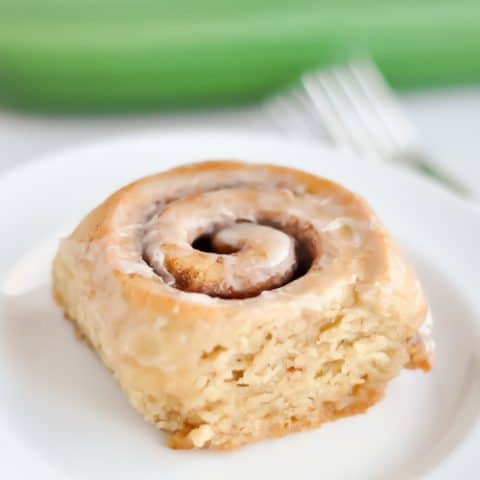 Gluten-Free Cinnamon Rolls
Total Time:
3 hours
5 minutes
Perfect gluten-free cinnamon rolls with a swirl of cinnamon and sugar that no one can resist! This is our favorite recipe to make every holiday.
Ingredients
Yeast Ingredients:
2 teaspoons organic cane sugar
1 ⅓ cup warm water (between 105-115 degrees F)
2 ¼ teaspoons dry active yeast
Dry Ingredients:
1 ½ cups tapioca starch
1 cup millet flour
1 cup sorghum flour
½ cup brown rice flour
4 tablespoons Now Foods psyllium husk powder
4 tablespoons organic cane sugar, divided
1 ½ teaspoons sea salt
Wet Ingredients:
2 large eggs
7 tablespoons canned coconut milk (full fat)
6 tablespoons olive oil or melted & cooled vegan butter or ghee
1 tablespoon honey or pure maple syrup
2 teaspoons apple cider vinegar
Filling:
¾ cup organic cane sugar
2 tablespoons ground cinnamon
3 tablespoons vegan butter or ghee, softened
Glaze:
1 ½ cups organic powdered sugar
2-3 tablespoons water
Instructions
In a small mixing bowl, combine the 2 teaspoons of organic cane sugar with the hot water. Sprinkle in the yeast and give it a quick stir to combine. Proof for 8-10 minutes, until the yeast is nice and foamy. Make sure you have the other ingredients mixed and ready to go when the proofing time is up.
In the bowl of an electric mixer, use the paddle attachment to stir together the tapioca starch, millet flour, sorghum flour, brown rice flour, psyllium husk powder, 2 tablespoons of organic cane sugar and sea salt.
In a separate mixing bowl, whisk together the eggs, canned coconut milk, olive oil, honey, and apple cider vinegar.
When the yeast is done proofing, add the egg mixture into the dry ingredients. Stir until the mixture is paste-like, and then slowly pour in the yeast mixture. Stir for 30 seconds on low. Use a spatula to scrape down the sides of the bowl and then mix for an additional 3 minutes at medium speed. The dough will be sticky and shaggy.
Place the dough in a well-oiled large mixing bowl and push the dough down into the bowl with oiled hands or an oiled spatula, so it's spread out evenly. Cover the bowl with a clean kitchen towel. Place in a warm spot to rise for an hour, or until double in size.
Now make your filling.
Use a large sharp knife to cut the dough evenly in half while it is still in the bowl (the idea is not to disturb it too much).
Lightly mist a large work surface with oil or water (I prefer to use oil) and then carefully lay down a 20-22" long piece of plastic wrap. Sprinkle the plastic wrap with 1 tablespoon of organic cane sugar.
Place one of the dough portions on the plastic wrap and roll the dough into a 16"x10" rectangle. (Don't use any additional flour for rolling. This dough is relatively easy to work with and shape. If you do struggle with rolling it out, cover the dough with an additional piece of 20-22" long piece of plastic wrap, and roll the dough out between the layers.)
Sprinkle half of the filling mixture out evenly on to the rolled out dough, leaving an inch of raw dough along the top edge - the 16" edge furthest from you. This raw edge is where the rolls will seal shut.
Starting at the 16" edge closest to you, gently lift the plastic wrap and use it to carefully roll the dough away from you into a cylinder. While you roll the dough, use your hands to gently squeeze the cylinder to ensure it is rolled tightly. Use the opposite side of the plastic wrap, the side furthest from you, to roll the cylinder back towards you, so the cylinder is sitting in the middle of the plastic wrap with the seam at the bottom. Blunt or pinch the ends of the cylinder closed so filling doesn't spill out.
Use a 12-inch piece of unflavored dental floss (or thread) and very carefully slide it under the dough to the middle of the cylinder. To make your cut, pull the ends of the floss up and cross over the top of the dough. Continue to cut the cylinder into 8 equal sized rolls.
Repeat steps 8-12 to finish rolling out and forming the second half of remaining dough.
Place the rolls cut side up in a well-greased 9x13" baking dish; the edges of the rolls should have some space between them to leave room to rise and expand. Cover the baking dish with a clean kitchen towel and rise in a warm place for 1 hour.
Preheat oven to 350 degrees (F). Bake for about 35 minutes, or until the tops of the rolls are golden brown.
Frost the rolls with the glaze while they are still slightly warm. Consume within 2-3 days.
Notes
Not all psyllium husk powders produce the same results. I highly recommend using the Now Foods brand.
DIRECTIONS FOR MAKING THE NIGHT BEFORE: Form rolls and place them in a greased pan to rise, per recipe directions. Cover with plastic wrap, and rise for only 30 minutes. Place in the refrigerator overnight. The next morning, remove from refrigerator, and place on the counter to rise at room temperature for 2 hours. Remove plastic wrap and bake in a preheated 350 degree (F) oven for about 35 minutes, or until the tops of the rolls are golden brown. Frost with glaze per recipe directions.
Recommended Products
We are a participant in the Amazon Services LLC Associates Program, an affiliate advertising program designed to provide a means for us to earn fees by linking to Amazon.com and affiliated sites.
Pin this to your gluten-free breakfast or gluten-free christmas brunch board!