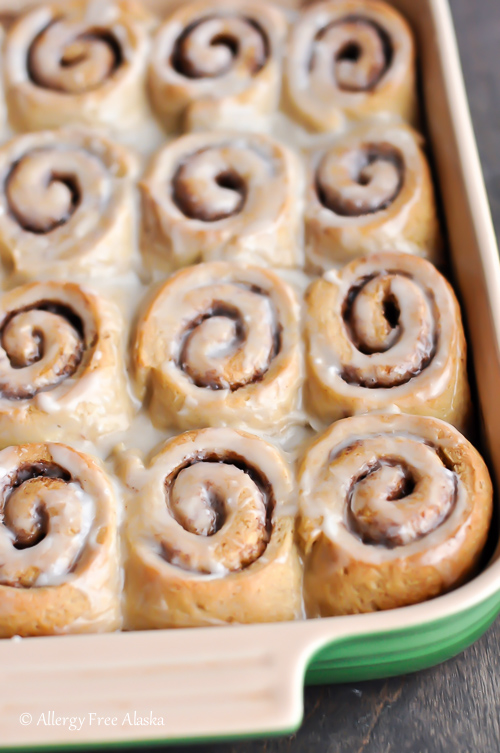 Can I interest you in a small piece of heaven? Wrapped up in a sweet little roll… filled with cinnamon and sugar and topped with a glaze that oozes into all the those wonderful nooks and crannies?!
I know, I know… forget the single roll, you'll take the whole pan!
I like how you think! 🙂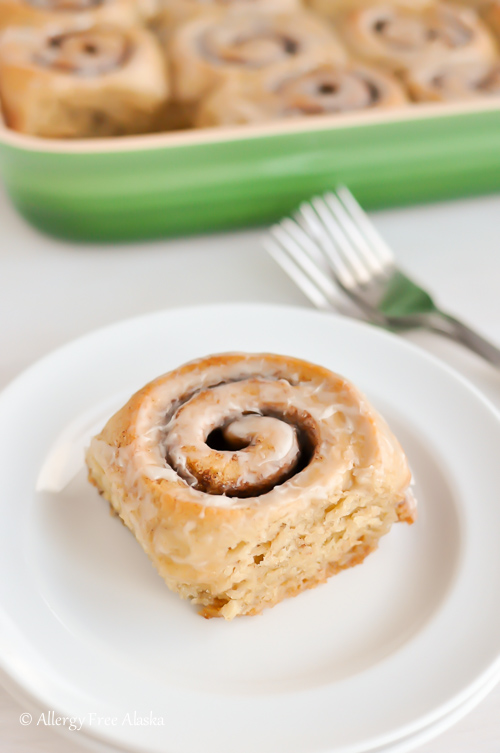 This recipe is one that I struggled to develop over the years. I can't tell you how many batches of experimental gluten-free cinnamon rolls have met our trash can. Granted, some batches were good, but still not quite up to par.
These Gluten-Free Dairy Free Cinnamon Rolls though… these are truly amazing. You won't even be able to tell they are gluten-free, let alone dairy-free, corn-free, nut-free, and soy-free.
The psyllium husk powder makes this dough very easy to roll out and work with. It's almost like working with regular gluten-filled dough.
Even though it's literally taken me years to nail down the perfect gluten-free cinnamon roll recipe, I wouldn't change it if I could. Some of my best recipes took the longest for me to develop. Like my Gluten & Rice Free Multigrain Bread, or my Best Flaky Gluten-Free Pie Crust.
I think the magic of recipe development is in the journey. It's taught me an incredible amount about how the different gluten-free flours and starches interact – what works, what doesn't, what completely dries out a recipe, and what aids in retaining moisture and tenderness.
Nothing thrills me more than finally nailing a challenging recipe. I hope you're just as excited about this one as I am. 😉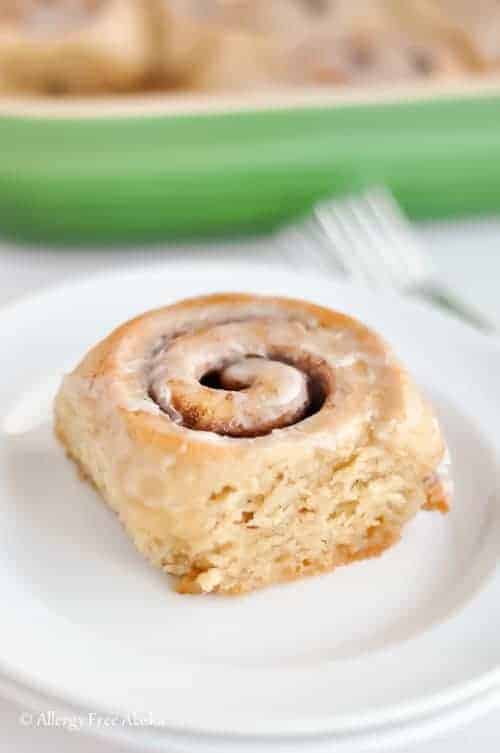 These cinnamon rolls freeze exceptionally well. After the rolls are baked and cooled, wrap individually with plastic wrap and place in an airtight container to freeze. Store in the freezer for up to 6 weeks. Thaw at room temperature, and then heat up for 20-30 seconds in the microwave to soften.
It is so convenient to have some of these on hand in the freezer!
Peace, love, and cinnamon rolls, baby! xo
Megan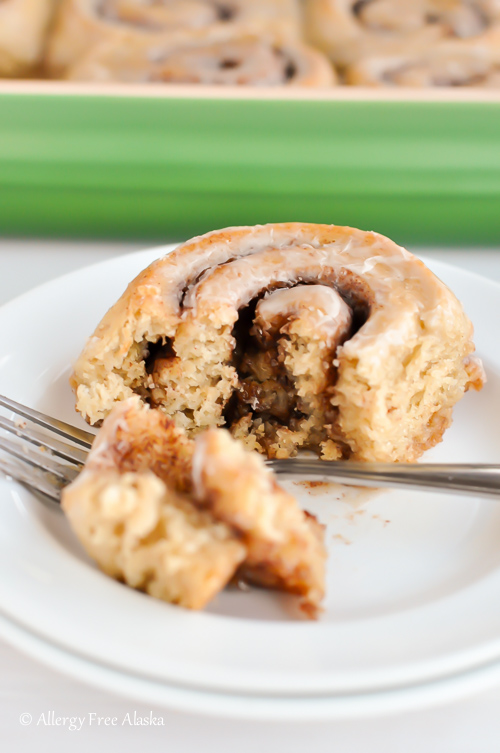 **The night before: Make the rolls as directed. Place rolls in the pan to rise, but rise for only 30 minutes. Cover the pan with plastic wrap, and refrigerate overnight.
**The morning of: Pull pan out of the refrigerator and let warm up to room temperature for 2 hours. Bake in preheated oven as directed on baking instructions.
This recipe HAS BEEN TESTED egg-free, and does very well egg-free. To replace the eggs in this recipe, simply replace them with 2 chia eggs. To make 2 chia eggs, combine 2 tablespoons of ground chia seeds + 6 tablespoons boiling water. Let set at least 10 minutes before adding to the cinnamon roll dough.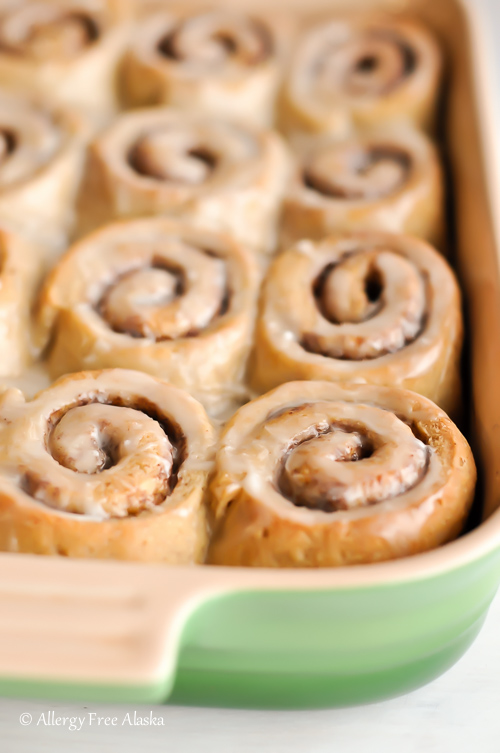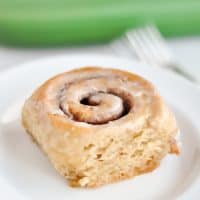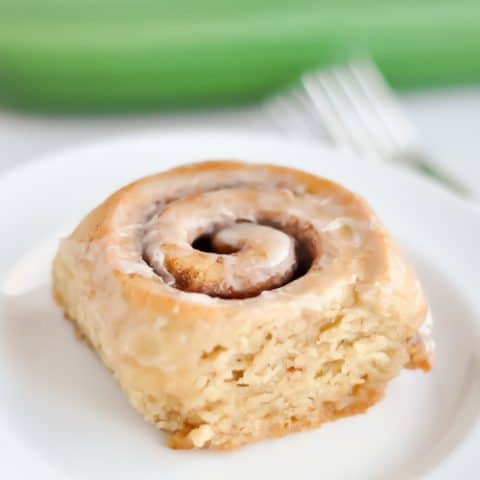 Gluten-Free Cinnamon Rolls
Ingredients
Yeast Ingredients:
2 teaspoons organic cane sugar
1 1/3 cup warm water (between 105-115 degrees F)
2 1/4 teaspoons dry active yeast
Dry Ingredients:
Wet Ingredients:
2 large eggs
7 tablespoons canned coconut milk (full fat)
6 tablespoons olive oil or melted & cooled vegan butter or ghee
1 tablespoon honey or pure maple syrup
2 teaspoons apple cider vinegar
Filling:
3/4 cup organic cane sugar
2 tablespoons ground cinnamon
3 tablespoons vegan butter or ghee, softened
Glaze:
Instructions
In a small mixing bowl, combine the 2 teaspoons of organic cane sugar with the hot water. Sprinkle in the yeast and give it a quick stir to combine. Proof for 8-10 minutes, until the yeast is nice and foamy. Make sure you have the other ingredients mixed and ready to go when the proofing time is up.
In the bowl of an electric mixer, use the paddle attachment to stir together the tapioca starch, millet flour, sorghum flour, brown rice flour, psyllium husk powder, 2 tablespoons of organic cane sugar and sea salt.
In a separate mixing bowl, whisk together the eggs, canned coconut milk, olive oil, honey, and apple cider vinegar.
When the yeast is done proofing, add the egg mixture into the dry ingredients. Stir until the mixture is paste-like, and then slowly pour in the yeast mixture. Stir for 30 seconds on low. Use a spatula to scrape down the sides of the bowl and then mix for an additional 3 minutes at medium speed. The dough will be sticky and shaggy.
Place the dough in a well-oiled large mixing bowl and push the dough down into the bowl with oiled hands or an oiled spatula, so it's spread out evenly. Cover the bowl with a clean kitchen towel. Place in a warm spot to rise for an hour, or until double in size.
Now make your filling.
Use a large sharp knife to cut the dough evenly in half while it is still in the bowl (the idea is not to disturb it too much).
Lightly mist a large work surface with oil or water (I prefer to use oil) and then carefully lay down a 20-22" long piece of plastic wrap. Sprinkle the plastic wrap with 1 tablespoon of organic cane sugar.
Place one of the dough portions on the plastic wrap and roll the dough into a 16"x10" rectangle. (Don't use any additional flour for rolling. This dough is relatively easy to work with and shape. If you do struggle with rolling it out, cover the dough with an additional piece of 20-22" long piece of plastic wrap, and roll the dough out between the layers.)
Sprinkle half of the filling mixture out evenly on to the rolled out dough, leaving an inch of raw dough along the top edge - the 16" edge furthest from you. This raw edge is where the rolls will seal shut.
Starting at the 16" edge closest to you, gently lift the plastic wrap and use it to carefully roll the dough away from you into a cylinder. While you roll the dough, use your hands to gently squeeze the cylinder to ensure it is rolled tightly. Use the opposite side of the plastic wrap, the side furthest from you, to roll the cylinder back towards you, so the cylinder is sitting in the middle of the plastic wrap with the seam at the bottom. Blunt or pinch the ends of the cylinder closed so filling doesn't spill out.
Use a 12-inch piece of unflavored dental floss (or thread) and very carefully slide it under the dough to the middle of the cylinder. To make your cut, pull the ends of the floss up and cross over the top of the dough. Continue to cut the cylinder into 8 equal sized rolls.
Repeat steps 8-12 to finish rolling out and forming the second half of remaining dough.
Place the rolls cut side up in a well-greased 9x13" baking dish; the edges of the rolls should have some space between them to leave room to rise and expand. Cover the baking dish with a clean kitchen towel and rise in a warm place for 1 hour.
Preheat oven to 350 degrees (F). Bake for about 35 minutes, or until the tops of the rolls are golden brown.
Frost the rolls with the glaze while they are still slightly warm. Consume within 2-3 days.
Notes
Not all psyllium husk powders produce the same results. I highly recommend using the Now Foods brand.
DIRECTIONS FOR MAKING THE NIGHT BEFORE: Form rolls and place them in a greased pan to rise, per recipe directions. Cover with plastic wrap, and rise for only 30 minutes. Place in the refrigerator overnight. The next morning, remove from refrigerator, and place on the counter to rise at room temperature for 2 hours. Remove plastic wrap and bake in a preheated 350 degree (F) oven for about 35 minutes, or until the tops of the rolls are golden brown. Frost with glaze per recipe directions.
This post may contain affiliate links which I may receive a small commission from (without any additional costs to you). The money earned from these commissions helps me maintain this website. Thank you for your support in this way!