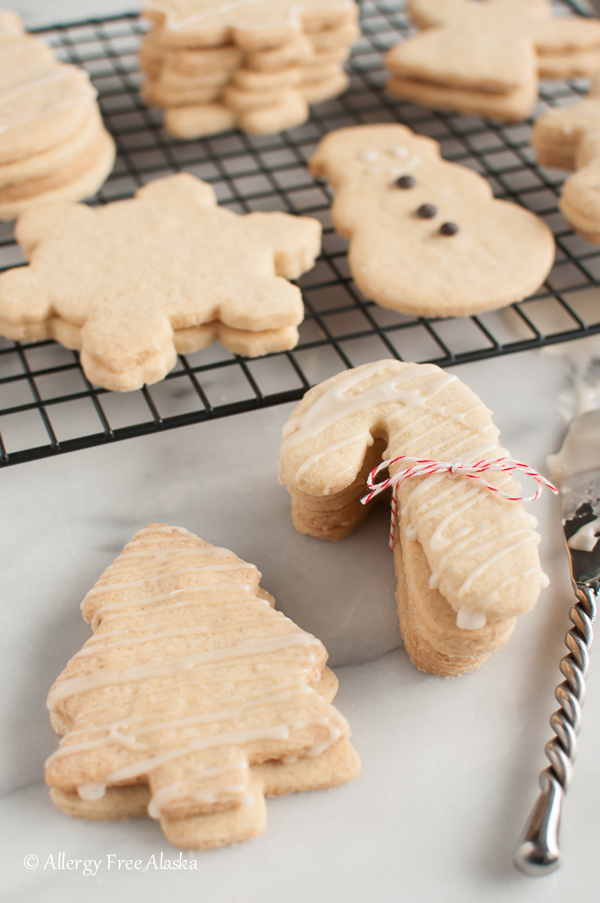 I am SO happy to be sharing a new recipe with you today! It feels like, in terms of this site, I've fallen off the map. That's mostly true. Working nearly 30 hours a week, homeschool, and a calendar full of appointments has me neglecting my passion. I promise you, I have no intentions of discontinuing this blog. Life is just a little busy right now, but I have 4-5 recipes I hope to share with you soon. GOOD recipes, savory recipes, recipes I make often, and I think you will too! 
If life weren't chaotic enough, a purebred yellow lab puppy, will be joining our family January 11th. We've named her Lilly. Lilly is actually the younger sister of our 4 year old yellow lab, Thor (so same bloodline). Thor is such an incredible family dog, so we are very excited and can't wait to bring Lilly home!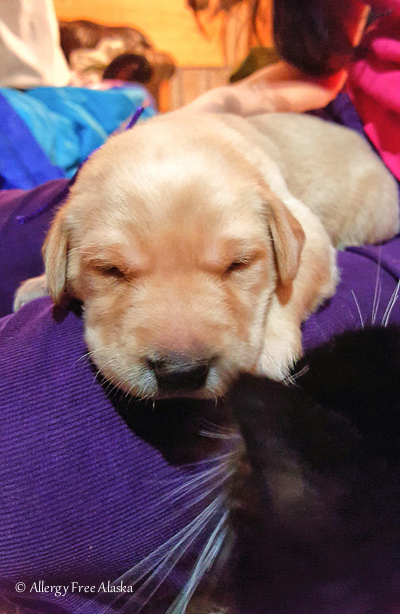 Did you ever decorate cookies around the holidays as a kid? I did, and I loved it. I wanted to keep that annual tradition with my girls, so I created this recipe for Gluten Free Dairy Free Sugar Cookies. These cookies are blank canvases for creativity. I've made several batches that my girls are going to decorate tomorrow (and they can't wait!). I hope our friends like sugar cookies, because I think we'll be making deliveries! 
If you can have corn and soy, these naturally dyed sprinkles would be a whole lotta fun to decorate with! And don't forget a piping bag!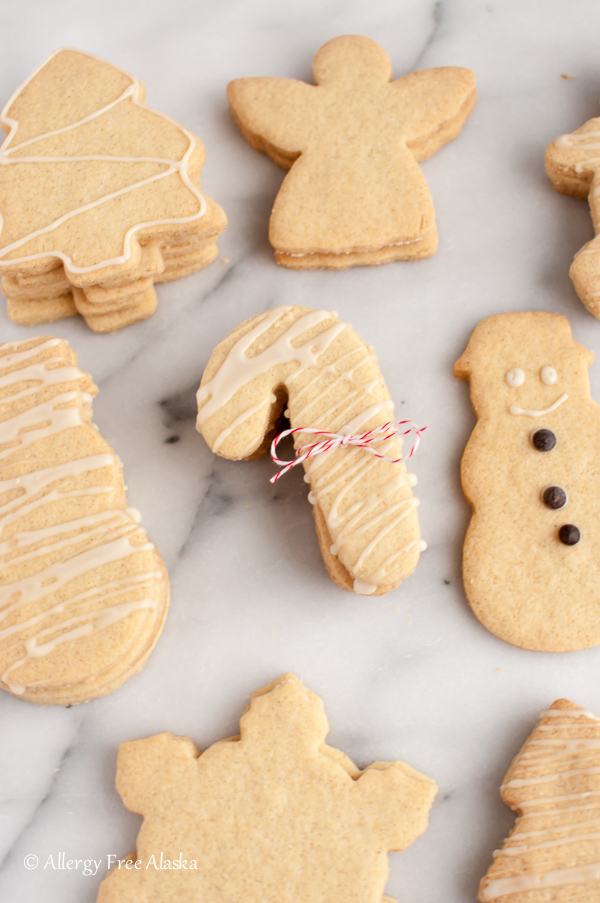 Guess what?!! I'm giving away a $50 Amazon Gift Card! Enter here:a Rafflecopter giveaway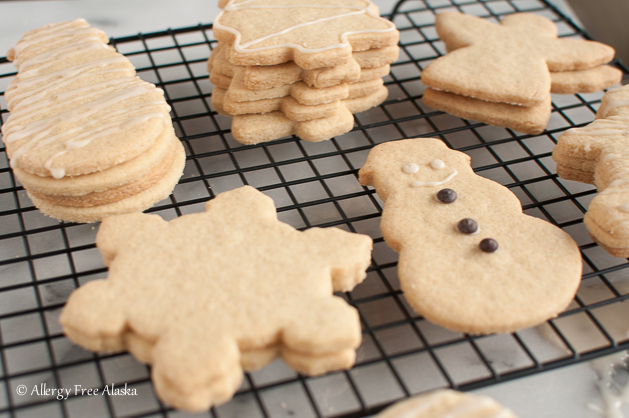 Gluten Free Dairy Free Sugar Cookies
Gluten Free Dairy Free Sugar Cookies Author: Megan Ancheta, Allergy Free Alaska LLC
Author:
Megan Ancheta, Allergy Free Alaska LLC
Ingredients
For the cookies:
1/4 cup vegan butter or ghee, at room temperature
1/2 cup palm shortening
1 cup organic cane sugar
1 large egg, at room temperature
1 1/2 teaspoons cold water
2 teaspoons vanilla extract
1/2 teaspoon sea salt
1 teaspoon baking powder
2 1/2 teaspoons xanthan gum
1/2 cup millet flour
3/4 cup sorghum flour + more for rolling
1 1/4 cups tapioca starch

For the frosting:
3 cups organic powdered sugar
3-5 tablespoons of dairy-free milk
Instructions
For the cookies:
In the bowl of an electric mixer, add the vegan butter or ghee, palm shortening, and cane sugar. Whip together for 2 minutes, scraping down the bowl as needed.
Add the egg, cold water, and vanilla extract. Beat until thoroughly blended.
Add the sea salt, xanthan gum, millet flour, sorghum flour, and tapioca starch. Mix until well blended. The dough will be wetter than what one might expect sugar cookie dough to be. As the dough chills in the refrigerator, the flours will absorb the moisture and prevent the dough from being too dry when it's rolled out.
Divide the dough into 2 equal disks, and wrap each disk in plastic wrap. Refrigerate for 3 hours.
Preheat oven to 350 degrees (F) and line 2 baking sheets with parchment paper or silicone liners.
To roll the dough, lay a piece of parchment paper on a work surface and lightly sprinkle with sorghum flour. Place a disk of dough in the middle of the parchment paper, sprinkle the disk with sorghum flour, and roll the dough until it's 1/4 inch thick, starting in the middle and working out towards the edges. Keep sprinkling the dough with more flour as needed to prevent the dough from sticking to the rolling pin.
Use cookie cutters to cut the dough into the desired shapes. Use a spatula to carefully transfer the cut shapes onto the prepared baking sheets.
Bake for 10 – 14 minutes, just until the cookies appear slightly golden around the edges. Cool for 5-8 minutes on the baking sheet and then transfer to cooling racks to cool completely.

For the frosting:
In a large mixing bowl, whisk together the powdered sugar and 3 tablespoons of dairy-free milk. Keep adding dairy-free milk, tablespoon by tablespoon, until your frosting reached the consistency you prefer.
Frost and enjoy!
Recipe Notes from Megan
If your dough is crumbly, and you are unable to successfully roll it out, simply wet your hands and gently knead the dough until it's just soft enough to roll without crumbling. Add a few more drops of water if necessary. The amount of water needed may depend on climate - humidity and temperature will affect the dough. Be careful not to add too much water. If the dough is too wet, the cut outs will not hold their shape well.
I find
Authentic Foods finely ground sorghum flour
to be the best flour for rolling out cookies and pastry.
While this recipe isn't written egg-free, I do think a chia egg would work as a substitution for the egg. (1 tablespoon ground chia seed + 3 tablespoons boiling water = 1 egg. Mix the slurry and let it sit for 10 minutes before adding to the dough.)
I'm participating in a Gluten-Free Virtual Cookie Exchange!
Check out all 18 recipes –

simply click on the picture of the recipe you'd like to view.




PS- ALL of these bloggers are also hosting giveaways too!
Check out all 18 recipes in our virtual gluten-free cookie exchange, listed in the order they appear in the photo, left to right, row by row:
This post may contain affiliate links which I may receive a small commission from (without any additional costs to you). The money earned from these commissions helps me maintain this website. Thank you for your support in this way!