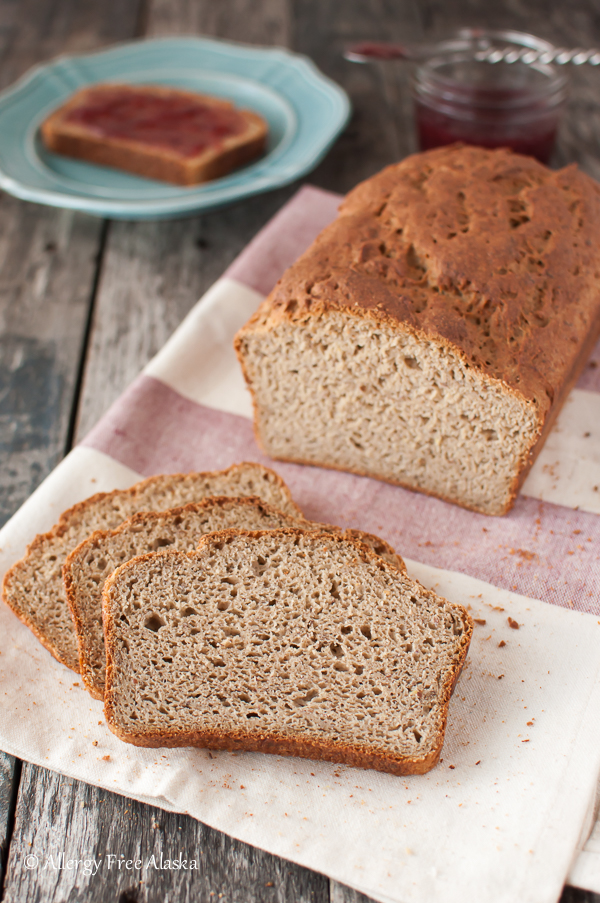 Out of all the bread recipes I've come up with, this Gluten Free Rice Free Bread is my favorite. The flavor reminds me of what homemade wheat bread tastes like, or what I remember it tasting like anyways! This bread is perfect for sandwiches or toast. My favorite way to eat is to toast it, then make an egg salad sandwich. 🙂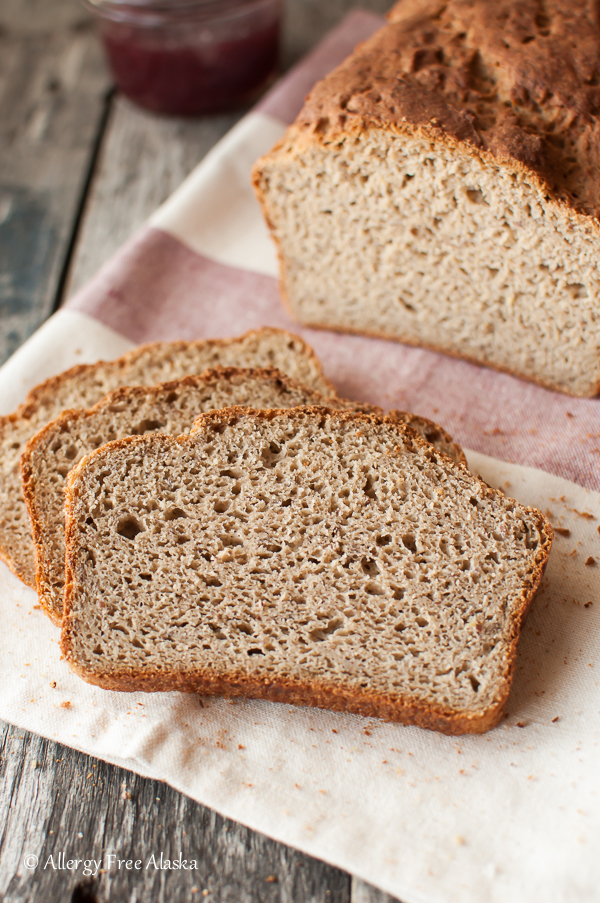 A few reminders when making gluten free bread:
Use your mixers paddle attachment! Gluten free bread requires no kneading because of its batter consistency (it should be just slightly thicker than a cake batter).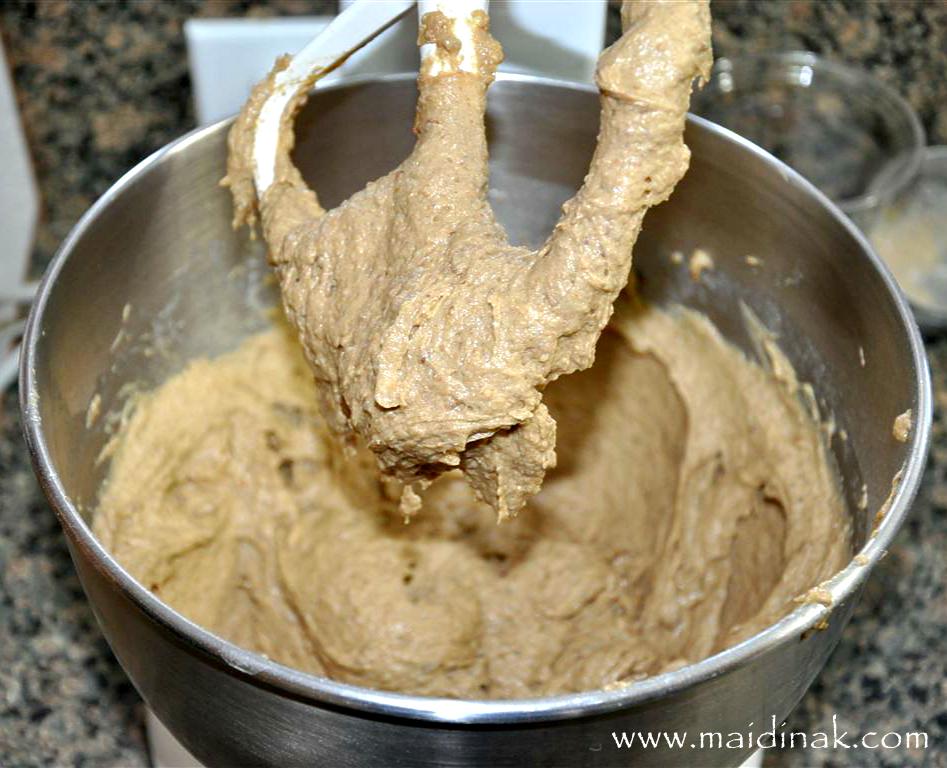 Make sure all of your ingredients are at room temperature.
Use fresh yeast and make sure your proofing water is at the right temperature! Here is what your yeast mixture should look like when it's finished proofing – nice and foamy. If it doesn't look like this either your yeast is bad or the water isn't the right temperature; throw it out and start again.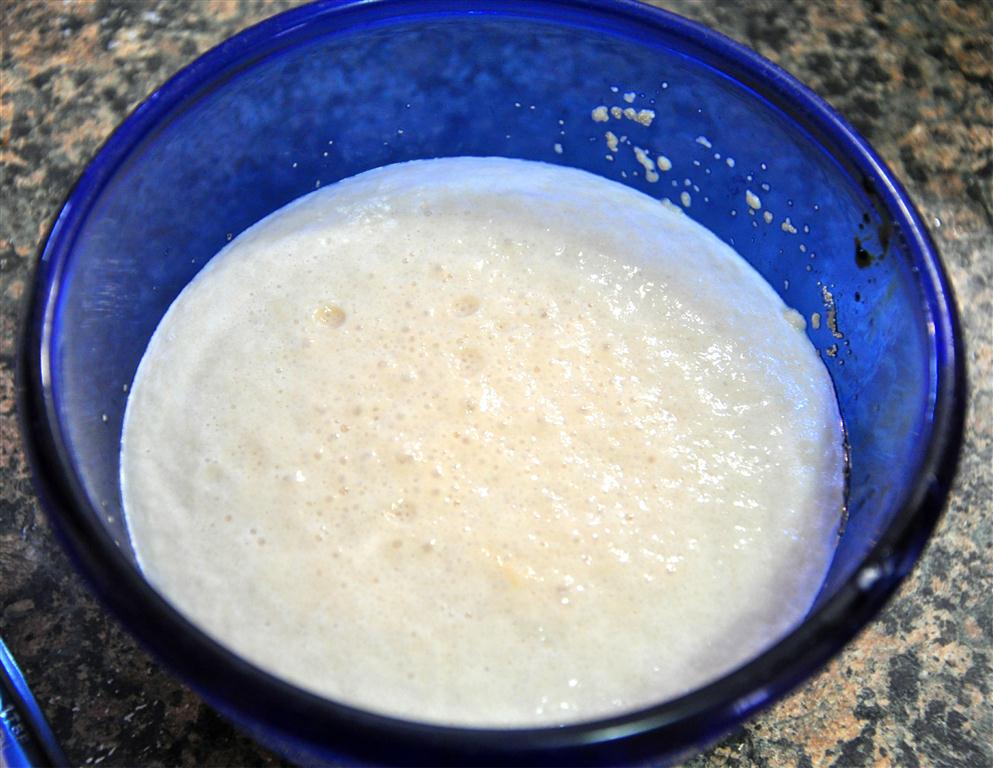 Other notes/visuals regarding this Gluten Free Rice Free Bread recipe:
Here's what your bread should look like when you first put the dough into the bread pan: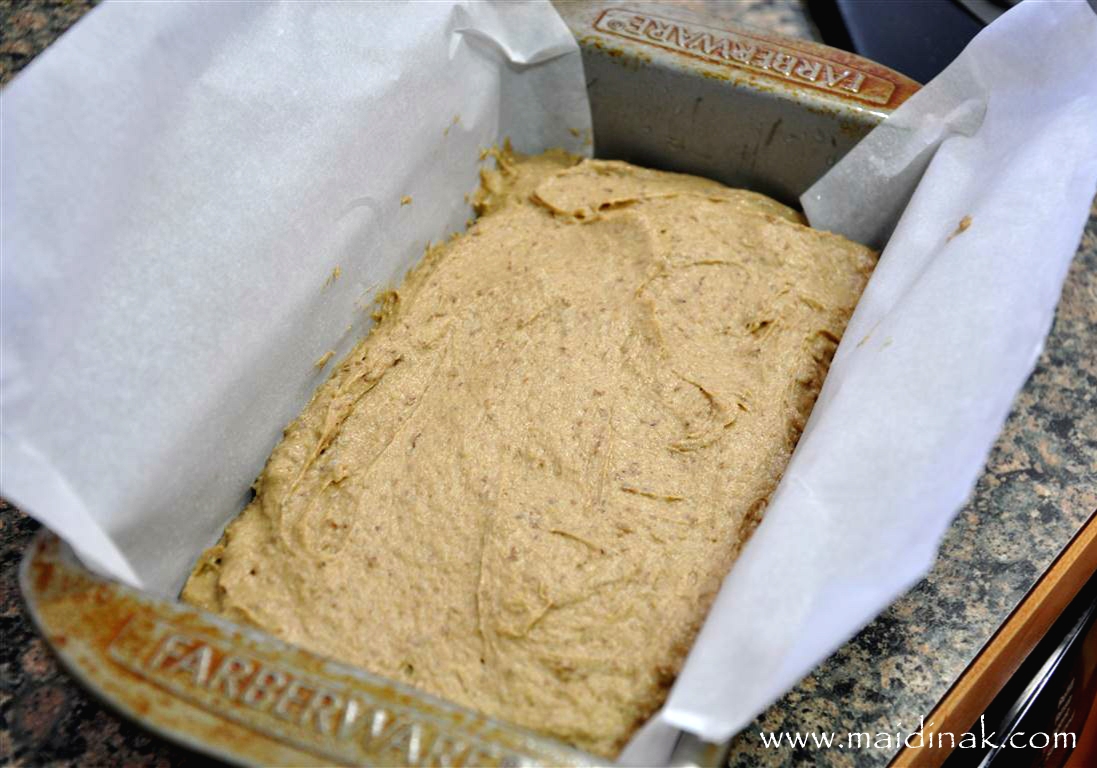 It's time to put the bread in the oven when it looks like this: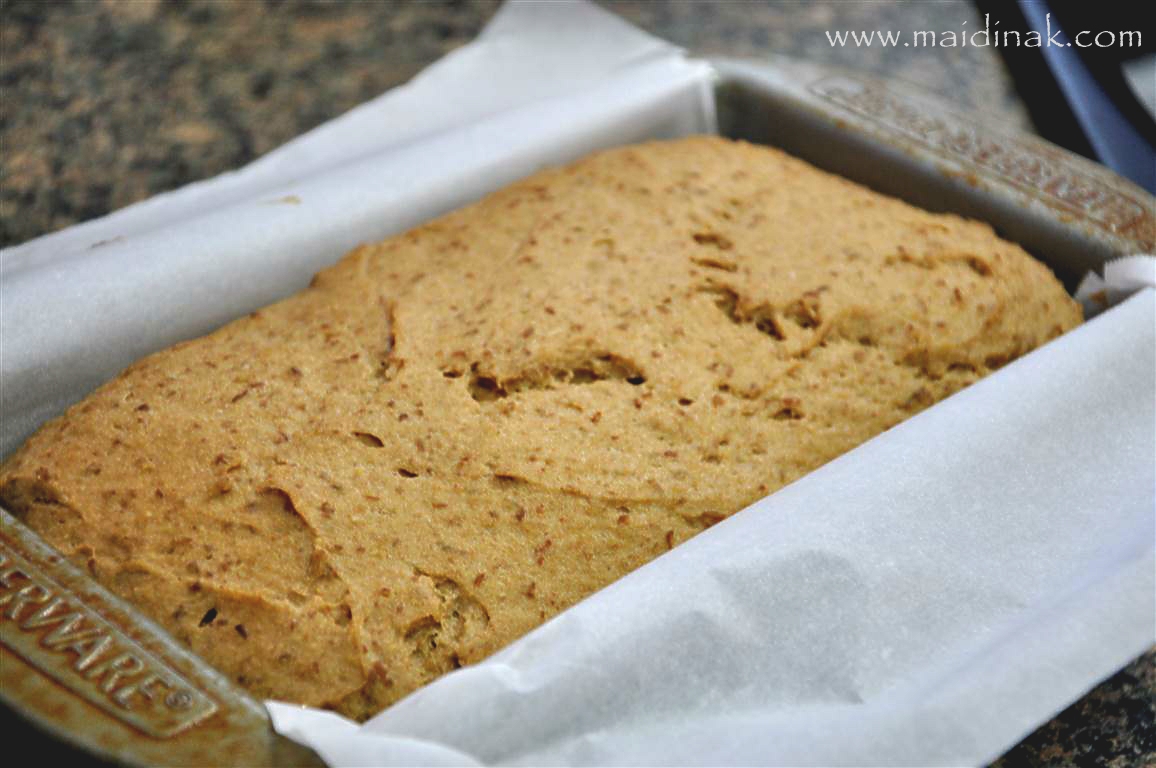 See how it's just slightly creeping up higher than the side of the bread pan? Make sure your oven is up to temperature by the time your loaf looks like this. My loaf only took 50 minutes to rise (in Alaska, in the dead of winter, in a house set at 72 degrees F) and it will take even less time if you live in a hot/humid climate.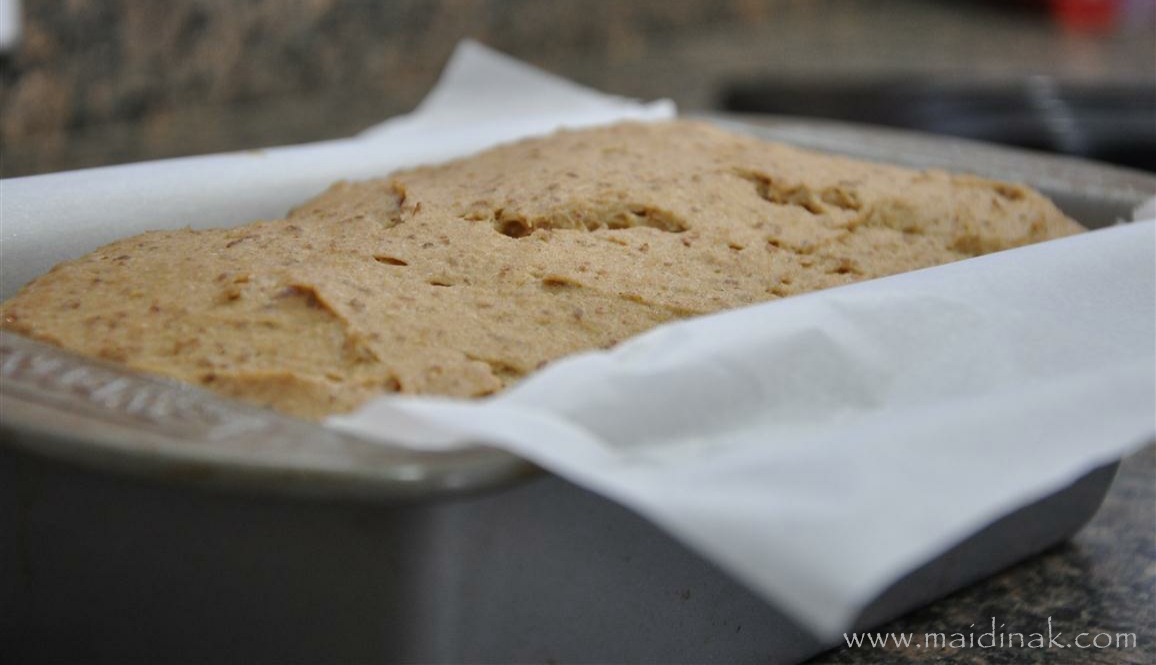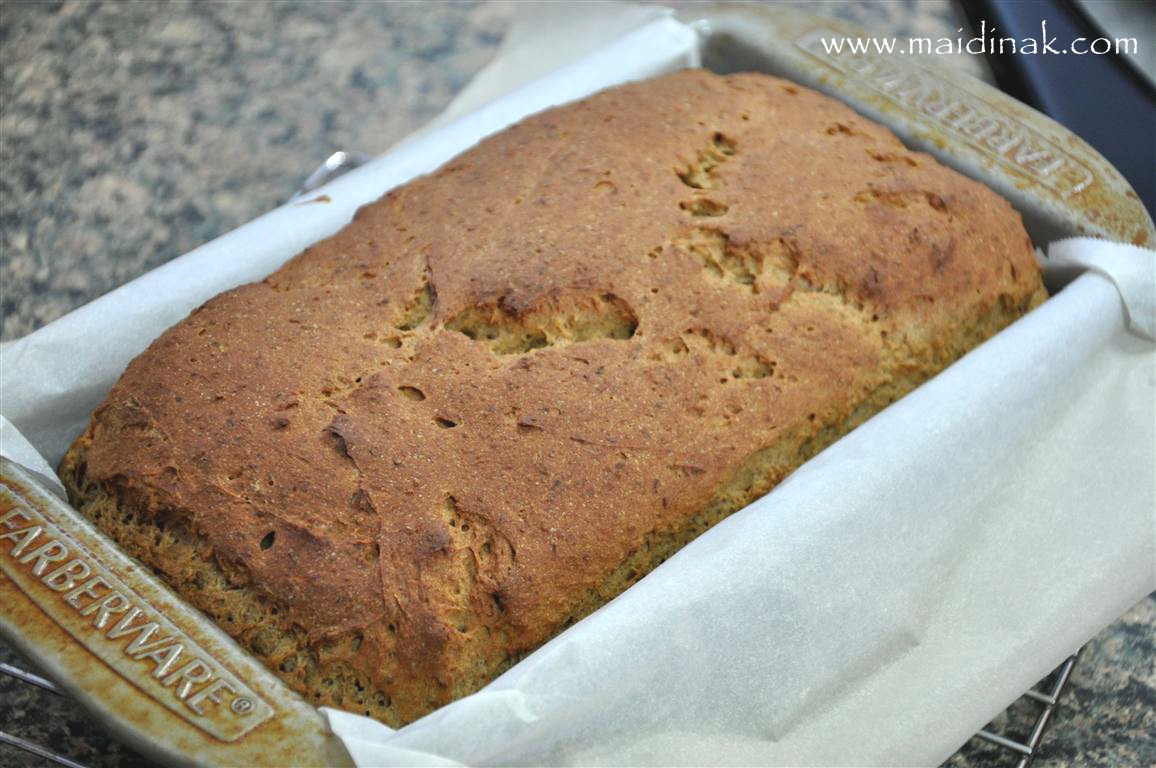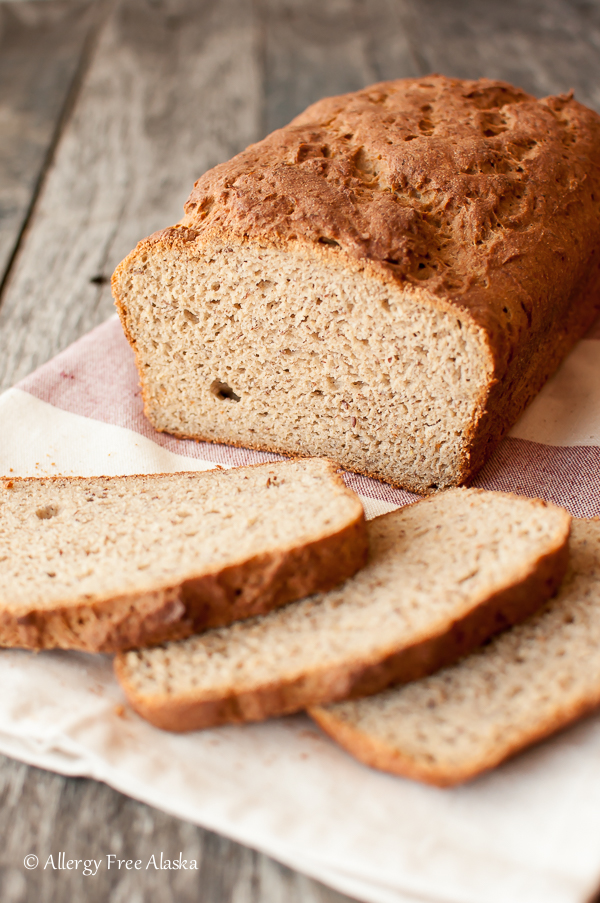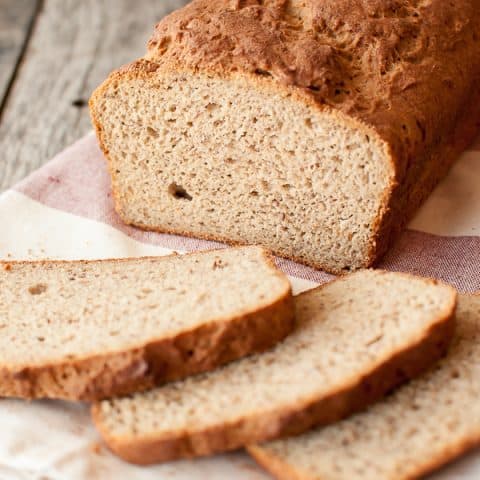 Gluten-Free Rice-Free Bread
Yield:
1 large bread loaf
The flavor of this gluten-free rice-free bread reminds me of what homemade wheat bread tastes like, or what I remember it tasting like anyways!
Ingredients
Dry Ingredients:
1 cup millet flour
1 cup tapioca starch
1/2 cup blanched almond flour
1/2 cup brown teff flour (amaranth flour would work well too)
1/4 cup sorghum flour
1/4 cup flax meal
2 3/4 teaspoons xanthan gum
1 1/2 teaspoons sea salt
Wet Ingredients:
3 eggs
3 tablespoon olive oil
1 tablespoon unsulfured molasses
1 teaspoon apple cider vinegar
Yeast Ingredients:
1 1/4 cup hot water (between 110 – 115 degrees F)
2 tablespoons honey
2 1/2 teaspoons dry active yeast (NOT instant yeast)
Instructions
In a small mixing bowl, combine the honey and the hot water. Sprinkle in the yeast and give it a quick stir to combine. Allow to proof for 7 minutes (set a timer!) – NO more, NO less time. Make sure you have the other wet and dry ingredients mixed and ready to go when the 7 minutes are up!
Using a heavy duty mixer with a paddle attachment, combine the dry ingredients.
In a separate mixing bowl, whisk together the eggs, oil, molasses, and vinegar.
When the yeast is done proofing, add the wet ingredients to the dry. Stir until it's a little paste-like, then slowly add the yeast mixture. Using your mixer's low speed setting, mix for about 30 seconds. Scrape the sides of the bowl then mix on medium for 2 – 3 minutes or until the dough is smooth. (You may need to stop your mixer and scrape the sides of your bowl a few more times.)
Pour dough into a parchment lined and well greased 9 x 5? metal bread pan (the only pan I recommend for this recipe is a metal one, you will not have the same results using other pans) and cover with plastic wrap. Allow to rise for 45 minutes to an hour (Check the loaf 30 minutes into rising. When the dough is close to hitting the plastic wrap, remove it; allow the dough to rise the remaining time uncovered.) When bread is finished rising, bake in a preheated 375 degrees (F) oven for about 30 minutes.
Remove loaf from pan and allow it to cool on a wire rack. Allow the loaf to completely cool before slicing (if you can stand to leave it alone for that long!).
Recommended Products
We are a participant in the Amazon Services LLC Associates Program, an affiliate advertising program designed to provide a means for us to earn fees by linking to Amazon.com and affiliated sites.
This post may contain affiliate links which I may receive a small commission from (without any additional costs to you). The money earned from these commissions helps me maintain this website. Thank you for your support in this way!