This Halibut Ceviche is super popular with all of our friends. It's tart, yet salty and spicy. Perfect for eating with tortilla chips, plantain chips, or sliced cucumbers.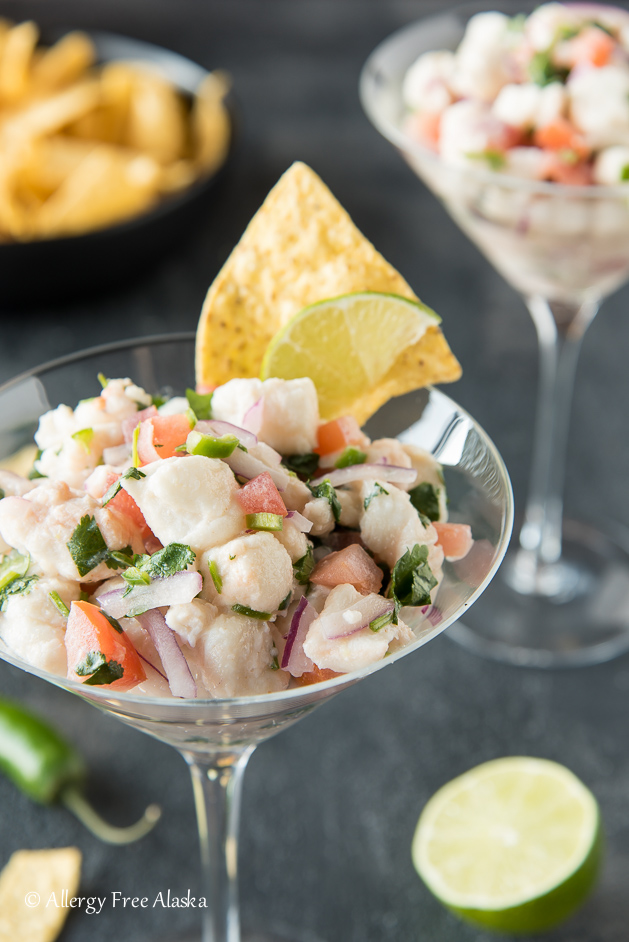 My parents moved back to Kodiak over a year ago. This summer Dad bought a skiff, so thankfully he and mom have been sending me fresh wild caught Alaskan salmon and halibut.
I'm so thankful my freezer is full, but I'm super, super thankful my hometown of Kodiak wasn't affected by a tsunami this week. That 7.9 earthquake that hit just southeast of Kodiak was no joke. I felt it way up north in the Mat-Su Valley where I live. A tsunami warning was issued for the entire southern coast of Alaska, including Kodiak. Many of my friends, and my parents had to evacuate their houses because they weren't above 100 feet. It was scary, but thankfully there was no tsunami and no damage. Thank God!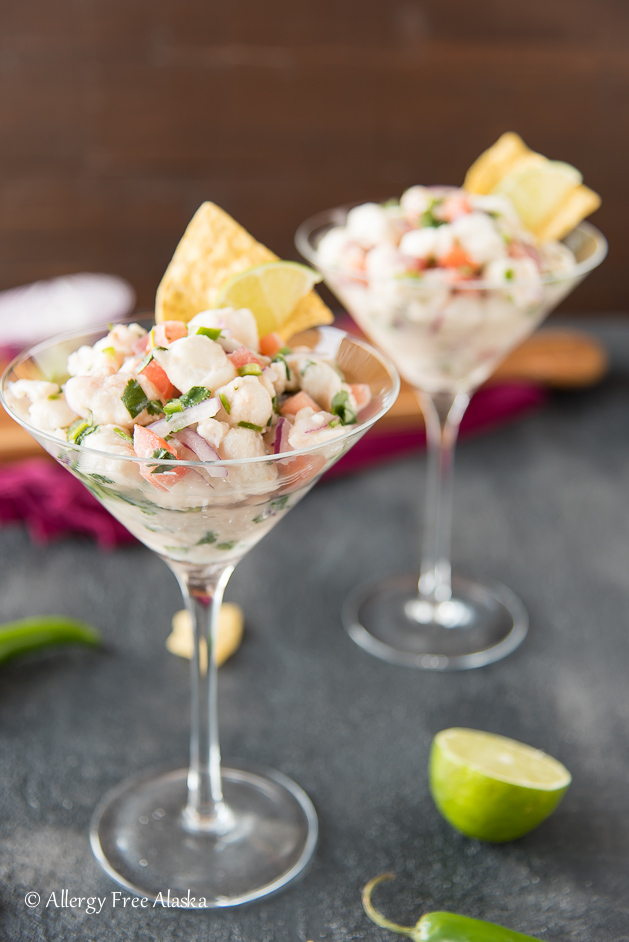 There are so many great recipes for fresh Alaska fish, from these cod fish tacos, to Slammin' Alaska Salmon Burgers to Gluten-Free Beer Battered Halibut (this recipe is the BOMB).
But, if I can't have my halibut beer battered and fried (because fried food every day would not be good), I prefer it in this best ceviche recipe.
What is ceviche?
Ceviche ("seh-BEE-chay") is a popular dish in South America. The first time I sampled ceviche (it was soooo long ago!) I was working in the reservations center of a small local commuter airline in Anchorage. There were a few Latino women who would make ceviche occasionally for the many potlucks we had… I fell absolutely in love with it!
Halibut ceviche is made with raw fish; however, the acid from the limes and lemons change the protein structure of the fish, basically "cooking" it without using heat.
The translucent Alaskan halibut will quickly become an opaque white as it sits (or "cooks") in the acidic marinade.
Ceviche fish
Normally when I make ceviche, I use Alaskan halibut, but if you don't have access to fresh halibut, any firm white fish will work in this recipe (rockfish, mahi-mahi, etc.).
How to serve Halibut Ceviche
We enjoy this ceviche recipe with tortilla chips or Beanitos (bean & rice chips), but if you are doing strict Paleo or Whole30, you can definitely use plantain chips or cucumber slices.
And guys, don't forget the cold beer to go with your ceviche. 😉 I prefer Greene's gluten-free beer.
Other gluten-free halibut recipes to try:
Baked Halibut with Herbed Mayonnaise Crust from Downshiftology
Halibut Stew from Simply Gluten-Free Magazine
Gluten-Free Halibut Cakes from Go Dairy Free
Halibut Ceviche Recipe: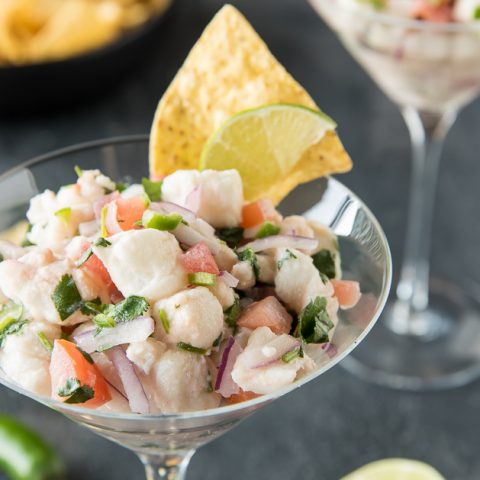 Halibut Ceviche
Total Time:
3 hours
25 minutes
This Halibut Ceviche recipe is super popular with all of our friends. It's tart, yet salty and spicy. Perfect for eating with tortilla chips, plantain chips, or sliced cucumbers.
Ingredients
1.5 pounds halibut (or another firm white fish like cod, tilapia or mahi mahi), diced into ½-3/4 inch cubes
1 large tomato, diced
½ cup red onion, diced
½ cup cilantro, diced
1 – 2 Serrano peppers, seeded and finely minced (use rubber gloves so your hands won't sting!)
1 garlic clove, minced
½ cup lime juice, freshly squeezed
½ cup lemon juice, freshly squeezed
1 to 1 ½ teaspoons sea salt
1 – 3 teaspoons Sriracha
avocado
Instructions
Blot off the excess moisture from the halibut using paper towels, then place the halibut, tomato, red onion, cilantro, Serrano peppers, and garlic in a (non-reactive) glass 9x13″ baking dish.
In a small mixing bowl, combine the lime juice, lemon juice, sea salt, and Sriracha; pour the mixture over the raw fish mixture. Mix until combined.
Cover, and place in the refrigerator. Allow the fish to marinade for 2-4 hours, until the ceviche is chilled and the halibut is opaque and "cooked" through.
Garnish with avocado and serve with tortilla chips, Beanitos (bean + rice chips), plantains, and/or cucumber slices.
We are a participant in the Amazon Services LLC Associates Program, an affiliate advertising program designed to provide a means for us to earn fees by linking to Amazon.com and affiliated sites.