Nothing attracts more eyes on a summer table spread than this colorful gluten-free pasta salad. It's a simple, yet beautiful array of complimentary tastes tossed with a savory Greek-style salad dressing that my whole family loves. My brother actually wants me to bottle and sell the dressing. So he'll be upset that I'm sharing this "secret family" recipe today!
This gluten-free pasta salad is great for easy lunches, dining al fresco, potlucks, and barbecues. It goes well as a side dish with most meats and can easily suit additional dietary needs. Plus, I have several recipe tips to ensure every last bite is devoured.
Looking for a delicious gluten-free salad without noodles? Try my Asian Chicken Salad. It has a spicy Sriracha dressing you just can't get enough of!
Use Your Noodle to Make Perfect Gluten-Free Pasta Salad
Pasta salad might seem like a foolproof recipe, but gluten-free pasta can outsmart even the best home cooks. It's important to know that both technique and the type of pasta you use will affect the outcome dramatically.
How to Prevent Mushy Gluten-Free Pasta Salad
Classic pasta salad recipes often call for overnight refrigeration, to allow the flavors time to meld. But with gluten-free pasta this step can lead to mushy results. I wait to toss the salad with the dressing until right before serving to avoid this issue.
If you won't be eating all of it right away, portion out the amount of pasta salad you need and drizzle it with enough dressing. Store the leftover pasta salad and dressing separately in the refrigerator until it will be enjoyed.
The Best Brand of Gluten-Free Pasta for Salad
Some brands of pasta don't hold up well when refrigerated, even without dressing. Lentil and bean pastas dry out and become tough, and some grain pastas easily break or fall apart. Even worse, pastas with seeds, like quinoa, can take on a bitter flavor.
I use Jovial pasta, which is an organic Italian brown rice pasta. There is something about their process that produces fantastic pasta every time. And their prices are competitive, particularly for an artisan brand. Jovial pasta is also certified gluten-free and made in a facility that's free of gluten, dairy, eggs, tree nuts, and peanuts.
How to Customize Your Gluten-Free Pasta Salad
The dressing and noodles provide the base to this recipe, but the other add-ins can be modified to fit what you have on hand or your preferences. Here are some ideas:
Fresh Vegetables – This is a fantastic "clean out the fridge" recipe. Just cut up any leftover vegetables and toss them in. Good options include fresh peas, bell pepper, corn (off the cob), broccoli, snap peas, arugula, or spinach.
Marinated Vegetables – Chop some gluten-free roasted red peppers, sun-dried tomatoes (in oil), or artichoke hearts for another boost of flavor.
Olives – Kalamatas really are the best in my opinion. But you can experiment with other olives or substitute black olives in a pinch.
Beans – If you don't have garbanzo beans in your pantry, white beans like great northern or cannellini are great alternatives.
Vegan Option – The salami can be omitted for a vegetarian pasta salad. If you're strictly vegan, then you can substitute maple syrup for the honey in the dressing.
Cheese – If sheep feta is tolerated, it's delicious in this recipe. For dairy-free needs, tofu "feta" is also quite tasty.
Make it a Meal – Toss in some chopped grilled chicken to turn this gluten-free pasta salad into a one-bowl lunch or dinner.
Deli Meats – We prefer salami in this gluten-free pasta salad, but you can substitute another flavorful meat, like prosciutto or even pepperoni. Just make sure it's gluten-free and preferably uncured.
Mind Your Deli Meats
It might seem like a basic ingredient, but some deli meats do contain gluten, usually in the fillers. Look for pre-packaged options that are labeled "gluten-free" specifically. Avoid fresh slices from the deli counter, which can be cross-contaminated from other foods used on the slicer.
I use uncured meats because they are made without preservatives, like nitrite, and tend to have less fillers or none at all. Look for brands like Applegate Farms – all of their uncured deli meats are gluten free.
Other Gluten-Free Salad recipes to try:
Easy & Delicious Broccoli Apple Salad from Faithfully Gluten-Free
Gluten, Egg, & Dairy-Free Avocado BLT Pasta Salad from Allergy Awesomeness
Chopped Salad with Hatch Green Chile Vinaigrette from Flippin' Delicious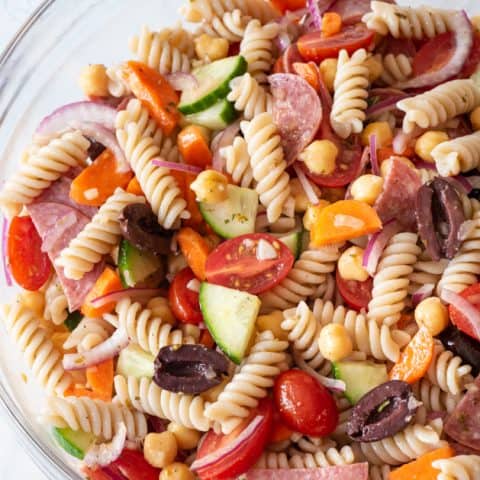 Gluten Free Pasta Salad
This Gluten Free Pasta Salad is a beautiful array of complimentary flavors tossed with a savory Greek-style salad dressing that my whole family loves.
Ingredients
For the dressing:
¾ cup red wine vinegar
¾ cup olive oil
1 tablespoon honey
1 tablespoon dried onion flakes
1 ½ teaspoons dried oregano
1 ½ teaspoons dried basil
1 ½ teaspoons garlic powder
1 teaspoon sea salt
1 teaspoon Dijon mustard
¾ teaspoon ground black pepper
For the pasta salad:
12 oz. gluten-free Fusilli or Penne pasta (I prefer Jovial brand)
14 oz. canned chickpeas, rinsed & drained
1 ½ cups chopped English cucumber (about ½ a large)
1 cup chopped carrots (about 2)
1 cup uncured hard salami, halved (or Genoa salami)
1 cup cherry tomatoes, halved
½ cup kalamata olives, halved
⅓ cup thinly sliced red onion
Instructions
To make the dressing:
Place the red wine vinegar, olive oil, honey, dried onion flakes, dried oregano, dried basil, garlic powder, sea salt, Dijon mustard, and ground black pepper in a pint sized glass jar with a lid.
Screw the lid on tight and shake until well combined. Set aside.

To make the pasta salad:
In a large pot of salted boiling water, cook pasta until al dente. Thoroughly rinse under cold water and drain.
In a large mixing bowl, combine the cooked gluten-free pasta, chickpeas, English cucumber, carrots, uncured hard salami, cherry tomatoes, kalamata olives, and red onion. Refrigerate until ready to serve.
To serve, mix the dressing and pour ¾ cup – 1 cup over the salad and toss.

Recommended Products
We are a participant in the Amazon Services LLC Associates Program, an affiliate advertising program designed to provide a means for us to earn fees by linking to Amazon.com and affiliated sites.

We are a participant in the Amazon Services LLC Associates Program, an affiliate advertising program designed to provide a means for us to earn fees by linking to Amazon.com and affiliated sites.