My household isn't complete during the holidays without the scent of freshly baked gluten-free pumpkin bread. And this is my go-to recipe. Each perfectly tender bite reminds me of Starbucks pumpkin slices, but without gluten, dairy, nuts, corn, or soy. The wonderfully sweet flavor is spiked with warm autumn spices, and is delightful with a comforting cup of coffee or tea.
Truth be told, my family is divided on their quick bread favorite. Half of us are on team pumpkin, and the other half is on team zucchini. But we all agree that fall wouldn't be the same without this gluten-free pumpkin bread recipe on the baking schedule.
12 Gluten-Free Pumpkin Bread Recipe Variations
Of course, it's delicious as is – with or without the icing. But there are so many easy ways to make this recipe for gluten-free pumpkin bread your own. Here are just some of the tasty ideas you can enjoy. Feel free to mix and match!
Delicious Add-Ins
Chocolate Chip – Fold 1 to 2 cups of your favorite chocolate chips into the batter. You can use semi-sweet, chopped dark chocolate, or even dairy-free white chocolate.
Ginger – If you like spicy gluten-free pumpkin bread, grate fresh ginger (1 to 3 teaspoons) into the batter. I prefer to add ½ cup chopped crystallized ginger, which is sweeter and milder.
Blueberry – It isn't a common combination, but blueberries and pumpkin are delicious together. Stir 2 cups of frozen wild blueberries with the dry mixture before folding it into the wet mixture.
Walnut or Pecan – If nuts are safe for your needs, you can stir 1 to 2 cups of chopped walnuts or pecans into the batter.
Fig, Date, or Raisin – For warm wintertime flavor, fold 1 cup of chopped figs, chopped pitted dates, or raisins into the batter.
Zesty Orange – Orange and pumpkin are compatible in color and flavor! Fold 2 teaspoons of grated orange peel into the batter, and optionally substitute room temperature orange juice for the water.
Cranberry – Add up to 1 cup of dried cranberries or up to 1½ cups of fresh cranberries to the batter. Dried will provide a sweeter, more seamless, and less juicy bite. Fresh will lend a very tart contrast, so proceed with caution!
Coconut – Unsweetened shredded coconut adds a mild infusion of richness. Stir ¾ to 1 cup into the batter, use melted coconut oil in place of the olive oil, and bring the eggs to room temperature (cold ingredients will cause the coconut oil to solidify).
Chocolate Swirl – Melt 1 ½ cups of chocolate chips. Divide ⅓ of the batter between your baking pans, then alternately add the remaining batter and spoonfuls of the melted chocolate. Run a butter knife through the batter a few times to swirl the chocolate.
Alternate Toppings
Streusel Style – Enjoy a pumpkin coffee cake experience with just two more steps. Make the Cinnamon Streusel from my Gluten-Free Streusel Coffee Cake recipe, and evenly sprinkle the crumbles atop the batter in your loaf pans before baking. You can omit the icing, or drizzle a little over the streusel after baking for a true dessert.
Cinnamon-Sugar Sprinkle – For a sweet crust, whisk together ¼ cup organic cane sugar and 1½ teaspoons ground cinnamon in a small bowl. Evenly sprinkle as much of the spiced sugar as you like over the unbaked batter in your loaf pans.
Pumpkin Seed – Double down on the pumpkin theme! Sprinkle raw pumpkin seeds on top of the batter in your loaf pans before baking. They will toast up as it bakes.
Delicious Ways to Serve Gluten-Free Pumpkin Bread
I certainly won't judge if you enjoy slice after slice, straight from the loaf. But if you want to elevate your gluten-free pumpkin bread experience just a bit, try one of these toppings.
Dairy-Free Whipped Cream
Pumpkin Seed Butter
Honey Drizzle
Jam (try different varieties!)
Chocolate Spread (88 Acres makes a great nut-free, allergy-friendly one)
Dairy-Free Cream Cheese Alternative
Gluten-Free Pumpkin Bread Substitutions
I recommend that you adhere to the recipe, if possible, since it's been thoroughly tested. But here are my tips for making swaps.
Loaf Pan Options
I bake this recipe in two 4.5″ x 8.5″ bread pans for nice tall bread. You can use 9″ x 5″ pans, but they will make shorter loaves which can cook more quickly. The larger pans tend to take just 40 to 50 minutes in the oven, so you'll want to check for doneness 5 minutes earlier than the recipe states.
This gluten-free pumpkin bread recipe can also be made in mini loaf tins for gifting. The bread will take less time to bake, but I'm not certain on the exact time. It will vary based on the size of your pans. I would start checking for doneness at 25 minutes.
Pumpkin Purees
I use canned pumpkin for ease and consistent results. You can use fresh cooked and pureed sugar pie pumpkin (don't use jack-o-lantern pumpkins!), but it could affect the moisture level. One 15-ounce can holds roughly 1⅞ cups of pumpkin puree.
Oil Options
I think olive oil produces the best results in this recipe. I use a regular olive oil that contains just a little extra-virgin olive oil. Because this gluten-free pumpkin bread bakes at a relatively low temperature, you can use extra-virgin olive oil, but it has a more pronounced flavor. Extra-light olive oil is a great option if you want neutral-tasting oil.
Sugar Selection
Most pumpkin bread recipes use just white sugar, but I like to use part brown sugar for extra moisture and warm pumpkin pie flavor. If you only have white cane sugar, you can substitute it for the brown sugar. If you need a refined sugar-free option, coconut sugar might work, but the bread will be a little drier and less sweet.
If you're looking for a recipe with a refined sugar-free option, you might try these beautiful gluten-free pumpkin muffins from Evolving Table.
Spice Shake Up
In my opinion, the flavors of individual spices are stronger, and have a fresher taste. But you can use 2 to 3 teaspoons of pumpkin spice in place of the individual spices if you need a recipe shortcut.
Tapioca Starch, Sorghum Flour & Brown Rice Flour
My blend has a higher ratio of flour to starch than most gluten-free flour blends, which is why I don't recommend using a store-bought version. You might also run into issues if the store-bought blend contains any binders, since I add a specific amount of xanthan gum separately in this recipe. If needed, you can substitute white rice flour for the brown rice flour. But I would caution against making any other changes to the dry ingredients, unless you are baking the recipe at high altitude …
High Altitude Tips
I haven't tested this recipe for gluten-free pumpkin bread at high altitude. But I would start by reducing the baking soda to 1 ½ teaspoons if you are baking it above 3000 feet. If you are baking above 4000 feet, reduce it to 1 teaspoon. You can tell if there is still too much leavener if the loaves have a bitter or soapy taste, if they rise too much, or if they collapse. Other modifications might help to perfect the recipe, but reducing the baking soda will make the biggest difference.
More Perfectly Pumpkin Gluten-Free Recipes
In my opinion, there can never be too many pumpkin dessert options. Here are some more of my favorite recipes for those stockpiles of pumpkin puree.
Gluten-Free Pumpkin Spice Sandwich Cookies
Vegan Pumpkin Spice Coffee Creamer (no sugar added!)
Paleo Pumpkin Muffins from Gluten-Free Palate
Gluten-Free Pumpkin Scones with Cardamom Icing
Dairy-Free Gluten-Free Pumpkin Souffles from Fearless Dining
I hope you enjoy this gf pumpkin bread as much as my family does!
xo,
Mēgan
Pumpkin Bread Gluten-Free: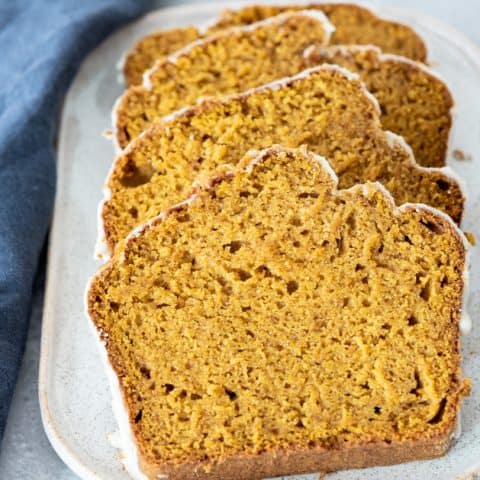 Gluten Free Pumpkin Bread
Total Time:
1 hour
15 minutes
Spiked with warm autumn spices, this gluten-free pumpkin bread is a family favorite recipe enjoyed year round, but especially around the holidays.
Ingredients
15 oz. pure pumpkin puree
4 large eggs
1 cup olive oil
⅔ cup room temperature water
½ teaspoon vanilla extract
1 cup organic cane sugar
1 cup organic brown sugar
1 ¼ cup sorghum flour
1 ¼ cup tapioca starch
1 cup brown rice flour
2 teaspoons baking soda
1 ¼ teaspoon xanthan gum
1 teaspoon sea salt
1 teaspoon ground cinnamon
1 teaspoon ground nutmeg
½ teaspoon ground cloves
¼ teaspoon ground ginger
For the glaze:
3 cups organic powdered sugar
¼ cup pure maple syrup
pinch of ground cardamom (small pinch, a little goes a long way)
2-4 tablespoons water
Instructions
Preheat oven to 350 degrees (F). Line two 8.5 x 4.5" bread pans with parchment paper and generously grease.
In a large bowl, mix together the pure pumpkin puree, eggs, olive oil, water, vanilla extract, organic cane sugar, and organic brown sugar until well blended.
In a separate mixing bowl, whisk together the sorghum flour, tapioca starch, brown rice flour, baking soda, xanthan gum, sea salt, ground cinnamon, ground nutmeg, ground cloves, and
ground ginger.
Pour the dry ingredient into the wet, and mix until just blended.
Divide the batter equally between the two prepared bread pans.
Bake for 45-55 minutes, or until a toothpick, when inserted into the center of the loaf, comes out mostly clean.
Allow the loaves to cool for 10 minutes in the pans before removing and placing on wire racks. Cool completely before slicing.
To make the glaze:
In a large mixing bowl, whisk together the organic powdered sugar, pure maple syrup, ground cardamom, and 2 tablespoons of water until smooth. If the glaze is too thick, add more water,
teaspoon by teaspoon, until it reaches the desired consistency. Glaze cooled loaves immediately.
Recommended Products
We are a participant in the Amazon Services LLC Associates Program, an affiliate advertising program designed to provide a means for us to earn fees by linking to Amazon.com and affiliated sites.
We are a participant in the Amazon Services LLC Associates Program, an affiliate advertising program designed to provide a means for us to earn fees by linking to Amazon.com and affiliated site
s.