These Gluten Free Pumpkin Spice Sandwich Cookies are the perfect fall treat! Vanilla sugar cookies are combined with a luscious dairy-free pumpkin spice filling. It creates a dynamic tasting sandwich cookie everyone will love!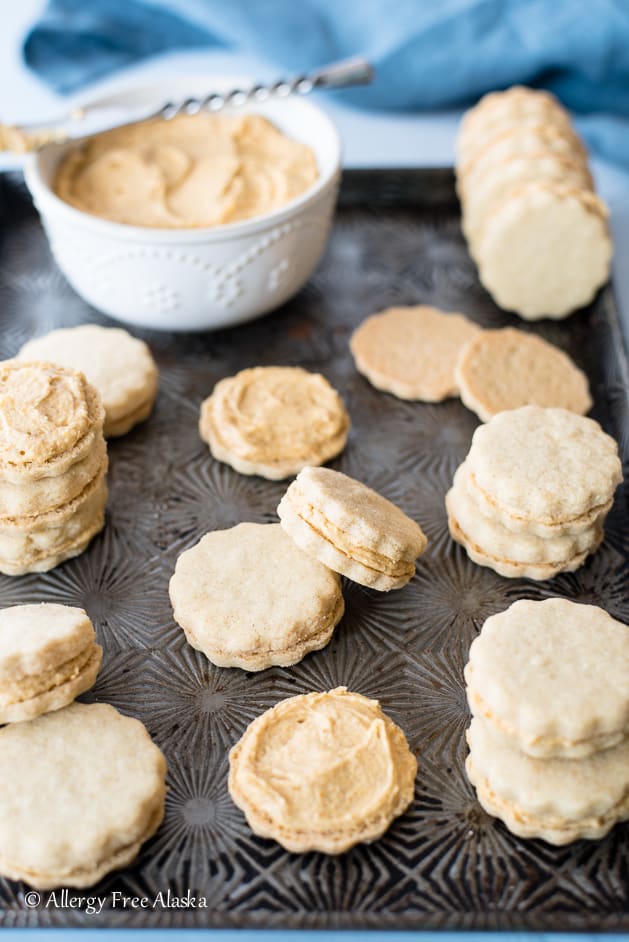 Fall is most definitely my favorite time of year, and it's probably not a surprise that I bake the most during this season. My kids definitely love it when I make my Gluten Free Apple Cinnamon French Toast Casserole for breakfast, while my husband sneaks my Gluten Free Dairy Free Sugar Cookies from the freezer.
But our families newest obsession? These Gluten Free Pumpkin Spice Sandwich Cookies.
You guys, this dairy-free Pumpkin Spice filling is sooooo incredible. The flavor profiles of the pumpkin and spices shine through, so that's absolutely what you taste. It's rich and creamy, and downright luxurious.
I promise you, you'll be tempted just to eat it straight outta the bowl.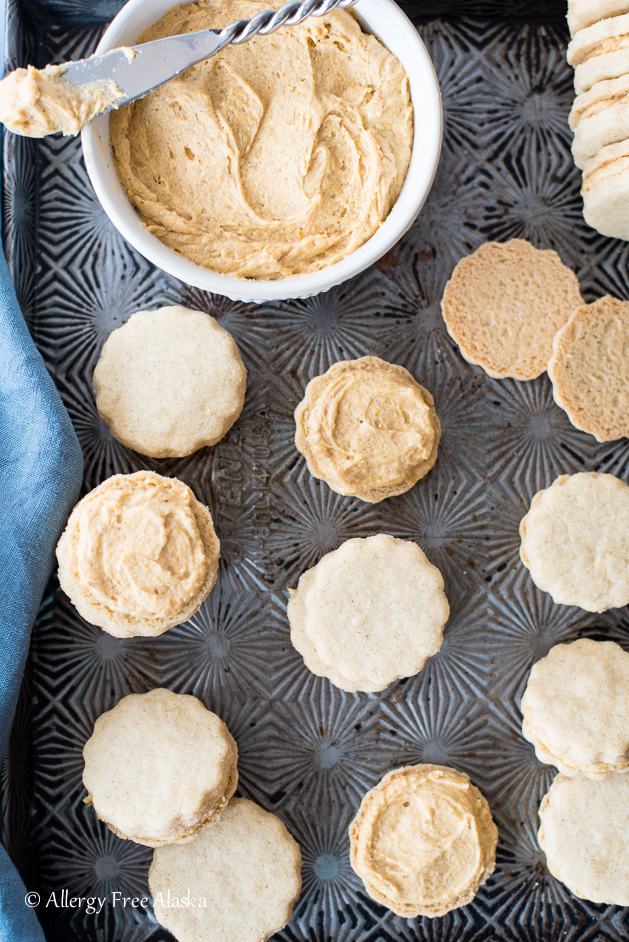 Gluten Free Pumpkin Spice Sandwich Cookie recipe notes:
Some of you might recognize the cookie portion of this recipe. I used my Gluten Free Dairy Free Sugar Cookies recipe, I just swapped vanilla bean paste for the vanilla extract. You can use either one  in this recipe though – whatever you have on hand is just fine.
To make cut-outs of the dough, I used a circular 1.5″ cookie cutter with fluted edges, but you can easily use a square, a heart, or even another shape (these leaf cookie cutters would be fun!). I definitely recommend you keep the cutter small. No bigger than 1.5″.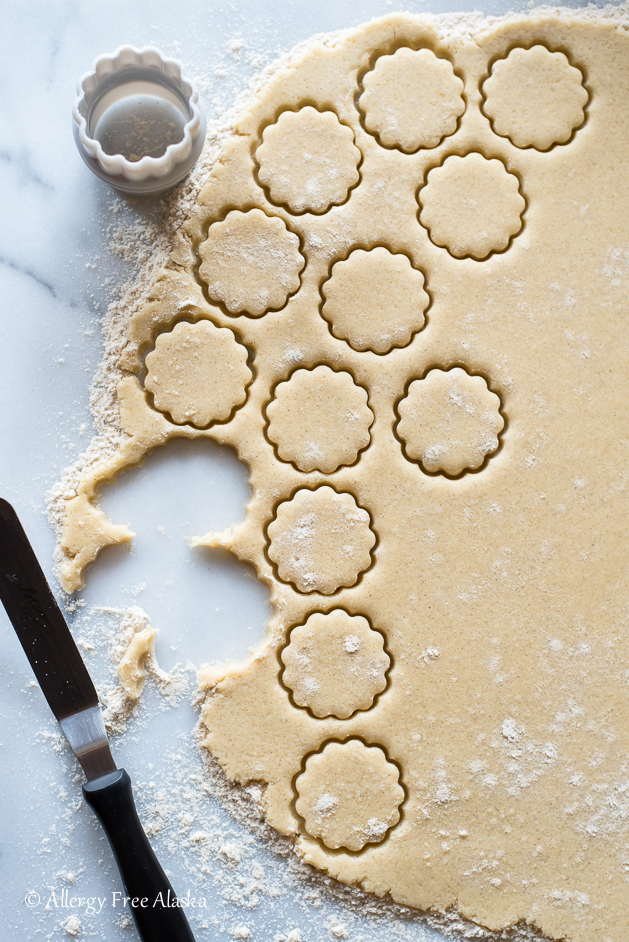 When I first tested this recipe with bigger cookies, the filling would shoot right out of the sandwich cookies when bitten (definitely not ideal).
Keeping the cookies small (about 1.5″ in diameter), and then refrigerating the cookies until served, mostly keeps the filling where it belongs. The filling firms up a in the refrigerator, yet still remains creamy.
Once I make the cookie dough, I immediately roll it out and cut it into my desired shapes. I transfer the cookie cutouts onto a parchment or silicone lined baking sheet, then pop the baking sheet into the freezer.This "chill time" keeps the dough from spreading too much while baking.
I don't refrigerate the dough prior to rolling it out, because I found it's easier to work with when it's at room temperature.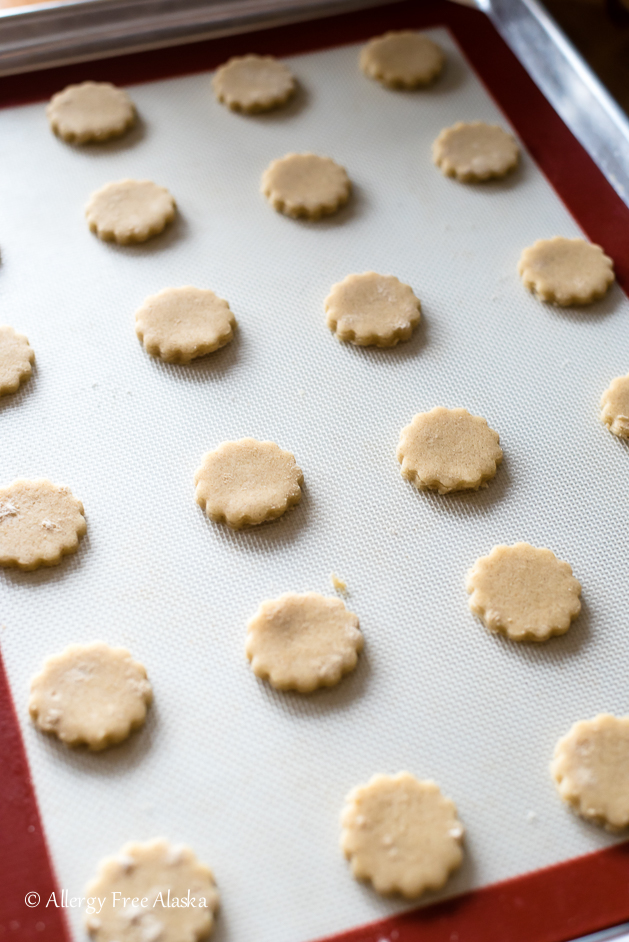 These scrumptious sandwich cookies will be perfect for your next work potluck, holiday get together, or for your family, just because!
These cookies freeze well, too. So if you want to make a batch, but aren't keen on eating them all at one time, simply store them in an airtight container and freeze them. When ready to consume, let thaw for 15 minutes before enjoying.
Also, if you're like me and you bake a lot, particularly for large crowds, check out these large Aluminum Commercial Sheet Pans (mine are the 15 x 21″, because the largest size wouldn't fit inside of my oven). I also have these Commercial Grade Silicone Baking Mats that fit inside the large pans. I use both of these items all the time.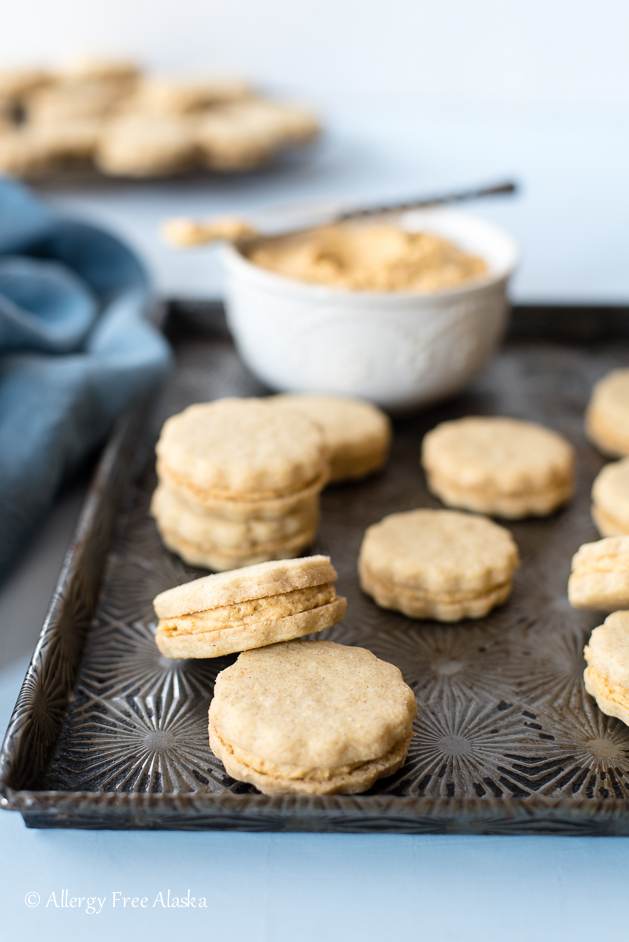 Other gluten-free pumpkin recipes to check out:
Gluten Free Pumpkin Scones with Cardamom Icing
Gluten Free Pumpkin Bread from Gluten free Palate
Gluten Free Dairy Free Maple Pumpkin Pie
Gluten Free Snickerdoodle Pumpkin Muffins from My Gluten Free Kitchen
Dairy Free Vegan Pumpkin Spice Coffee Creamer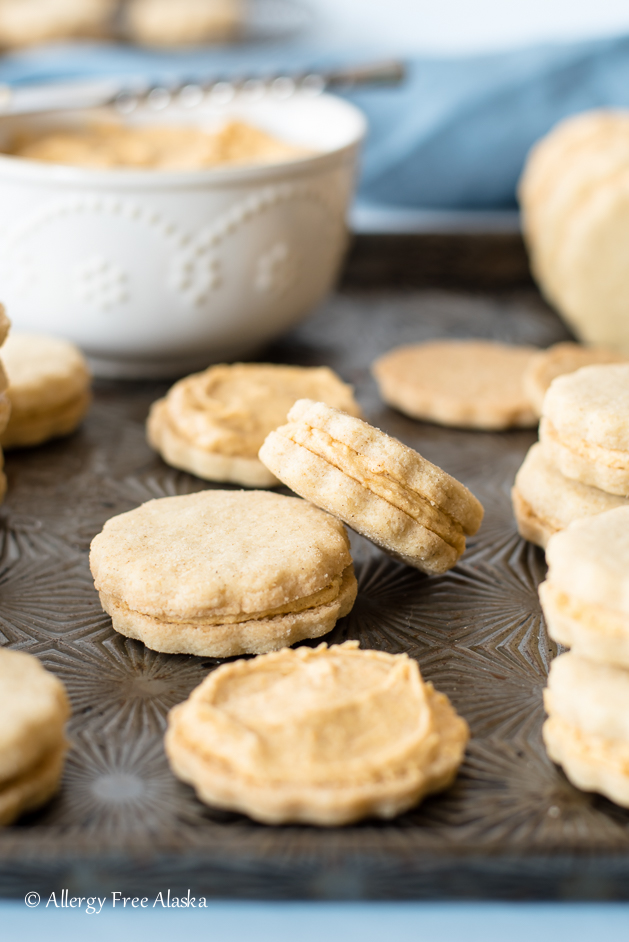 Gluten Free Pumpkin Spice Sandwich Cookies
Gluten Free Pumpkin Spice Sandwich Cookies Author: Megan Ancheta, Allergy Free Alaska LLC Serves: almost 3 dozen
Author:
Megan Ancheta, Allergy Free Alaska LLC
Ingredients
For the cookies:
For the pumpkin spice filling:
Instructions
To make the cookies:
In the bowl of an electric mixer, add the vegan butter or ghee, palm shortening, and organic cane sugar. Whip together for 2 minutes, scraping down the sides of the bowl as needed.
Add the egg, cold water, and vanilla bean paste. Beat until thoroughly blended.
Add the sea salt, xanthan gum, millet flour, sorghum flour, and tapioca starch. Mix until well blended.
Line 2-3 baking sheets with parchment paper or silicone liners.
To roll the dough, lay a piece of parchment paper on a work surface and lightly sprinkle with sorghum flour (or if you have a pastry board, you can use that in lieu of the parchment paper). Form the dough into a disk and place in the middle of the parchment paper, sprinkle the disk with sorghum flour, and roll the dough until it's about 1/4 inch thick, starting in the middle and working out towards the edges. Keep sprinkling the dough with more flour as needed to prevent the dough from sticking to the rolling pin.
Use a small 1.5" cookie cutter to cut the dough into the desired shapes. Use a spatula to carefully transfer the cut shapes onto the prepared baking sheets.
Place the baking sheets in the freezer and freeze for 25-30 minutes. This prevents the dough from spreading too much while it bakes.
Bake in a preheated 350 degree (F) oven for 10 – 12 minutes, just until the cookies appear slightly golden around the edges. Cool for 5-8 minutes on the baking sheet and then transfer to cooling racks to cool completely.
For the pumpkin spice filling:
In a large mixing bowl, add the powdered sugar, palm shortening, pure pumpkin puree, ground cinnamon, ground nutmeg, and ground clove. Using an electric mixer, mix on low for 30 seconds. Scrape down the sides of the bowl and mix for and additional 2-3 minutes on medium-high, or until the frosting is light, fluffy, and smooth. Stop the mixer as needed and scrape down the sides of the bowl.
To make the sandwich cookies:
Spoon 2 teaspoons of pumpkin spice filling onto the flat side of half of the cookies. Place the remaining cookies, flat side down, on top of the filling, and press gently to seal. Store in an airtight container in the refrigerator. Refrigerate for at least 1-2 hours before eating.