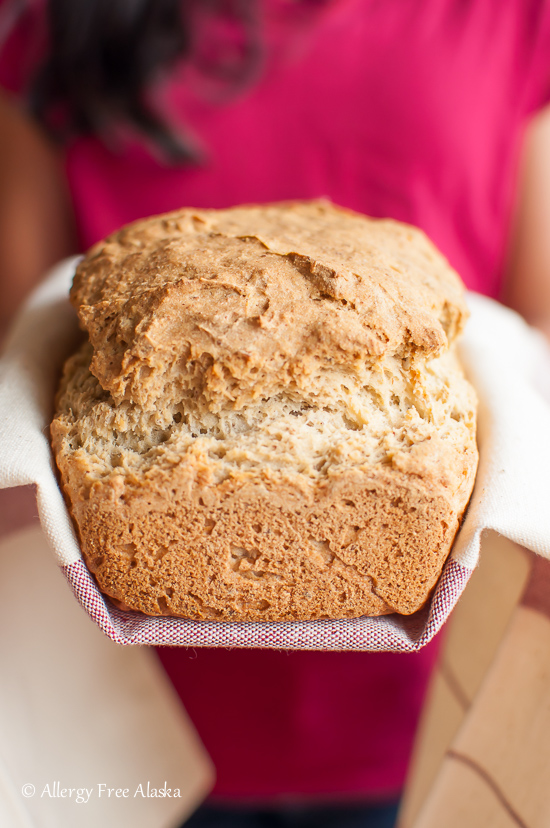 I had a really good day today in the kitchen. It is so therapeutic for me to make a mess, sink my hands into dough, and bake all day… and that's exactly what I did. See, what I haven't shared with you, and what I hadn't anticipated sharing, is that I've been working on a gluten-free, dairy-free bread cookbook. I have many recipes written, maybe 50-75, but between health issues, homeschooling, working 26-30 hours a week, and everyday life… I don't know when I'll ever have the time to finish it. This Gluten Free Vegan Sandwich Bread is one of the recipes I planned to publish in my book, but because the new school year is right around the corner, I want to share the recipe for the kiddos who need it. 😉 
When I started this blog more than 5 years ago, my main purpose was to share tasty, healthy recipes with those struggling with food allergies, not to make money. Granted, over the years the additional income that came with posting affiliate links and ads on my site has been (and still continues to be) an incredible blessing. Most of the money earned goes back into ingredients, recipe development, photography props/equipment, and maintaining the site itself. It would still be nice to make some additional income for my family via a cookbook, but money has never been my motivation. I just want to help you. That's all I've really ever wanted. It brings me joy, the kind of joy that can never ever be bought with money.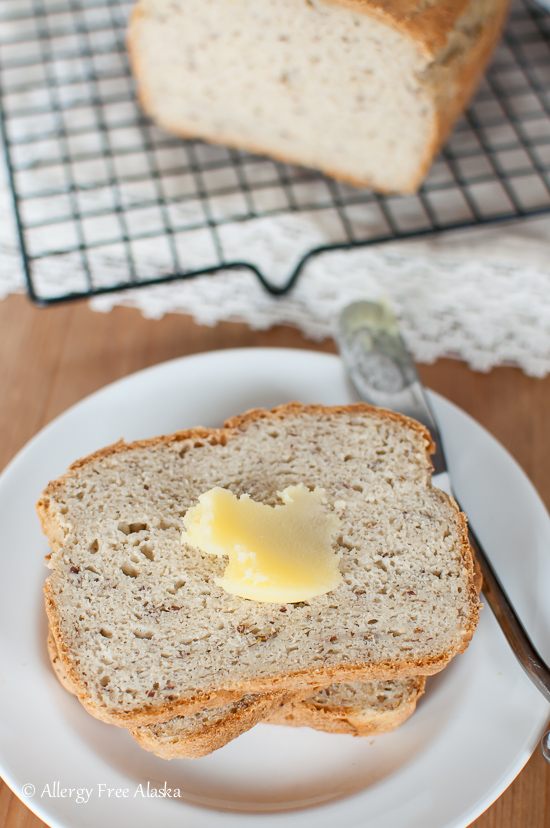 This sandwich bread though… it's hard to believe it's gluten-free, vegan/egg-free, soy-free, sesame free, and nut-free. It has a nice crust, a crusty bread I love to pair with a hearty soup or stew. The inside of the bread is moist, with a tight crumb. It's perfect for sandwiches, and lasts 2-3 days at room temperature, stored in an air tight container. This is definitely one of the easiest yeast bread recipes I've ever made/developed. You literally throw a handful of ingredients into a bowl, mix, and bake. There is no rising time, and the ingredients take maybe 7 minutes to collect and measure out. Put it in the oven and set a timer for close to an hour and forget about it. It's that easy. 
Timesaving Tip:
Measure out and store the dry ingredients for this recipe (with the exception of the instant yeast) in plastic bags or glass canning jars. When you need a loaf of bread, simply pull out the already mixed dry ingredients, just add yeast, and the 3 wet ingredients. Mix, bake, and enjoy. 
Substitutions:
This recipe was written specifically for the ingredients listed. However, I've also used this flour blend successfully:
1 cup sorghum flour
3/4 cup tapioca starch
3/4 cup millet flour
1/4 cup teff flour
1/4 cup brown rice flour
If you sub out other flours/ingredients, I cannot guarantee the end result of the finished product. 
For corn-free, I suggest using a corn-free xanthan gum, such as the Authentic Foods brand. 
A Note About Yeast:
Active dry yeast is different than instant yeast (often referred to as "bread maker yeast"). You must activate/dissolve (proof) active dry yeast in water before using it, while instant yeast needs no activation, and can be added directly into the dough/dry ingredients. When you are make this bread, please ensure you use the proper yeast the recipe calls for, instant yeast, otherwise, your bread loaf may not rise like it should. I prefer to use the SAF brand of instant yeast – the red label package (NOT the gold).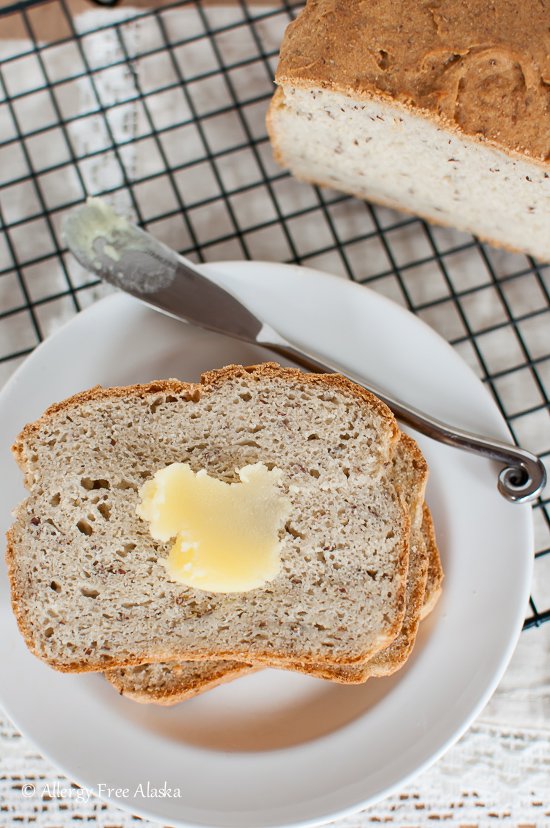 I hope this recipe blesses your family. Happy new school year everyone! 
xoxo,
Megan
Gluten Free Vegan Sandwich Bread
Author:
Megan Ancheta, Allergy Free Alaska LLC
Instructions
Preheat oven to 375 degrees (F) and line a 8.5 x 4.5" loaf pan with parchment paper; liberally grease. (Make sure you use a 8.5 x 4.5 loaf pan. If you don't, and use a 9 x 5, your loaf will spread out and bake out, instead of baking up like pictured.)
In the bowl of an electric mixer, whisk together the sorghum flour, tapioca starch, millet flour, brown rice flour, flax seeds, baking powder, instant yeast, xanthan gum, and organic cane sugar.
Mix in the sea salt.
Add the honey and olive oil and turn the mixer to low. Slowly pour in the club soda.
Mix on medium to medium-high until the batter is smooth and there are no lumps, about 45 seconds.
Pour the batter into the prepared loaf pan and use a spatula to evenly spread the dough and smooth the top.
Bake for 50-55 minutes, or until the top is golden brown and the inside of the loaf measures 200 degrees (F) with an instant read thermometer. Remove from pan and cool completely before enjoying.
Recipe Notes from Megan
This recipe produces a smaller-sized loaf, about the size of an Udi's or Rudi's brand gluten-free loaf.

Cool completely before enjoying, seriously. This loaf in particular, when removed from the oven, still continues to cook as it cools. Please, please - let it finish cooling before slicing!

I don't mix the sea salt with the other dry ingredients, because salt, if placed directly on top of yeast, can kill or inhibit the effectiveness of the yeast. It is better to mix all of the other dry ingredients first, and then add in the sea salt.

Instant yeast does not need to be proofed. Mixing the instant yeast directly into the dry ingredients, as the directions state, is not a typo.

This post may contain affiliate links which I may receive a small commission from (without any additional costs to you). The money earned from these commissions helps me maintain this website. Thank you for your support in this way!