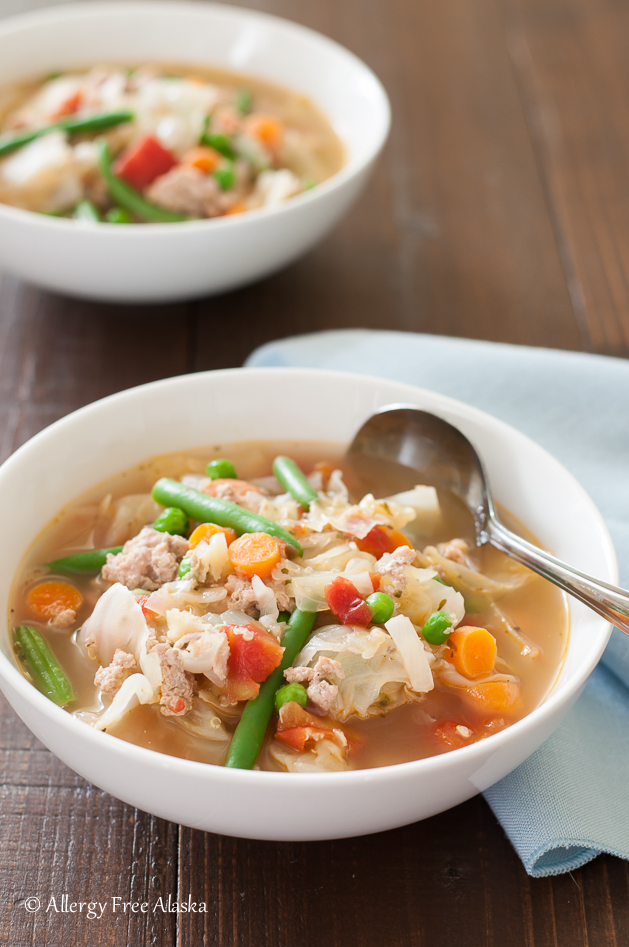 When I need a nourishing bowl of warm comfort food, this Ground Turkey Soup with quinoa recipe is what I make. With flavorful ground turkey, tangy tomatoes, fiber rich veggies, and protein packed quinoa, it's a staple meal in our house. I make it at least 2-3 times a month, even my kiddos devour it. 
This recipe is adapted from a recipe my grandma used to make me as a child whenever I went back to Michigan to visit. I always looked forward to and requested gram's famous "Diet Soup."I don't know if that was really what it was called, or if that's just what my mom and I referred to it as. It was my comfort food from gram. 
I've been struggling to post this recipe, because of its emotional ties. I finally photographed the soup yesterday and decided I would post the recipe today. This morning I logged into Facebook and realized that gram passed away 2 years ago, to the day (thank you, Facebook memories). When I realized that, I was blow away by the timing – how everything fell into place on this day of all days.
While I don't necessarily believe in coincidences, I do believe that sometimes God gives us small gifts like this when we lose a loved one, just to remind us everything is okay.
Today's gift made me smile. 
Grandma loved me and she loved her family. I will forever remember her with curlers in her hair, painted nails, and screwdrivers before bedtime. I miss her.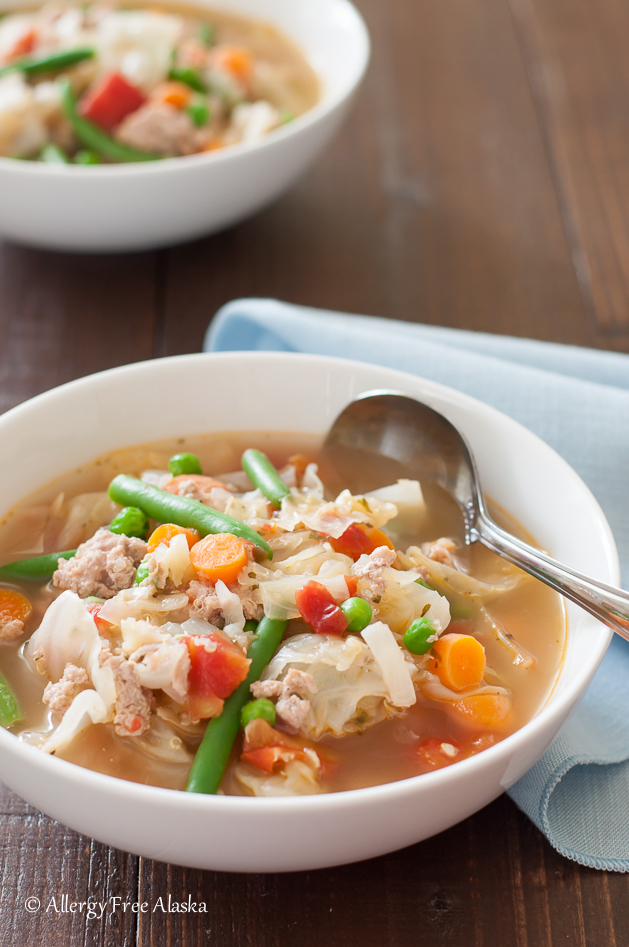 Gram's version of this soup was a little different than mine. She used barley instead of quinoa, and she always added corn and a can of rinsed butter beans (which I haven't been able to find here in our Alaskan grocery stores, but if you have them on hand, feel free to add them).
That's the beauty of this recipe, it's really versatile. You can easily swap out the veggies for what's in season, or with what you have an abundance of. Zucchini, fresh tomatoes instead of canned, corn (if you tolerate it), bell or sweet peppers, potatoes, etc.
If you do make substitutions though, I don't recommend omitting the cabbage. It adds a special richness to the broth and makes this soup extra special. 
Love, from my kitchen to yours. 
xoxo,
Megan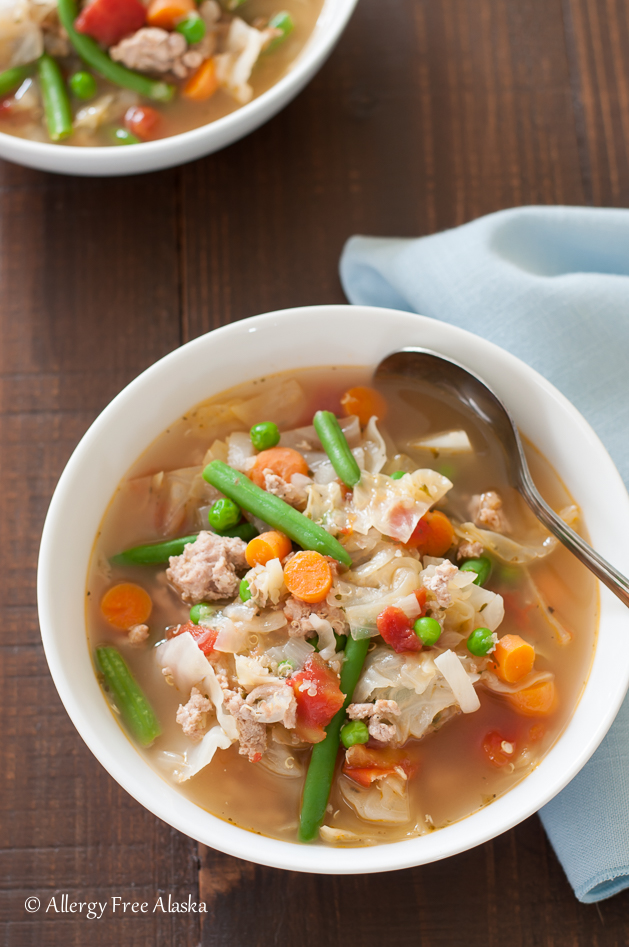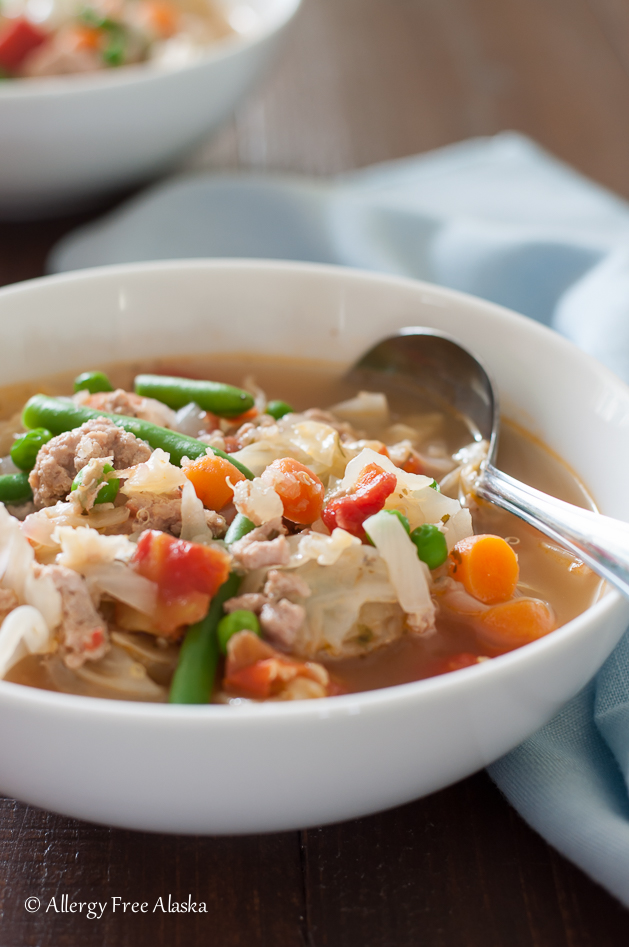 Ground Turkey and Garden Vegetable Soup with Quinoa
Author:
Megan Ancheta, Allergy Free Alaska LLC
Ingredients
1 tablespoon olive oil, ghee, or coconut oil
1 pound ground turkey
2 cups chopped sweet onion
2 cups peeled and chopped carrots
1/2 cup uncooked quinoa
1 tablespoon dried parsley (or 1/3 cup fresh)
1 teaspoon dried Italian seasoning
3/4 teaspoon garlic powder
14.5 ounces canned diced tomatoes
14 cups chicken broth
1 cup peas (fresh or frozen)
2 large handfuls of green beans (fresh or frozen, roughly 2 cups)
1 smallish head of cabbage, chopped
sea salt & fresh ground pepper
Instructions
Heat the oil in an 8-quart stockpot over high heat. Add the ground turkey and cook, breaking it up with a spoon, until browned.
Add the chopped sweet onion, peeled and chopped carrots, 1/2 cup uncooked quinoa, dried parsley, dried Italian seasoning, and garlic powder. Cook for 2-3 minutes, stirring occasionally.
Add the canned diced tomatoes and chicken broth, and bring to a boil. Reduce heat and simmer, covered, for 15 minutes.
Uncover, return heat to high, and add the peas, green beans, and cabbage. Bring to a boil, reduce heat to medium, and cook another 5 minutes.
Season with sea salt and freshly ground black pepper to taste.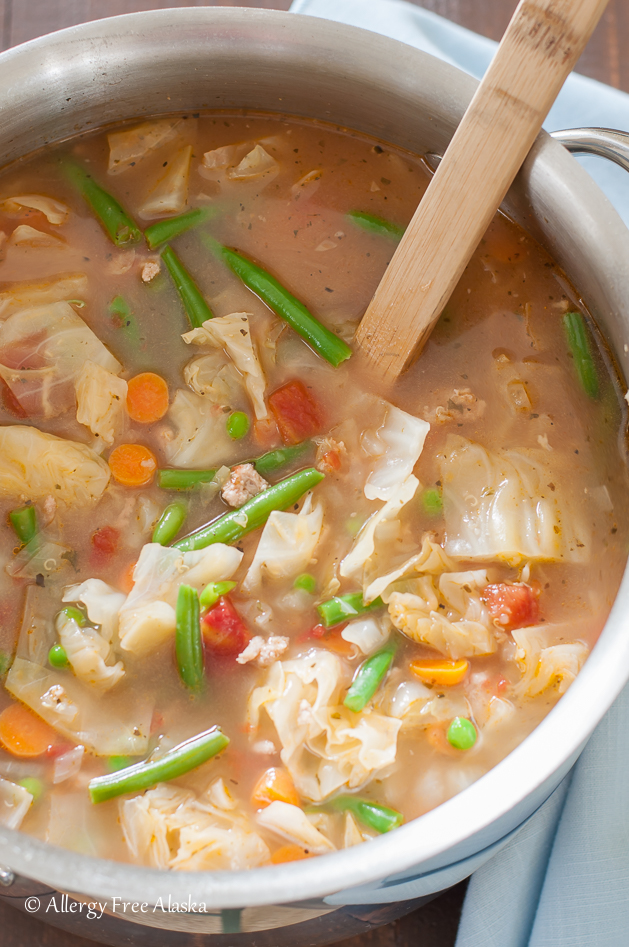 This post may contain affiliate links which I may receive a small commission from (without any additional costs to you). The money earned from these commissions helps me maintain this website. Thank you for your support in this way!