This Dairy-Free Vegan Cream of Mushroom Soup recipe uses veggies to thicken the rich and flavorful broth. It's the perfect bowl of warm comfort food that's ideal on a cold winter's day.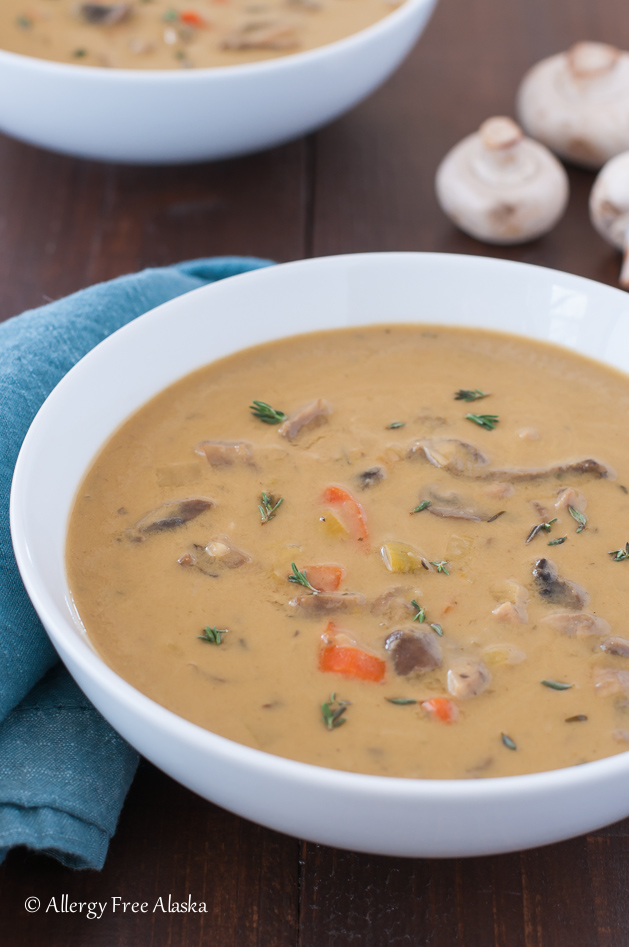 The past few weeks our Alaskan weather has been a little nutty. There were several days that were sub-zero (-20 degrees F at my house, up to -60 below further up north… crazy, right?!), and then it warmed up and we got a TON of snow (like, 2-3 feet)! This is the most snow we've gotten in the past 4-5 years. It's been wonderful (and refreshing), but has made driving a little more challenging. 
With the cold temps, especially the sub-zero ones, I've been making a lot of soup for dinner, including this Dairy Free Vegan Cream of Mushroom Soup recipe. This is a recipe I've made variations of for years – I just never kept track of what I threw in the pot. I finally got my act together and wrote the recipe down, and I'm confident several of you will be thrilled that I did. 
Cream of mushroom soup was my favorite soup when I was a kid. My mom used to buy me the canned variation in bulk. While I never would buy the canned soup now, I definitely wanted to recreate it and make it healthier (not to mention dairy-free).
There is no starch used in this recipe to thicken the broth, instead I use the veggies. The result is a rich and velvety soup, with small chunks of mushrooms and other veggies scattered throughout; it's incredibly flavorful. The 3 different mushrooms (white button, crimini & porcini) create the distinct mushroom flavor I love.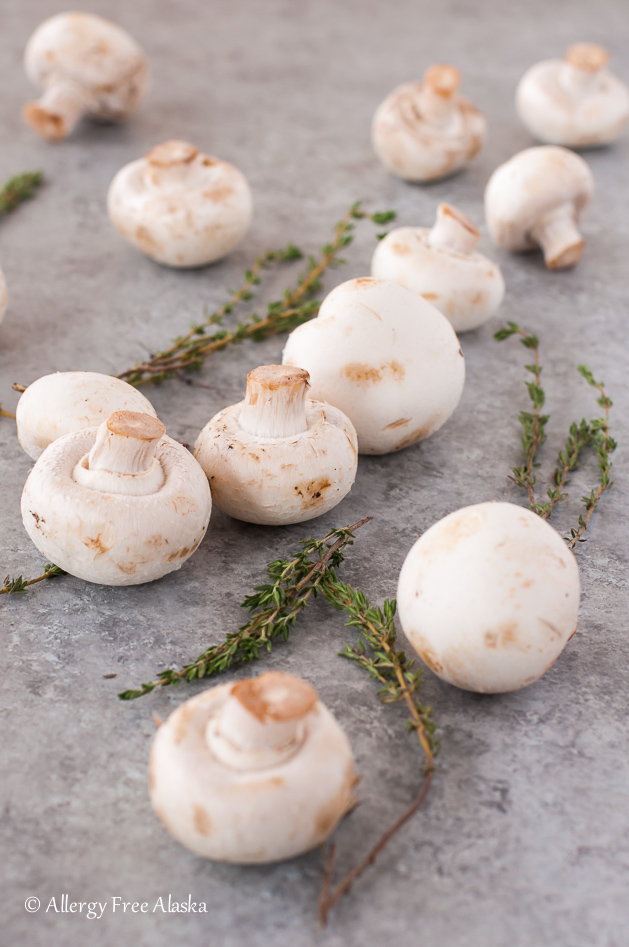 If you are a meat eater, you could serve this soup as a side to roast chicken or steak. If you aren't a meat eater, or simply want a lighter meal, serve it with a side salad, or even on its own. The soup is so hearty and filling everyone will be satisfied. 
Happy cooking! 
xoxo,
Megan (with a long E)
Other dairy-free soups you'll want to try:
Dairy Free Vegan Cream of Mushroom Soup
Author:
Megan Ancheta, Allergy Free Alaska LLC
Ingredients
2 tablespoons olive oil (or ghee for non-vegan)
16 ounces white button mushrooms, sliced & then chopped
8 ounces crimini mushrooms, sliced & then chopped
3 cups chopped leaks
2 cups diced carrots
1/2 cup diced sweet onion
4 garlic cloves, minced
2 teaspoons dried thyme
2 teaspoons dried parsley
sea salt & ground pepper
0.5 ounces dried porcini mushrooms
14 ounces canned coconut milk (full fat, I prefer the Aroy-D brand)
8 cups vegetable broth (or chicken broth for non-vegan)
Instructions
In a 6 to 8-quart stockpot or Dutch oven, warm the oil over high heat. Add the white button mushrooms, crimini mushrooms, leaks, carrots, sweet onion, garlic cloves, dried thyme, and dried parsley. Season with sea salt and ground pepper, and cook 5-7 minutes, stirring occasionally.
Add the dried porcini mushrooms, canned coconut milk, and vegetable broth. Bring to a boil, and then simmer 20 minutes.
Turn off the heat, and blend half of the soup in a blender until smooth (this makes the "cream" base). Pour the blender contents back into the soup pot, and stir well.
Taste the soup, and season with more sea salt to taste. Enjoy!
Recipe Notes from Megan
This soup really needs to be seasoned well with sea salt; however, I can't give you an exact amount/measurement of salt to use, because every broth is different in the amount of salt it contains.
Not a fan of coconut?! My husband isn't either, yet he really enjoys this soup. You can't detect coconut in the end result. Part of that might also be the brand of coconut milk I use. I can't recommend the
Aroy-D brand
enough – it's exceptional.
Blender
vs.
Immersion Blender
I own both of these appliances, but I find with this soup recipe, I want half of the soup super creamy, and I want to leave the other half chunky. I can control this by placing half of the soup contents in a blender. I cannot control the outcome using an immersion blender, because it blends everything (and it doesn't get the soup as creamy as a blender). That said, it's all a matter of personal preference, so feel free to do whatever you like.
This post may contain affiliate links which I may receive a small commission from (without any additional costs to you). The money earned from these commissions helps me maintain this website. Thank you for your support in this way!