These easy baked Paleo Chicken Tenders are one of our favorite low-carb / Keto meals. They are quick and easy, and much healthier than the fried variation!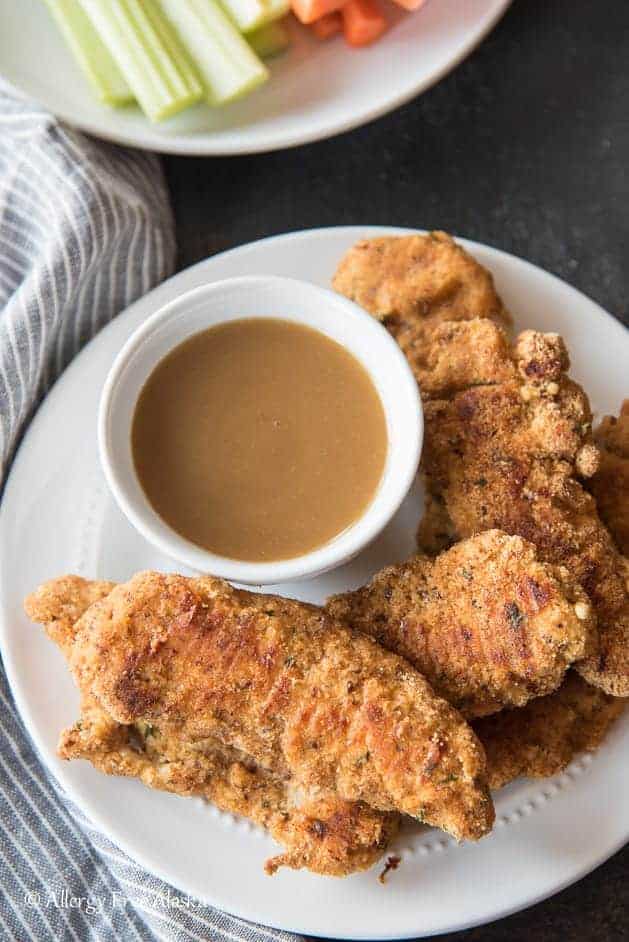 Do you remember what you ate in high school?
I do. It's scary to think what my diet mostly consisted of: saltines, goldfish crackers, mochas, Subway subs (I was a certified "sandwich artist"), whatever my mom could get me to eat, and chicken tenders and jojos (fried potato wedges) from our local grocery store deli.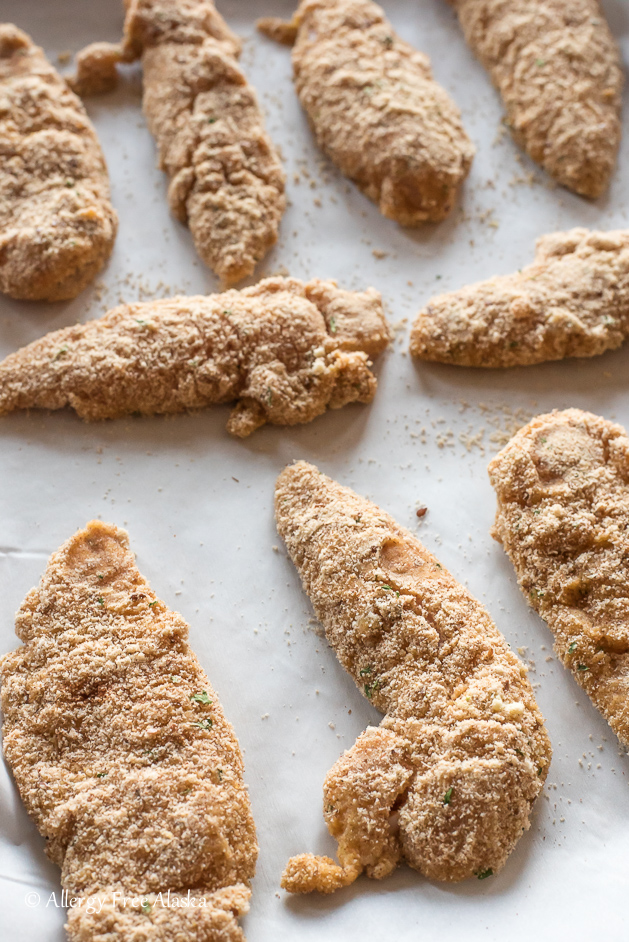 I loved those deli chicken tenders. Coated in gluten and soaked in hydrogenated fat (I know, they sound really appetizing when I put it that way).
Loved is definitely a past-tense word, though. Obviously it's been a while since I've had one of those super-unhealthy deli chicken tenders. Never again will I eat one, but I will eat one of my homemade baked paleo chicken tenders…
You will love these homemade gluten-free Paleo Chicken Fingers. The breading is flavorful and they are so easy to make; there's no frying involved.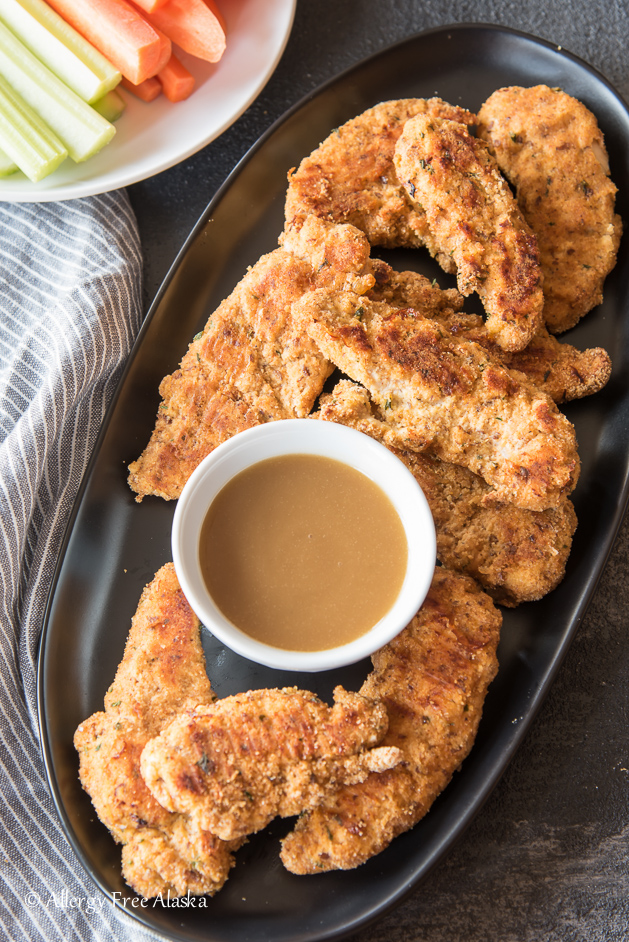 How to make these Paleo chicken nuggets:
If you use your fingers to bread the chicken, you might end up with breaded fingers instead of breaded chicken tenders. 😉 I use a fork to move the chicken around from the egg mixture to the breading, and then a spoon to help scoop the breading onto the chicken. That way my hands stay out of the mix as much as possible.
I don't recommend baking these in a glass dish. Use a metal baking sheet. Glass and metal conduct heat differently, so you won't achieve the same results with a glass pan.
The breading (dry mix only, not the liquid ingredients) can be mixed ahead of time and stored in an airtight container to save time on busy nights.
If you are thinking of making an ingredient substitution, please continue to read below.
Common ingredient questions when making these baked Paleo Chicken Strips:
Q: Can I leave out the flax meal?
A: Yes, you can substitute a little more blanched almond flour in its place.
Q: How can I make this recipe without the eggs?
A: You might try substituting a starch slurry for the eggs. To make a starch slurry, combine arrowroot starch with cool water – just enough to make a slurry that will be the consistency of pancake batter. Not too watery, but not too thick either. After you dip the chicken tenders in the slurry, bread them as normal, per recipe directions.
Q: How can I make this Paleo baked chicken nut-free?
A: If you can use blanched almond flour, you might try using a crushed up gluten-free cereal (like brown rice crispies or something similar to Corn Flakes). I haven't tried it specifically in this recipe, but I have used it in another recipe for fish sticks, and it worked out well. I also had a friend who used ground up sunflower seeds in place of the blanched almond flour, and she loved them!
Q: Is coconut flour a good substitute for the blanched almond flour?
A: NO! Blanched almond flour is high in natural fats due to the almonds. Coconut flour is very drying and needs tons of moisture. I don't recommend substituting coconut flour for the blanched almond flour.
Q: Can you freeze these and reheat them later?
A: I've actually never tried it! If you do want to try it, I'd recommend under baking the chicken tenders by just a couple minutes, otherwise when you reheat them they might be too dry. So maybe try baking 7 minutes per side, then freezing and reheating.
We like to eat our Paleo Chicken with my Homemade Ranch, ketchup, or Honey Mustard (recipe below):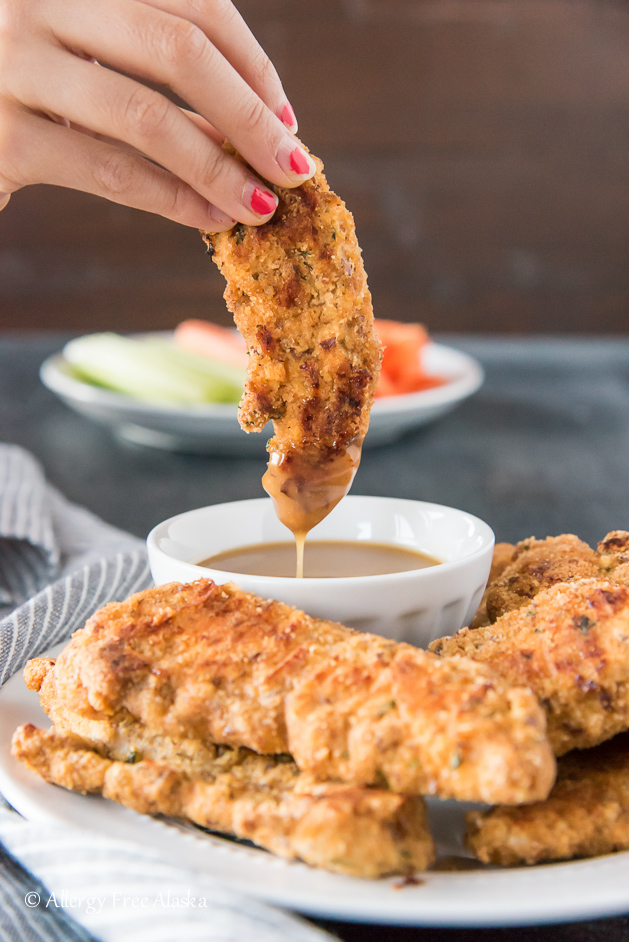 Honey Mustard Dipping Sauce
FYI: (This dipping sauce is NOT Whole30 approved, but the chicken tenders (recipe below) are.
3 tablespoons runny honey
2 tablespoons Dijon mustard (I use Annie's Naturals)
In a small mixing bowl, whisk together the honey and Dijon. Serve immediately or place in the refrigerator for later use.
Megan's Recipe Notes:
This dipping sauce is sweet; a little of it goes a long way. If it's too sweet for your taste, try adding a tablespoon of mayonnaise to tone it down.
Other Paleo recipes you might be interested in:
Fresh & Spicy Halibut Ceviche (also Whole30 approved)
Vegan Paleo Pecan Pie Bars
Paleo Chocolate Brownie Energy Bites from Sarah Bakes Gluten Free
Clean Eating Spinach Artichoke Dip (Dairy-Free) from Meaningful Eats
I hope you enjoy this Paleo baked chicken as much as we do!
xo,
Mēgan
Paleo Chicken Tenders Recipe: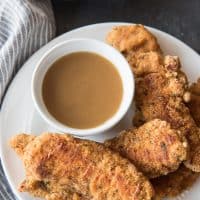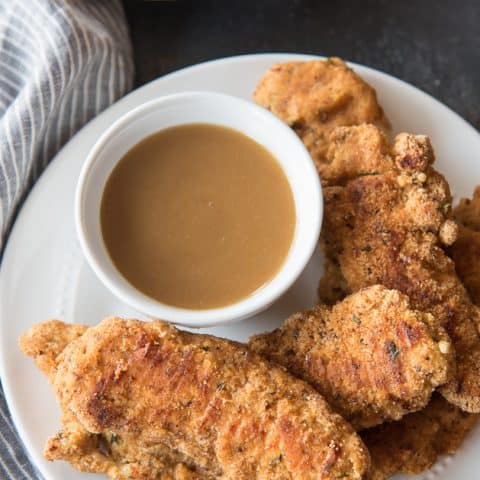 Paleo Chicken Tenders
These easy baked Paleo Chicken Tenders are one of our favorite low-carb / Keto meals. They are quick and easy, and much healthier than the fried variation! 
Ingredients
2 pounds chicken tenderloins
1 tablespoon flax meal
1 teaspoon paprika
1/2 teaspoon garlic powder
1/2 teaspoon sea salt
1/2 teaspoon dried parsley
1/4 teaspoon poultry seasoning
ground black pepper to taste
2 eggs
Instructions
Preheat oven to 425 degrees (F) and line 2 large baking sheets with parchment paper.
In a pie plate or another shallow wide bowl, mix together the almond flour, flax meal, paprika, garlic powder, sea salt, parsley, poultry seasoning, and ground black pepper.
In another small mixing bowl, lightly beat the eggs.
Blot the excess moisture off from the chicken tenders with paper towels and then dip them in the egg. Make sure the tenderloins are thoroughly coated in the egg mixture and then dredge them in the almond flour breading, pressing to adhere.
Divide the breaded chicken tenders up between the 2 baking sheets and lightly spray with olive oil. Place in the oven and bake for 8-9 minutes. Flip the tenders over, lightly spray again with olive oil and bake for another 8-9 minutes, or until the internal temperature reaches 180 degrees (F).
Transfer the chicken tenders to a platter and serve immediately, or at room temperature.
Notes
These chicken tenders never become really crisp, but with the tasty breading, they quickly will become a family favorite!
Recommended Products
As an Amazon Associate and member of other affiliate programs, I earn from qualifying purchases.
We are a participant in the Amazon Services LLC Associates Program, an affiliate advertising program designed to provide a means for us to earn fees by linking to Amazon.com and affiliated sites.