Everyone needs an authentic recipe for a carrot cake they love. This gluten-free carrot cake continues to be a solid reader favorite, year after year. It's not only made completely from scratch, but it's entirely dairy-free, and lower in fat and sugar than the average carrot cake recipe.
Don't let this healthy recipe fool you though, this recipe delivers a moist cake with a tender crumb. It's utterly delicious and deceptively easy to make.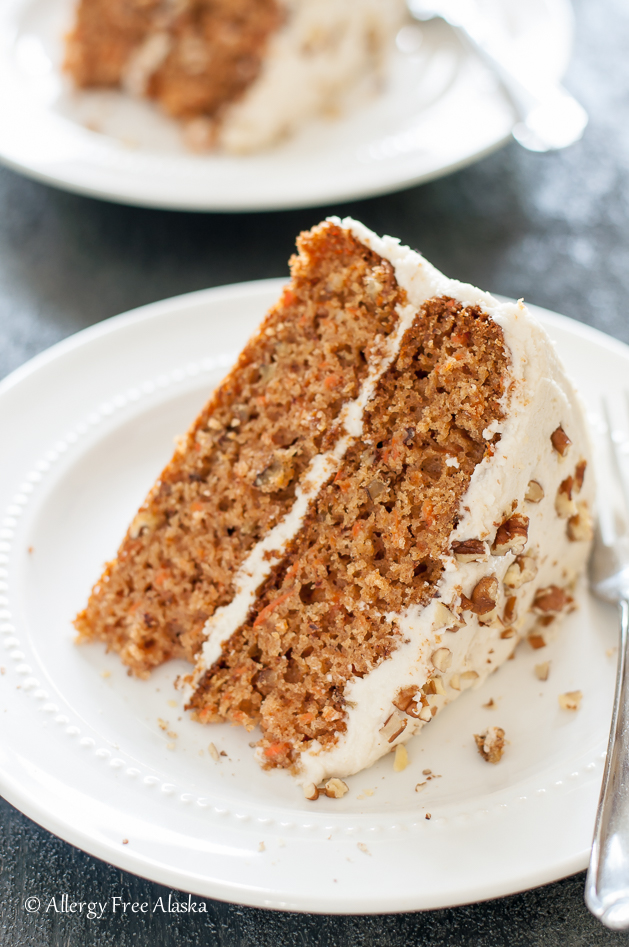 What Makes this Gluten Free Carrot Cake Special:
Spices- Traditional carrot cake calls for cinnamon, but I've also included ginger and nutmeg because it deepens the flavor profile.
Applesauce- Carrot cake recipes are usually hefty in oil, but I've reduced the fat to keep this cake lighter on the stomach and added applesauce to retain moisture. Just make sure you use the unsweetened variety.
Coconut Oil- I use coconut oil because it provides a richer finish. However, you can use olive oil if you need a coconut-free option.
Sugar- The sugar content in this recipe has been reduced not to be so sickly sweet, especially when frosted!
Carrots- You can hand-grate fresh carrots or use a food processor. Just avoid the temptation of using pre-grated carrots from the grocery store! They are too dry from sitting for a long period (the moisture evaporates out of them as they sit), and will not blend in with the batter as well.
Dairy-Free Vanilla Frosting- I forgo the cream cheese alternatives, and make a fluffy vanilla frosting that literally melts in your mouth. It's a delicious compliment to a moist cake without overwhelming the flavor.
Gluten Free – I've swapped out the flour, yet all of my family members love it - even those who eat wheat. Of course, no one will ever know this cake is gluten-free unless you specifically tell them!
Single Layer, Double Layer, or Cupcakes
You can bake this gluten-free, dairy-free cake as a single-layer 9x13-inch rectangular cake or a traditional two-layer 9-inch round cake.
For gluten-free carrot cake cupcakes, fill your paper-lined cupcake tins ⅔ full and begin checking the cupcakes for doneness in around 14 minutes.
Carrot Cake Gluten Free Variations:
Pineapple- Add one drained 8-ounce can of crushed pineapple for a more traditional variation on this gluten-free, dairy-free carrot cake recipe. Pineapple adds more moisture, so you may find your cake a smidge dense.
Nuts- My family prefers chopped pecans, but walnuts are also a delicious swap to this carrot cake recipe. Or you can always omit nuts from this recipe entirely.
Raisins- Raisins absorb some moisture in the cake resulting in a slightly fluffier cake, an excellent addition if you decide to add crushed pineapple to keep the cake light and fluffy.
If you're looking for a Paleo/grain-free option, try my Paleo Carrot Cake Muffins.
We love the look of gluten-free carrot cake pops from Food Faith Fitness!
Making Ahead and Storing
Store in an air-tight container in the refrigerator. This gluten-free dairy-free cake keeps well so you can make it a day ahead for easy time management.
This recipe was originally published October 2019. Blog post updated March 2023.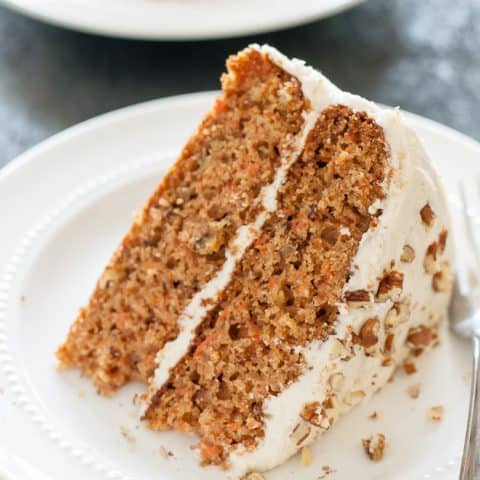 Gluten Free Carrot Cake
This gluten-free carrot cake is tender and moist, with a fluffy vanilla frosting that melts in your mouth.
Ingredients
For the Carrot Cake:
1 cup tapioca starch
½ cup sorghum flour or millet flour
½ cup brown rice flour
2 teaspoons baking soda
2 teaspoons baking powder
2 teaspoons ground cinnamon
1 teaspoon xanthan gum
½ teaspoon ground nutmeg
½ teaspoon ground ginger
½ teaspoon sea salt
1 cup organic cane sugar
1 cup unsweetened applesauce, at room temperature
⅓ cup coconut oil, just melted
2 tablespoons honey
2 teaspoons vanilla extract
4 large eggs, at room temperature
2 ½ cups grated carrots
½ cup chopped pecans (or walnuts), plus more for sprinkling on top
For the Fluffy Vanilla Frosting:
½ cup palm shortening
¼ cup ghee or vegan butter
1 lbs organic powdered sugar
1 teaspoon vanilla extract
½ teaspoon almond extract
3-5 tablespoons canned coconut milk
Instructions
To make the Carrot Cake:
Grate the carrots, chop the pecans, and set them aside.
Preheat oven to 350 degrees (F).
In a large mixing bowl, whisk together the tapioca starch, sorghum flour, brown rice flour, baking soda, baking powder, ground cinnamon, xanthan gum, ground nutmeg, ground ginger, and sea salt. Set aside.
Mix the organic cane sugar, unsweetened apple sauce, coconut oil, honey, and vanilla extract in the bowl of an electric mixer.
Whisk in the eggs until well blended.
Add half of the dry ingredients to the wet and stir until combined.
Stir in the remaining half of the dry ingredients and stir until combined. Use a spatula to scrape down the sides of the bowl, and stir again, just long enough to incorporate the remaining flour mixture from the sides of the bowl into the batter.
Stir in the grated carrots and the chopped pecans.
Place the cake batter into a well-greased 9x13" cake pan, or divide the dough evenly between 2 well-greased and parchment paper-lined 9-inch cake rounds.
*For the 9x13" cake pan:* bake for 30-35 minutes, or until a toothpick comes out clean when inserted into the center of the cake.
*For the 9-inch cake rounds:* bake for 25-32 minutes, or until a toothpick comes out clean when inserted into the center of the cake.
Cool completely before frosting. Sprinkle the top of the cake with chopped pecans.
To make the Fluffy Vanilla Frosting:
Mix all of the ingredients on low in the bowl of an electric mixer until just blended.
Use a spatula to scrape down the sides of the bowl, and then whip on medium-high speed for 2-3 minutes (continue to scrape down the sides as needed) or until the frosting is light and fluffy.
Notes
This recipe is fairly versatile. Feel free to add up to 1 cup of crushed pineapple (just make sure you drain it first), and/or ½ cup of raisins if you'd like.
Recommended Products
We are a participant in the Amazon Services LLC Associates Program, an affiliate advertising program designed to provide a means for us to earn fees by linking to Amazon.com and affiliated sites.
Did you make this recipe? Tag me on Instagram @allergyfreeak and use the hashtag #allergyfreealaska.