There's something about the sight of carrot cake that makes people's eyes light up. Perhaps it's the promise of a moist and tender crumb, or the sweet taste of carrots enrobed in warm cinnamon and sugar. Whatever the reason, this gluten-free carrot cake won't disappoint. It's fork-ready and flavorful, with the perfect touch of indulgence.
You can serve this gluten-free carrot cake at birthday parties, summer potlucks (with fresh-from-the-garden carrots!), or for the holidays. It's a natural dessert for Easter, but my family also loves it at Thanksgiving and Christmas. Of course gluten-free apple pie and pumpkin pie should be served, but we think a cake dessert is also a must.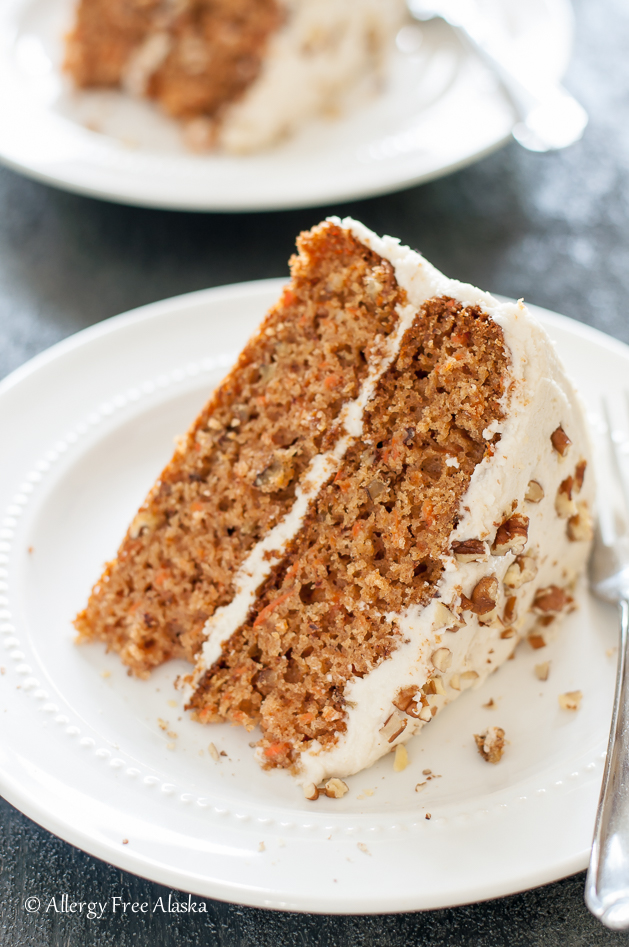 And don't worry if there isn't a big date coming up on the calendar. You don't need an excuse to make this decadent gluten-free dairy-free carrot cake. It's worthy of a spontaneous celebration on its own. Maybe you want to savor time with a friend or to revel in a rare sliver of silence. Bake it, slice, and enjoy … just don't forget the coffee!
What Makes this Carrot Cake Recipe Special
Carrot cake evolved out of the middle ages in Europe, but it didn't take off in the U.S. until the mid-twentieth century. That's when we began layering it, tossing in more ingredients, and slathering it with cream cheese frosting. My gluten-free and dairy-free carrot cake recipe is definitely an American version, but I've added a few of my own twists, which have been very well received.
More Spices – Cinnamon is liberally sprinkled into most carrot cake recipes, but I like to include some nutmeg and ginger too. These two spices add a little more depth and elevate this gluten-free carrot cake to holiday worthy.
Lower in Fat – Carrot cake is usually very heavy in oil. I reduce the oil quite a bit, but add applesauce for moisture. There is still enough fat to keep the cake tender, but it's lighter on the stomach.
Less Sugar – You can't reduce the sugar in carrot cake too much, but I've lowered it just enough to keep it from being too sweet (particularly when frosted!) and to let more of the carrot flavor shine.
Vanilla Frosting – I forgo the cream cheese alternatives, and make a fluffy vanilla frosting that literally melts in your mouth. It's a delicious compliment to moist carrot cake without overwhelming the flavor. And it's optionally dairy-free!
Gluten Free – I've swapped out the flours, and yet, all of my family members love it – even the ones who eat wheat. In fact, no one will ever know this carrot cake is gluten-free unless you specifically tell them!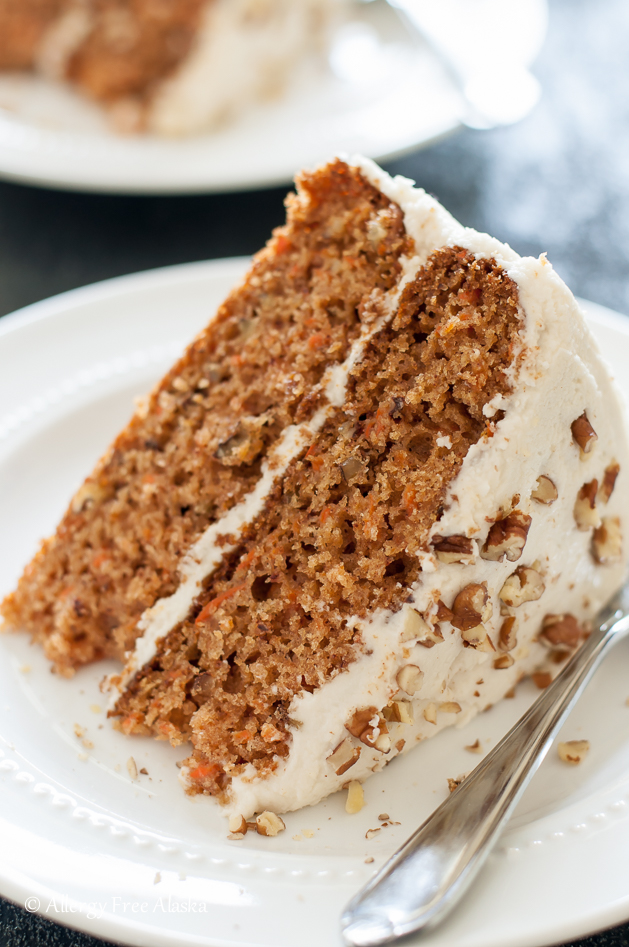 Gluten-Free Carrot Cake Options
I've got almost all variations covered with these quick notes and substitution suggestions. Let me know if you have any other questions!
One or Two Layer Cake
As noted in the recipe, you can bake this as a traditional two-layer, 9-inch round cake, or go more casual with a single-layer, 9×13-inch rectangular cake. Keep in mind that any change in pan size will affect how this gluten-free carrot cake bakes. I've tested both of these pan sizes, and have included the baking times for each. But if you choose another pan size, it can affect the baking time, and it's possible that the cake won't set up fully in the middle.
Cupcakes
I've never made this recipe as gluten-free carrot cake cupcakes, but it should work great. I recommend filling paper-lined cupcake tins about 2/3 full. Bake at the same temperature, but begin checking the cupcakes for doneness at 14 minutes.
Pineapple Option
For some people, it isn't proper carrot cake without pineapple. You can stir one drained 8-ounce can of crushed pineapple in with the carrots and nuts. Keep in mind that the pineapple will add some moisture to the cake, even if it's fully drained. This might cause the cake to be just a smidgen denser.
Nut and Nut-Free Options
My family prefers pecans, but walnuts are also delicious in this best gluten-free carrot cake. If you don't like nuts or are allergic, you can simply omit the nuts or you can substitute raisins. The raisins will absorb a little bit of moisture as the cake bakes, resulting in a slightly fluffier cake. But if you decide to add pineapple too, it should offset any minor moisture change.
Believe it or not, nut free brands of imitation almond extract, or almond flavoring, are available. But if you can't find one, you can omit the almond extract from the frosting.
Coconut-Free Option
I use coconut oil because it provides a richer finish. If needed, you can substitute another oil that fits the flavor profile, like olive oil.
You can substitute your favorite coconut-free, dairy-free milk beverage for the coconut milk, but add it slowly and only as needed. Canned coconut milk is much richer, and helps the frosting retain its fluffiness. If you add too much milk beverage, it can thin the frosting instead.
Other Dietary Notes (Eggs and Flour Blends)
Some of you are probably wondering about egg-free options. Eggs are an integral ingredient in gluten-free carrot cake, and are difficult to swap out. If you must, you can try aquafaba (I haven't tested this), but additional recipe adjustments might be needed. For example, aquafaba doesn't provide fat (it's more akin to egg whites), so you might also need to increase the oil to applesauce ratio.
I don't recommend substituting the starches and flours for a gluten-free flour blend. The ratios of the blend might not work well in this cake, and if the blend has any binders in it, it could dramatically affect the texture. If you do opt to try a gluten-free flour blend, choose one without any binders since this recipe already contains a specific amount of xanthan gum.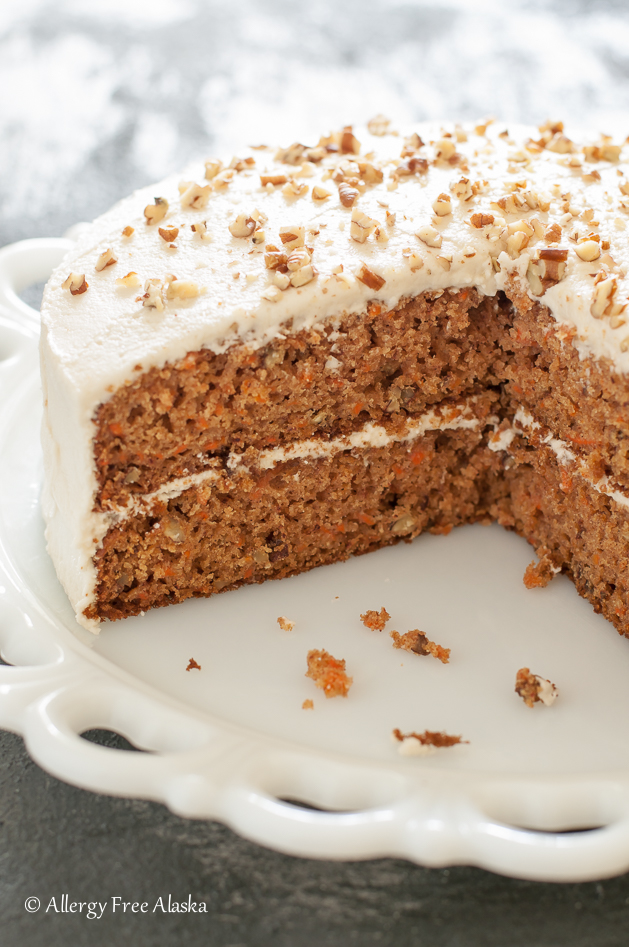 More Gluten-Free Cake Recipes
Gluten-Free Blueberry Lemon Bundt Cake (also dairy-free)
Easy Flourless Black Forest Cake from Scratch from Faithfully Gluten Free
Gluten-Free Yellow Cake with Chocolate Fudge Frosting from Flippin' Delicious
Vegan Gluten-Free Chocolate Sheet Cake (top-8 allergen free) from Allergy Awesomeness
Gluten-Free Cinnamon Streusel Coffee Cake (also dairy-free)
Gluten-Free Lemon Cake (also dairy-free) from Gluten-Free Palate
Vegan Gluten-Free Pumpkin Apple Pie Cake (top-8 allergen free) from Go Dairy Free
You can also enjoy my popular Coconut Layer Cake recipe in my e-book, Gluten-Free Baking from Scratch.
I hope you enjoy this gf carrot cake as much as my family does!
xo,
Mēgan
Did you make this recipe? Tag me on Instagram @allergyfreeak and use the hashtag #allergyfreealaska.
Gluten-Free Carrot Cake Recipe: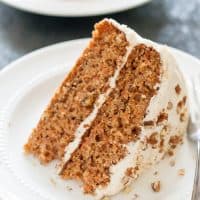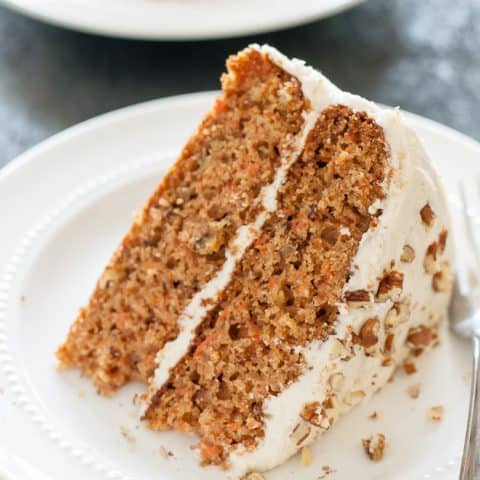 Gluten Free Carrot Cake
Yield: 1 layer cake

Prep Time: 25 minutes

Cook Time: 35 minutes

Total Time: 1 hour

This Gluten Free Carrot Cake is tender and moist, with a fluffy vanilla frosting that literally melts in your mouth. Everyone loves this recipe!
Ingredients
For the Carrot Cake:
1 cup tapioca starch
1/2 cup sorghum flour or millet flour
1/2 cup brown rice flour
2 teaspoons baking soda
2 teaspoons baking powder
2 teaspoons ground cinnamon
1 teaspoon xanthan gum
1/2 teaspoon ground nutmeg
1/2 teaspoon ground ginger
1/2 teaspoon sea salt
1 cup organic cane sugar
1 cup unsweetened applesauce, at room temperature
1/3 cup coconut oil, just melted
2 tablespoons honey
2 teaspoons vanilla extract
4 large eggs, at room temperature
2 1/2 cups grated carrots
1/2 cup chopped pecans (or walnuts), plus more for sprinkling on top
For the Fluffy Vanilla Frosting:
1/2 cup palm shortening
1/4 cup ghee or vegan butter
1 lbs organic powdered sugar
1 teaspoon vanilla extract
1/2 teaspoon almond extract
3-5 tablespoons canned coconut milk
Instructions
To make the Carrot Cake:
Grate the carrots and chop the pecans and set them aside.
Preheat oven to 350 degrees (F).
In a large mixing bowl, whisk together the tapioca starch, sorghum flour, brown rice flour, baking soda, baking powder, ground cinnamon, xanthan gum, ground nutmeg, ground ginger, and sea salt. Set aside.
In the bowl of an electric mixer, mix together the organic cane sugar, unsweetened apple sauce, coconut oil, honey, and vanilla extract.
Whisk in the eggs until well blended.
Add half of the dry ingredients to the wet and stir until combined.
Stir in the remaining half of the dry ingredients and stir again until just combined. Use a spatula to scrape down the sides of the bowl, and stir again, just long enough to incorporate the remaining flour mixture from the sides of the bowl into the batter.
Stir in the grated carrots and the chopped pecans.
Place the cake batter into a well greased 9x13" cake pan, or divide the dough evenly between 2 well greased and parchment paper lined 9-inch cake rounds.
*For the 9x13" cake pan:* bake for 30-35 minutes, or until a toothpick, when inserted into the center of the cake, comes out clean.
*For the 9-inch cake rounds:* bake for 25-32 minutes, or until a toothpick, when inserted into the center of the cake, comes out clean.
Cool completely before frosting. Sprinkle the top of the cake with chopped pecans.
To make the Fluffy Vanilla Frosting:
In the bowl of an electric mixer, mix all of the ingredients on low until just blended.
Use a spatula to scrape down the sides of the bowl, and then whip on medium-high speed for 2-3 minutes (continue to scrape down the sides of the bowl as needed), or until the frosting is light and fluffy.
Notes
This recipe is fairly versatile. Feel free to add up to 1 cup of crushed pineapple (just make sure you drain it first), and/or 1/2 cup of raisins if you'd like.
Recommended Products
As an Amazon Associate and member of other affiliate programs, I earn from qualifying purchases.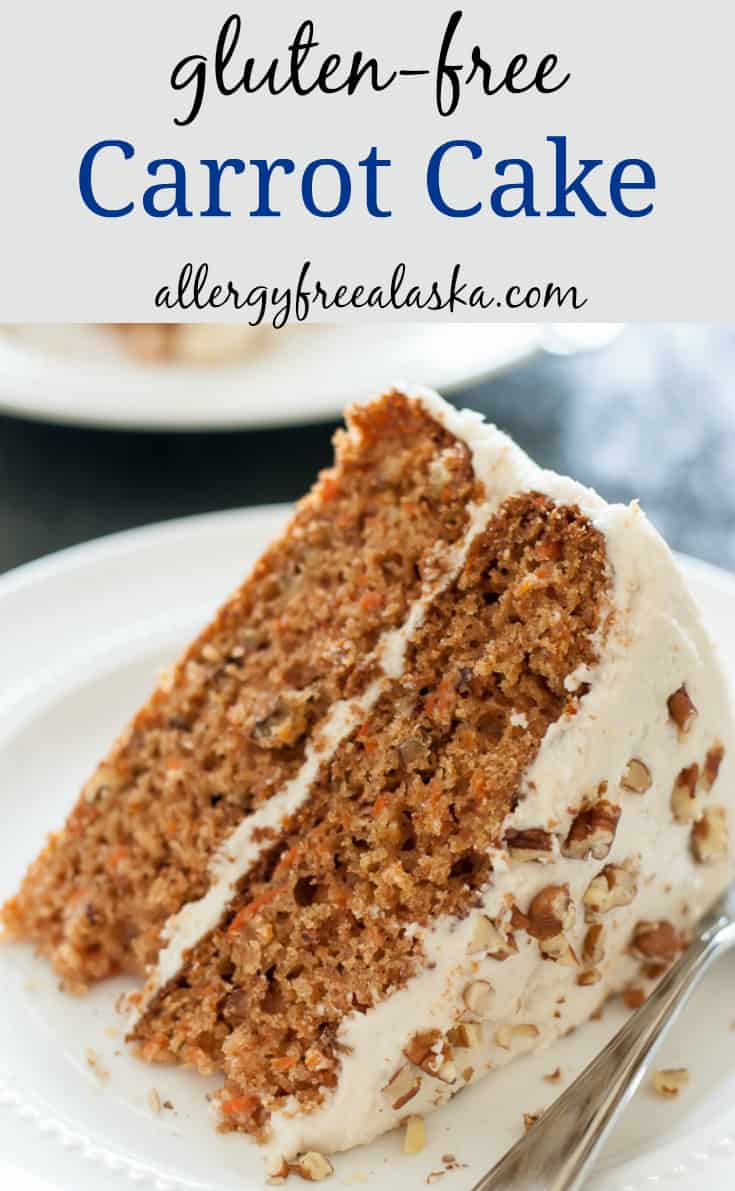 We are a participant in the Amazon Services LLC Associates Program, an affiliate advertising program designed to provide a means for us to earn fees by linking to Amazon.com and affiliated sites.