A sinfully rich gluten-free chocolate cake topped with luscious, silky smooth dairy-free chocolate frosting. This gluten-free cake is so tender and moist, you'll quickly find yourself (and your guests!) going back for seconds and fighting for the last piece! And the entire cake is completely dairy-free!
There are many recipes for gluten-free chocolate cake on the internet (and in cookbooks), the issue I always have with other recipes is they are dry.
I don't know about you, but if I'm going to indulge in a slice of cake, I want it to be everything the ideal cake of my dreams is meant to be: soft, fluffy, and moist enough it stays delicious for days (if there are any leftovers!) – just like my gluten-free banana cake or my gluten-free carrot cake.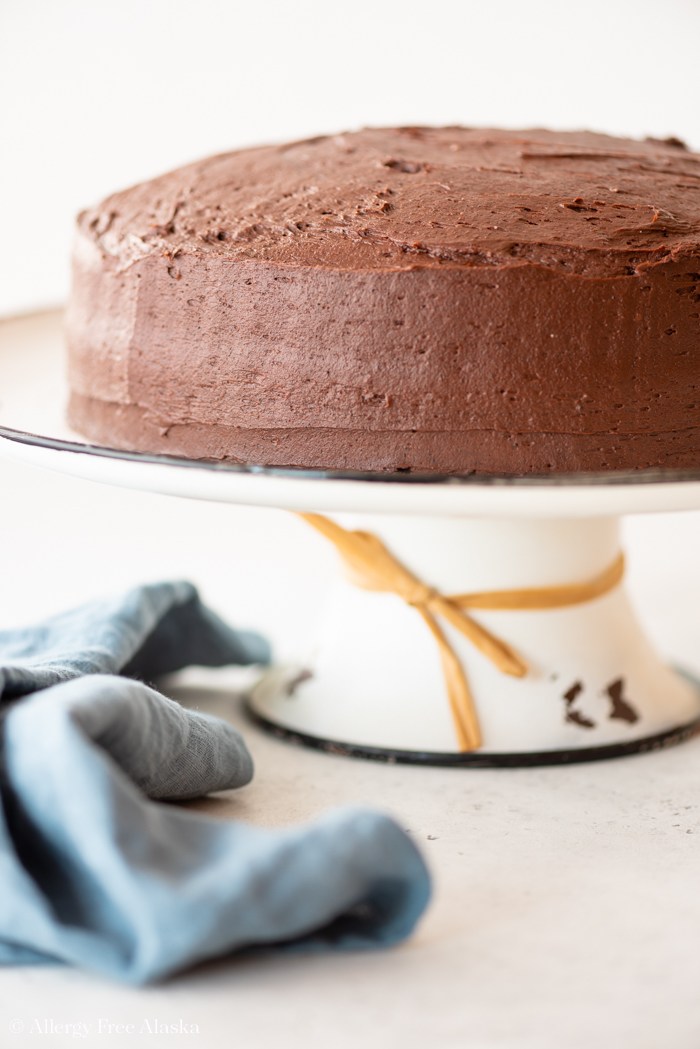 Gluten-Free Chocolate Cake
We recently celebrated my daughter's 16th birthday, and I made this gluten-free dairy-free cake for our extended family party. The feedback I received from our family and friends was overwhelmingly positive. Everyone loved it, and said it was some of the best chocolate cake they've ever had.
My niece told me, "I don't like cake, Aunty Mēgan, but I always love yours."
Talk about making a girl feel good!
The Secrets To Preventing Dry Cake
Use Key Moisture-Rich Ingredients
There are a few key ingredients I use in this chocolate cake recipe to produce such a super moist, but light and tender crumb. I'll start with the most obvious ingredient first:
Olive Oil– Like most cake recipes, this gluten-free chocolate cake recipe needs fat. Olive oil is light tasting, and adds the perfect amount of silky-smoothness to the cake.
Canned Coconut Milk (Full Fat)– Coconut milk is rich in flavor and high in fat, just like buttermilk, yogurt, or sour cream, which you often see in cake recipes that aren't dairy-free. Many other gluten-free chocolate cake recipes call for a dairy-free milk of some kind, but most are too thin, and too low-fat to aid in producing moisture-rich texture.
Unsweetened Apple Sauce– Apple sauce is such a wonderful way to add moisture, without adding additional fat.
Watch Your Baking Time
Don't Over Bake– The trick is to pull your cakes out of the oven as soon as they are set/finished baking, so closely watch them the last few minutes of baking. I like to test doneness by using my pointer finger to gently press the middle of each cake. If the cake is somewhat firm and springy, it's done. If your finger makes an indention or comes away with batter on it, the cake is not done.
Gluten-Free Dairy-Free Chocolate Cake Substitutions
Each ingredient called for in this recipe is used for a specific purpose. If I think a possible substitute might work, I've listed it below, otherwise, if you make any adjustments, I can't guarantee your results. Have a question? Don't be afraid to leave me a comment below!
Tapioca Starch, Sorghum Flour, Brown Rice Flour– It is very rare that I use a gluten-free all purpose flour mix in any of my recipes. This specific gluten-free starch and flours work best in this recipe. It is possible that millet flour may work well as a substitute for the brown rice flour, but I haven't tried it myself.
Organic Cane Sugar– You can substitute with regular, non-organic sugar.
Unsweetened Cocoa Powder– I use a high-quality baking cocoa like Rodelle or Anthony's brand.
Xanthan Gum– Xanthan gum is vital to the success of this recipe, as it binds everything together. You might be able to substitute guar gum, but I haven't tested it.
Eggs– I have not made this cake without eggs, but I feel like it might work well without them (because there's only 2!). I would use chia eggs as a substitute (1 tablespoon chia meal + 3 tablespoons hot water = 1 chia egg). Just remember you need to double the chia egg recipe because you're replacing 2 eggs!
Olive Oil– Melted coconut oil or vegetable oil would work well too.
Coffee– You can use caffeinated coffee or decaf, but if coffee isn't an option, you can use hot water instead.
How to Make Gluten-Free Chocolate Cake
Prep your cake pans (I use 9-inch pans for this recipe). It's very important you oil the cake pans AND line them with parchment paper. This will prevent any sticking or ripping in your cakes, and will make removing the cakes from the pans a breeze.
Always sift your dry ingredients. Cocoa powder, baking powder, and baking soda can all be very lumpy, and not all the lumps will get worked out with whisking.
In a separate mixing bowl, combine the wet ingredients (except for the coffee, that's added in last).
Pour the wet ingredients into the dry, and mix for 2-3 minutes, until the batter is shiny and smooth.
Brew a killer cup of strong hot coffee. Slowly pour the coffee into the batter while mixing constantly. Continue to mix until the coffee is completely incorporated.
Bake. Cool. Frost. Devour.
How To Store Gluten-Free Cake
Most dairy-free cakes are fine for several days stored at room temperature, as long as they are properly covered (plastic wrap, a cake stand with a cover, etc.). UNLESS you live in a climate where your kitchen is very hot and humid; if this is the case, definitely store your cake in the refrigerator. Also, if you decide to use a fresh fruit topping/filling or another dairy filling (something with butter or mascarpone, heavy whipping cream, etc.), please store your cake in the refrigerator.
Bring a refrigerated cake out 30 minutes prior to serving to warm up to room temperature.
Other Gluten-Free Cake Recipes:
Gluten-Free Coffee Cake
Gluten-Free Lemon Blueberry Bundt Cake
Gluten-Free White Cake from Barefeet in the Kitchen
Gluten-Free Strawberries & Cream Cake from Cupcakes and Kale Chips
Gluten-Free Chocolate Cake Recipe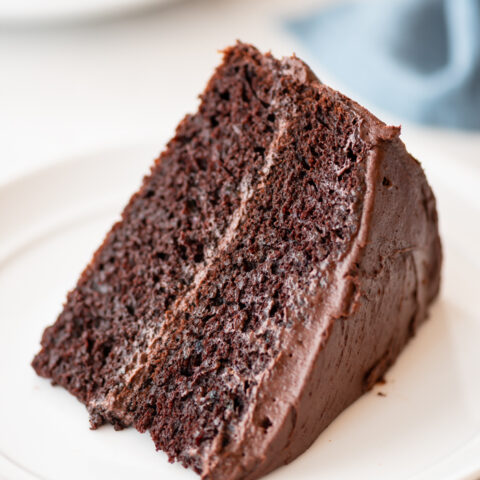 Gluten Free Chocolate Cake
Yield:
One 9-inch layer cake
Total Time:
2 hours
45 minutes
A sinfully rich gluten-free chocolate cake topped with luscious, silky smooth dairy-free chocolate frosting. This gluten-free cake is so tender and moist, you'll quickly find yourself (and your guests!) going back for seconds and fighting for the last piece! 
Ingredients
FOR THE CHOCOLATE CAKE:
1 cup tapioca starch
½ cup sorghum flour
½ cup brown rice flour
1 ½ cups organic cane sugar
¾ cup unsweetened cocoa powder
1 ½ teaspoons baking powder
1 teaspoon baking soda
1 teaspoon xanthan gum
½ teaspoon sea salt
1 cup canned coconut milk (full fat)
2 large eggs
½ cup olive oil
¼ cup unsweetened apple sauce
1 ½ teaspoons vanilla extract
¾ cup strong hot coffee
FOR THE CHOCOLATE FROSTING:
1 lbs. organic powdered sugar
¾ cup unsweetened cocoa powder
¾ cup palm shortening
½ teaspoon vanilla extract
⅓-1/2 cup cold water
Instructions
TO MAKE THE CHOCOLATE CAKE:
Preheat oven to 350 degrees (F). Generously grease and line two 9-inch cake pans with parchment paper.
In a large mixing bowl, sift together the tapioca starch, sorghum flour, brown rice flour, organic cane sugar, unsweetened cocoa powder, baking soda, baking powder, xanthan gum, and sea salt.
In a separate mixing bowl, whisk together the canned coconut milk, eggs, olive oil, unsweetened apple sauce, and vanilla extract.
Pour these wet ingredients into the dry (but not the coffee - you'll add that at the very end), and mix at medium speed for 2-3 minutes, stopping the mixer and wiping down the sides of the bowl with a spatula as needed. The cake batter should look shiny and silky smooth.
Very carefully, with the mixer on low speed, gradually add in the hot coffee. Stop the mixer and scrape down the sides of your mixing bowl again with a spatula. Mix again on medium for 20 seconds.
Distribute the cake batter evenly between the two prepared cake pans and bake for 20-28 minutes, or until a toothpick, when poked into the middle of the cake rounds, comes out mostly clean (a few loose crumbs are okay).
Let the cakes cool for 10 minutes in the pans before removing and placing on wire racks. Cool completely before frosting.
TO MAKE THE CHOCOLATE FROSTING:
Using and electric mixer, combine the organic powdered sugar, unsweetened cocoa powder, palm shortening, vanilla extract, and ⅓ cup cold water. Mix on low for 30-60 seconds.
If the frosting is too thick, add more water, teaspoon by teaspoon, until it reaches the desired consistency.
Mix for 3-5 minutes on medium-high, until the frosting is smooth, light, and fluffy.


Notes
Substitutions:
Coffee- If you can't do caffeine, feel free to use decaf. Or if you need to omit the coffee altogether, use hot water.
Recommended Products
We are a participant in the Amazon Services LLC Associates Program, an affiliate advertising program designed to provide a means for us to earn fees by linking to Amazon.com and affiliated sites.
*Did you make this gluten-free cake? Please give it a star rating and leave an honest review below!
Don't forget to snap a pic and tag me on Instagram @allergyfreeak and #allergyfreealaska with your gf cake recipe pics!