Temp: 58 (F)
Album: Sam Smith – In the Lonely Hour
Craving: A glass of Marietta Old Vine Red & my pjs
We cleaned out the garage this past weekend in preparation for winter here in Alaska. The temps have been dipping to near freezing at night. During the summer months we park our cars outside in the driveway to make room for toys and projects, but in the winter months we park in our heated garage.
It's convenient not to have to scrape ice off the windshield, or brush the snow off your car while freezing your buns off. I just can't believe it's already September and winter is on its way.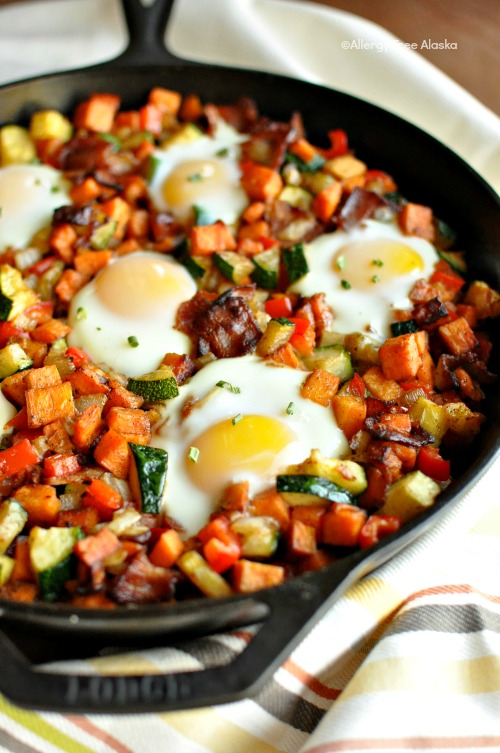 The drop in temps definitely has me craving comfort foods, and on the top of my comfort foods list is all types of breakfast food. Like bacon. I love bacon.
Other gluten-free bacon recipes I know you'll love:
Bacon Wrapped Dates Stuffed with Goat Cheese
Bacon Wrapped Pork Tenderloin with Apple Chutney Stuffing
Bacon Chicken from Shirley of Gluten Free Easily
Chocolate Covered Bacon from Wendy of Around My Family Table
Bacon Mac and Cheese (also dairy free) from Laura of Petite Allergy Treats
You're welcome.  😉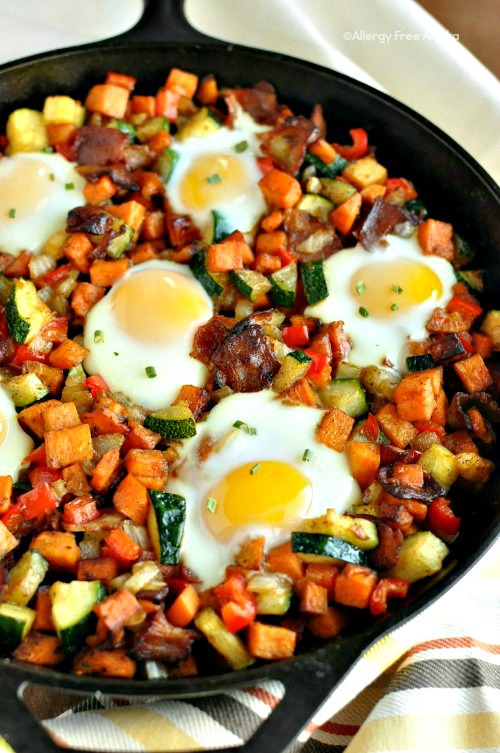 As a mom, I have a great appreciation for one-pan meals, especially ones that are full of healthy proteins and lots of veggies.
Thankfully, this Sweet Potato Breakfast Skillet with Bacon isn't just for breakfast. It's my go-to recipe for a hearty evening meal. The sweet and salty combination of the sweet potatoes and bacon is absolutely addicting. I find myself wanting more even after I'm full; it's that good – especially with the ooey-gooey egg yolks.
BUT don't worry! If you don't care for runny egg yolks you can easily cooks your eggs completely through – just to your liking. 
Want toast to go with it? Try my Gluten & Rice-Free Multigrain Bread or Gluten-Free Oatmeal Millet Bread. 
All my love,
Megan 
Sweet Potato Breakfast Skillet with Bacon
Serves:
4 generous servings
Ingredients
12 ounces of bacon, cut into 1-inch pieces
Additional bacon fat, lard, ghee, or coconut oil
5 cups diced sweet potatoes (about a 1/2 inch dice)
4 cups diced zucchini
1 cup chopped onion
1 red bell pepper, chopped
6 large eggs
Black pepper to taste
Instructions
In a 12-inch cast iron skillet (I use and recommend this pan), cook the bacon pieces over medium-low heat until crisp (cooking the bacon at a lower temperature will render more fat).
Use a slotted spoon to remove the cooked bacon from the pan. Set aside. There should be enough rendered bacon fat to coat the entire bottom of the skillet, about 1/8 inch deep. If your bacon didn't render this much fat (it can vary from brand to brand), add additional bacon fat, lard, ghee, or coconut oil to your skillet until there is 1/8 inch of fat.
Preheat oven to 400 degrees (F).
Increase heat to medium-high and carefully place the diced sweet potatoes in the hot oil. Cook the sweet potatoes without stirring until the bottom of the cubes start to turn golden brown (this can take several minutes). Stir and cook until the cubes just start to soften.
Increase heat to high and add the zucchini, onion, and bell pepper to the skillet. Cook until the vegetables are just starting to soften.
Stir in bacon pieces. Remove from heat.
Make 6 wells in the potato and veggie mixture; break one egg into each well.
Place skillet in the oven and bake for 9-14 minutes, or until the eggs are set. Serve immediately.
Recipe Notes from Megan
You can place a lid on your skillet prior to baking to help the eggs cook faster (and more thoroughly if you don't care for runny eggs), but it isn't required.

You can easily swap out the zucchini in this recipe for whatever veggies you'd like.
This post may contain affiliate links which I may receive a small commission from (without any additional costs to you). The money earned from these commissions helps me maintain this website. Thank you for your support in this way!