These homemade soft and Fluffy Gluten Free Pancakes will be the highlight of your breakfast table. They are easy to make, and no one will every know they are also dairy-free.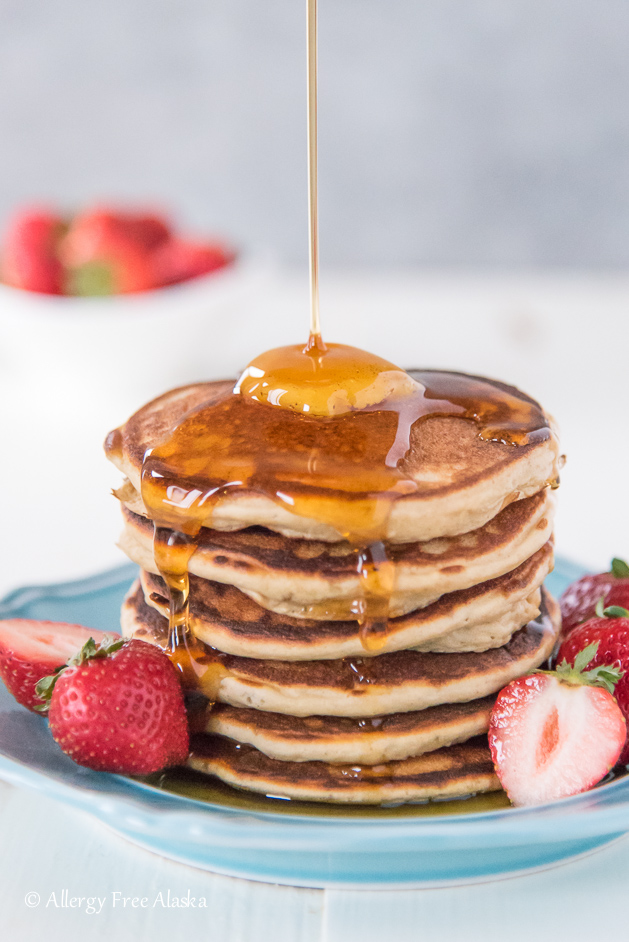 The ultimate family breakfast (or dinner): Fluffy Gluten-Free Pancakes!
My family loooooovvvveees pancakes. Like seriously loves. Breakfast, lunch, dinner… they don't care when I make them, as long as they get to eat them.
While I don't make these Fluffy Gluten-Free Pancakes all the time, I do make them on special occasions. My favorite thing to do is get up before my kids do; the smell of pancakes frying always gets them out of bed!
Who doesn't like getting out of bed to the smell of pancakes?!

My girls think these Fluffy Gluten-Free Pancakes taste like vanilla cake. 🙂  Our favorite way to eat them is with a bit of ghee and pure maple syrup, but you can top them with whatever you like.
This batter will also stand up to a slew of mix ins: chocolate chips, blueberries, raspberries, mashed bananas, pumpkins puree, etc.  Sky is the limit for this recipe, so please have fun experimenting!
I like to cook these on my Lodge Cast Iron Griddle. but if you don't have a gas range (like I do), I recommend using an electric griddle like this one.

Other gluten-free breakfast recipes to check out:
Gluten Free Almond Joy Pancakes from What the Fork food blog
Sweet Potato Breakfast Skillet with Bacon from Allergy Free Alaska
Gluten Free Buckwheat Buttermilk Pancakes from Faithfully Gluten Free
Vegan Banana French Toast from Allergy Awesomeness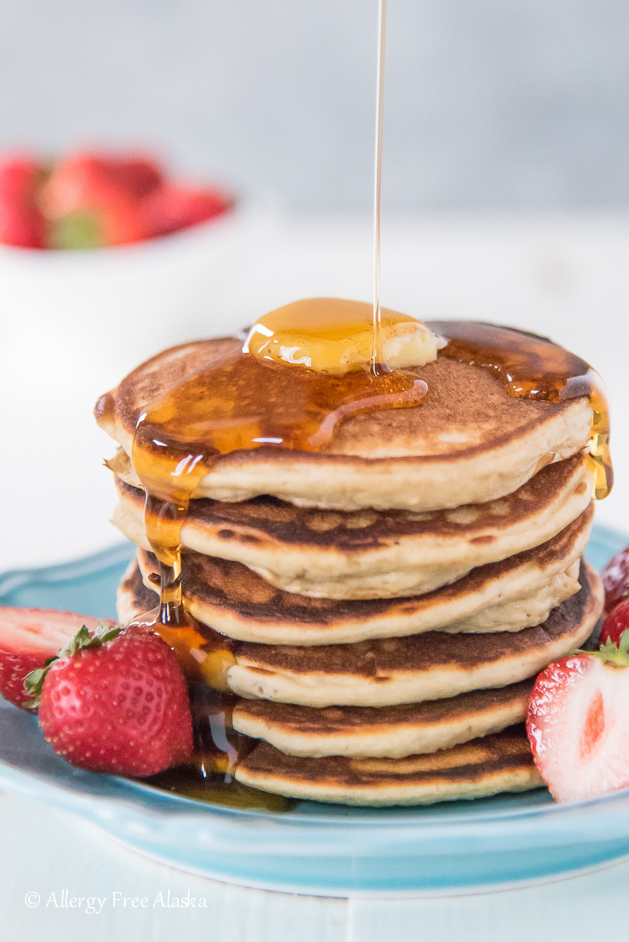 Fluffy Gluten Free Pancakes
Author:
Megan Ancheta, Allergy Free Alaska LLC
Instructions
Whisk all of the dry ingredients together in a large-sized mixing bowl.
Add in the vanilla, honey, and dairy-free milk. Mix until smooth, then beat in the eggs.
Fry pancakes in a bit of oil in a preheated pan or griddle over medium heat. Just like normal pancakes, these bad boys will bubble when they are ready to be flipped.
Top with pure maple syrup and enjoy!
Recipe Notes from Megan
**The almond meal helps add to the flavor and texture of the pancakes; however, it can be left out if almonds cannot be tolerated. (I do highly recommend using it though, if you can!)

If you double the recipe, only 1 tablespoon of baking powder is needed, not 4 teaspoons.
We are a participant in the Amazon Services LLC Associates Program, an affiliate advertising program designed to provide a means for us to earn fees by linking to Amazon.com and affiliated sites.