Decadent maple syrup and sweet dates combine to make a smooth and creamy filling for these Vegan Paleo Pecan Pie Bars. Add some nutty chopped pecans, and a delicious shortbread crust – it's a match made in heaven!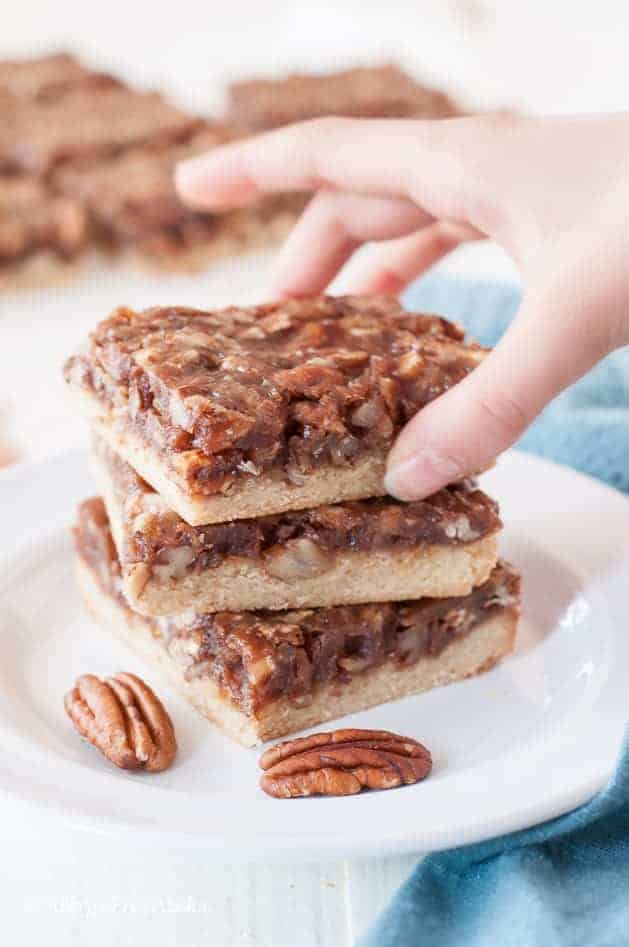 Can you believe it's the week of Thanksgiving?! I'm sitting here wondering where in the world the time has gone. Next thing we know it's going to be Christmas!
But enough of that.  😉
Ever since I created my Guilt-Free Pecan Pie Cookies, and received such awesome feedback from my readers on them (You all are amazing! I'm so happy all of you loved them!), I've been wanting to modify the recipe to turn it into bars. So that's what I finally did.
You're going to love these!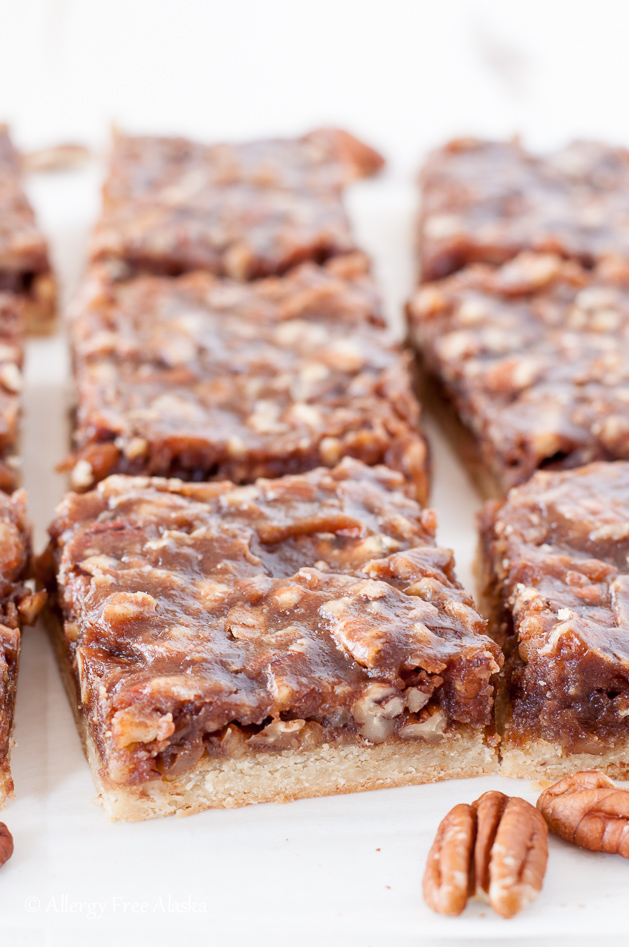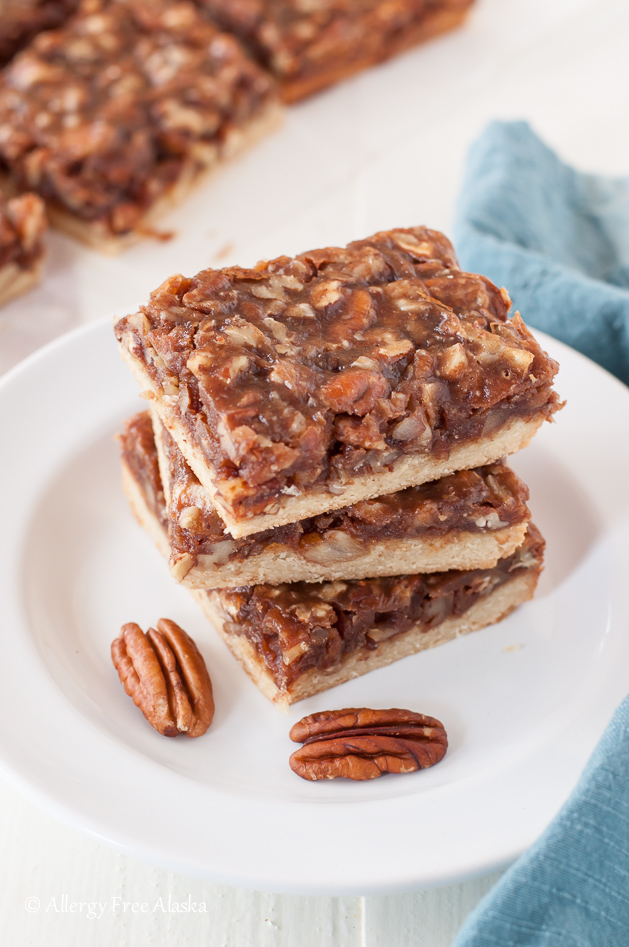 These Vegan Paleo Pecan Pie Bars are super, super decadent. The dates and the maple syrup make the perfect heavenly filling that mimics a traditional pecan pie.
If I didn't know any better, I would never know these bars are completely egg-free, let alone grain-free and refined sugar-free.
The delicious pecan pie filling sits on top of a delicious shortbread base. I definitely will use this shortbread base for other bar recipes in the future. It turned out exceptionally well, and everyone loved it.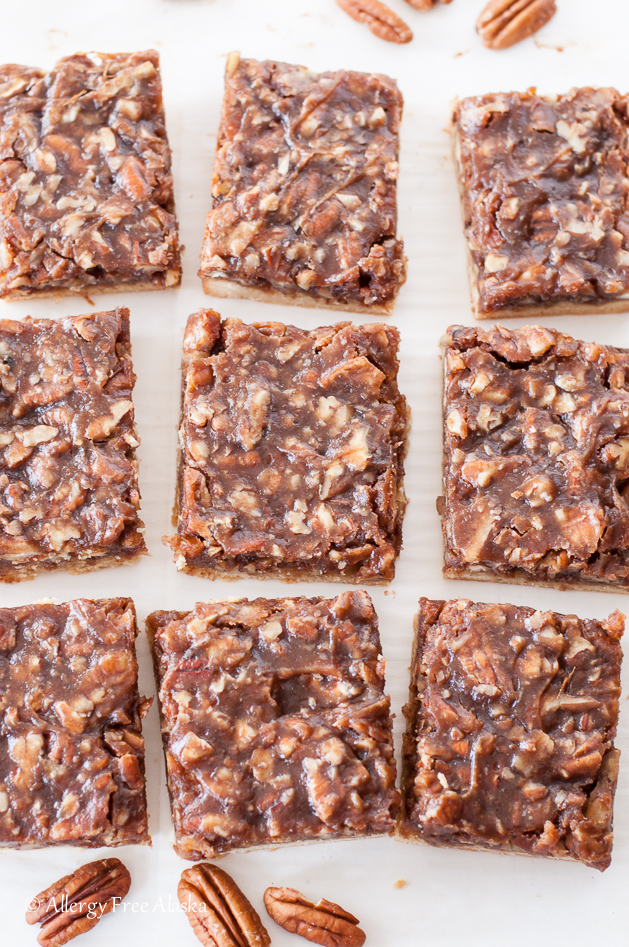 The best part about recipe testing this recipe? Getting to share batch #1 with friends. They all enjoyed them and couldn't wait for me to post the recipe!
I hope you all have a wonderful and safe Thanksgiving.
Love you all!
Megan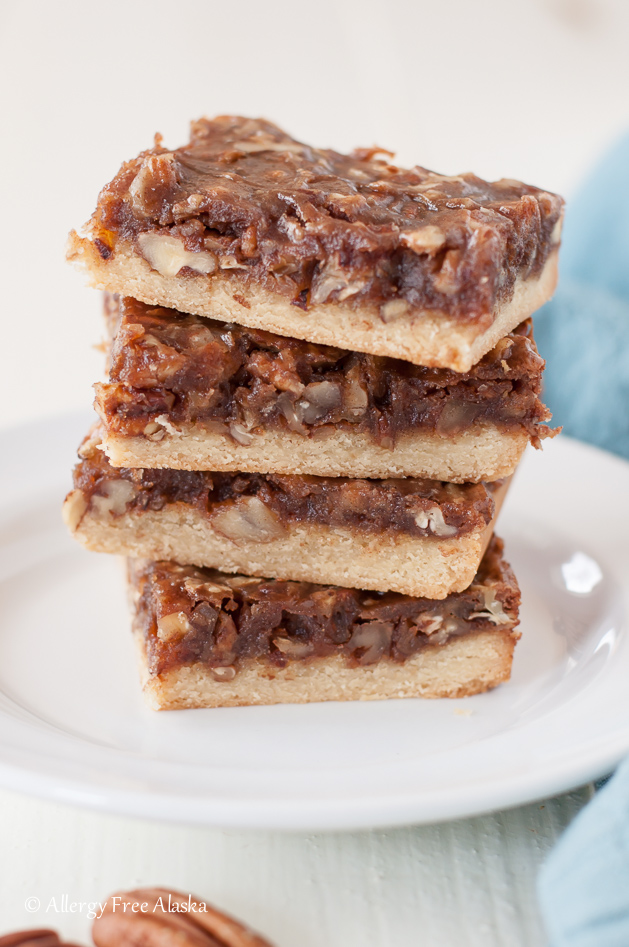 Vegan Paleo Pecan Pie Bars
Author:
Megan Ancheta, Allergy Free Alaska LLC
Ingredients
For the shortbread base:
For the filling:
1/2 cup chopped dates (packed into the measuring cup)
1/2 cup maple syrup
6 tablespoons coconut oil
2 tablespoons almond milk
1/8 teaspoon sea salt
2 cups chopped pecans
Instructions
To make the shortbread base:
Preheat oven to 350 degrees (F). Lightly grease a 9x9" square baking pan (this is my favorite pan to use) and then line with parchment paper.
In a large mixing bowl, whisk together the blanched almond flour, sea salt, and baking soda.
Add the coconut oil, maple syrup, almond milk, and vanilla extract. Mix well.
Place the dough in the baking pan and use your hands or a small spatula to press the dough evenly over the bottom of the pan. (Or if you have a small pastry roller, like this one, you can use it to spread the dough. I have one similar to this one and I use it a lot.)
Bake for 17 minutes. The crust should just be starting to turn golden brown around the edges. Allow the crust to set/cool for at least 10-15 minutes (or longer) before topping with the filling.
To make the filling:
Cover the chopped dates in 1 cup of hot water and set aside for at least 10 minutes.
In a small saucepan over low heat, combine the maple syrup, coconut oil, almond milk, and sea salt. Stir until the coconut oil is just melted and then remove from heat.
Drain and discard the hot water from the dates, and place the dates in a blender with the saucepan contents. Blend until smooth, pour back into the saucepan (so you don't have to dirty another bowl), and then stir in the chopped pecans.
To assemble & bake:
Immediately spoon the filling onto the prepared shortbread base and use a spatula or the back of a spoon to spread the filling out evenly.
Bake for 16 minutes or until the filling feels like it has set. Cool completely before removing the bars from the pan and enjoying.

We are a participant in the Amazon Services LLC Associates Program, an affiliate advertising program designed to provide a means for us to earn fees by linking to Amazon.com and affiliated sites.