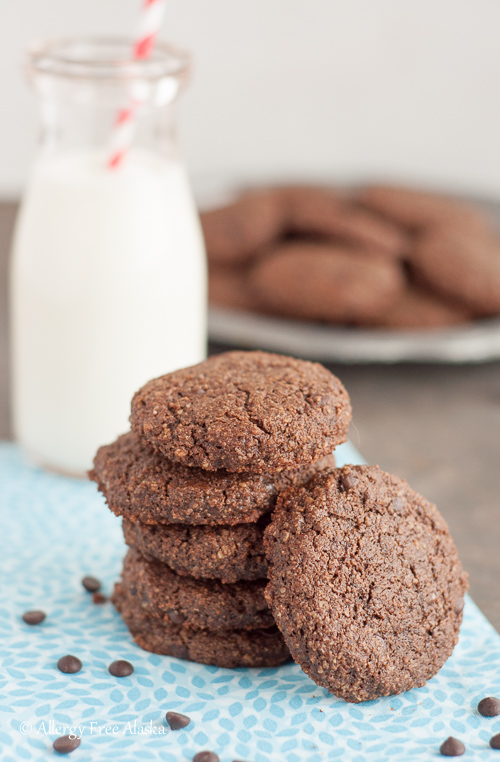 Rich chocolate meets peppermint for the ultimate Paleo indulgence!
I originally developed this recipe for Paleo Double Chocolate Mint Cookies about 2 years ago. Between my SIL and I, we've made them numerous times for get togethers, birthdays, camping trips, and various holidays. We've stuffed them with homemade marshmallows, and even used them for Paleo ice cream sandwiches. Our kids (and the adults for that matter) absolutely LOVE them. They are soft cookies, and the size of them just depends on your preference, but honestly, who can say no to a big soft cookie?! Let alone any type of cookie?!
Other fave Paleo cookie recipes:
Protein Packed Monster Breakfast Cookies (these are also nut-free and vegan)
Guilt-Free Pecan Pie Cookies (also vegan)
Banana Coconut Breakfast Cookies from Gluten-Free Easily (also vegan)
Chocolate Coconut Hazelnut Cookies from Gluten-Free Easily
Ultimate Chocolate Chip Cookies
Big & Soft Ginger Molasses Cookies
One Tip: Don't leave out the peppermint extract – just trust me on this. They aren't nearly as tasty without it. The peppermint extract is what makes these cookies really special. It takes them to whole other level!
Enjoy!
Peace, love & cookies,
Megan (with a long E)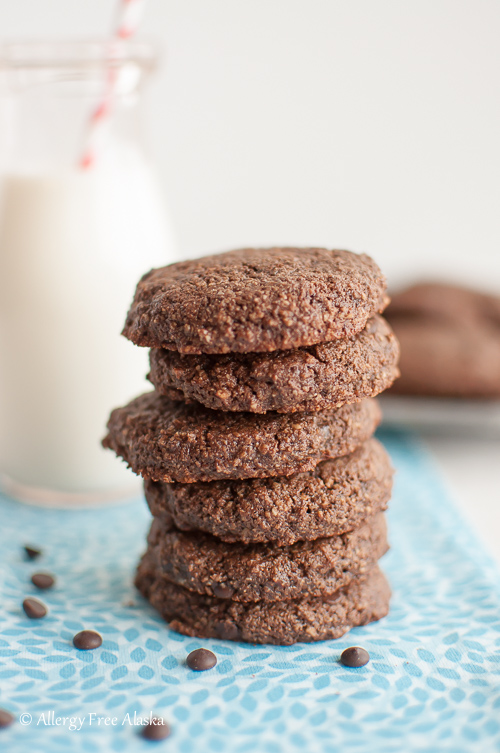 PS – I just thought I would share a few recent product finds that I've tried and highly recommend!
Green Tidings Deodorant
I've been on the hunt for years for a natural deodorant that actually works for my body. I'm one of those people who has previously used clinical strength, that's full of harsh chemicals and nasty ingredients (I know, I know, but it honestly was the only thing that worked!). I've tried lots of different natural brands and they all ended up being a waste. About a month ago I stumbled on the Green Tidings brand of natural deodorant. My husband and I have been using it, and we both agree – we love it, and it works much better than our previous clinical strength (that's now in the trash can! yay!).

Carolina Gold Nuggets Microwave Pork Puffies Bake N Puffs (a.k.a. microwave pork rinds)
I haven't been able to find a brand of pork rinds in our locals stores that are gluten-free, as well as MSG and preservative free. BUT I found these online, and I'm so happy I did!! There are only 2 ingredients: pork, and salt. 😉 It took me a few tries to determine exactly how long I needed to microwave them, as it varies from microwave to microwave (if you don't cook them long enough they remain very hard, hard enough to break teeth), but now that I have the proper time down they pop perfectly every time, and are light, airy, and crunchy like pork rinds are supposed to be. Our whole family loves them (including the dog)!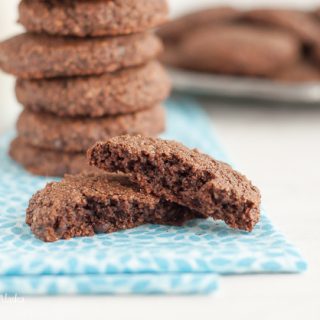 Paleo Double Chocolate Mint Cookies
Instructions
Preheat oven to 350 degrees (F) and line 2 large cookie sheets with parchment paper or silicone liners.
In a large mixing bowl, combine the blanched almond flour, unsweetened cocoa powder, palm sugar, baking soda, and sea salt.
Cut in the coconut oil until the mixture resembles coarse crumbs (or simply mix in the coconut oil if it is melted).
Beat in the eggs, honey, and peppermint extract, and then fold in the chocolate chips.
Use 1 ½ to 2 tablespoons of dough per cookie and drop dough on to the prepared baking sheets (I like using a scooper like this one here). Use wet fingers to flatten the dough to about half an inch thick.
Bake for 9 to 12 minutes, or until the cookies are set and the bottoms are very slightly golden brown (the tops will not brown, so make sure you check the underside).
Let the cookies cool on the baking sheets for a full 10 minutes before transferring to a cooling rack. The cookies are very soft, and will become even more soft stored in an air tight container. I prefer to store them uncovered.
This recipe is linked to
Fat Tuesdays
,
Allergy Free Wednesdays
and
Gluten-Free Wednesdays
.
This post may contain affiliate links which I may receive a small commission from (without any additional costs to you). The money earned from these commissions helps me maintain this website. Thank you for your support in this way!