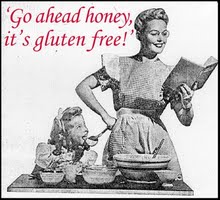 Over the last several weeks, many of you have asked for grain free recipes that do not contain eggs or nuts. So when Shirley of gfe – gluten free easily and All Gluten Free Desserts posted the latest theme for Go Ahead Honey It's Gluten Free (When You're Grain Free and Feel Like A Nut, But Don't Eat Peanuts Or Tree Nuts), I knew it was time to share this recipe with you.
These Protein Packed Monster Breakfast Cookies get their protein from SunButter, coconut, flax and hemp seeds. Hemp seeds have long been regarded for their nutritional value and contain 20 amino acids, including the 9 essential amino acids. I like adding hemp seeds to baked goods, smoothies, and salads for a nutritional boost.
These cookies have a "nutty" flavor and are very filling. Once they cool from being in the oven, they are perfectly crisp on the outside, but nice and chewy on the inside. Just the way I like 'um!
These are kid – and adult approved, making them the perfect cookie for a quick breakfast or snack on the go!
Protein Packed Monster Breakfast Cookies
Yields 16-20 cookies
1 tablespoon flax meal
3 tablespoons boiling water
1 cup SunButter Creamy Sunflower Seed Spread
1/3 cup palm sugar
1/4 cup pure maple syrup
1 teaspoon vanilla extract
1/2 teaspoon baking soda
1/4 teaspoon sea salt
2/3 cup unsweetened & finely shredded coconut (I use Let's Do Organic)
1/3 cup hemp seed
1/4 cup mini chocolate chips (or cacao nibs or carob chips)
1/3 cup desired seeds or raisins, optional
Preheat oven to 350 degrees (F) and line 2 large baking sheets with parchment paper or silicone liners.
Stir together the flax meal and boiling water; set aside and allow it to sit for at least 10 minutes.
Using an electric mixer, cream the SunButter, palm sugar, maple syrup, and vanilla. Beat in the baking soda and sea salt, and then stir in all other remaining ingredients (don't forget the flax meal slurry!).
Roll the dough by heaping tablespoon into balls and place them on the baking sheets spaced about 3 inches apart. Using the tips of your fingers, gently flatten the dough until it is about 1/2 an inch thick.
Bake for 12 to 14 minutes, or until the cookies are turning golden brown at the edges. Leave cookies on the baking sheet to cool.
When the cookies are cool and are firm, transfer them to plate lined with a paper towel (this will help draw out the excess oils from the SunButter. Store the cookies uncovered out on the counter (so the air can get to them). They will crunch up on the outside, but still remain soft on the inside. If you store them in an airtight container, they will retain too much moisture and crumble easily.
Megan's Recipe Notes:
If you can tolerate nuts, you can substitute almond or cashew butter for the SunButter.
If you can tolerate eggs, 1 egg can be used in place of the flax meal slurry.
Thanks to one of my recipe testers, I now know hemp seeds are not permitted in all parts of the world (thanks for the tip, Helen!). If you are one of those who does not have access to hemp seeds, try replacing them with roughly chopped sunflower seeds.
All my love,
Megan

This post contains affiliate links. Allergy Free Alaska, LLC receives a small commission from the sales made through these links. However, we only promote affiliate products we use or support wholeheartedly. The commissions received through your purchases help maintain this site. Thank you for your support!

(Visited 120,351 time, 49 visit today)