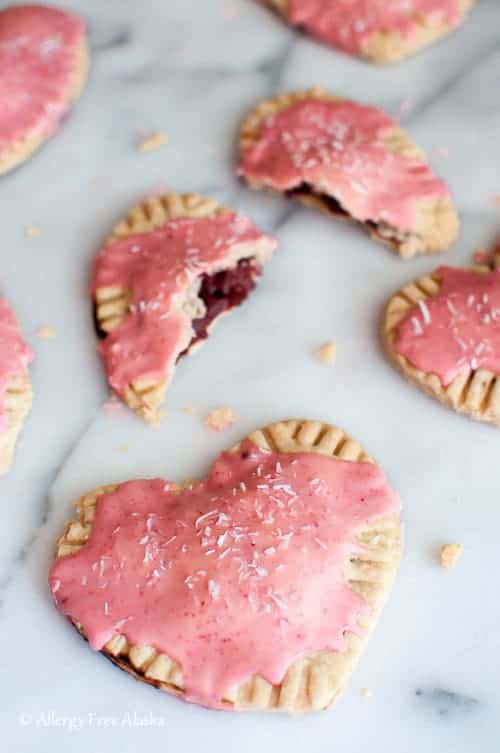 3.14.15 Happy Pi Day!
What better way to celebrate Pi Day than with hand pies, that are made with a perfectly flaky crust, full of strawberry jam, and covered in a sweet glaze (a.k.a. pop tarts)?
Did you ever eat pop tarts as a kid? I did; I liked mine toasted, and then covered in butter. Definitely not the healthiest option for breakfast or a snack. The strawberry flavor was always my favorite. 😉
These Gluten Free Vegan Pop Tarts are my version of that classic strawberry pop tart, just made over to be completely gluten free, vegan, artificial dye free, and definitely lower in sugar than the original.
The crust of these pop tarts is from one of my most popular recipes, my Best Gluten-Free Flaky Pie Crust. I've used this no fail crust to make several types of pie, but my favorites are my Mom's Amazing Gluten-Free & Vegan Apple Pie, and Gluten-Free Pecan Pie (Corn Syrup Free).
It's been another long week, but a good one. Now that I'm working part-time, the days fly by. I almost wasn't sure if this post would make it on the blog for Pi Day. I'm so glad it did! And the girls had a great time helping me make them. More pink… no surprise there! Lots of love to all of you!
Check out these other gluten-free pie recipes from some of my favorite bloggers:
Gluten-Free Peanut Butter Pie from Flippin' Delicious
Grain Free White Chocolate Matcha Pie from The Joyful Foodie
Gluten-Free Coconut Cream Pie from What the Fork Food Blog
4 Gluten-Free Pies from Ivy's Garden Food
Gluten-Free Lemon Meringue from Gluten-Free Mama
Deep Dish Gluten-Free Apple Pie from Raia's Recipes
Gluten-Free Pink Lemonade Pie from The Baking Beauties
Gluten-Free Bananas Foster Cream Pie from The Baking Beauties
Peanut Butter Pie with Chocolate Covered Pretzel Crust from the Baking Beauties
Gluten-Free Chocolate Bar Pie from There is Life After Wheat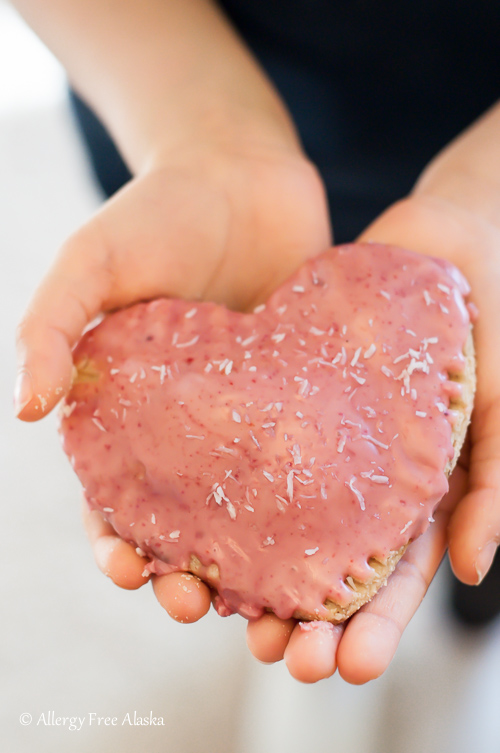 Gluten Free Vegan Strawberry Pop Tarts
Ingredients
For the pop tarts:
For the glaze:
Instructions
Line a large baking sheet with parchment paper, or a silicone liner.
Make the Best Gluten-Free Flaky Pie Crust recipe per recipe directions, and form the dough into a disk.
To roll the dough, lay a piece of parchment paper on a work surface and lightly sprinkle with flour. Place the disk of dough in the middle of the parchment paper, and then place another piece of parchment paper on top of disk. Roll the dough out between the layers of parchment paper, until it is about 1/8 inch thick. Carefully peel off the top piece of parchment paper.
Preheat oven to 400 degrees (F).
Use a 4-inch cookie cutter, whatever desired shape, to cut out 10 pieces of dough. Form 5 pop tarts by placing 1 tablespoon of strawberry jam in the middle of 5 cut out shapes. Leave 1/2 inch of raw dough along the edges of the shape without jam. This is where the pop tarts will be sealed.
Wet your fingers, and outline the 1/2 inch edge of raw dough with a very small amount of water (just enough to get it barely damp). Place another cut out shape on top of the jam. Crimp the edges of the dough together with a fork and place on the prepared baking sheet.
Gather together the remaining pie dough into a ball. If it is too dry to roll out without crumbling, wet your hands, and gently wet the ball of dough. Roll the dough out between layers of parchment paper, until it is about 1/8 inch thick. Cut 2 more pieces of dough, and assemble the remaining pop tart.
Bake for 10 minutes and 400 degrees (F), and then reduce heat to 350 degrees (F), and bake for an additional 15 minutes, or until the pop tarts are just slightly golden. Transfer to a cooling rack and cool completely.
Make the glaze, and use the back of a spoon to spread the glaze out onto the tops of the pop tarts. Sprinkle with unsweetened shredded coconut and let the glaze set.
Recipe Notes from Megan
For a homemade strawberry jam (instead of store bought), combine 20 ounces frozen strawberries (roughly about 5.5 cups) in a medium sized sauce pan with 1/4 cup of water, and 3 tablespoons of coconut sugar. Bring to a boil and then reduce to medium. Simmer for 25-30 minutes, stirring frequently. The jam will continue to thicken as it cools. If the strawberries are too lumpy for your liking, simply puree using an immersion hand blender, or a regular blender (just be careful, it's hot!).
This is what happens when I try to take pictures of my food… our lab, Thor, has to be right in the middle of everything. I made a quick trip into the kitchen to grab something and he quickly moved into place right where I needed to stand to shoot pictures. Silly guy. Doesn't he look bored?!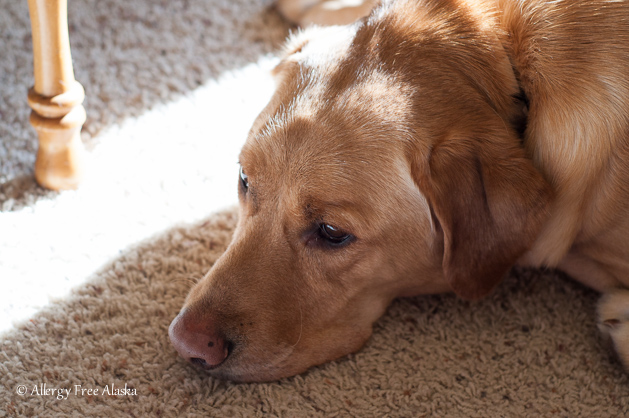 This post may contain affiliate links which I may receive a small commission from (without any additional costs to you). The money earned from these commissions helps me maintain this website. Thank you for your support in this way!  
This recipe is linked to Savoring Saturdays.