These delectable Gluten Free Vegan Pop Tarts are exactly what you'd hope them to be, tender and flakey, yet bursting with strawberry goodness and topped with a sweet glaze that is to die for!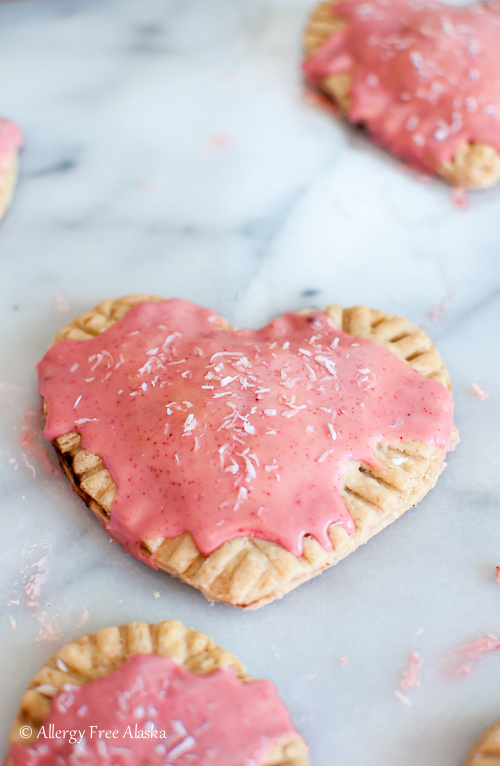 Did you ever eat pop tarts as a kid? I did, I loved them, especially the strawberry ones. Every once in a while I would be able to talk my mom into buying them.
These pop tarts are my version of that classic strawberry pop tart, just made over to be completely gluten free, vegan, artificial dye free, and definitely lower in sugar than the original.
The crust of these gluten free pop tarts is from one of my most popular recipes.
You will love my Best Gluten-Free Flaky Pie Crust recipe. I've used this no fail crust to make several types of pie, but my favorites are my Mom's Amazing Gluten-Free & Vegan Apple Pie, and Gluten-Free Pecan Pie (which is also corn syrup free).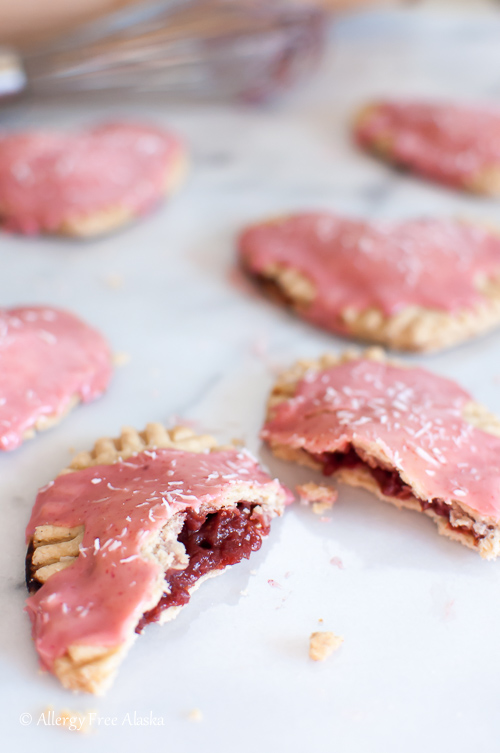 From reader Lynda:
"These made my house smell amazing and when the kids saw them …. knocked it out of the park…" Best Mom Ever "moment. Thank you – they were definitely worth the time to make and decorate, LOL."
I originally developed this gluten free pop tarts recipe for my girls. They were both young when we removed gluten from their diets; so neither one had ever had a pop tart before. It was Valentine's Day, so heart shaped strawberry pop tarts just seemed to be in order! Needless to say, my kids were thrilled with their Valentine's Day treats, and I knew I had to share this recipe with all of you.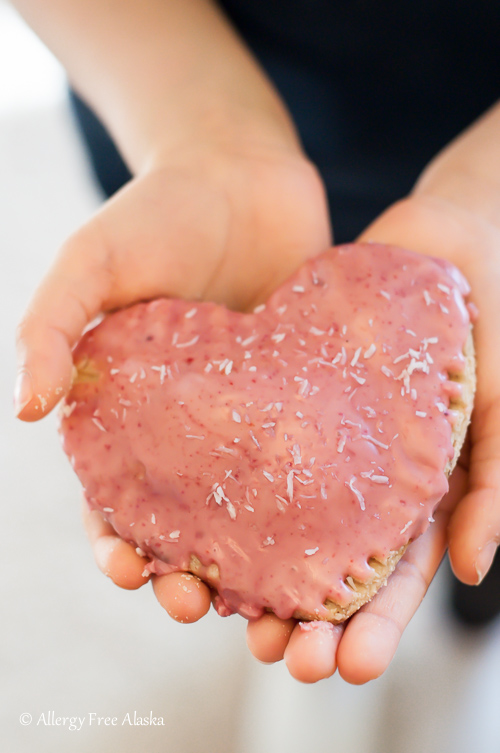 About this gluten free toaster pastries recipe:
I used a homemade strawberry jam as the filling in my pop tarts (recipe below), but you can fill these with nearly any flavor of jam or preserves you like (blueberry, cherry, grape, etc). A chocolate nut butter filling would be wonderful, or even a cinnamon brown sugar variation!
You can make these into whatever shapes you like, I just recommend keeping the shape you choose fairly basic (and at least 4-inches big). If you use an intricate cookie cutter shape (ex: like a moose head with antlers and thin legs), portions of the shape (like the antlers and legs) may rip off and ultimately won't be able to hold any filling.
If you don't have a 4-inch cookie cutter available, grab a ruler and a sharp knife, or a pizza cutter. Simply cut out squares or rectangles in the same size.
Food dye can be used as a substitute for the beet powder in the glaze. I use beet powder because my youngest doesn't tolerate artificial dyes, and I'd rather use a more natural alternative.
While I love making these healthy pop tarts for family, these beautiful pop tarts make wonderful gluten free gifts for friends. Homemade pop tarts are so unexpected; what adult wouldn't like a sweet treat that reminded them of their childhood?
If you want to stick with the heart theme, and are looking for other gluten free Valentine Day treats, try these other super cute gluten free heart shaped desserts:
Gluten Free Cookie Dough Brownie Truffles from Flippin' Delicious
Gluten Free Strawberry Linzer Cookies from Fearless Dining
Gluten Free Conversation Heart Cookies from What the Fork
Homemade Strawberry Jam Recipe:
For a homemade strawberry jam (instead of store bought), combine 20 ounces frozen strawberries (roughly about 5.5 cups) in a medium sized sauce pan with 1/4 cup of water, and 3 tablespoons of coconut sugar. Bring to a boil and then reduce to medium to medium-low. Simmer for 25-30 minutes, stirring frequently. The jam will continue to thicken as it cools. If the strawberries are too lumpy for your liking, simply puree using an immersion hand blender, or a regular blender (just be careful, it's hot!). Wait until completely cool before filling the pop tarts.
Yield: 5 - 6
Gluten Free Vegan Pop Tarts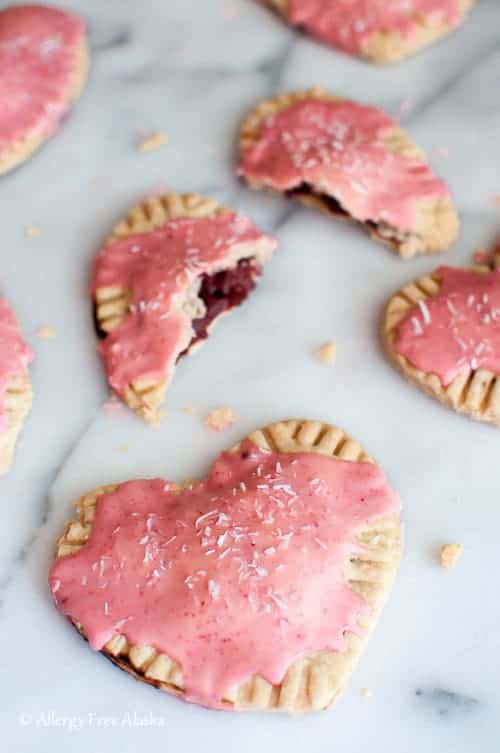 These delectable Gluten Free Toaster Pastries are exactly what you'd hope them to be, tender and flakey, yet bursting with strawberry goodness and topped with a sweet glaze that is to die for!
Ingredients
For the pop tarts:
6 tablespoons strawberry jam (see recipe notes)
For the glaze:
4 teaspoons water
1/4 teaspoon vanilla extract
Instructions
Line a large baking sheet with parchment paper, or a silicone liner.
Make the Best Gluten-Free Flaky Pie Crust recipe per recipe directions, and form the dough into a disk.
To roll the dough, lay a piece of parchment paper on a work surface and lightly sprinkle with flour. Place the disk of dough in the middle of the parchment paper, and then place another piece of parchment paper on top of disk. Roll the dough out between the layers of parchment paper, until it is about 1/8 inch thick. Carefully peel off the top piece of parchment paper.
Preheat oven to 400 degrees (F).
Use a 4-inch cookie cutter, whatever desired shape, to cut out 10-12 pieces of dough (yield may vary). Form 5-6 pop tarts by placing 1 tablespoon of strawberry jam in the middle of 5-6 cut out shapes. Leave 1/2 inch of raw dough along the edges of the shape without jam. This is where the pop tarts will be sealed.
Wet your fingers, and outline the 1/2 inch edge of raw dough with a very small amount of water (just enough to get it barely damp). Place another cut out shape on top of the jam. Crimp the edges of the dough together with a fork and place on the prepared baking sheet.
Gather together the remaining pie dough into a ball. If it is too dry to roll out without crumbling, wet your hands, and gently wet the ball of dough. Roll the dough out between layers of parchment paper, until it is about 1/8 inch thick. Cut 2 more pieces of dough, and assemble the remaining pop tart.
Bake for 10 minutes and 400 degrees (F), and then reduce heat to 350 degrees (F), and bake for an additional 15 minutes, or until the pop tarts are just slightly golden. Transfer to a cooling rack and cool completely.
Make the glaze, and use the back of a spoon to spread the glaze out onto the tops of the pop tarts. Sprinkle with unsweetened shredded coconut and let the glaze set.