Weather: overcast & cloudy, 17 degrees (F)
Not food related, but are you a fan of Despicable Me? Or are your kids?
Some good family friends recently bought our girls Despicable Me 2 Monopoly. What a HOOT that game is! I highly recommend it for kids; it's much easier to play and learn than the real Monopoly game. It includes all the beloved Despicable Me characters and super cute "Chance" cards like "Fart gun attack! Go to the next unowned space and buy it to dodge the stink!"
Anyways, we all are enjoying it and I just wanted to share; it's perfect for fun family time!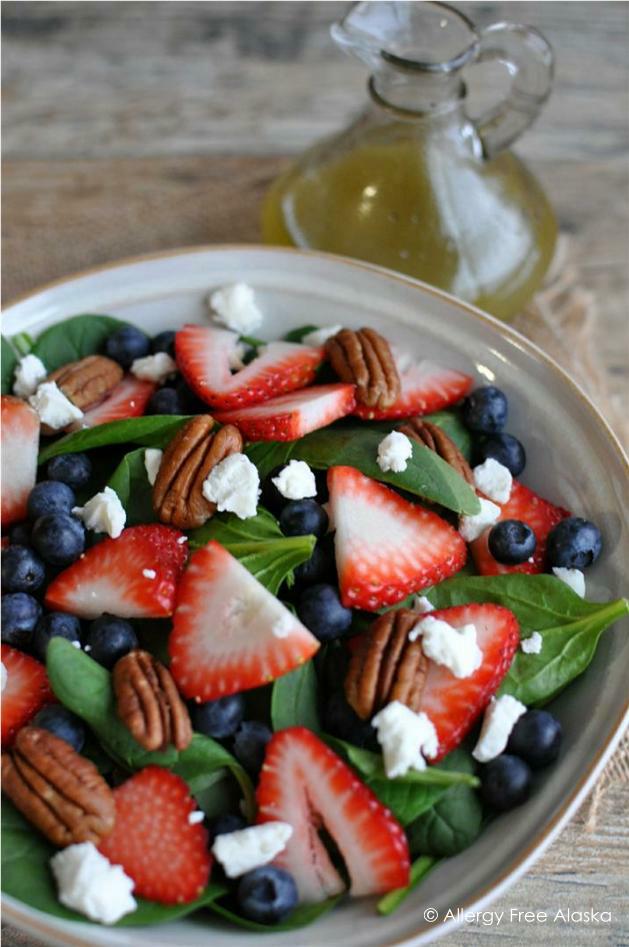 I've been experiencing a bit of Alaska cabin fever, or maybe you would call it summer fever.
The days are still dark, long, and cold, and will be for another few months. My body longs to feel sunlight on my face and warmth in my bones. Since none of that is possible anytime soon, this weekend I decided I needed (what I refer to as) "bright sunshine soul food."
I came across some beautiful juicy blueberries and strawberries in the grocery store (which is a litte rare this time of year in Alaska) and knew exactly what I wanted to make. This light and refreshing Berry Spinach Detox Salad with Poppy Seed Dressing was perfect. Just what I needed, although my girls tried their best to eat all of the berries and goat cheese off of the salad and avoided ALL of the spinach.
Now why would a couple of crazy kids ever do that?! 😉
Whether you need a little "bright sunshine soul food" to boost your mood, or you're looking for real whole food recipes to help your body detox after the sugar-laden holiday season, you will LOVE this salad. It's incredibly delicious and full of real detoxifying foods like baby spinach, blueberries, and raw unfiltered apple cider vinegar.
Looking for other salads that are great for detoxifying? Try this Raw Beet, Carrot & Apple Salad with Ginger Lime Dressing.
Enjoy!
xoxo,
Megan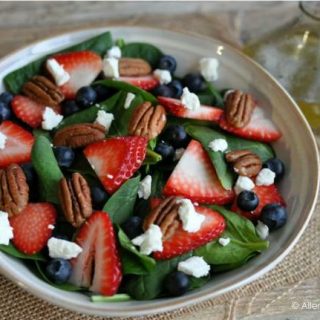 Berry Spinach Detox Salad with Poppy Seed Dressing
Ingredients
For the Berry Spinach Detox Salad:
6 ounces fresh baby spinach
6 ounces fresh blueberries
6-8 whole strawberries, hulled and sliced
½ cup whole pecans or pecan halves
1-2 ounces soft goat cheese (chevre), crumbled (omit for vegan)
For the Poppy Seed Dressing:
2-2 ½ tablespoons raw & unfiltered apple cider vinegar
1-1 ½ tablespoons raw honey (or maple syrup for vegan)
2 ½ teaspoons poppy seeds
⅓ cup olive oil
Sea salt & fresh ground black pepper to taste
Instructions
For the Berry Spinach Detox Salad:
In a large salad bowl, layer the spinach, blueberries, strawberries, pecans, and goat cheese. Cover and refrigerate until ready to serve.
For the Poppy Seed Dressing:
In a medium sided mixing bowl, mix together the apple cider vinegar, honey, and poppy seeds.
Slowly drizzle in the olive oil while continuously whisking.
Season with sea salt & fresh ground black pepper to taste.
Toss the salad with the dressing just before serving.
Notes
The Poppy Seed Dressing should be made to taste, which is why I include the measurements I do. Some will prefer it less sweet & tangy, while others will prefer the opposite. Start with the lowest measurement, and then work your way up from there if desired.
Want to spice it up? Try adding a little ground cayenne red pepper to the Poppy Seed Dressing.