Beets are not something I would normally purchase, so working with them was a new experience (but a good one!). After a quick search online, I found that beets are highly nutritious (especially when eaten raw) and contain antioxidant, anti-inflammatory, and detoxification properties. They've even been thought to have anti-cancer benefits.
All the more reason to eat your beets, kids!!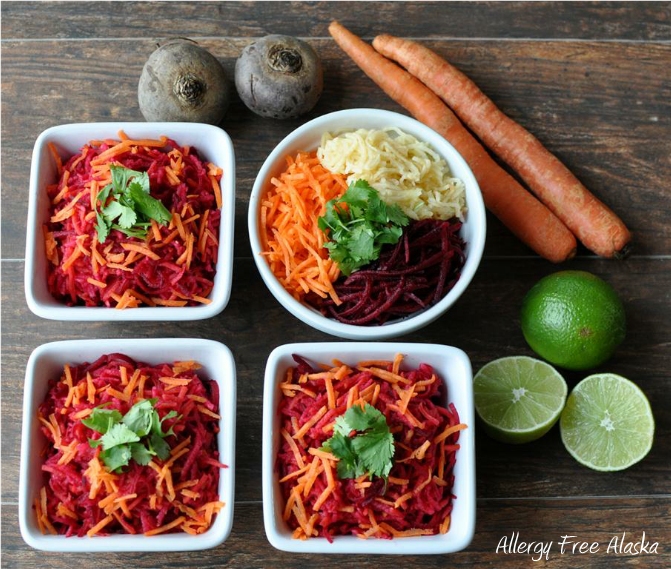 This Raw Beet, Carrot & Apple Salad with Ginger Lime Dressing is by far, one of my favorite salad. It is very refreshing, and the ginger and lime balance out the sweetness of the carrots and apple perfectly. Everyone who has tried it (even those who openly don't like beets) have liked this salad and asked for the recipe!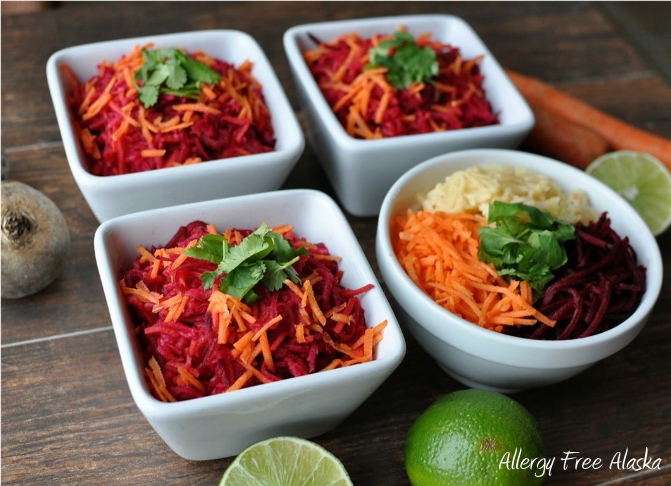 Raw Beet, Carrot & Apple Salad with Ginger Lime Dressing
2013-02-28 20:43:14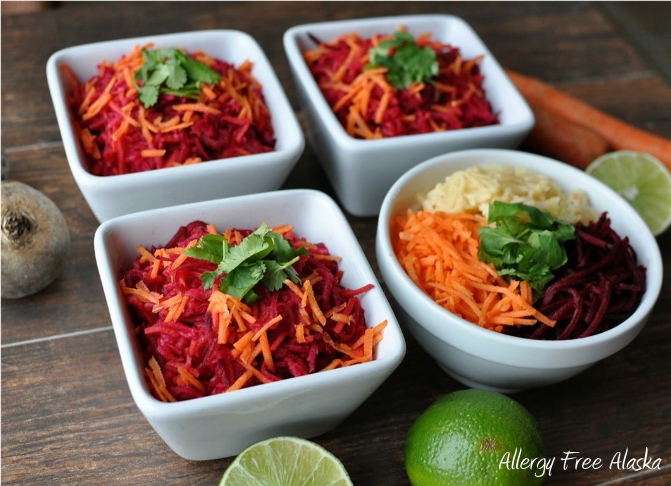 Serves 8
Ingredients
3 – 4 tablespoons lime juice, fresh squeezed (or lemon)
1 tablespoons honey (or coconut nectar if you are vegan)
1 tablespoon fresh ginger root, finely grated
1-3 tablespoons extra virgin olive oil
1 3/4 cup beet roots, grated
1 3/4 cup carrots, peeled and grated
1 3/4 cup Braeburn apple, peeled and grated
Instructions
To make the ginger lime dressing, combine the lime juice, honey, and ginger in a small mixing bowl. Whisk in the olive oil and set aside.
In a large bowl, combine the grated beets, carrots, and apple.
Toss in the dressing and refrigerate until ready to serve.
Allergy Free Alaska https://www.allergyfreealaska.com/
Enjoy!
Megan
This recipe is also linked to Raw Food Thursday, the Virtual Whole Food Potluck, Allergy Free Wednesday, Slightly Indulgent Tuesday, Simple Lives Thursday, and the Gluten Free Homemaker.
(Visited 45,843 time, 9 visit today)