These Tuna & Broccoli Quinoa Patties with Lemon Caper Sauce are the perfect finger food for fast eating! You won't even be able to tell that they are gluten-free and grain-free!
Do you ever get stuck in a dinner rut? Where you feel incredibly uninspired to prepare meals, so you end up fixing the same things over and over again?
That's been me this past week, although fortunately it doesn't happen often. Oddly enough, this recipe for Tuna & Broccoli Quinoa Patties with Lemon Caper Sauce was a direct by product of my dinner rut. I'd finally had it and wasn't going to settle for fixing an old standby… again.
When I set out to create these quinoa patties my refrigerator was running on empty.
I wasn't going to the store anytime soon, so I wanted to use what I had on hand. A green vegetable was logical (thank goodness for the last remaining broccoli head ALL the way in the back of the fridge), but I also wanted to include another protein, so I choose tuna.
I thought the results were wonderful, but my opinion was confirmed when the critics (a.k.a my children) taste tested them. They gobbled the patties up and kept asking for more. The girls even went as far as asking to have them for breakfast the following morning.
Score one for mom!!
On its own, quinoa is packed with healthy protein, fiber, and other minerals, but combined with tuna, broccoli, eggs, and almond meal, these Tuna & Broccoli Quinoa Patties are nutrient powerhouses.
Breakfast, lunch, dinner, snack… you decide when to eat them, but these little babies are versatile, portable, kid-friendly, and are TO DIE FOR dipped in Lemon Caper Sauce (again, just ask my girls about the sauce… they love it!).
Enjoy these!
All my love,
xo Megan
Other gluten-free patty recipes to enjoy:
Grain-Free Salmon Cakes with Old Bay Aioli from Tasty Yummies
Gluten-Free Teriyaki Salmon Cakes from Gluten-Free Palate
Slammin' Alaska Salmon Burgers with Garlic Dill Aioli from Allergy Free Alaska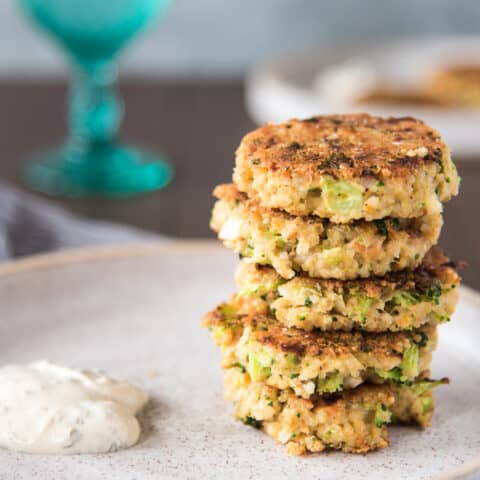 Tuna & Broccoli Quinoa Patties
Yield:
12 three-inch patties
Ingredients
For the Lemon Caper Sauce:
½ cup mayonnaise
1 tablespoon capers, minced
1 tablespoon Dijon mustard
2 teaspoons fresh squeezed lemon juice
½ teaspoon dried parsley
¼ teaspoon garlic powder
For the Tuna & Broccoli Quinoa Patties:
½ cup uncooked quinoa
1 cup diced broccoli
½ cup minced onion
1 cup drained & flaked tuna or salmon (about a 7 ounce can)
½ cup blanched almond flour or gluten free bread crumbs
2 garlic cloves, minced
¼ teaspoon dried dill
Sea salt & fresh ground black pepper
2 large eggs
1-3 tablespoons coconut oil, for frying
Instructions
To make the Lemon Caper Sauce:
In a small mixing bowl, combine all of the ingredients and refrigerate in an air tight container until ready to serve.
To make the Tuna & Broccoli Quinoa Patties:
Cook the quinoa according to package directions, or use The Better Way to Cook Quinoa method. Drain and cool.
In a medium sized skillet, sauté the broccoli and onions in 1-2 teaspoons of coconut oil over medium heat until they are beginning to turn soft, about 5 minutes. Remove from burner and cool.
In a large mixing bowl, combine the quinoa, broccoli and onions, tuna, almond flour, garlic, and dill. Season with lots of sea salt and fresh ground black pepper to taste.
Stir in the eggs.
Warm a tablespoon of coconut oil in a 10-12 inch skillet (this is the one I recommend) over medium heat.
Pack a ¼ cup metal measuring cup with patty mixture and carefully ease the mixture out into the skillet. Use the back side of a spatula to press the mixture into a three inch patty, about ½-3/4 inch thick.
Reduce temperature to medium low, and fry the patties for 3-5 minutes on each side, or until they are golden brown. Keep adding more coconut oil to the pan as needed. Serve warm or at room temperature with the Lemon Caper Sauce.
Notes
I like having a good amount of coconut oil in my frying pan, about a tablespoon, because it makes the outside of the patties nice and crunchy (but that's just my preference, feel free to do what you like).
If you are using left over cooked quinoa, ½ cup of uncooked quinoa equals about 1 ¾ cups of cooked quinoa.
We are a participant in the Amazon Services LLC Associates Program, an affiliate advertising program designed to provide a means for us to earn fees by linking to Amazon.com and affiliated sites.